An already-crazy Patriot League season still had some craziness left to reveal this week, as the 156th meeting between Lafayette and Lehigh was postponed due to a Tier 1 exposure in the Lafayette program.
As the most-played college football Rivalry, rescheduling Lafayette/Lehigh was not something undertaken lightly – and ultimately, in an effort to get the game in, it involved yet another shuffling of the Patriot League schedule.
Happily for Leopard and Mountain Hawk fans, the Patriot League managed to be able to schedule the game in next week, April 10th. Unfortunately it meant that Holy Cross, who was scheduled to play Bucknell, instead got an impromptu bye week as the Bison instead travel on short notice to Bethlehem instead. Bucknell/Fordham slots into April 10th instead, with Holy Cross/Colgate, a divisional game, scheduled for the 10th as well.
Holy Cross was the only team left that had a "extra bye week" to spare after their win over Fordham last week, so assuming no more COVID pauses, every Patriot League team will have played three games, including their all-important "divisional games" to determine the division champion. Both division champions will play on April 17th at the higher-seeded team to determine which school is Patriot League Champions and will win the autobid for the FCS Playoffs.
All Patriot League schools will be hoping that they can simply get these games in over the next two or three weeks, something that has not happened yet this spring season. Since March 13th, every week has featured one or more games postponed or cancelled due to COVID protocols or Tier 1 infections.
Bucknell at Lehigh
TV: Service Electric 2 (Lehigh Valley), Streaming: ESPN+ (subscription req'd)
Few teams during this spring season have seen more uncertainty and unexpected twists and turns as Bucknell and Lehigh.
Lehigh started their season on March 13th, falling 20-3 to non-divisional opponent Holy Cross, then watched the last three weeks as four different games get cancelled or postponed – including a return match at Holy Cross, which was, for a few hours, a rapidly-rescheduled replacement for Lehigh/Colgate, which was cancelled on March 20th.
March 27th saw Lehigh's game with Bucknell rescheduled, as there was only one weekend available for Bucknell to play Lafayette after a major schedule reshuffle, giving Lehigh an unexpected second-straight bye week. And late Tuesday, word came out that Lehigh's game against their archrival was to be postponed – and their original March 20th opponent, Bucknell, back on the menu for this weekend.
"The team was very disappointed [when they thought] we would not be playing again for the third straight weekend, and then we were told on Wednesday afternoon that we would actually be playing Bucknell," head coach Tom Gilmore told me. "Our team really wanted the chance to compete and I'm happy that they'll get that chance."
Bucknell lost the first two weekends of their schedule due to COVID protocols, first against Colgate then against Lafayette. On Monday of last week, Bucknell thought they were playing Fordham, but by the end of Wednesday afternoong they learned they were hosting Lafayette instead. In their season opener, they handled the Leopards 38-13.
"We didn't do everything perfect," head coach Dave Cecchini said, "but our effort was spectacular, the emotion, intensity, focus, and concentration was outstanding. We became more and more dominant as the game went on."
Defensively, Bucknell limited the Leopards to 284 yards of total offense, including only 15 on the ground. Four different Bison intercepted a pass, with freshman DB Blake Leake returning his first career interception 41 yards for a touchdown to put an exclamation mark on his team's commanding victory late in the fourth quarter. On offense, Bison WR Brandon Sanders dominated as well, nabbing 12 receptions for 179 yards and 2 TDs.
"They really played well against Lafayette last week," Gilmore said. "They were aggressive on defense and found good matchups on offense that resulted in big plays. They are very experienced across the board with many seniors playing this spring, unlike our situation where we have relatively few seniors competing this spring."
If Bucknell wins this weekend, they will be guaranteed a spot in the Patriot League Championship game April 17th because they would carry a 2-0 record in divisional play and have beaten Lafayette and Lehigh, so this week's impromptu game is also in effect a playoff game.
"From a competitive standpoint, every Patriot League game is important," Gilmore said. "With a small league, there is little room for error and that is even more so the case with the divisional setup this spring. We always take the field to win, and that is certainly the case this week, but there is also a big developmental component that currently exists in this short spring season, knowing we have a full fall schedule coming up too."
This spring, Lehigh's offense struggled three weeks ago against Holy Cross, but a bright spot in that game was the defense, where DB TyGee Leach had a breakout day (9 tackles 2 tackles for loss, 1 interception). Leach, LB Nate Norris (6 tackles, 1 fumble recovery) and LB Pete Haffner (8 tackles, 3 tackles for loss, 1 recovered fumble), were huge disruptive forces, seemingly forcing Holy Cross QB Conor Degenhardt out of the pocket constantly and getting their hands in to tip passes everywhere.
"If we can go out there and give them the same effort we gave against Lafayette, it's going to be a great battle," Cecchini said. "And if we can come out on top, we're going to be exactly where we want to be two weeks into the season."
Fearless Prediction: The sample size is small, but home teams have been 3-1 in this Patriot League spring football season, and Lehigh is extremely eager to show out much better than their season-opening game against Holy Cross weeks ago. Bucknell, however, really showed a lot in their win against Lafayette, and their senior leadership will give them an edge against a very young Lehigh team. It will be a treat to check out the battle of Lehigh DB Jack Bush and WR Brandon Sanders, as that's where this game might be won or lost. Bucknell 23, Lehigh 16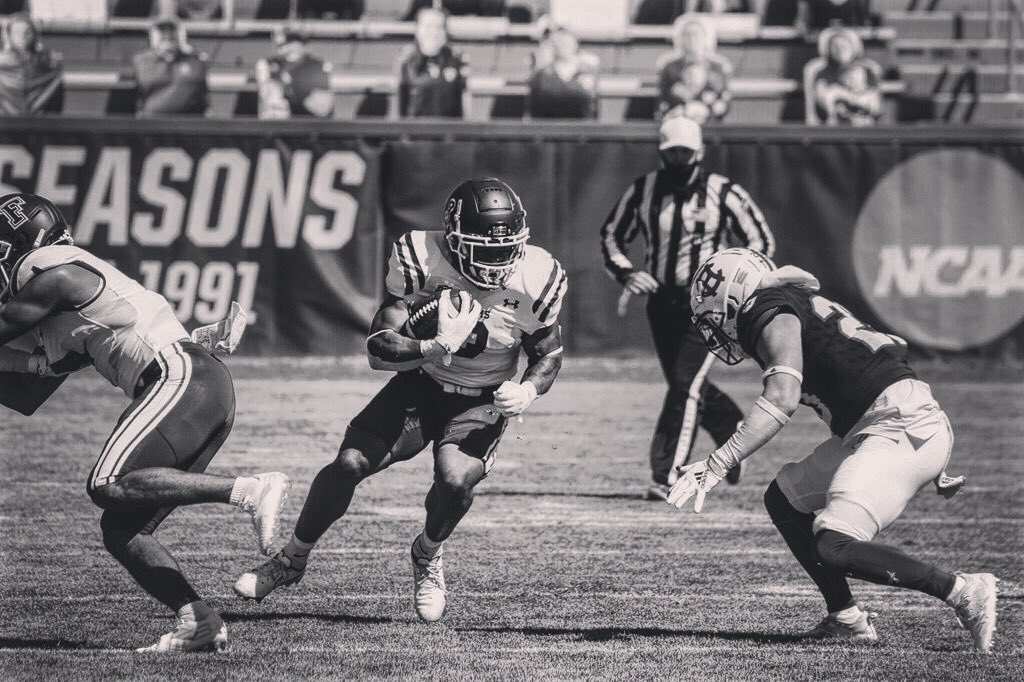 Speaking of teams with long layoffs, Colgate comes off a two-week pause to face off against Fordham in a critical Patriot League North battle. The winner will stay alive for the Patriot League Championship, and if Colgate can win on consecutive weeks, they will be the Patriot League North division representatives in the inaugural Patriot League Championship Game.
Last week in their 34-24 defeat against Holy Cross, junior Fordham QB Tim DeMorat completed 39 of 56 passes for 440 yards and 2 TDs. the third-best game for a Ram QB in school history – no mean feat against a tough Crusader defense. His top two targets were WR Dequece Carter (11 catches, 155 yards, 1 TD) and WR Fotis Kokosioulus (8 catches, 78 yards), though he spreads the ball around extremely well.
Three weeks ago, Colgate fell behind 14-0 to Lafayette, and saw their comeback attempt fall short in a 24-10 defeat to the Leopards.
"We pride ourselves on running the ball and stopping the run, and we did neither," Colgate head coach Dan Hunt said after that game. "That's going to dig us a hole every time. Not playing football for a year and a half, you don't know what you're going to get. The effort was good; the execution was not. We made enough mistake to beat ourselves, and Lafayette did not. That's what it came down to."
Colgate, uncharacteristically, only ran for 55 yards against Lafayette, with QB Grant Breneman leading the way with 15 yards, though much of that was due to the fact that Colgate played from behind. Breneman ended up 19-for-31 passing, spreading the ball around to 7 different receivers.
Fearless Prediction: If Colgate has the same problems stopping the run as they did three weeks ago, this is going to be a short game. It's hard to see Colgate starting the same way against Fordham, but the Rams' firepower would seem to be too much this week. Fordham 34, Colgate 20