While Central Arkansas seems to have control of the Southland at his point, the conference has shown that anything can happen on a weekly basis. There are three teams nipping at the Bears' heels just one game back in the standings. With the way the FCS landscape sits, it looks like the Southland may have as many as three playoff bids, but they could wind up with just their auto bid representative making the field if any of the four slip up. Sam Houston State has three games remaining that they should win. If they do, they should slide into the field after a year off. Needless to say, these last three weeks are going to be interesting to watch.
BYE: McNeese State
Conference Game of the Week:
Southeastern Louisiana (5-3, 4-2) at Central Arkansas (7-2, 5-1)
Where: Estes Stadium, Conway, AR
When: Saturday November 9th, 4:00 PM
TV/Streaming: ESPN+ ($$/subscription req'd)
Southeastern Louisiana Lions
Southeastern Louisiana probably needs to win their last three games to make the playoffs. If they do pull off the 3-0 finish, it would be extremely hard for them to be left out because that means they would have wins over Central Arkansas and Nicholls. Unfortunately for the Lions, their game against Bethune-Cookman was cancelled due to weather. Had they been able to pick up that win, their resume would look much better. As it stands they need at least two more wins, if not all three, to make the playoffs.
Key Player: Chason Virgil is clearly the linchpin of the Lions offense. In the three games that they have lost, Virgil has thrown eight interceptions. In the five that the Lions have won, Virgil has only thrown one interception. Its clear that the key is ball security for Virgil. He will need to be diligent this week against a solid Central Arkansas defense. If Virgil comes away with a zero in the INT column this week, the Lions have a great chance to win.
Central Arkansas Bears
While they are 7-2, Central Arkansas is a bit of a difficult team to figure out. They have been clutch late in games, staging fourth quarter comebacks in most every game they have won. The Bears need to figure out a way to be more consistent throughout the game. When playoff time comes around, the better teams around the country will not squander fourth quarter leads. The Bears also need to find a way to get their run game much more involved in their offense. They currently have 645 rushing yards on the season, a total good for just 121st in the FCS out of 124 teams.
Key Player: All season we have been begging for Carlos Blackmon to be a bigger part of the Bears' offense. While he averages a respectable 4.4 yards per carry, Blackmon only averages about 12 carries per game. Blackmon is a versatile player who is the second leading receiver on the team as well as the lead back; and don't miss the fact that he is two for two throwing the ball, both of which went for touchdowns. The Bears would be well served to use Blackmon more in their offense the rest of the way.
Fearless Prediction: Expect a tight game in the fourth quarter. Home field and tight game experience should help the Bears to victory. Central Arkansas 34, Southeastern Louisiana 31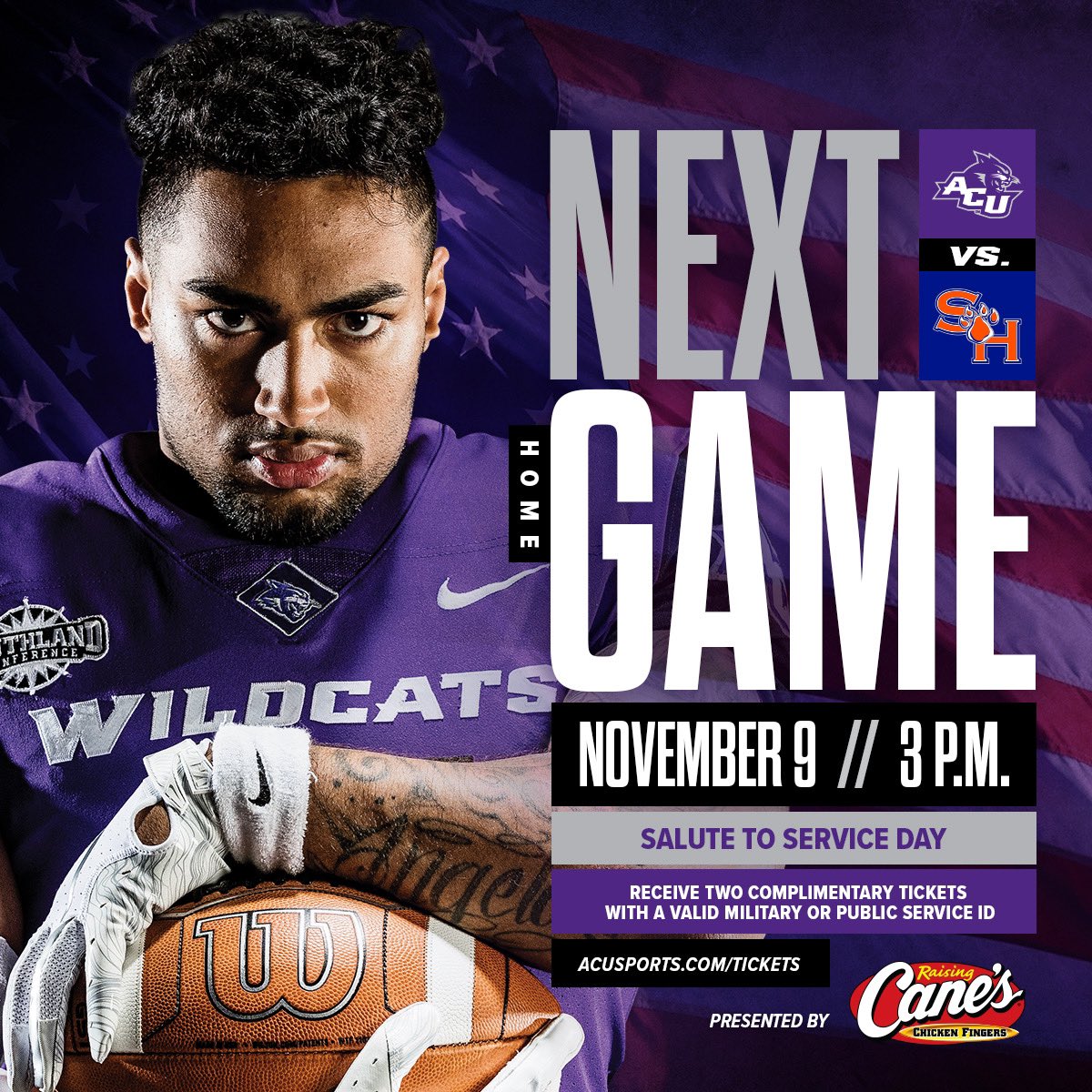 Fearless predictions for the rest of the slate
Sam Houston State (5-4, 4-2) at Abilene Christian (5-4, 4-3), Saturday November 9th, 4:00 PM, Wildcat Stadium, Abilene, TX, ESPN+ ($$/subscription req'd)
This is an important game for both teams. The loser most likely will see their potential bubble burst. Sam Houston State should prevail with a stronger defense. Sam Houston State 24, Abilene Christian 20
Houston Baptist (4-5, 1-4) at Nicholls (5-4, 4-2), Saturday November 9th, 4:00 PM, Guidry Stadium, Thibodeaux, LA, CST, ESPN+ ($$/subscription req'd)
Houston Baptist has have a nice improving season; Nicholls has underperformed. The Colonels need this one at home and they'll pick up the win. Nicholls 41, Houston Baptist 31
Incarnate Word (5-4, 4-3) at Stephen F Austin (1-8, 1-5), Saturday November 9th, 5:00 PM, Homer Bryce Stadium, Nacogdoches, TX, ESPN College Extra, ESPN3 (cable subscription req'd)
Incarnate Word absolutely cannot lose to another poor team like they did a couple weeks ago to Northwestern State. They'll learn from their mistakes and win this one. Incarnate Word 27, Stephen F Austin 16
Lamar (4-5, 2-4) at Northwestern State (1-8, 1-5), Saturday November 9th, 7:30 PM, Turpin Stadium, Natchitoches, LA, CST, ESPN+ ($$/subscription req'd)
Lamar has been disappointing after making the playoffs last year. The Demons are playing better of late and will pick up the upset at home. Northwestern State 30, Lamar 27
Jamie is a proud 2002 graduate of James Madison University. He's witnessed the growth of the program from no one in the stands in 1998, to the hiring of Mickey Matthews, to the 2004 National Championship, to the 2008 team, to the struggles in the early 2010s, and finally the rebuild under Mike Houston. He also allegedly really enjoys Washington, DC-based Stanley Cup winners.
Reach him at: