The SWAC is getting back into full swing this week and we have two massive games to look forward to. On the one hand we have the Magic City Classic, one of, if not the best attended FCS game in the country, and we have Southern visiting Alcorn State, who will be retiring Steve McNair's number this weekend, along with being a possible preview of the SWAC Championship later this year.
Conference Game of the Week:
Southern (4-3, 3-0) at Alcorn State (5-2, 3-0)
Where: Jack Spinks Stadium, Lorman, MS
When: Saturday, October 26th, 3:00 PM
TV/Streaming: Alcorn State Athletics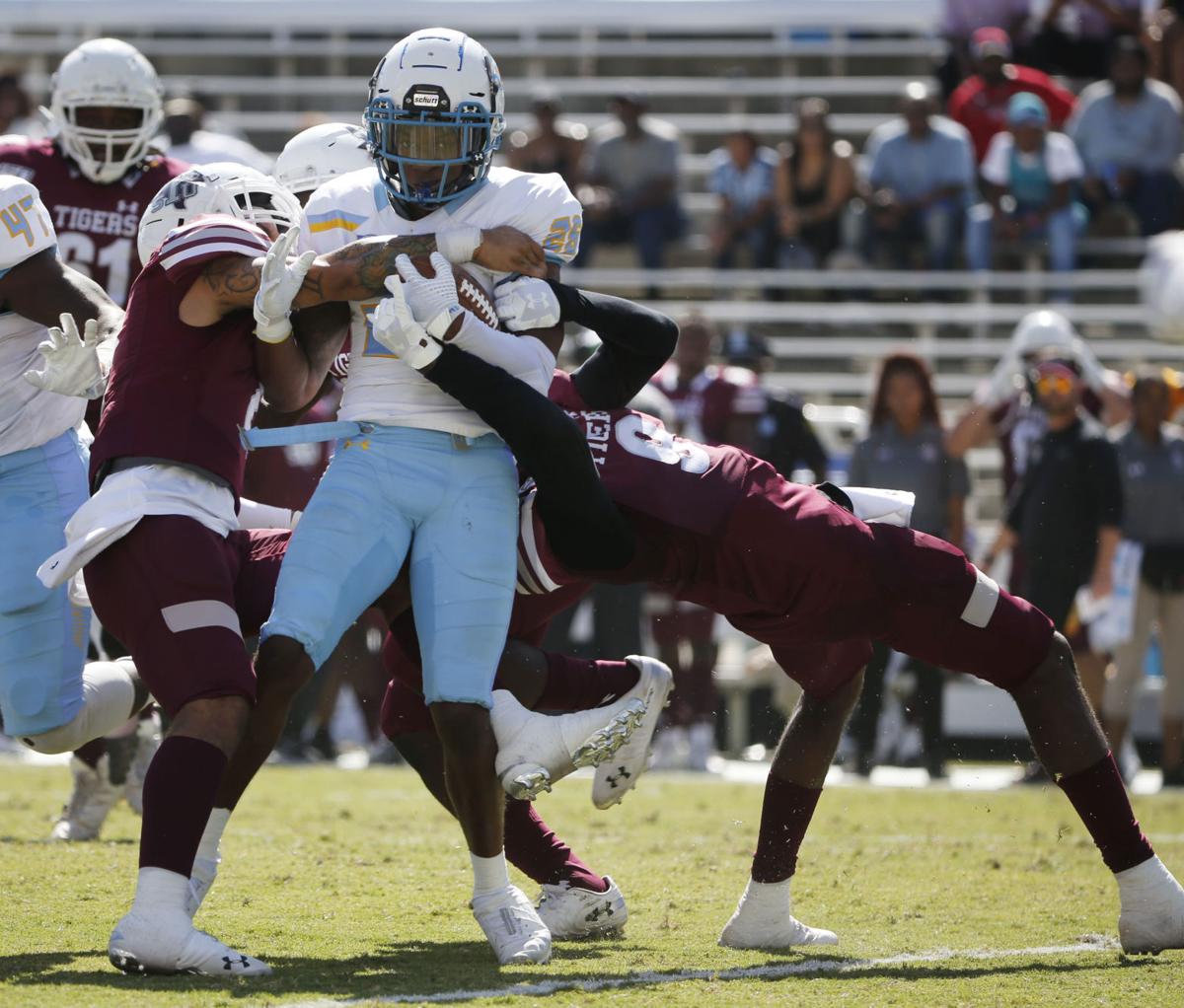 Southern Jaguars
After getting the win against Texas Southern last week, the Jaguars will be playing what will likely be one of their three most important games of the season, assuming they make it back to the SWAC Championship. While we aren't going to learn much from the Jaguars beating a winless opponent, what we do know is that so long as their defense holds strong, Southern has enough offense to compete with anyone in the SWAC. It will be on this defense to hold a high powered Alcorn State offense to under 30 points because when Southern scores more than 30 this year, they are undefeated, and I see the winning team needing at least 30 point for this highly anticipated contest.
Key Player: I know it's easy to pick the Quarterback, but you also need a back up that's just as good as your proverbial starter. And with QB Bubba McDaniel being the driving force behind the Southern surge last week against Texas Southern, he'll likely get the start against Alcorn State. Gamesmanship? Perhaps, but he's the hot hand and will need to be proficient against a mean Braves defense.
Alcorn State Braves
Apart from a couple of anticiapted losses earlier in the year (to FBS Southern Miss and McNeese State), Alcorn State has been rolling right along as the SWAC favorites to return to the Celebration Bowl. The offense is potent, the defense stingy just as
predicted, and having already handled Alabama State convincingly, they are very much so in the driving seat in the SWAC East. That being said, they will not want to take this game lightly against Southern, who will be looking to make a statement and stay ahead in the tighter SWAC West title race. Add to the already great matchup that the Braves will be retiring Steve "Air" McNair's jersey this weekend; it will be an incredibly emotional game. With a veteran team like Alcorn though, I expect this to provide a boost rather than be a detriment.
Key Player: QB Felix Harper has been the epitome of instant offense for the Braves this year. Alcorn is scoring points just for fun this year, and Harper is the reason why. If you are someone who likes to partake in a bit of betting, good money would be saying that the Braves will score more than 30 points. And with them honoring "Air" McNair this weekend, don't be surprised to see a lot of gun slinging.
Fearless Prediction: I expect this to be a defining game for both teams on Saturday. Each team can take a firm grasp of their division in the conference by being undefeated. But Alcorn State is a legitimate fringe top 24 team with the way they have looked as of late, and I am not sure Southern is going to be able to slow down the Braves. So, I will go with Alcorn State for the first of potentially two match ups for these teams. Alcorn State 41, Southern 28.
Fearless predictions for the rest of the slate:
Alabama State (3-3, 2-1) vs. Alabama A&M (4-3, 1-2), Saturday, October 26th, 3:00 PM, Legion Field, Birmingham, AL, ESPN3 (cable subscription req'd)
Any other season this will be the hands down game of the week, because the pregame and festivities literally go on all week for the Magic City Classic. This game will not only be a great boost to the economy of Birmingham, but the game itself is crucial for whom could possibly challenge Alcorn State this year for the SWAC East title. Alabama State has already lost to the Braves, but the Bulldogs have yet to play them. Each team only has one conference loss, so expect a great game!
Fearless Prediction: Alabama A&M 35, Alabama State 31
Jackson State (2-5, 1-1) at Prairie View A&M (3-4, 2-2), Thursday, October 24th, 7:30 PM, Blackshear Stadium, Houston, TX, ESPNU, WatchESPN (subscription req'd)
With two losses, the Panthers of PVAMU are pretty much out of the running in the SWAC West, especially with their close loss to Southern. But who knows what will happen, and Jackson State still has an outside shot at the SWAC East title despite five losses on the season. This will be one heck of a band battle, but I think that JSU's title hopes will be dashed this evening by a Prairie View team that had higher aspirations this year, and still has a lot to play for for a national television audience.
Fearless Prediction: Prairie View A&M 38, Jackson State 17
Grambling State (2-4, 1-2) at Arkansas-Pine Bluff (5-2, 2-1), Saturday, October 26th , 2:00 PM, Golden Lion Stadium, Pine Bluff, AR, UAPB Athletics
If you told me the Tigers would be going into this game with a worse record than the Golden Lions, I would have laughed in your face. Yet, here we are! After a pretty poor 2018, UAPB is the surprise of the SWAC right behind Southern in the SWAC West. Apart from their beatdown at the hand of the Jaguars, the Golden Lions have been quite impressive this year. Can they keep Southern sweating? I guess we'll see. This is do or die for Grambling though, so expect the Tigers to come out swinging, as they seem to have found their stride.
Fearless Prediction: Grambling State 27, Arkansas-Pine Bluff 24
Texas Southern (0-7, 0-3) at Mississippi Valley State (1-6, 0-3), Saturday, October 26th , 2:00 PM, Rice-Totten Field, Itta bena, MS, MVSU Sports Youtube Channel
Both teams are realistically looking at their last chance to win a game with this match up so expect it to be intense and maybe even a surprisingly good game. Both teams have been in one score games throughout the year and I expect this to happen in this game.
Fearless Prediction: Mississippi Valley State 23, Texas Southern 20
Preston attended James Madison University where he majored in Vocal Performance. As a member of the Drumline and Marching Royal Dukes for 4 years, he's seen a lot of JMU football up close and personal and having grown up attending HBCU games, he has extensive knowledge of the history and pageantry that comes with attending a game in the MEAC and SWAC. When not talking college football or being musical, Preston is a fan of the game the world calls football, golf, and curling. (Curling? Curling!)