Last season, Lehigh football suffered through a bunch of firsts that Mountain Hawk football fans had no desire to experience. One important one came on the campus of Georgetown on October 20th, 2018.
Up until that point, in the modern era, the Lehigh football team had not lost to Georgetown.
From their 69-0 shellacking of the Hoyas in 2001 to a 54-35 decision in 2017, the Mountain Hawks had always been able to find a way to count on their team to get by the Hoyas. Some were close; a couple helped determine who ended up representing the Patriot League in the FCS Playoffs. But through it all, Lehigh always won.
That changed on October 20th, 2018, when a broken, dispirited Lehigh team traveled to Georgetown to try to pick up the pieces from a 45-14 home loss to Fordham, a game where the once-vaunted Lehigh offense had seemed to forget how to score.
And Georgetown did just enough to earn an overtime win, giving the Hoyas their first win over Lehigh since 1925.
A Long Time Between Wins
When Lehigh played Georgetown in 1925, it was a very different time for both programs.
The 1925 Hoyas were led by College Football Hall of Fame head coach Lou Little, who guided Georgetown to a 9-1 record with an admittedly weak schedule of teams like Mount St. Mary's, King College (TN) and Quantico Marines. Lehigh was the Hoyas' homecoming opponent.
But the 1925 Lehigh team suffered unspeakable tragedy mere days before the game. On the Tuesday before Lehigh and Georgetown were to play, QB Charlie Prior, who had suffered broken vertebrae in an earlier game vs. West Virginia Wesleyan, died due to complications from his injury.
As the team was devastated and in mourning, the Brown and White squad did not practice, but also in accordance with the times, Lehigh still played the Georgetown game down at Griffith Stadium in DC, which could house more than 35,000 fans. Today such a game would never be played, but back then those considerations were not a part of the game of football.
"Although the tragedy has stifled the enthusiasm of the players," the student paper said, "they have resolved to carry on the balance of the schedule out of consideration for their opponents. Captain Merrill decided that a change of scenery would improve the mental condition of his men, and it was therefore decided that the squad would start for Washington, DC on Thursday."
The game, played in a huge rainstorm, was won 40-0 by the Hilltoppers (as Georgetown was then known). Georgetown scored two quick touchdowns to put the game beyond doubt in the first two minutes, and the overmatched Brown and White didn't put up much of a fight after that.
"RB Jack Hagerty, the Hoyas' star and captain," The Hoya said, "completed a stellar run across the field in which he twice reversed direction to avoid Lehigh tackles. Though no player could stop him, nature could: He downed himself near the end zone as he slipped and fell onto the muddy field."
Georgetown would finish 9-1, one of the Hoyas' best-ever seasons. Only a 3-2 loss (yes!) to Bucknell prevented an undefeated season. Lehigh, on the other hand, was in the middle of a tough decade of many losing seasons. It was only after the Brown and White beat Lafayette in 1929 when Lehigh would start to make baby steps towards becoming a more solid football program again.
Busting The 94 Year Streak
It's not easy busting a streak of 94 years without a football win, but the Hoyas did so in the most incredible fashion last year.
At the end of regulation, the score was tied at 9. Lehigh had scored a touchdown and a field goal, while Georgetown got their 9 points by a touchdown, extra point, and blocking Lehigh's extra-point attempt and returning it for a 2 point conversion.
The Hoyas had lined up for 5 FG opportunities during the game that would have given them the win in regulation – and missed all five.
Georgetown received the ball first in the first overtime. A 4-yard rush by RB Jackson Saffold brought the ball to the 21-yard line before QB Gunther Johnson completed a 19-yard pass to WR Michael Dereus, bringing the ball down to the 2-yard line. Saffold ran it in on the next play to give GU a 16-9 lead.
Lehigh tied it on their possession, scoring on a fourth-and-five play from the 20-yard line, but in the second overtime and, on third-and-eight, DB Jethro Francois picked off a pass that was tipped up by a diving receiver to give Georgetown possession with a chance to win.
On the first play after the interception, Saffold scampered around the left side for 22 yards, bringing it to the 3-yard line. On the very next play, he again ran it up the middle, scoring to give Georgetown the 22-16 double-overtime victory and breaking the streak.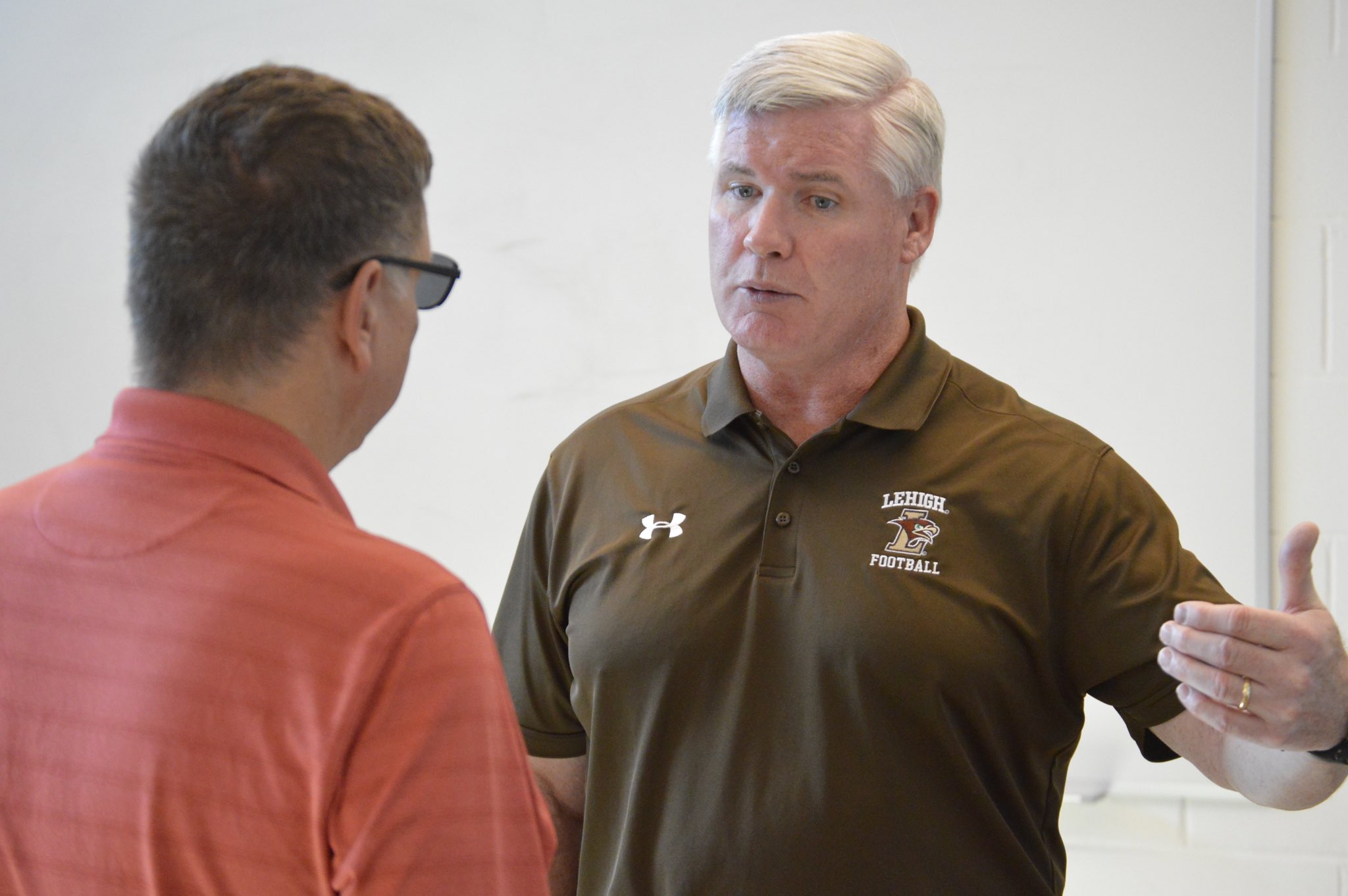 Fast Forward To Today
Though Lehigh head coach Tom Gilmore was not there last year during the loss of Georgetown, his Holy Cross team went 3-3 over his last six meetings against the Hoyas, so there is zero chance of him taking the Hoyas lightly.
"They've come a long way," Gilmore said this week. "In recent years, they've put a good unit on the field, either offense or defense. This year, they have both. Their personnel has improved on all three levels, with the offensive line is the thing that has improved the most."
The Hoyas have consistently had very good defenses over the last few years, and this year is no exception, with possible NFL prospect DE Khristian Tate lining up on defense. Tate leads the Hoyas in sacks with 3, but as a unit Georgetown is averaging more than 6 tackles per loss per game, making them the leaders in the Patriot League in that statistic.
Offensively, too, this isn't the same Hoya team that has persistently struggled. QB Gunther Johnson has done exceptionally well managing games, rushing for 276 yards and scoring a grand total of 12 touchdowns, with only 1 interception.
"We need to keep battling this week," Gilmore told me. "Cliche or not, it's a one game season this week and we have a serious challenge ahead."
The Hoyas certainly won't be letting up either, attempting to win at a venue, Murray Goodman Stadium, where they have never won. They'll do battle against another defense that has been stellar in the last two weeks against Colgate and Fordham. Lehigh's defense is led by LB Keith Woetzel, who won national defensive player of the week honors with his 13 solo tackles and 4 sacks against the Rams.
On offense, too, the Mountain Hawks showed some signs of busting out of some early-season struggles. WR Dev Bibbens caught 10 passes for 82 yards and 2 touchdowns, including the game-winner in overtime.
"[Lehigh head coach Tom Gilmore] is a really good coach and his teams always play very well on defense. For us, it's about just continuing to get better," Georgetown head coach Rob Sgarlata said after beating Lafayette. "We have to take care of the football and consistently run the ball on offense. For defense, we need to work on eliminating big plays."
There is plenty on the line in this Lehigh/Georgetown game: Lehigh is looking to continue their run on top of the Patriot League Standings, while the Hoyas would be right in contention if they can beat the Mountain Hawks. But with Georgetown and Lehigh, history still hangs over this contest, and it will be a part of the story whomever wins this game.
Georgetown (5-2, 1-1) at Lehigh (3-3, 2-0)
Where: Murray Goodman Stadium, Bethlehem, PA
When: Saturday, October 26th, 12:30 PM
TV/Streaming: Service Electric 2, Patriot League Network (Steve Degler, Mike Yadush, Kristi Fulkerson)
Radio: Fox Sports 1230/1320 (Matt Kerr, Lance Haynes, Tom Fallon, Matt Markus)