Grambling State vs. Southern University (Bayou Classic)
When: Saturday, November 24, 5:00PM
Where: Superdome, New Orleans, LA
TV/Streaming: NBC Sports Network, NBC Sports Live
Grambling State Tigers
There will be a lot at stake in the 45th Annual Bayou Classic when the Grambling State University football team takes on rival Southern University in a key Southwestern Athletic Conference (SWAC) West Division game. Forget the records as the the winner of the annual rivalry game will advance to the 2018 SWAC Football Championship Game to face Alcorn State.
Grambling State leads the Bayou Classic, 23-21, including winning the last three matchups. Last year, Southern rallied and took a 21-20 with 5:02 remaining, but then Grambling took over, outscoring the Jaguars 10-0 the rest of the way.
The last four-year Grambling class to be undefeated against Southern was the class of 2012, who beat Southern in 2008, 2009, 2010, and 2011.
Key Player: Grambling's forte is defense, and LB De'Arius Christmas is hoping to bring the Tigers an early Christmas present in the form of a chance to play in the SWAC Championship game. The Vicksburg, Mississippi native is a complete linebacker, with 51 tackles, 10 tackles for loss, and 2 interceptions.
Fantasy Bonus Baby: QB Geremy Hickbottom is the dual-threat quarterback that leads the Tiger offense. Last week against Alabama A&M the Mobile, Alabama native struggled a bit early, but did connect with WR Devante Davis for a 39 yard TD pass to give the Tigers a lead they wouldn't relinquish. If Grambling hopes to play in the SWAC Championship game, he'll need to protect the ball and get all gears of his offense working.
Southern Jaguars
Southern University's 'Dog Day' defense made a statement early to dominate the University of Arkansas-Pine Bluff Golden Lions 56-24 at A.W. Mumford Stadium Saturday evening, pushing their winning streak to four games.
With the win, Southern sets up a win-or-go-home regular season finale against heated rival Grambling State University at the 45th annual Bayou Classic.
In their four-game SWAC winning streak, the Jaguars' defense has only allowed 38 points in their last four games.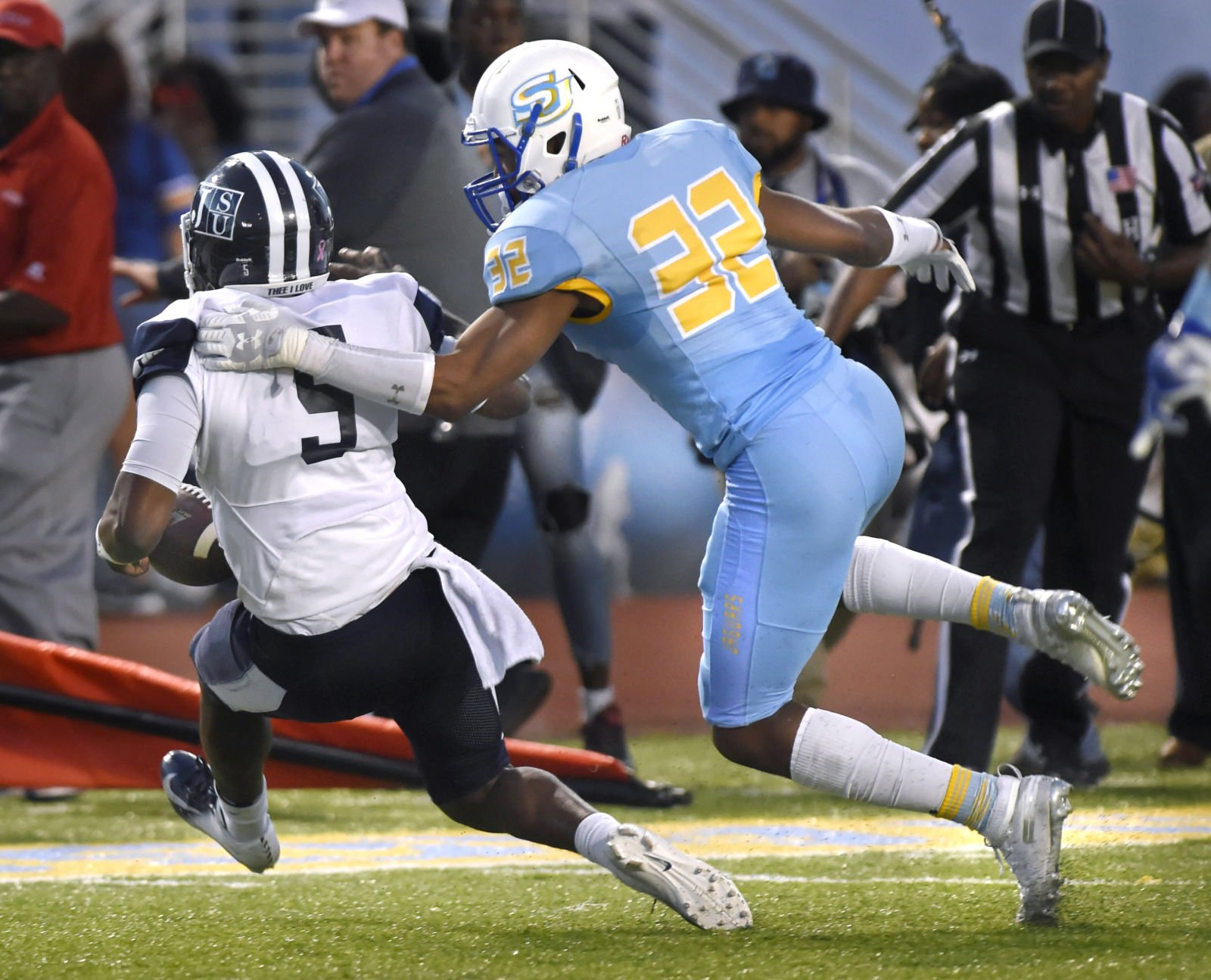 Key Player: LB/DE Jordan Lewis' emergence has been a big factor in Southern's defensive resurgence. A freshman phenom, he has 8 total sacks in the 8 games he's played, and he's hungry for even more on the big stage this Saturday.
Fantasy Bonus Baby: QB Ladarius Skelton erupted last week for 283 yards passing and 4 touchdowns off of big plays, something that is music to the ears of Jaguars fans. In two straight weeks he's scored both with his arm and his feet – six touchdowns in total.
Fearless Prediction: This feels like Southern's best chance to beat Grambling in the last four years – though in Rivalry games like this, it feels like anything can, and will, happen. It feels like this one will go down to the wire. Southern 20, Grambling 17.