Towson at Elon
When: Saturday, November 10, 12:00PM
Where: Rhodes Stadium, Elon, NC
TV/Streaming: ElonPhoenix.Com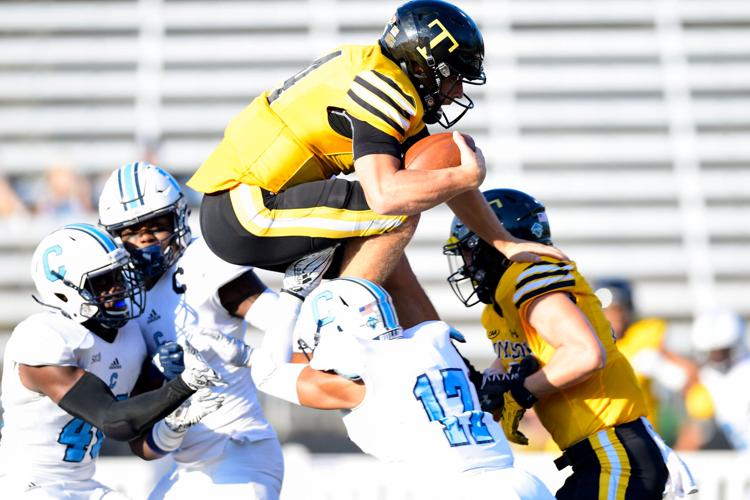 Towson Tigers
Towson won its first give CAA games to shoot into the top 10 of the rankings. However, the Tigers have dropped their last two games in conference play to Delaware and Maine. The schedule makers were not kind to the Tigers, giving them a very tough final four games of the season. Towson has to win at least one of their last two games to secure a playoff berth, and may need to win both depending on how other games finish around the country. The Tigers have a strong offense, scoring 38.4 points per game. But they are prone to get in shootouts as their defense allows nearly 30 points a game. The Tigers' last two games are against two of the top defenses not only in the CAA, but also in the entire FCS: Elon and James Madison.
Key Player: QB Tom Flacco has been the unquestioned leader of the Towson football team all season long and should be in the running for CAA offensive player of the year. Flacco has thrown for 2426 yards and run for another 637 accounting for a total of 26 touchdowns on the year. The knock on Flacco is that he turns the ball over too much. He has thrown 10 interceptions in the Tiger's nine games. Flacco must protect the ball the next two weeks if the Tigers are going to win either of these games. Both Elon and James Madison have strong, opportunistic defenses.
Fantasy Bonus Baby: Flacco. Elon has a strong run defense that can keep an opponent from getting much traction in their ground game. Flacco leads the CAA in passing yard and touchdowns and this games sets him up to throw a bunch. He should get near 300 yards and throw for multiple touchdowns. Time will tell if that will be enough for him to lead the Tigers to the win.
Elon Phoenix
Elon has won two straight games since suffering its only CAA loss against Delaware. That game was the first that was missed by both Davis Cheek and Malcolm Summers. Luckily for the Phoenix, freshman Jaylan Thomas has picked right up where Summers left off in the run game. Summers averaged 118 yards per game while he was healthy. Thomas is averaging 117 yards a game, including running for 222 yards last week against Rhode Island. Elon has leaned on its run game the last two weeks, combining for only 19 passes total over the two games. With an offensive line as big and as skilled as the Phoenix have, they are able to lean on the run game and still move the ball offensively.
Key Player: LB Warren Messer will be tasked with slowing down Tom Flacco. Messer was named the CAA defensive player of the week last week for his performance against Rhode Island. Messer racked up 14 tackles, three for loss, two sacks, and returned an interception 86 yards for a touchdown. Messer is the unquestioned leader of the Phoenix defense and plays all downs. He will blitz at the right times and if he can get to Flacco and force quick passes, he may help create some turnovers to give his offense a short field
Fantasy Bonus Baby: RB Jaylan Thomas looks like a top back after taking over for the injured Malcolm Summers. In the last two games he has run for 372 yards and two touchdowns. Against a suspect Towson defense, Thomas is set up to have another huge game, especially with Elon unwilling to throw the ball. I would expect him to go for at least 150 yards and at least one touchdown.
Fearless Prediction: This is an intriguing game. The biggest matchup is Towson's offense against Elon's defense. Elon will be able to score against a below average Tiger defense, but can they keep Flacco and company off the board enough to win the game? I think so. Elon 31, Towson 28.
Jamie is a proud 2002 graduate of James Madison University. He's witnessed the growth of the program from no one in the stands in 1998, to the hiring of Mickey Matthews, to the 2004 National Championship, to the 2008 team, to the struggles in the early 2010s, and finally the rebuild under Mike Houston. He also allegedly really enjoys Washington, DC-based Stanley Cup winners.
Reach him at: