Boise State vs. Washington (Las Vegas Bowl)
When: Saturday, December 21, 7:30 PM EST
Where: Sam Boyd Stadium, Las Vegas, Nev.
TV/Streaming: ABC, WatchESPN (subscription req'd)
Las Vegas Bowl History
| | | | |
| --- | --- | --- | --- |
| 18-Dec-92 | Bowling Green | 35–34 | Nevada |
| 17-Dec-93 | Utah State | 42–33 | Ball State |
| 15-Dec-94 | UNLV | 52–24 | Central Michigan |
| 14-Dec-95 | Toledo | 40–37 (OT) | Nevada |
| 18-Dec-96 | Nevada | 18–15 | Ball State |
| 20-Dec-97 | Oregon | 41–13 | Air Force |
| 19-Dec-98 | North Carolina | 20–13 | San Diego State |
| 18-Dec-99 | Utah | 17–16 | Fresno State |
| 21-Dec-00 | UNLV | 31–14 | Arkansas |
| 25-Dec-01 | Utah | 10–6 | USC |
| 25-Dec-02 | UCLA | 27–13 | New Mexico |
| 24-Dec-03 | Oregon State | 55–14 | New Mexico |
| 23-Dec-04 | Wyoming | 24–21 | UCLA |
| 22-Dec-05 | California | 35–28 | BYU |
| 21-Dec-06 | BYU | 38–8 | Oregon |
| 22-Dec-07 | BYU | 17–16 | UCLA |
| 20-Dec-08 | Arizona | 31–21 | BYU |
| 22-Dec-09 | BYU | 44–20 | Oregon State |
| 22-Dec-10 | Boise State | 26–3 | Utah |
| 22-Dec-11 | Boise State | 56–24 | Arizona State |
| 22-Dec-12 | Boise State | 28–26 | Washington |
| 21-Dec-13 | USC | 45–20 | Fresno State |
| 20-Dec-14 | Utah | 45–10 | Colorado State |
| 19-Dec-15 | Utah | 35–28 | BYU |
| 17-Dec-16 | San Diego State | 34–10 | Houston |
| 16-Dec-17 | Boise State | 38–28 | Oregon |
| 15-Dec-18 | Fresno State | 31–20 | Arizona State |
Boise State Broncos (1st MWC Mountain, 12-1, 8-0 MWC)
The Broncos ran the table with a perfect 8-0 mark in conference play this season and finished just a few spots behind Memphis for the Group of 5 bowl spot in the New Year's Six Cotton Bowl bid after Boise State won the Mountain West Conference title game. Boise State knocked off Florida State in the opener, defeated Air Force on Sept. 20, beat Hawaii two times and picked up quality wins against Wyoming and Utah State. The one loss for Boise State was at BYU, which cost the Broncos from the G5 top spot. That one loss came when the quarterback situation was a big question mark going into that road game, and even so, Boise State only lost 28-25.
Injuries to Boise State's quarterbacks hurt the Broncos this year as three players – Hank Bachmeier, Jaylon Henderson and Chase Cord – made starts in 2019. Despite the injuries and multiple starters at quarterback, the Broncos led the Mountain West in scoring (36.8 ppg) and averaged 6.2 yards a play. Bachmeier finished with 1,760 passing yards and nine touchdowns but the freshman is not quite 100 percent coming into this game. Senior Jaylon Henderson has started the last four games and passed for seven touchdowns and just one pick over the last three contests. He is also a force on the ground (140 rushing yards) and is expected to start in this game.
A big reason why the quarterback play has not been much of a factor this year has been the play of the Bronco defense. This is true in the last five games as the Bronco defense has held each of its last five opponents under 24 points and is only giving up 20.6 overall on average for the season. The Broncos also rank second in the Mountain West in pass efficiency defense and lead the conference with 37 generated sacks.
These two teams have played four times before with each picking up two victories. The meetings also include a prior Las Vegas Bowl meeting in 2012 game, which Boise State won 28-26.
Key Player: RB George Holani (979 yards) is the leader in Coach Bryan Harsin's backfield. With the quarterback situation in flux, he has been a steady force for the Bronco offense. The Washington defense versus the run, has allowed just 3.8 yards per carry. However, the Huskies showed vulnerability at times, especially in the five losses (171.4 rushing ypg allowed). Washington has a strong secondary so passing could be a struggle so how Holani and the running game will be the key to winning this game.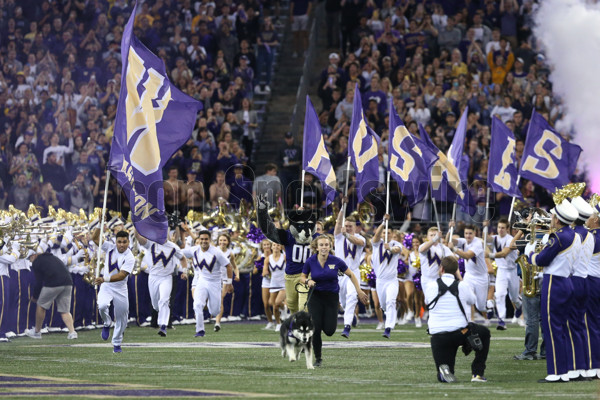 Washington Huskies (T-2nd Pac 12 North, 7-5, 4-5 Pac)
The Huskies look to send head coach Chris Petersen out a winner as Petersen announced he is retiring after this game. Ironically, Petersen's last game with Washington will come against his former team in Boise State. Defensive coordinator Jimmy Lake set to assume the head coach role on a full-time basis after this game.
Washington began the 2019 season near the top of the list of favorites to win the Pac-12. The Huskies didn't meet those expectations, as the program slipped to just a seven-win season. Washington's defense was strong once again, holding teams to just 20.4 points a game this fall. However, the offense struggled mightily on third downs (34.4%), and the overall production was down.
Close games were not kind to the Huskies this year. Washington lost all five of their games by 10 points or less, including a defeat to Oregon by four, Utah by five and California by one.
After sitting out last year after transferring from Georgia, Jacob Eason assumed the reins under center from Jake Browning. Eason showcased his big-time arm by connecting on 63.8 percent of his throws for 2,922 yards and 22 touchdowns to eight interceptions. The junior is pondering a jump to the NFL, so this could be his final game in a Washington uniform. Two of his offensive teammates already will be sitting this game out to be ready for the NFL in tight end Hunter Bryant and left tackle Trey Adams.
Washington's defense allowed just six passing plays of 40 yards or more and ranked third in the Pac-12 in pass efficiency. The Huskies allowed 355.5 yards per game (5.15 per play).
Key Player: RB Salvon Ahmed ensured Washington had a 1,000-yard rusher for the fifth year in a row thanks to an 85-yard game against Washington State on Nov. 29. That performance put Ahmed at exatly 1,000 yards for the season. With TE Bryant out of this game, the passing game will be less potent so how well Ahmed performs in the running game will be key to the Huskies moving the ball.
Fearless Predictions:
Kent: With Petersen leaving Washington, I wonder how well the team has readied itself for this game. Boise State wants to prove it should have been the team selected in the Cotton Bowl and cement itself as a possible year end best ranked G5 team should Memphis lose in this game. The two defenses are strong so I expect a lower scoring game. This will likely be similar to the 2012 Las Vegas Bowl game between these two teams and I like the Broncos to win in the end. Boise State 27 Washington 24
Chuck: One of the more intriguing bowls, Boise State, winners of the Mountain West, should be entering this bowl with their hair on fire having been denied a New Year's Six place. Washington, who was at one time nationally ranked but had to win the Apple Cup over Washington State just to get bowl eligible, seems ill-equipped to deny the Broncos. Boise State 38, Washington 27
Originally from LaMoure, North Dakota, Kent is a 1996 graduate of North Dakota State University. His prior writing experience is over 15 years having previously worked with D2football.com, I-AA.org, and College Sporting News before coming to College Sports Journal in 2016. His main focus is college football is the Missouri Valley Football Conference within the Division I FCS. And in 2017, he began also to look at the FBS Group of Five conferences of the American Athletic, Conference USA, Mid-American, Mountain West, and Sun Belt.
Reach him at this email or click below: