This week, the Gang got together and talked about their big takeaways from the FCS quarterfinal games this past weekend.
SWAC Champ/FCS Playoff Quarterfinals, May 1st-2nd, 2021
Mississippi Veterans Memorial Stadium
CSJ: North Dakota State's 24-20 loss to Sam Houston – is it the end of the Bison era?
KENT SCHMIDT: No, this is not the end. The team that won the last national title lost three players that went in the top four rounds of the NFL Draft (QB Trey Lance, OT Dillion Dillon Radunz, LB Jabril Cox). It also lost starting RB Seth Wilson to an injury in its first spring game. Several other players on both sides of the ball were also injured this spring. I think a quarterfinal round appearance given how young the team shows that this team still very capable. With a couple of key FBS transfers set to play next fall, I think this team will be back to the top again in the fall of 2021.
BEN SCHLEIGER: No. As one of the biggest supporters of parity I don't believe NDSU is out of it. Does a quarterfinal PLAYOFF loss really signal the end? No. When NDSU misses the playoffs for multiple years we can revisit the topic.
JAMIE WILLIAMS: Nope. Not even close. Teams ebb and flow. One loss doesn't signal the end of anything. They will still be young in the fall so they may not win then, but in 2022 and 2023, they'll be right there again. The same question was asked when they lost to James Madison in 2016. But again, the team was younger and in 2017 they ran through everyone and didn't lose another game until earlier this spring.
ROB BUTLER: All dynasties eventually come to an end, and I don't think NDSU's dominance over the last decade will ever be replicated. They will be back, but they won't win eight national championships in nine years. By the way, their fans are some of the classiest and nicest people you'll ever meet. I had a conversation with a group of them inside a gas station a couple of hours before kickoff – we wished each other good luck. And the Bison fans were congratulatory after the game was over – even in defeat.
CHUCK BURTON: To me, what this shows is how important home field is in the FCS Playoffs, especially in regards to the elite teams in the subdivision. If you watch the game or the highlights, both teams, in the end, were very evenly matched, and the game could have gone either way. You get the feeling if NDSU had hosted the game, the outcome might have been reversed. Though it wouldn't have affected this game (since it is a quarterfinal game, and Sam Houston was the higher seed, they would have hosted the game regardless), this is why I am a huge advocate of having neutral venues for the semifinal games and the finals for the FCS Playoffs. Home field advantage might be fine for early rounds, and it's a nice benefit for a great regular season, but to determine a champion, neutral sites are better.
RAY MALONEY: To paraphrase the great Mark Twain: the thought of NDSU's demise is greatly exaggerated. The same claim was made a few years ago when the Bison lost in the semifinal round and NDSU responded rather nicely, don't you think? Eight national titles in 10 years is pretty darn impressive and the Bison will be alright. There is just something in the air in Fargo that makes championship football something to be expected.
CSJ: Crow about what you picked right this weekend.
RAY: What the weekend proved was that I am terrible at picking games.
BEN: While I made some incorrect picks I was only two points off the final score of the UND/JMU game so that always is neat. Good for JMU, but let's take a second to recognize UND's rise to prominence in such a short time in the MVFC.
JAMIE: I said James Madison needed to win the 3rd down battle and the turnover battle. They did both, and really had that game put away. JMU is playing their best football at the right time.
ROB: I predicted Sam Houston would beat NDSU by a score of 24-23 – obviously, I missed by a field goal. But the game was every bit of what I expected. I'm glad I made the two-hour drive to see it in person.
CHUCK: I knew SIU wouldn't get boat raced by SDSU a second time. It played out almost exactly as I expected – SIU playing them close in a war, but SDSU pulling through at the end. Even for the final score I was only off by a FG. (28-26 vs. 31-26).
KENT: The only game I missed was the Sam Houston-NDSU game so I think I can crow about having the other three games correct. I thought South Dakota State survived but playing a team from your own conference for a second time in a season is very tough especially if you win by a large margin in the first time around. SDSU showed that it is capable of winning close and from behind as well so this team will be ready this week for Delaware.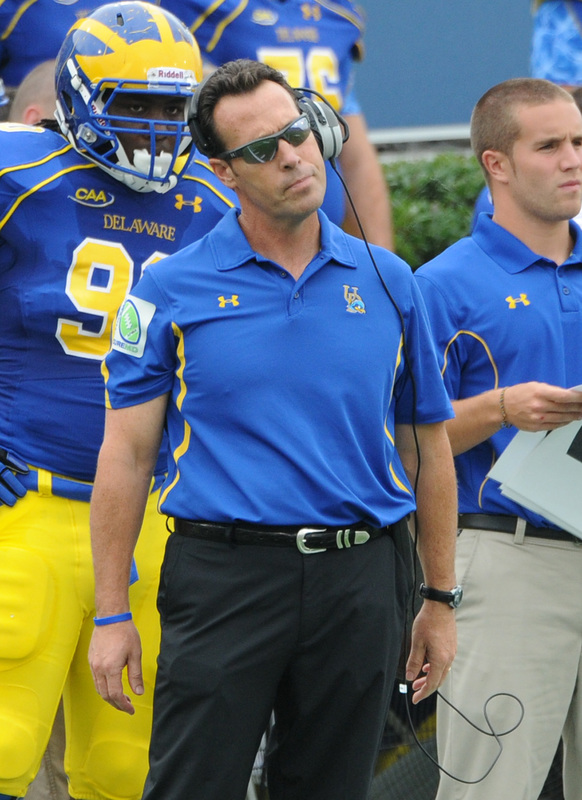 CSJ: Any other takeaways?
RAY: People always seem to hate on success. Whether it be Tennessee or UConn in women's basketball, Iowa or Penn State in wrestling or NDSU in football, fans are always clamoring for parity. Instead of being like some coaches, not to name names, and wanting the Bison to move to a higher level, maybe we should all thank the likes of those schools that have dominated their sports. It has made those other programs elevate their programs in order to seriously challenge. There has long been an adage in sport that a team can only become the best by beating the best. At no time has that saying been amended to say a team gets better by default.
BEN: Can we take a minute to acknowledge how cool it is that the playoff games are now making it above ESPN3 and even two games on ABC? Good for the FCS and let's hope the rise continues.
JAMIE: This is not the same Sam Houston team we saw the last few playoff runs. No one is blowing them out. They have rebuilt a strong defense that stops the run. That keyed them this past weekend although bad special teams play kept NDSU in the game. The 4 teams left are all really good teams and, really, any of the four could win the title and I would not be surprised.
CHUCK: Folks online are crowing about the demise of the Missouri Valley because they went 1-3 this weekend (two teams, SIU and SDSU, played each other). But there's a lot less to this than meets the eye. Few people thought UND would beat JMU on the road, and it wasn't a blowout. And NDSU/Sam Houston came down to the very last drive, and really could have gone either way. To me, there was an incredible amount of parity in these final 8 teams. Without a doubt the correct eight were playing in the semifinals.
ROB: Keep an eye on a Delaware vs Sam Houston national title game in Frisco. That has some intrigue since K.C. Keeler won a national championship as head coach of Delaware in 2003.