Conference leader New Mexico State could only sit back and watch as the rest of the league looked to close the gap between the Aggies and themselves.
NMSU did all it could to maintain the separation by defeating UT Rio Grande Valley 67-62 to remain undefeated in conference play with a 6-0 record and improved its season mark to 15-6. The Aggies are on a nine-game winning streak heading into a pair of games this week against Bakersfield and Grand Canyon.
California Baptist was the only foe to keep pace with the Aggies by winning both of its games last week. The Lancers defeated Chicago State 85-53 on Jan. 22 and downed Kansas City 67-57 three days later to move their conference record to 4-2 this season. CBU plays at Utah Valley on Thursday before heading to Seattle for a Saturday afternoon tilt against the Redhawks.
The rest of the league was not so fortunate. Four other teams had a chance to close the gap on Aggies, but split their two games, while three other teams dropped their only games of the week.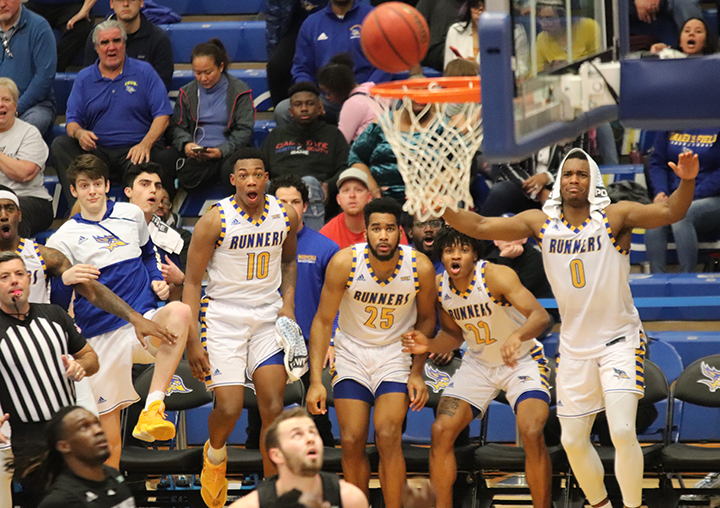 WAC Marquee Game of the Week
Bakersfield at New Mexico State
When: Thursday, Jan. 30, 7 p.m.
Where: Lou Henson Court at Pan American Center (12,572)
Television: WAC Digital Network (WDN)
BAKERSFIELD ROADRUNNERS: Bakersfield saw its modest three-game winning streak hit a bump with its 86-79 loss at home last weekend against Seattle.
The Roadrunners can make the disappointment of that setback a distant memory with a win over league-leading New Mexico State on Thursday. And they seem to have the firepower to make that a possibility.
Bakersfield is scoring at a 71.9 points per game clip this season and is allowing the opposition 69.2 points per contest. Based on numbers alone, the 2.7 points per game difference indicates Thursday's game could be a nail-biter.
Taze Moore (6-5, RS, Jr., G) leads the Roadrunners with 11.9 points per game and is one of just two Bakersfield players averaging more than 10 points per game. Moore ranks second on the team with 40 assists and 27 steals so far this season.
De'Monte Buckingham (6-4, RS, Jr., G) joins Moore in double figures with 10.4 points per game of his own and his 4.5 rebounds is tied for the team-lead with Justin Edler-Davis (6-4, RS, Jr., G/F), who also averages 7.3 points per game for the Roadrunners.
NEW MEXICO STATE AGGIES: The Aggies have proven they are good. They are very, very good.
New Mexico State is averaging 71.3 points per game this season and are outscoring its opponents by 10.5 points per contest and are grabbing seven rebounds more than the opposition per game in 2019-20.
Trevelin Queen (6-6, Sr., G), the outstanding player of last year's WAC tournament, leads the Aggies in virtually every statistical category. He is averaging a team-best 14.7 points per game and is grabbing 5.7 rebounds per contest, which also tops the team charts. Queen, who played at Marin and at New Mexico Military Institute prior to enrolling at NMSU in 2018-19, leads the Aggies with 55 assists and has tallied 37 steals so far this season and has started all 20 games.
Jabari Rice (6-4, RS, So. G) is the second of three players scoring in double digits for the Aggies. He is averaging 12.1 points per game and is fourth on the team in rebounding with 4.8 boards per game. Teammate Ivan Aurrecoechea (6-8, Sr., F), is adding 10.5 points and 5.4 rebounds per game so far this season.
Johnny McCants (6-7, RJr., F) is just off the pace when it comes to scoring, but is averaging 9.1 points. His 5.5 rebounds per outing ranks second on the team.

| Team | vs. Big Sky | Overall | Sagarin |
| --- | --- | --- | --- |
| Montana | 12-3 | 16-10 | 129 |
| Eastern Washington | 10-4 | 17-8 | 139 |
| Northern Colorado | 10-4 | 17-8 | 126 |
| Montana State | 8-6 | 14-11 | 208 |
| Northern Arizona | 8-7 | 14-10 | 233 |
| Southern Utah | 7-7 | 14-11 | 211 |
| Portland State | 6-8 | 12-14 | 197 |
| Sacramento State | 6-9 | 13-11 | 231 |
| Weber State | 6-9 | 10-16 | 245 |
| Idaho | 3-10 | 7-17 | 304 |
| Idaho State | 3-12 | 6-18 | 323 |
Check out our full Mid-Major Sagarin Ratings for this week here.
Last Week's Results
Jan. 22
California Baptist 85, Chicago State 53
Jan. 23
Bakersfield 58, Utah Valley 57
Grand Canyon 80, Seattle 77
Jan. 25
California Baptist 67, Kansas City 57
New Mexico State 67, UT Rio Grande Valley 62
Seattle 86, Bakersfield 79
Utah Valley 73, Grand Canyon 69
This Week's Games
Jan. 27
Crowley's Ridge at Kansas City, 6 p.m., WDN
Jan. 29
California Baptist at Utah Valley, 7 p.m., WDN
Jan. 30
Grand Canyon at UT Rio Grande Valley, 6 p.m., ESPN+
Bakersfield at New Mexico State, 7 p.m., WDN
Feb. 1
Kansas City at Chicago State, 11 a.m., WDN
California Baptist at Seattle, 2 p.m., WDN
Bakersfield at UT Rio Grande Valley, 6 p.m., WDN
Grand Canyon at New Mexico State, 7 p.m., WDN
A native of Bismarck, N.D., Ray is a graduate of North Dakota State University where he began studying athletic training and served as a student trainer for several Bison teams including swimming, wrestling and baseball and was a trainer at the 1979 NCAA national track and field championship meet at the University of Illinois. Ray later worked in the sports information office at NDSU. Following his graduation from NDSU he spent five years in the sports information office at Missouri Western State University and one year in the sports information at Georgia Tech. He has nearly 40 years of writing experience as a sports editor at several newspapers and has received numerous awards for his writing over the years. A noted sports historian, Ray is currently an assistant editor at Amateur Wrestling News.