Coming into 2017, the MEAC is looking to bounce back from a disappointing year as a conference. 2016 saw the conference have 9 of 11 members finish the season below .500 with North Carolina A&T and North Carolina Central being the only 2 exceptions. The conference also went 0-fer in the post season with A&T losing in the first round of the FCS playoffs to Richmond and the Eagles of Central losing in heartbreaking fashion to Grambling in The Celebration Bowl. On the bright side Tariq Cohen of NC A&T showed to be one of the premier players in the country and Darius Leonard established himself as arguably one of the top defensive players in all of college football. The MEAC hopes to bounce back from a disappointing 2016 and we'll take a look six players that could lead the way of the conference doing so.
Larry Brihm Jr., QB, Bethune-Cookman
It was finally his team; in 2016, Larry Brihm, Jr. wouldn't be sharing the starting quarterback duties on the Wildcats, he'd be the main guy. But there were struggles in Bethune-Cookman's 4-6 season, where he notched only 10 touchdowns passing and 1 touchdown rushing. His last game of the year in the Florida Classic, though, saw a glimpse of what the Delray Beach, Florida native can do, going 20 for 26 passing for 272 yards and 1 TD. Can he sustain that type of effort from that one game through an entire season, and can he put the Wildcats in the MEAC title conversation once again?
Malik Harris, LB, Delaware State
The 6'0, 210 lb senior from Washington, DC has already done his fair share to impress NFL scouts, notching 82 tackles and 11 tackles for loss as the centerpiece of the Hornets defense. Yet somehow he gets overlooked among the other strong linebackers from around the MEAC. With a strong senior season from Harris, the Hornets could surprise some teams in the MEAC title race and a few more NFL scouts might start giving Harris even more attention.
Terry Jefferson, DB, Florida A&M
Terry Jefferson is everything that coaches want in a player. As a redshirt freshman, Jefferson picked off 4 passes in only 10 games, and as a result Jefferson was named to the All-Conference team in 2016 and became a leader in the secondary for Coach Alex Wood and the Rattlers. At only 5'9 and 175 pounds Jefferson was an enforcer at his Safety position, making 46 total tackles and 4.5 tackles for loss. In the classroom Jefferson is a 4.0 student and was named to the MEAC's All-Academic team.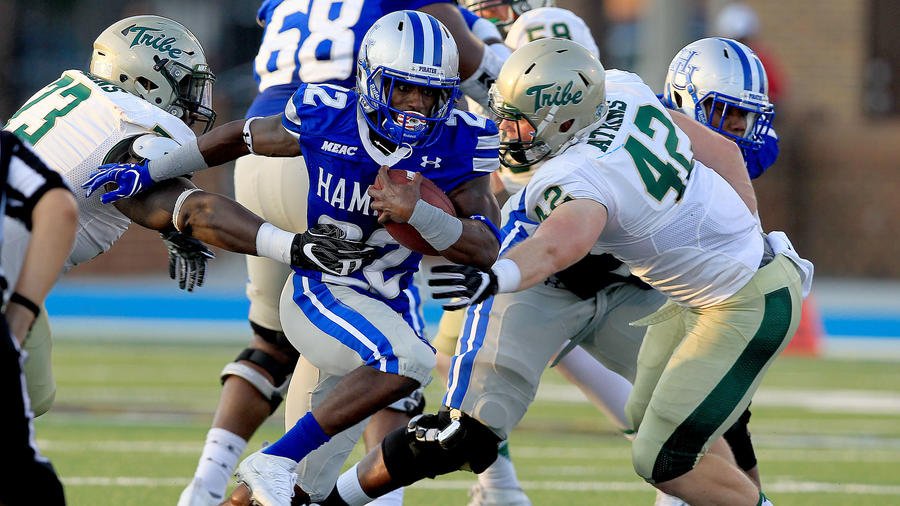 Yahkee Johnson, RB/RET, Hampton
At 5'7 and 160 pounds, Yahkee Johnson might not seem like a dangerous player at first. But Johnson was one of the best playmakers that you've never heard off a year ago. Johnson rushed for 763 yards and averaged 5.7 yards per carry, and also added 11 receptions for 192 yards and 1 touchdown. Johnson finished his first season at Hampton with 1,015 total yards and averaged 92.3 total yards per game to go along with 5 total touchdowns. Johnson comes into 2017 as a preseason All-Conference pick and eager to build off of what he was able to accomplish in year one.
Caylin Newton, QB, Howard
Howard has seen better days. Long gone are the days of the great Jay "Sky" Walker and those dominant Bison teams of the past. The Bison hired head coach Mike London to restore the program back to prominence and Coach London received a gift this recruiting season in the form of a 3-star quarterback from Atlanta named Caylin Newton. Caylin is the younger brother on NFL QB Cam Newton. Newton had a very impressive spring game, running for two scores and passing for another one. Coaches say that he was impressive enough during the spring to compete for the starting job in the fall. Newton would have All-Conference running back Anthony Philyaw and a solid running game to take the pressure off of him if he becomes the starter as a true freshman.
Herb Walker Jr., RB, Morgan State
Some may have forgotten Herb Walker, Jr.'s record-smashing rushing records as a sophomore – the one where he ran for 1,408 yards and notched 13 rushing touchdowns, all while helping lead the Bears to a MEAC conference championship. Since that golden season of 2014, however, adversity has dogged the Cleveland, Ohio native ever since, first with an eligibility issue then a foot injury. Now a redshirt senior, he's back, and undoubtedly eager to refresh the memory of MEAC and FCS fans everywhere that he's the elite player they remember.
Chris Lee, DE, Norfolk State
Despite the Spartans' struggles on the field, one of Norfolk State's bright spots is the 6'3, 280 lb behemoth of a defensive tackle that anchors the Spartan front line. Originally a tight end as a freshman, Lee turned to the defensive side of the ball as a sophomore and has never looked back, earning defensive MVP team honors last season and notching 47 tackles at 13 1/2 tackles for loss. Winners of three of their last four games of the year last season, can Lee and the Spartans defense continue to shut down opposing MEAC offenses?
Elijah Bell, WR, North Carolina A&T
Last season Elijah Bell made a name for himself as a true freshman in an offense that featured senior All-Conference players in Tariq Cohen and Denzel Keys. Bell finished his freshman season off with 35 receptions for 631 yards and a freshman record 8 touchdowns. Bell lead the MEAC in yards per catch (18.03) and had 101 yards receiving against Tulsa to become the first Aggie since 2013 to have a 100-yard receiving game. Bell comes into 2017 as the main target in the Aggie receiver corps which could mean an even bigger year for Bell.
Reggie Hunter, LB, North Carolina Central
The Eagles have won 3 straight MEAC titles and have won 3 straight over rival North Carolina A&T. The Eagles are hoping to make it 4 in a row on both and a key player to watch for them is linebacker Reggie Hunter. Hunter has been a starter for the Eagles since his redshirt freshman season and was named First Team All-Conference a year ago. Hunter recorded 84 total tackles a season ago with 12 of those being for loss. Hunter often gets overlooked just as his team does, but Hunter and the Eagles have proven in the past that they're to be taken seriously.
Mulik Simmons, LB, Savannah State
The Tigers were expected to struggle last season, but managed three shocking upsets in MEAC play thanks to their stingy defense, and Simmons, a 6′ 0 255 lb linebacker from Savannah State's backyard, was a big part of that. In their three wins at home, twice Simmons notched double-digit tackles, and in another, forced a fumble to set up the Tigers' first score. If Simmons keeps improving his game, can it lead to Savannah State to bring their defensive show on the road for some big MEAC road upsets?
Dayshawn Taylor, LB, South Carolina State
Darius Leonard just may be the best linebacker in FCS football, but there is another Bulldog backer that people might not want to forget! His name is Dayshawn Taylor. Taylor was an All-Conference player a year ago while recording 83 tackles, 10.5 tackles for loss, and forced 4 total turnovers. Taylor plays in the shadow of Darius Leonard but the 5'11 240 pound linebacker has made a name for himself amongst NFL scouts. Keep an eye out for Taylor who is one half of the most dynamic linebacker duo in college football.
BJ Jones is an HBCU contributor to College Sports Journal. Edited by Chuck Burton.