What a week! Six, count 'em, six FCS teams upended FBS teams this week, and all of us were enthralled. This week we got together and talked about the week that was and the week that's about to be.
CSJ: Which FBS upset thrilled you the most?
Chuck Burton: I was keeping a very close eye on Holy Cross' upset over UConn, but as a defensive nerd, holy cow was Montana's stunning upset over nationally-ranked Washington an ugly thing of beauty. It was absolutely incredible watching Montana slowly and methodically frustrate the Washington defense repeatedly, eventually forcing some errant throws that turned into interceptions. By the time Cam Humphrey surged into the end zone to give Montana a lead they wouldn't relinquish, the Huskies seemed absolutely spent. More than the stats, more than the offenses, it was just how worn down the Huskies looked at the end that was so stunning. It's not all that long ago that the book on FCS teams is that they can hang for about a half then the bigger FBS school pulls away. Montana obliterated that myth.
Kent Schmidt: Montana winning a defensive battle over a Top 20 ranked Pac-12 Washington team was great, but I thought the domination of South Dakota State over Colorado State was the most thrilling. The Jackrabbits looked like the FBS team and Colorado State looked like the FCS in the Jacks 43-23 victory . If there was a question at quarterback for SDSU after last spring starter Mark Gronowski being out with injury this season, there no longer should be as Chris Oladokun looked the part and then some. All the other SDSU parts looked like the same team that made it to the national title game.
Ben Schleiger: Montana over #20 Washington. The Grizzlies taking down a top 20 team from the FBS is a historic win for the whole FCS. Bobby Hauck sure has this team pumped up, but we will see if it transfers when the conference play starts up.
Preston Adams: I was always on South Dakota State over Colorado State and Holy Cross over UConn. Seeing both do so in such convincing fashion was a genuine pleasure to watch.
Jamie Williams: East Tennessee State upsetting Vandy was great for me to see. To see Quay Holmes lead ETSU to the victory with over 140 years was great to see. Holmes is one of my favorite players in the FCS so it was great to see him out front of a big win like this.
Ray Maloney: One of the benefits of getting old and being around the game of college football for as long I have been is that I have not jumped on the bandwagon concerning the "upsets" of the first week.
Sure, an FCS win over an FBS team is great fodder for a day of chatting at an adult "coffee" shop, but in the end there is truth in the old adage "on any given day." When Montana head coach Bobby Hauck immediately compared his win to "App State over Michigan," that was over the top. Way, way, way over the top.
Every FCS team that defeated an FBS team last weekend was either ranked or received votes in the CSJ preseason poll. Every columnist here, before the games, picked South Dakota State and Eastern Washington to win their games. That indicates those teams have plenty of talent. And those six FCS teams that lost to a "lesser" opponent combined to go 10-27 in 2020. Granted, it was an abbreviated season for many of them, but the season before, those same six teams went 25-48.
Rob Butler: I enjoyed watching Northern Iowa nearly upset Iowa State – the Panther defense was outstanding in the 16-10 loss. Breece Hall, the Iowa State running back, was limited to just 69 yards on the ground. But the most impressive thing was limiting the Cyclones to just one offensive touchdown. And UNI QB Will McElvain was impressive, completing 21 of 34 passes for 230 yards and one touchdown. This game wasn't a total shocker – the Panthers have won in Ames before.
CSJ: Of the non-FBS games, what was the best game of the week last week?
Chuck: There were some thrillers, but I thought Austin Peay's win over Chattanooga showed that the Governors firmly belong in the FCS Top 25 and maybe even show that the OVC is every bit as good as the SoCon.
Ray: I enjoyed seeing Austin Peay defeat Chattanooga. I have great respect for both programs and figured Chattanooga would prevail by a narrow margin. But, I think the Govs proved the demise of the OVC is far from being a reality and that it is still a very viable league in the FCS.
Preston: How about Alabama A&M in a thriller over South Carolina State 42-41? Aqeel Glass looked as good as advertised and that could be a Celebration Bowl rematch in the making.
Jamie: Incarnate Word at Youngstown State was so much fun to watch. Back and forth. As soon as you thought UIW had it won, YSU got a big play to get in FG range to tie and then win in OT.
Kent: Mine was in within my coverage conference of the Missouri Valley. Youngstown State defeated the Southland's Incarnate Word 44-41 in overtime. Penguin K Colt McFadden made a 41-yard field goal as time expired to force overtime and hit the 27-yard game-winner in the extra period to give YSU the win.
Ben: Wofford vs. Elon was a good contest ending in 24-22. It was a solid tug-of-war where Elon climbed back, but Wofford ultimately prevailed.
CSJ: Team of the week?
Preston: Hard to argue against East Tennessee State knocking off Vanderbilt the way that they did. But it's also Vanderbilt. What can't be denied is what it meant for Montana to knock off old Northwest Conference Washington in a game absolutely no one had on their upset board for 100 years (literally). We're still not sure if Washington pundits have recovered after all the hubris they exuded going into the game.
Kent: Montana. Yes, there were five other FCS upsets of FBS squads that are all worthy, but the Griz did something that only four teams in FCS history have done before and defeat a ranked FBS team on the road. That to me gives the Griz the edge this week.
Jamie: You beat a ranked FBS team, you get my vote. Montana Grizzlies and their dominant defense took out #20 Washington. Lets see if they keep the momentum through the season.
Chuck: How about East Tennessee State? Nobody would confuse Vanderbilt and Alabama, but a stunning 23-3 upset over an SEC team was highlighted by the introduction of RB Quay Holmes to a larger audience and a stunningly effective Buc defense that held Vandy to 85 net yards rushing. It's astounding to think that save a 53 yard FG in the first quarter, ETSU may very well have shut them out.
Ben: South Dakota State beating an FBS team by as wide a margin as they did really set off the local Colorado media on a tirade against the rest of Colorado State's season. The Jackrabbits are riding a big high while the Rams are getting dragged through the mud.
Rob: South Dakota State is my team of the week – and it's by a landslide too. I knew Pierre Strong was good after watching him run all over Sam Houston in the championship game. He finished with 138 yards on 13 carries. The Jackrabbits were very balanced overall in the 42-23 victory over FBS Colorado State.
Ray: Northern Iowa. The Panthers got kicked in the gut last season with a boatload of injuries, but came out and battled a very good Iowa State team down to the wire before falling in Ames in what one longtime ISU season ticket holder told me was the loudest he had ever heard Jack Trice Stadium. The Cyclones, remember, were ranked No. 7 at the time and several people projected ISU to make it to the CFP this season.
CSJ: Top performer on offense?
Ray: Presbyterian quarterback Ren Hefley wins this debate in Secretariat-style fashion. Fifty passes is a lot of passes and completing 38 of those tosses makes for a yeoman's effort on the day, along with 538 yards. But to throw for 10 touchdowns simply puts him in a league of his own. And I will not go the route of the Montana coach and question any competition: the bottom line is every player in the nation puts the gear on and hopes to play the game to the best of their ability … on this day no one did it better than Hefley.
Honorable Mention: RB Quay Holmes, East Tennessee State, QB Aqeel Glass, Alabama A&M, RB Jaleel McLaughlin, Youngtown Sate, Liam Welch, Samford.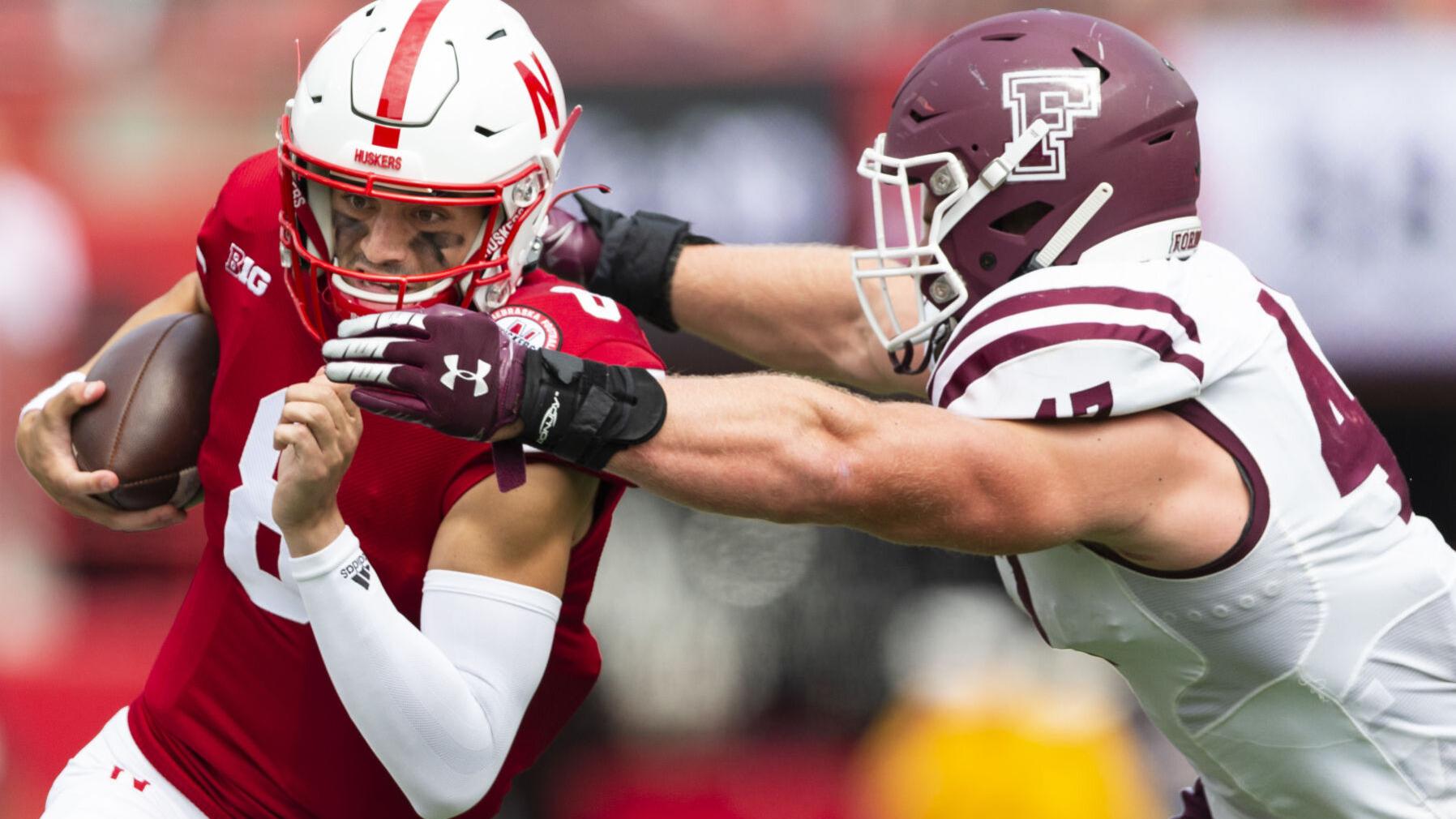 CSJ: Top performer on defense?
Jamie: When you set an FCS record on defense, especially against a Power 5 school like Nebraska, you get this honor. LB Ryan Greenhagen of Fordham notched 31 tackles to set a new NCAA record.
Honorable Mention: LB Marcus Welnel, Montana, S Pop Bush, New Hampshire, DB Shilo Sanders, Jackson State, DB Esaias Guthrie, Delaware State, LB Ronnell Wilson, Tarleton
CSJ: What's your game of the week this week, and fearless prediction?
Jamie: Not much out there excites me this week. But I will go with a CAA matchup. Towson at New Hampshire. Both teams need this win to really remain in the playoff race. For UNH it would mean a 2-0 conference start. Towson is playing is first conference game since 2019. This should be a close game with New Hampshire picking up the home win 21-20
Chuck: There's a lot more FCS on FBS action this week, but with the FCS games this week New Hampshire/Towson is probably the most important in regards to the FCS national picture. Towson QB Chis Ferguson will be quite familiar with UNH – he transferred to Towson from Maine, UNH's rival. I think he might bedevil them here one last time. Towson 32, UNH 27
Kent: There are not many great FCS vs. FCS match-ups this week but I will agree with the CAA match-up of Towson/New Hampshire. Both come into this game at 1-0 and the winner of this one might have the inside track towards a playoff spot later down the line.
Preston: The CAA has a lot of conference games to open up the season. I look at Rhode Island traveling to Albany as a game that each team can ill afford to lose. Albany didn't capitalize in a game where NDSU was very good, but not their usual dominant selves. Rhode Island was a surprise spring team and won last week against Bryant. The loser of this game will have an incredibly challenging uphill battle in a log jammed CAA. Give me Rhody in a tight one. Rhode Island 31, Albany 27
Rob: Incarnate Word lost to Youngstown State 44-41 in overtime, and their defense looks pedestrian at best. I'm curious to see how well they play against Prairie View A&M in San Antonio. QB Jawon Pass threw for 354 yards and 3 TDs for the Panthers in their 40-17 win over Texas Southern. Can PVAMU contend in the SWAC? Will the Cardinal defense bounce back? Get your popcorn ready – Incarnate Word 41 Prairie View A&M 37.
Ben: Central Arkansas at Missouri State should be a marquee event. Both had respectable losses to tough FBS competition which should translate to a competitive matchup.
Ray: While it may lack the glamour of some games, it holds a lot of impact on the FCS season moving forward.
I am looking forward to watching Monmouth at Fordham on Saturday. Monmouth began the season ranked No. 10 in the CSJ preseason poll and was blown out in the opener at Middle Tennessee and Fordham suffered the same fate at Nebraska. It will be interesting to see how both teams respond after huge losses, but Monmouth can ill-afford to start the season 0-2.
But, on a personal note, I will be at the game and am looking forward to experiencing a stadium I have never been to before and try to soak up the history that is Fordham Football. Monmouth 35, Seven Blocks of Granite 14
CSJ: Who has the best shot at getting an FBS upset this week?
Rob: VMI handled Davidson convincingly Saturday – 45-24 was the final. Kent State lost 41-10 at Texas A&M and I watched most of the game. I do think VMI can hang with Kent State but it'll be like a 48-31 type of game – one that the Keydets ultimately lose but I think they'll make it difficult for the Golden Flashes.
Preston: There's not really any locks this week for an upset like last week. Hampton over ODU would be intriguing if Hampton didn't look so pedestrian last week. So I'll go North Dakota over Utah State. Utah State is decent, but if UND can get off to a quick start, this game could be in the balance all the way through.
Chuck: I think those thinking for another weekend of six FBS upsets might be a shade disappointed this week, especially if you're a Mercer fan hoping to stay within four touchdowns of Alabama. If one happens, it might happen in Logan, UT when North Dakota takes on Utah State.
Ray: Where is Nick Saban and what has Alabama done with him? I thought he only scheduled the proverbial "cupcake" games close to the end of the season as a way to give any injured players more time to recover before the league championship game and bowl game.
Joking aside, North Dakota should get past Utah State in another game of a quality FCS program by defeating the Aggies, who barely got past Washington State. A win by UND will give the Fighting Hawks additional optimism as the start of conference looms in a few weeks and it will put Montana's win over Washington into perspective by illuminating the PAC 12 is not as strong a conference as some may think.
Kent: While I agree UND might have a chance at Utah State, the Aggies just had a Power Five win over Washington State on the road last week, so this is not the same team as last year's USU squad. My best chance actually is Kennesaw State at Georgia Tech. GT was a team I watched last week with its upset by a Group of Five team in Northern Illinois (who was winless in the abbreviated 2020 season). KSU looked down last week in its 11-point win over 2021 spring NAIA playoff quarterfinalist Reinhardt but will have the motivation to play their instate Georgia foe in this one and very well could get the win over a Power Five.
Jamie: Im not sure there is one on the board to point at. But I think Southeastern Louisiana has a solid chance to beat Louisiana Tech
Ben: SELA vs. LA Tech should be an offensive onslaught that will entertain the audience through at least three quarters.