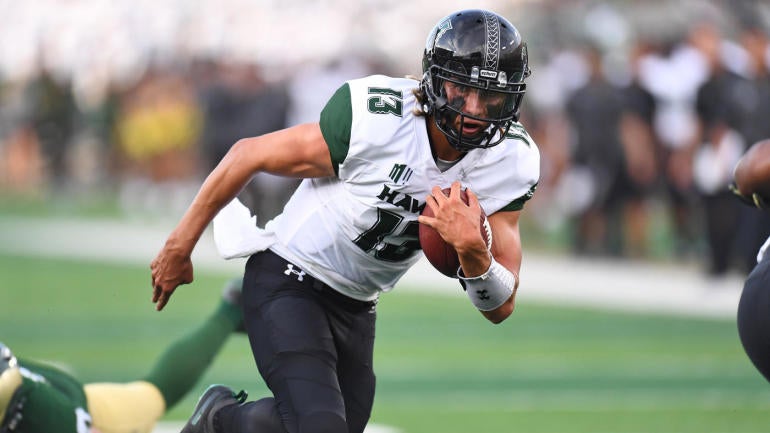 Four games involving FBS Group of Five opened the college football season this Saturday. The highlighted game was a Mountain West Conference opener for Hawai'i and Colorado State and fellow MWC member Wyoming traveling to Independent New Mexico State.
But the closest game was a G5-FCS match-up where Rice came back to defeat Prairie View A&M in the last seconds. Click on the score for a more detailed recap.
Hawai'i 43 Colorado State 34—(Fort Collins, Colo.) The Hawai'i Rainbow Warriors got the 2018 season off with a bang with a 43-34 Mountain West road win at Colorado State Saturday at Canvas Stadium. UH propelled itself to a fast start and held off a late rally by the Rams to pick up the team's first win in Fort Collins in 30 years.
UH's run-n-shoot offense made a glorious return, scoring on six of its first seven possessions and racking up 617 total yards—its highest total in nearly five years. Meanwhile, the Warriors new-look defense held the Ram scoreless on six straight possessions spanning more than two quarters, helping UH build a commanding 30-point lead.
Wyoming 29 New Mexico State 7 —(Las Cruces, N.Mex.) The Cowboy defense held New Mexico State to 135 yards of total offense and the rushing attack of Wyoming racked up 323 yards in a dominate 29-7 win on Saturday evening.
Nico Evans shined for Wyoming in rushing for a career-high 206 yards with two touchdowns. It was the first 200-yard rushing game by a Cowboy since Brian Hill did so with 289 against Nevada. Defensively, it was the fewest yards allowed by the Cowboys since 100 total offensive yards in the 2007 season opener against Virginia.
Rice 31 Prairie View A&M 28 — (Houston, Tex.) Rice jumped out quickly to a 16-0 lead early in the second quarter, only to see the Panthers score 21 unanswered points to take a 21-19 lead at halftime. Prairie View A&M extended the lead to 28-19 before the Owls used the precision punting of Jack Fox and a resurgent pass rush to score the game's final 12 points, including the game winning 23-yard field goal by Fox for the Rice 31-28 victory.
Massachusetts 63 Duquesne 15 (Amherst, Mass.) UMass opened the game with 21 unanswered points, never looked back and finished with 572 total yards of offense as the Minutemen opened the 2018 season with a 63-15 victory over Duquesne at McGuirk Alumni Stadium on Saturday.
The total offense figure set a FBS-era program record for a season opener, which previously stood at 413 yards against Hawaii on Aug. 26, 2017.
Originally from LaMoure, North Dakota, Kent is a 1996 graduate of North Dakota State University. His prior writing experience is over 15 years having previously worked with D2football.com, I-AA.org, and College Sporting News before coming to College Sports Journal in 2016. His main focus is college football is the Missouri Valley Football Conference within the Division I FCS. And in 2017, he began also to look at the FBS Group of Five conferences of the American Athletic, Conference USA, Mid-American, Mountain West, and Sun Belt.
Reach him at this email or click below: