BYU at Coastal Carolina
When: Friday, Dec. 5th, 5:30 PM EST
Where: Brooks Stadium, Conway, S.C.
TV/Streaming: ESPNU/WatchESPN (subscription req'd)
Wow, how things can change in the course of just a few days. I was set to write up a preview for Liberty visiting Coastal Carolina but that game was canceled due to COVID-19 concerns with the Liberty program.
Within hours of the cancelation, another independent school accepted to be the replacement for Liberty in BYU.
In doing so, this now has become the not only the game of the week in the Group of Five but also really the full country.
BYU is coming in ranked as the #13 team in the College Football Playoff committee rankings, while Coastal Carolina is #18. Of course, both schools likely feel slighted as eight teams with at least one loss are above BYU in the rankings, while there are three additional teams above Coastal in the rankings.
Both teams come into this last minute match-up at 9-0 and are both looking for that signature win with this game to bolt them up the rankings.
And I did not even mention that ESPN's College Gameday will be in Conway for their highly watched pregame show this week.
This is the first ever battle of at least 9-0 teams from the Group of Five in the College Football Playoff era and we are set for a great game.
Coastal Carolina has already won the Sun Belt East Division crown this year and will face Louisiana in that conference's title game on Dec. 19th at home. The Chanticleers are off to the best start in their FBS history and off to the best start of any school in Sun Belt history.
And Coastal was not supposed to be this good. Many outlets (including CSJ) picked the Chants to finish last in the SBC East Division and have proven all of us very wrong. The season started for the Coastal with a big win at the Big 12's Kansas, 38-23 and defeated both of the Sun Belt division winners from the past two seasons starting with a narrow last second field goal win at Louisiana 30-27 and then handled Appalachian State at home, 34-23.
BYU has already played arguably its toughest two opponents on the road in Boise State as well as Houston and handled both with relative ease. The Cougars defeated Boise State 51-17 and came from being down early to win at Houston 43-26.
Texas State is the lone common opponent (Troy will be as well as Coastal plays the Trojans next week). BYU handled Texas State 52-14 in late October, while Coastal just last week won by a similar margin, 49-14.
Below is a look at the statistics and rankings between the two teams.
BYU Cougars (9-0)
BYU has dominated its competition to its 9-0 mark. The Cougars have scored 41 points or more in eight of those nine victories. BYU also is one of just two teams (Clemson) that rank in the top 10 nationally in both total offense (5th in FBS) and total defense (6th),
QB Zach Wilson is the trigger for one of the most explosive offenses in the nation. The Cougars offense averages an astounding 47.6 points and 536 yards per game. He ranks seventh nationally in passing yards (2,724) and is in the top three in the nation in completion percentage (74.3), touchdown passes (26), yards per attempt (11.5), and passing efficiency (205.3).
But the Cougars offense is far from being one dimensional. BYU's run game has produced 29 rushing touchdowns (second in FBS) and averages 202.3 yards per contest. Sophomore RB Tyler Allgeier ( 851 yds., 11 TDs) leads the charge, averaging a very impressive 7.2 yards per carry. And junior RB Lopini Katoa (329 yards, 5 TDs) will add to the threat if he is able to return this week from an ankle injury.
The Cougars defense as mentioned above has been nearly as effective as its offense. The BYU defense has allowed just 204.2 passing yards per game and 6.5 yards per pass attempt (22nd in FBS). The Cougars also feature a solid pass rush that has generated 24 sacks this season.
Key Player: QB Zach Wilson
Wilson is being mentioned in the Heisman race and this game in a national showcase kind of game might be one that he would look to booster that possibility. I think Coastal Carolina defense will be gearing for his passing attack so he will need to look to use his two strong running backs behind him and make the right calls at the line of scrimmage. If the strong running game can start the game, then Wilson can use his arm in what should be a more open passing game to help the Cougars pick-up the road victory.
Coastal Carolina Chanticleers (9-0, 7-0 SBC)
The Chanticleers last started this good in 2014 when they were in the FCS ranks. That season, Coastal started 11-0 before falling to the team they were supposed to play in this game in Liberty 15-14 in what gave the Big South Conference title also to the Flames. The Chants that season would eventually fall at the eventual FCS national titlist in the quarterfinal round of the FCS playoffs in North Dakota State.
Two years later, Coastal Carolina moved up to the FBS ranks and before this season, had not finished with a winning record at college football's highest level.
The big reason the Chants are where they are is the play of redshirt freshman QB Grayson McCall, who orchestrates a high-powered Coastal Carolina offensive attack that averages 38.7 points and 448 yards per game. McCall has completed 67 percent of his pass attempts for 1,747 yards with 20 touchdown passes and just one interception.
The Coastal running game also is a big help to the offense that is headlined by RB CJ Marable (867 all-purpose yards and a Sun Belt-leading 14 total touchdowns). He shares the backfield, however with two other capable backs in Reese White (402 yds., 5 TDs) and Shermari Jones (341 yards, 3 TDs).
The Coastal defense has been equally impressive this year. The so-named "Black Swarm" is one of the top pass defenses in the country, allowing just 181.1 yards per game (12th in the FBS). The Chants also have 11 interceptions on the season, led by star CB D'Jordan Strong's five. The CCU pass rush has also produced 31 sacks.
Key Player: QB Grayson McCall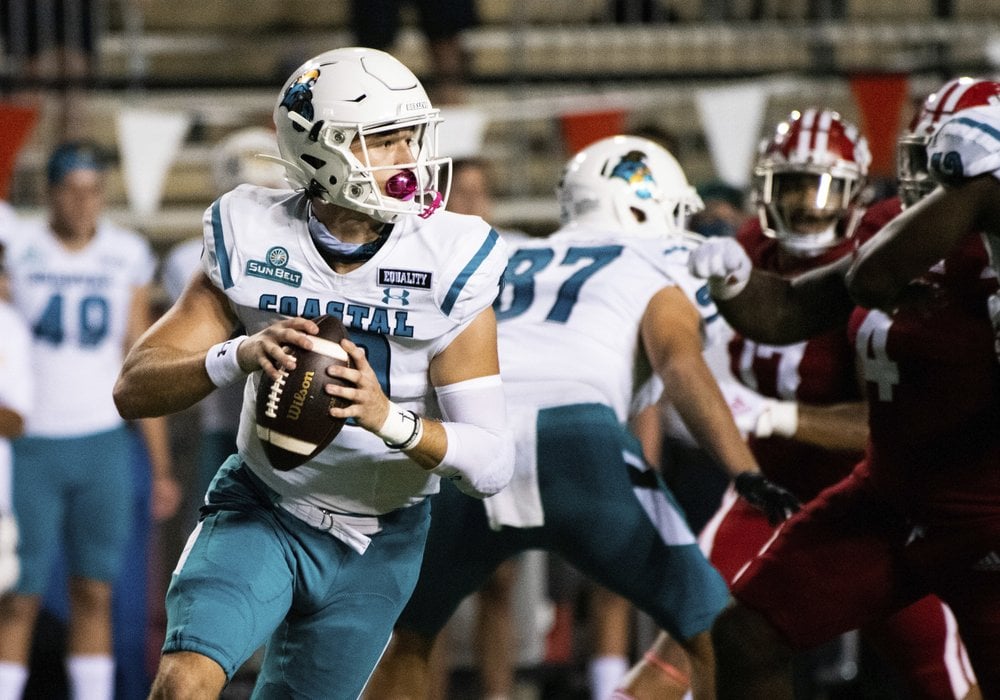 This will be the biggest game of McCall's career and the team as whole will need to put aside the distractions of the ESPN Gameday and come out and play like they have played all season. The key though is with McCall at the most important position in the game. He has played beyond his redshirt freshman status all season but this will be the toughest defense he has played so far this season so he will need to be patient and take what the defense gives him and not try to force anything. Turnovers will be a key for both sides but more so I feel on the Chanticleers side as a must to win this battle if this team will pull off this huge victory.
Fearless Prediction:
As I was going through each team, the similarities to each other between these schools is astounding–strong quarterback play, strong running offenses, stellar defenses. When two teams like this play, the quarterback play will be the key and I like a junior quarterback that has been on the road to win highly anticipated games like this. I think Zach Wilson will be the difference in this game but will be one that will not be decided until late in the fourth quarter. The Cougars will likely tack a late insurance score in this one to pick up a ten point win. BYU 41 Coastal Carolina 31
Originally from LaMoure, North Dakota, Kent is a 1996 graduate of North Dakota State University. His prior writing experience is over 15 years having previously worked with D2football.com, I-AA.org, and College Sporting News before coming to College Sports Journal in 2016. His main focus is college football is the Missouri Valley Football Conference within the Division I FCS. And in 2017, he began also to look at the FBS Group of Five conferences of the American Athletic, Conference USA, Mid-American, Mountain West, and Sun Belt.
Reach him at this email or click below: