FAYETTEVILLE, Ark. – Stick around any profession long enough and plenty of achievements will be earned along the way.
No amount of time, however, will allow many people to surpass the achievements of legendary Arkansas coach Lance Harter. And the achievements are only going to continue to multiply as the 71-year-old Harter displays no signs of slowing down any time soon.
Thirty years on the job as coach of the Razorback women's cross country and track programs have produced a bevy of highlights, titles and other accolades, including a Triple Crown as Arkansas swept the national indoor and outdoor championships in 2019 and added the national title in cross country just a few months later.
That made Arkansas just the second school in history to complete the sweep in a calendar year and the first since Texas turned the trick in 1986.
The Longhorns claimed the indoor title that season at The Myriad in Oklahoma City and captured the outdoor crown a few months later in Indianapolis. Texas completed the trifecta in November by winning the national cross-country championship held at Canada Hills Country Club in Tucson, Ariz. after tallying 62 points.
RAZORBACK DOMINANCE
Harter, now in his 31st year at Arkansas, had guided his teams to six NCAA championships during his illustrious career. The first title came in 2015 when his Razorbacks won the national indoor title before adding a third indoor crown in March. Harter's teams also captured the outdoor title in 2016.
Along the way his teams have won a total of 40 SEC championships, including 21 cross country titles. The Razorbacks have added 11 indoor titles and eight outdoor championships during Harter's tenure in north Arkansas.
A total of 23 NCAA regional championships have also been as a result of the blueprint Harter has used to make Arkansas the model for collegiate running.
Harter was recently inducted into the Arkansas Sports Hall of Fame.
"It's humbling," he said of the most recent hall of fame induction. "Every puzzle is different. The faces change but we have been fortunate that the result have stayed the same."
The veteran coach is quick to deflect the attention away from himself. He prefers to credit the coaches he has surrounded himself with.
"I have been fortunate to surround myself with some quality people as assistant coaches who complement my weaknesses.
"As a unit we have been able to attract good athletes who are hungry for success, who have a dream and who want to realize that dream and use track and field to achieve that dream," Harter added. "The athletes have simply bought into the philosophy of our program."
So impressive are Harter's achievements at Arkansas that he is closing in on some of the historical achievements of former Arkansas coach John McDonnell, who led the Arkansas men's cross-country program from 1972 until his retirement from coach in 2008. During that time the Razorbacks won 11 national championships. They also won 19 national indoor 19 and 10 outdoor titles under McDonnell's guidance after he took over the track program at the school in 1978.
Arkansas also won five national triple crowns with McDonnell at the helm. UTEP won three triple crowns before Harter's squad joined that distinctive group in 2019.
McConnell's 40 total national championships are the most of any coach in any sport in the history of college athletics. Pat Henry, the current track coach at Texas A&M, is second with 31 national championships to his credit. Henry coached LSU to before moving to take over the Aggie program in
"It's funny that I can be as tan as I am considering I have been in the shadow of John McDonnell throughout my career," Harter quipped. "He definitely cast a huge shadow."
SURFING TURNS TO RUNNING
A native of the San Francisco area, Harter, a self-proclaimed surfer dude during his teen years, would join some of his surfing compatriots in running as part of their warmups prior to surfing. He was later convinced to join the cross-country team in high school.
"I had some success at running distances and had a pretty decent career," Harter said.
That led him to enroll at Texas Tech and compete for the Red Raiders and establish several school records while competing for coach J.B. Hilliard.
"I had a great coach to learn from while in high school … and that sold me that coaching was for me," said Harter, who graduated from Texas Tech in 1972. He later earned a master's degree from Colorado State in 1974 while working as a graduate assistant before spending five years leading the program at Smoky Hill High School, which opened that same year in Aurora, Colo., southeast of Denver.
CAL POLY MUSTANGS
"I read everything and studied everything I could find," Harter said, " … I always wanted to be a college coach."
Harter got that chance when he agreed to become the women's cross country and track coach at Cal Poly in San Luis Obispo, Calif.
Even he could not have envisioned what would transpire during his time with the Mustangs as the school became a national powerhouse.
So good were the Mustangs under Harter's leadership that they often were ranked among the best in the nation of all schools, including Division I. That eventually led to a new ruling that D-II schools could not be ranked in D-I.
But the winning continued.
During his time at the school his teams won a total of 14 national titles in Division II, including eight straight cross-country championships (1982-89). Harter was voted the national coach of the year 14 times during his tenure at Cal Poly.
Harter had numerous opportunities to take over bigger programs but opted to remain at Cal Poly.
"I turned down several offers, until the opportunity to coach at Arkansas came up," he explained. "It just seemed like a natural fit."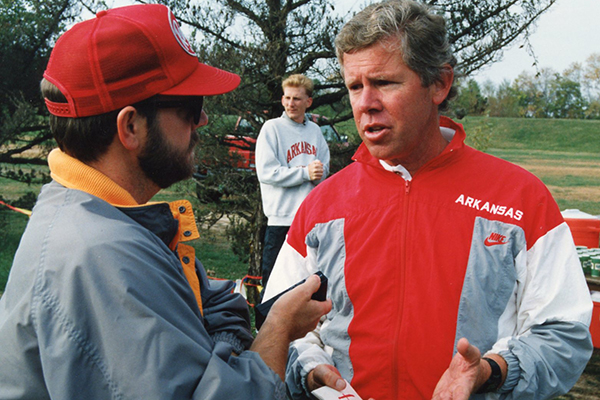 ARKANSAS RAZORBACKS
Bev Lewis, who had coached the women's running programs at Arkansas, had stepped down to become an assistant athletics director, according to Harter.
"She had set the table and all she told me was to 'take it to a new level.'" he said.
And much like his own mentor while competing at Texas Tech, Harter had another legendary coach to learn from by watching McDonnell's work with the Razorback men.
"(McDonnell) was knocking 'em dead on the men's side," Harter said. "But, he was always supportive of what we were trying to do."
It took little time for Harter's own influence to be felt at Arkansas, which officially joined the Southeastern Conference in 1991 and quickly established itself as a power in the league. The Razorbacks won each of the first five conference championships in cross country after they joined the league.
Arkansas added eight more from 1998 to 2008 and are currently on a string of eight straight conference titles in cross country.
It took just a little longer for success to arrive in track and field for Harter and the Razorbacks. Arkansas did not win its first SEC indoor title until 2000 when it began a stretch of three consecutive championships before being dethroned.
"We were still getting on the podium and getting some hardware," Harter said, "but we were just missing here and there and not being able to put it all together enough to keep the championships coming our way."
That all changed as well.
Beginning with the team title at the SEC outdoor meet in 2014 Harter's teams captured 12 straight outdoor and indoor conference titles.
His Razorbacks won the indoor national title in 2015 to make Harter the first coach to lead a women's program at the school to a national title. His outdoor team won the national title the following year.
Overall, Harter has led Arkansas to 37 top-10 NCAA finishes (12 in cross country, 17 indoor and eight outdoor) in his tenure at the school. His teams have finished in the top five 23 times during that time.
The 2021 Razorbacks won the 2021 indoor title earlier this year in historic fashion. They became the first team in the history of the meet to win the title without an individual or relay champion. Balance and depth proved to be the difference as Arkansas scored 58 points on the final day to end the meet with 68 points, the third highest in meet history.
Arkansas athletes have combined to win 25 titles at an NCAA meet and the school has produced an incredible 604 All-American finishes by 149 individuals under Harter's leadership.
Harter has been named SEC coach of the year 41 times during this time at Arkansas and has been recognized as the national coach of the year on eight occasions.
A member of the USTFCCCA Hall of Fame (2014) he has also been a coach of Team USA five times, including 1999 when he was the head coach at the World Championships in Seville, Spain. He also served as an assistant coach for the United States at the 1992 Olympic Games in Barcelona, Spain.
Harter also worked closely with Deena (Drossin) Kastor, a former athlete of his while at Arkansas, prior to the 2004 Olympics. Kastor went on to earn a bronze medal in the marathon at the Games to become the first American, male or female, to medal at the in the Olympic marathon since 1984.
A native of Bismarck, N.D., Ray is a graduate of North Dakota State University where he began studying athletic training and served as a student trainer for several Bison teams including swimming, wrestling and baseball and was a trainer at the 1979 NCAA national track and field championship meet at the University of Illinois. Ray later worked in the sports information office at NDSU. Following his graduation from NDSU he spent five years in the sports information office at Missouri Western State University and one year in the sports information at Georgia Tech. He has nearly 40 years of writing experience as a sports editor at several newspapers and has received numerous awards for his writing over the years. A noted sports historian, Ray is currently an assistant editor at Amateur Wrestling News.