Kevin Cahill Looks To Bring Businesslike Mindset To Lehigh Football Program
BETHLEHEM, PA – On Monday, December 19th, history was made at Lehigh.
That day, the Lehigh football program was handed to a new head coach.
The leak of the announcement late Sunday, that Yale offensive coordinator Kevin Cahill was going to be the 30th head coach in Lehigh history, was a surprise to many.
It had nothing to do with his qualifications. It was, however, the first day in a very long time that an official member of the "Lehigh head coaching tree" would not be in charge of the Lehigh football program.
"I am deeply grateful to and highly impressed by the work of our search committee and appreciative of the many other people at Lehigh who engaged in supporting our search and evaluation processes," said Lehigh Dean of Athletics Joe Sterrett. "The search process was thoughtfully executed, with sensitive consideration of the input from our team prior to the search and our staff throughout the evaluation process. I view Kevin as a very talented, successful yet grounded individual, a strategic thinker, and a coach that our players will respect and find trustworthy and inspiring. I look forward to welcoming Kevin and his family to Lehigh and to working with and supporting him in addressing program priorities."
"Kevin was quite impressive among a really strong pool of candidates, which made the final decision very challenging for the search team," said Lehigh Deputy Director of Athletics Sue Troyan, who led the search committee. "In the end, the evidence of his strong and enduring relationships with team members, his fresh outlook and detailed vision for our program, his fundamental skill as a teacher and developer of young people and his optimism and passion about the people he met and opportunity at Lehigh influenced the final decision. The breadth and diversity of his experiences will be valuable as he engages with our team, our alumni, our university and our Lehigh Valley community."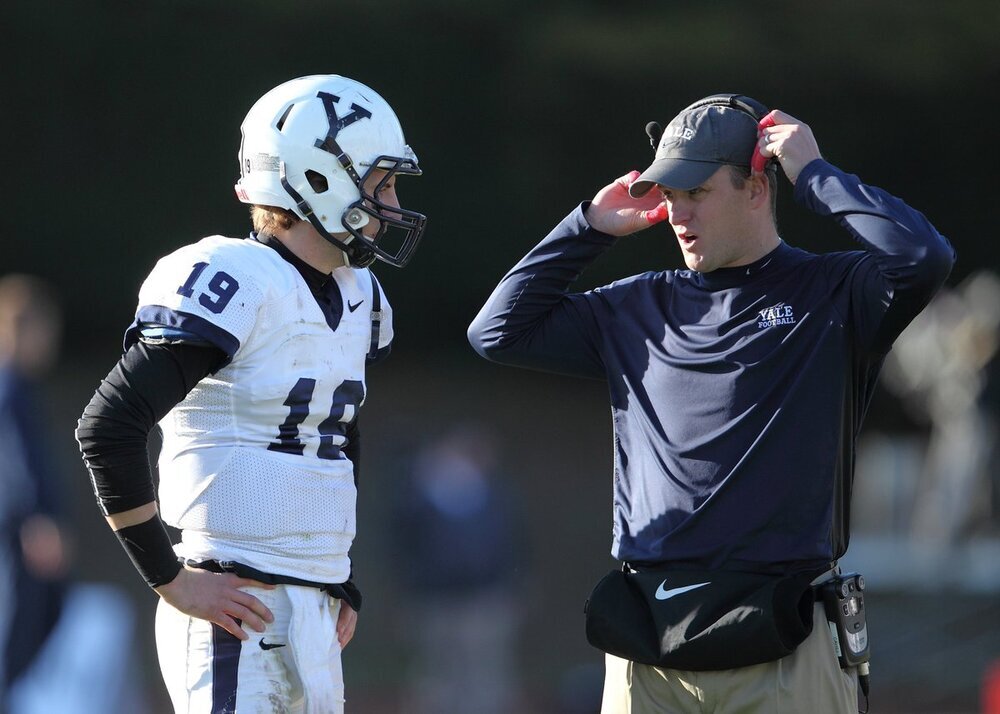 The Broken Link
If you've ever played the game "Six Degrees of Kevin Bacon", with every Lehigh head football coach since the 1980s you could play the game "Six Degrees of Hank Small", as every head coach from then until now – Kevin Higgins, Pete Lembo, Andy Coen, and Tom Gilmore – could be traced back to head coach Hank Small, who coached Lehigh in their very first season in the Patriot League, either as assistants of Hank Small or assistants of other Lehigh head football coaches who had been coaches under Hank Small.
Coach Cahill finally breaks that link, with more than 20 years of coaching experience, including 10 seasons at Yale.
"I appreciated them reaching out and going through the process of being the outsider," coach Cahill told me. "And these people took an outsider and welcomed me on the inside quicker than any place I could have imagined."
One of the first people Cahill talked to when trying to learn about what Lehigh was about were two very familiar names to Lehigh football fans.
"I reached out to a lot of Lehigh people, had a great conversation with Coach [Pete] Lembo, had a great conversation with coach Kevin Higgins," he said. "Those guys were really helpful in telling me what makes Lehigh special. They had a lot of success here and what I say is "success leaves clues," and I wanted to reach out to them. I wanted to ask them 'how did you do it, what would you do differently'. And they were super helpful."
His businesslike, networking approach seems like it will be a feature of his football program next fall.
"At Yale, I learned that relationships are key," he said, when I asked him "I learned how to treat people. Xs and Os are good, but culture really matters. You have to build it from the ground up. It's hard and it takes time, but that's truly how you're going to win."
The theme of "relationships" came up repeatedly in his introductory press conference.
"Relationships matter," when I asked him what his vision of the Lehigh football program would be. "You're always responsible for 100% of your relationships. You're going to get out of a relationship what you put into it. If we say we want to build strong relationships, we have to work at building strong relationships – player to player, player to faculty, you're 100% responsible on how that relationship works.
Resume Of Success
What coach Cahill's resume does have, however, is a whole lot of success.
His resume included stops at UT Martin, Murray State, Maine and Yale, but didn't include any time at a Patriot League school at all.
He did, however, have two FCS playoff appearances as a part of as a member of Jack Cosgrove's staff at Maine, where he was a wide receiver coach operating under the Black Bears' spread offense. One of those games was an epic upset of heavily-favored Appalachian State in 2011 34-12 , the same year Lehigh upset Towson 40-38.
At Yale, when Cahill came in as a part of Tony Reno's staff in 2012, he described the Yale program at the time as "downtrodden".
"[Yale was] a national program with a ton of Ivy League titles, and we were down," he told me of that time. "We were 2-8, and that first year we struggled. But we learned to trust the process all the way through from the beginning, we were telling the kids to trust what we were doing and to get buy-in from the players. It's going to be similar here. It's going to take the players to trust us as coaches, and then us working together to get this place back to being where it should be."
Quickly Cahill rose through the assistant coaching ranks at Yale, eventually becoming the Bulldogs' offensive coordinator and presiding over one of the top offenses in FCS – not to mention winning three Ivy League titles and four of their last six Rivalry games against Harvard.
That should be music to the ears of Lehigh fans, who have lost three of the last four games against their Rivals Lafayette.
Another thing that should be music to Lehigh fans' ears is the fact that Cahill will be quite focused on the offense, which had dropped off over the last six years.
"We know we want some points around here, and that's the goal," he told me. "We gotta look at the roster and build the roster back up to being able to find those guys that can score the points. You know, the Pelletier's and the Casey's and those guys, and bringing the powerful running backs here. We look forward to getting that mindset back."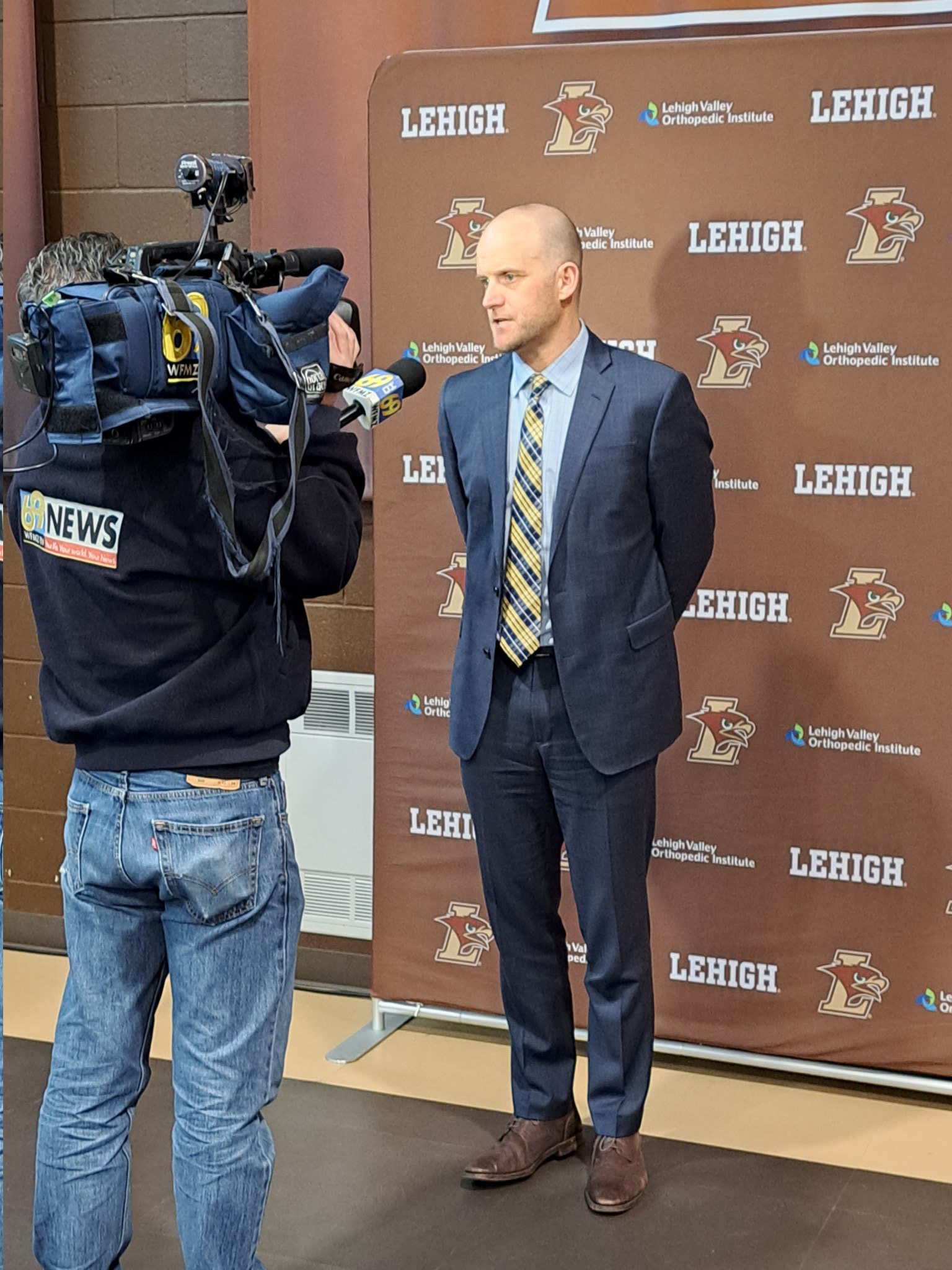 Transitioning
Cahill's journey started this week, where he now has to go about the challenge of building a staff and transitioning to spring football.
The college football schedule doesn't do him any favors, as two days later early signing day was to happen, and though he had talked to many players via Zoom, he hadn't been able to have a team meeting yet with the players, as it was the end of the semester already and most students were at home with their families.
As that was the case, Lehigh's new head coach talked more about the first steps that needed to be done to get things started on the right foot.
One of the biggest aspects of that involves filling out the coaching staff, and determining whom on the current staff will stay.
Cahill indicated several times that he could jump in and call play and coach the offense if he needs do, but that's not what he wants to do at Lehigh.
"I want to hire professionals to do their jobs. I'm not going to micromanage anybody," he said. I want to be the head coach and hire the best I can and develop our staff and let them do their jobs."
The other is recruiting, where he will have to get up and running soon to recruit the incoming class of 2027.
"It's not unique, but that's just part of the game. That's part of the nature of the job," he said.
The Kevin Cahill File
Born: December 2, 1978
Wife: Carah
Children: Sons: Patrick and Thomas; Daughter: Elizabeth
High School: New York Mills (N.Y.)
College: Springfield College 2001 (B.S. – Physical Education)
Springfield College 2004 (M.E. – Athletic Administration)
Collegiate Coaching Resume
2018-2022 Yale University, Associate Head Coach, Offensive Coordinator, Quarterbacks Coach
2014-2017 Yale University, Assistant Head Coach, Passing Game Coordinator, Quarterbacks Coach
2012-2013 Yale University, Special Teams Coordinator, Wide Receivers Coach
2009-2011 University of Maine, Special Teams Coordinator, Wide Receivers Coach
2008 University of Maine, Running Backs Coach
2006-2007 Murray State University, Wide Receivers Coach, Recruiting Coordinator
2004-2005 University of Tennessee-Martin, Wide Receivers Coach
2002-2003 Springfield College – Quarterbacks Coach, Graduate Assistant
2001 Maine Maritime Academy – Quarterbacks, Fullbacks, Wide Receivers Coach