Lehigh At Cornell Game Preview And Fearless Prediction, 10/15/2022: One Final Non-League Game To Work Things Out
BETHLEHEM, PA – For the Lehigh Mountain Hawks (1-5, 1-1 Patriot) and the Cornell Big Red (2-2, 0-2 Ivy), the final non-league matchup at Schoellkopf field in Ithaca, NY provides a similar opportunity for both teams.
For the Big Red, it's an opportunity to break up a five game home losing streak dating back to October 15th 2021. Since beating Colgate 34-20 in that Friday night game, the Big Red have won three games on the road, but none at home. Breaking that home losing streak would set up Cornell for a possible strong finish to their Ivy League season – possibly even a winning record, which would be their first since 2005.
For the Mountain Hawks, it's an opportunity to break up a three game losing streak since the Mountain Hawks held on for a 21-19 win over Georgetown. Any title hopes for the Mountain Hawks – not to mention finishing the season with a winning record – involve running the table, and it almost certainly would have to be kicked off with a win in Ithaca, because a four-game losing streak would be some difficult negative momentum to overcome.
Lehigh this week is choosing to focus on how their offense came alive a bit vs. Fordham last week, despite a 40-28 defeat to the Rams. The Mountain Hawk offense did move the ball with 24 first downs and only committing one turnover, but only notched 279 offensive yards with only 3.6 yards per play (compared to Fordham averaging 9,0 yards per play and having four touchdown strikes of more than 40 yards). Still, the Lehigh offense did seem to make strides, which head coach Tom Gilmore hopes will be something to build on for the second half of the season.
Nothing against Cornell's offense, which has been very good in the early going, but it's worth mentioning that Lehigh has faced a lot of extraordinary offensive teams in the first half of the year.
If you're trying to make the case that the Mountain Hawks have faced the toughest schedule in their history, you'd probably start with the fact that Richmond QB Reece Udinski, Richmond WR Jakob Herres, and Fordham QB Tim DeMorat all are currently on the Walter Payton Award watchlist, with the leading rusher in FCS, Monmouth RB Jaden Shirden likely to join them when Stats releases their expanded awards list later this month.
(It's not too much of a reach to think that Villanova QB Connor Watkins, with a cannon for an arm, might find his way on the list next August as well.)
If you're not making the trip to Cornell to Schoellkopf Field for a 1pm and kickoff is at 1pm, streamed on ESPN+ with Barry Leonard and Buck Briggs calling the game. If you'd prefer the home call (which I do), the Lehigh radio call will be available on Fox Sports Radio 1230/1320 AM and 94.7 FM Allentown, with Matt Kerr, Matt Markus and Steve Lomangino on the call (and also available on LVFoxSports.com). Personally, I'll be pouring myself some Drinks of the Week here at home, watching the stream, and listening to the Lehigh call.
LFN's Drink of the Week
There's no doubt about it – it's now fall, so it's now time to shift to fall-themed tailgating drinks. I was literally scratching my head trying to figure out what I should do as the "Drink of the Week", and my thoughts drifted to a hard cider and whiskey punch, which works as both a single drink or a large punchbowl. This actually is a really nice way to boost up hard cider, which to me seems not tasteful enough. This combination is something that screams "Pennsylvania orchard" – not to mention it's a great way to use up all that hard cider you bought that you didn't use. You can find the recipe here.
LFN's Tailgate Dish of the Week
As ever, I did next to no research this week thinking about the content I was to create for this week's preview. When I'm really stuck for something to write, Google is my best friend. This time, it was – googling "Ithaca signature food", the "garbage plate" comes up, which, frankly, is perfect for a carbohydrate and fat-laden pregame meal, right? Though the term "garbage plate' is allegedly copyrighted by the restaurant that invented it, Nick Tahou's in Rochester, I decided to invent the Bethlehem version of it – you can find the recipe here. We'll call it the "South Side Hangover Plate".
Lehigh Game Notes and Injury Report
Lehigh's game notes don't show a lot of changes this week, but something to watch might be the health of OL Aiden Palmer, who didn't start last week but did participate. He's listed on top of the depth chart, but sophomore OL Caleb Bryan started instead. If Palmer has a lingering injury, he might not start again this week.
QB Dante Perri went the distance last week, and if the game ends up a thriller or in any doubt, I'd fully expect Perri to be the unquestioned No. 1. But if the game edges towards a blowout either way, we might see more of freshman QB Brayten Silbor, who has already played in non-conference games against Monmouth and Princeton.
The loss last week to Fordham 40-28 puts a dent in Lehigh's title hopes, but it all remains theoretically all their to play for if the Mountain Hawks can sweep the rest of their games. They'll need to clean up a lot from their previous games, especially in regards to giving up big plays. Most of Fordham's 600 yards of offense came off of plays of 40 yards or more.
Scouting Cornell
The million dollar question for both Cornell fans and Lehigh fans this weekend unquestionably will center around the health of sophomore QB Jameson Wang.
While QB Luke Duby originally started at QB for the Big Red in the opener, Wang came in and flashed some very special ability in beating both VMI and hated rival Colgate on the road. Against Colgate he led Cornell in passing (284 yards) as well as rushing (98 yards), flashing athleticism that hasn't been seen in a Cornell QB in quite some time.
But near the end of the second half against Harvard last Friday, Wang appeared to sprain his ankle, even though he finished out the game. This week in Cornell's game notes, he's listed as the No. 1 QB, but will the aftereffects of his sprained ankle mean he's limited, or perhaps Duby might start instead?
What's not in doubt is that Wang is a QB to watch in the Ivy League and FCS in general – which isn't great news for Lehigh, who seems lately to be facing top level FCS quarterbacks every week, it seems. Wang executes play-action fakes as well as some NFL players, and what's scary is he seems to be improving week to week. Currently he has 255 yards rushing, 579 yards passing, and 11 TDs vs. 1 interception. Like I said, he's real good.
In fact, Wang was so much of the offense last week for the Big Red – only he and WR Thomas Glover, with 8 catches 66 yards and a touchdown, touched the ball more than 7 times on offense – it's an open question as to how deeply affecting it would be for Cornell if for some reason Wang is unable to go.
On defense, the Big Red have given up their share of points, giving up 35 to Harvard, 31 to Colgate, and 38 to Yale. Similar to Lehigh, they play a 3-3-5 "and they are a very multiple defense which will show you many looks," head coach Tom Gilmore said this week. It will be interesting to see if their multiple look will put a monkey wrench in Lehigh's offense. It also will bear watching if Cornell can fly to the quarterback and put pressure on him – in four games, they have 8 sacks on the season.
LB Jake Stebbins (35 tackles) leads the team in that area, while LB Holt Fletcher leads the Big Red in interceptions with 2.
Keys to the Game
Contain. Lehigh was hit big time last week with a dazzling number of big plays, and if the defense continues to do that, it will be a rough second half to the season, to put it mildly. The defense needs to find a solution to that, and fast. If they can contain the big plays – even if they give up yards, I'll be happy with that. It gives the Mountain Hawks a chance.
Balance. On offense, this Cornell team can be had defensively, but it will take patience and balancing the run and pass well. This team has shown flashes of some excellent play, but hasn't been able to string things together for long periods. They'll need to do it here, and the rest of the season.
Discipline. Lehigh has barely enough time to make the second half of the season a success, but it's going to come down to discipline. This team isn't good enough yet to make a lot of mistakes but still show up and win football games. It needs to be cleaner.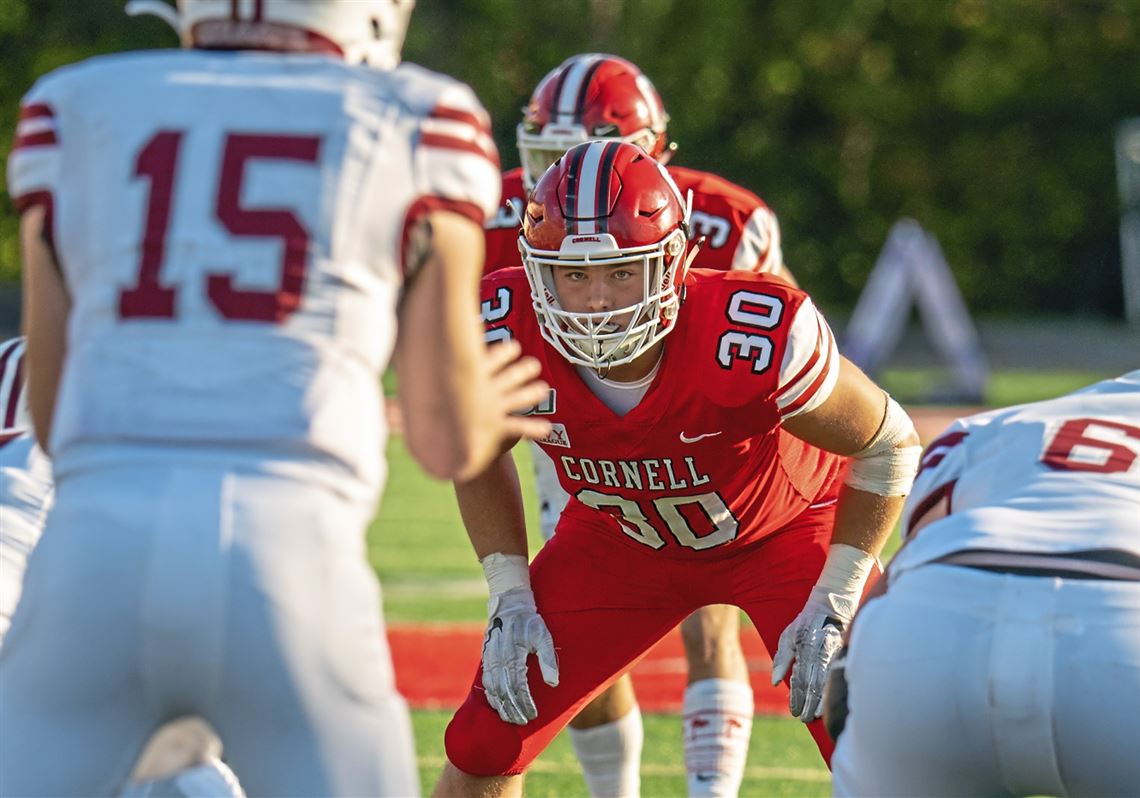 Fearless Prediction
It may not seem like it, but this is an important game for Lehigh – away from the spotlight, away from the home crowd, which can be as much of a curse as it is a blessing. Sometimes, away from the spotlight, is when good things start to happen, and it can be the case for this team. It happened in Fordham in 2021, and it can happen again.
Lehigh 27. Cornell 24