LEHIGH AT FORDHAM 10/7/2023: Game Preview And Fearless Prediction: Mountain Hawks Last Patriot League Team In League Play
BETHLEHEM, PA – Approaching the midway point of the season, the 2023 Lehigh Mountain Hawk football team is still trying to learn how to win.
Head coach Kevin Cahill and the players know better than to trot out excuses – mounting injuries, inconsistent play, tough competition – but the Mountain Hawks' out-of-conference record still reads 1-4.
"We have some guys in situations for the first time in their college careers," Cahill said after a fairly comprehensive 49-7 loss to Monmouth last week. "We don't have time for them to grow up. They need to do it now."
In a way, though, it feels like the entire month of September was a baptism of fire, playing football under challenging conditions week to week.
A game scheduled at Merrimack, instead played at Harvard Stadium due to power outages and flooding.
Rolling into Hanover, New Hampshire to play Dartmouth the same week legendary Big Green head football coach Buddy Teevens passed away.
And the following week, heading to Monmouth to play the Hawks, finding a 1-3 CAA team fresh off an upset loss to Lafayette playing to salvage their season.
Unfortunately this week could see the same scenario play out again, as 3-2 Fordham left Washington, DC last weekend with a conference loss, a 28-24 loss to the Hoyas that was Georgetown's first win over a Top 25 team in the modern era.
Ranked as high as 15 in some polls last week, it stands to reason that Fordham will approach their conference game with Lehigh with urgency, to put it mildly.
And did I mention that the hourly forecast calls for a driving rain?
"I think our kids are learning hard lessons right now," Cahill told Tom Fallon this week, "and our staff is too. It's not easy to do, but we've got to continue to grow from it. And we have. There's room for growth, and we've got to show that growth this week."
Growth couldn't come at a better time than this week.
"It's part of growing up and maturing," OL Renach Gena said, who is coming off his first career start at left tackle last week. "There's a lot of players playing like myself, first time out there, with a whole bunch of different guys and whenever you have a bunch of moving pieces, a lot can go wrong. It's up to us to take onus on that to focus more and do more and be better."
With the upperclassmen, it's worth noting that in last year's game, a 40-28 win by the Rams and their seventh win in their last nine games against the Mountain Hawks, that Lehigh had a dream start to that game.
A 98 yard kickoff return for touchdown by WR Jalen Burbage and a scoop-and-score fumble return for touchdown by DE Dean Colton gave Lehigh a 21-17 halftime lead, but a "lull" and some big plays at the beginning of the second half allowed QB Tim Demorat and the Rams to retake the lead, one they wouldn't relinquish.
"We got learn from those games, got to build off those games, and start putting it together more," starting QB Dante Perri said after the game. "I think we're kind of moving in the right direction, we just need to finish."
A year later, you could say the same thing about the 2023 Mountain Hawks.
The story of the 2023 season was always going to be one of the first five games being learning experiences. Two games against CAA opponents and a tough trip to Hanover, made even more difficult due to the circumstances, were certainly not chalked up as automatic wins.
A new approach and a new culture were never going to be something easy.
As tough as this spot is for Lehigh, though, it could be the first real chance that the young, inexperienced Mountain Hawks have a chance to really show out more about what they've learned and what this football program will be about the rest of the year and beyond.
This Saturday, hopefully we'll get a better glimpse at what's being built.
LEHIGH MOUNTAIN HAWKS (1-4. 0-0 Patriot) AT FORDHAM RAMS (3-2, 0-1 Patriot)
Jack Coffey Field/Bronx, NY. 1:00PM
TV BROADCAST: SNY
STREAMING BROADCAST: ESPN+ (subscription needed)
PxP – Connell McShane, Analyst – Frank DelVecchio
BROADCAST (Fox Sports Lehigh Valley 94.7 FM/1230 AM; LVFoxSports.com):
PxP – Matt Kerr; Analysts – Steve Lomangino, Mike Yadush
LFN's Drink of the Week
Inspired by the "Big Apple" and "teachable moments", the Bad Teacher might not be the best way to get your lessons straight, but it could be the tastiest. You can find the recipe here.
LFN's Tailgate Dish of the Week
This 7 layer bean dip is perfect for a rainy tailgate in the Bronx – easy to make, can stay warm, and is filling and tasty. You can find the recipe here.
Game Notes and Injury Report
Will WR Eric Johnson return this week, or won't he? There have been some tempting signs that the dynamic playmaker is close to returning, but in the last three weeks, he's been off the two-deep and he hasn't taken a snap in the last three weeks. If he is finally clear to return, it would be a great boost to the offense and an important weapon for QB Brayten Silbor. But this week on the two deep he's still not there. Sophomore WR Martin Laham is WR1, and it stands to reason even if EJ is healthy, we will probably see a lot of him in any case.
Other than that Lehigh is fairly banged up, and we're likely to see a fair number of underclassmen merely out of necessity. As coach Cahill said, there are kids that need to grow up fast.
Scouting Fordham
So exactly how did Georgetown do it? How did the Hoyas pull off inarguably their biggest win in the last decade?
My pal Hoya Saxa has an excellent breakdown here. Here are the highlights:
"The win was as unique as it was celebratory–this doesn't happen very often in Georgetown football annals."The win was as unique as it was celebratory–this doesn't happen very often in Georgetown football annals.
"If you're Fordham coach Joe Conlin, the clues are in plain sight. For much of the last three seasons, Fordham has been a high reward, high risk team, dependent on big offensive outputs to cover what have been visible gaps in its defensive sets. The 2022 Fordham team which reached the NCAA FCS playoffs scored a phenomenal 49.5 points a game, but also gave up 36.1. Fordham had lost eight consecutive games since the 2019 season when scoring 24 or fewer more points and the offensive output in its last there games, totaling 43.3 points a game, was neither past nor prologue.
"In that sense, the halftime statistics were a four alarm fire for the Fordham coaching staff: 83 total yards, 0 for 5 on third downs, and seven points against a Georgetown defense that had not faced significant competition in its first four games of the season. The Fordham coaches were fortunate, if once can call it that, that Georgetown had not taken full advantage of that first half, with two interceptions and a fourth down stall at the Fordham 15 which could have extended the deficit even further. In that sense, 14-7 was a margin that could be overcome…until it wasn't."
He goes on to talk about how Georgetown was able to do something that they hadn't been able to do often during the last few years: control the flow of the game, through long extended drives (hopefully ending in scores). It indeed is a solid recipe for an upset – just look to Merrimack's upset of Holy Cross years ago, which followed a very similar narrative.
It can't be emphasized enough how much of an outlier of a performance this was for Fordham, even during this season.
During their come-from-behind 40-37 upset of FBS Buffalo, transfer QB C.J. Montes had a more typical game, tossing for 300 yards and 5 TDs, one of those going to RB Julius Loughridge, who also ran for over 100 yards.
When the Fordham offense is clicking, Montes is spreading the ball around to a multitude of different targets. His most experienced and talented target is WR MJ Wright, but it's no guarantee that he'll target him 25 times. Against Buffalo Montes targeted eight different receivers, and also took off with the ball running as well, causing more headaches. It seems like making Montes a pocket passer might help somewhat, but it requires a lot of defensive trust.
Defensively the Rams are much improved from the group that gave up 36.1 points per game last year, but they are still yielding 4.5 yards per carry rushing. Georgetown did achieve an eye-popping 6.0 yards per carry as well, which certainly played a huge part in the upset, but they also perfectly split up their 442 total yards of offense – 221 rushing, 221 passing.
Fordham plays a base 4-3 defense that has largely laid back and not gotten a lot of pressure on the QB, though that could change this week. Junior LB James Conway (47 tackles) has anchored the middle of the Fordham defense and always seems to be around the ball.
Lost in the upset was the fact that Fordham notched 3 interceptions, which almost stymied the Hoyas' win. Fordham only has 4 interceptions on the season, but senior CB Nahil Perkins had one of them last week and is having a solid season with 25 tackles, 8 pass breakups and 9 passes defensed.
LFN's Keys to the Game
Running the Ball And Stopping the run. Again, not knowing the availability of RB Gaige Garcia, Lehigh's best path to a successful outcome on Saturday involves stopping RB Julius Loughridge and the rest of the Ram running game and establishing the run game themselves. More than 100 yards of rushing will likely be required with Garcia, RB Jack DiPietro, RB Luke Yoder and whomever else lines up in the Lehigh backfield, and a tough, physical defensive front six presence will need to show out.
No Lulls. During non-conference play, there have been stretches of game where things tend to go south and snowball. Even in the win against Merrimack there was a stretch where the Mountain Hawks made some key mistakes, didn't pick each other up, and almost let them back in the game. Mistakes will happen – that's college football. But keeping those mistakes to singles and doubles instead of grand slams is the key. If there's one thing I'd like this team to show me, it's that.
Lehigh Football. This may sound like an odd thing to add as a "Key to the Game", but I think it's relevant. I'm not sure Lehigh Nation fully knows what this Lehigh football team is truly about. The fans have heard the words "culture" and "working hard" and "picking each other up", and I know they like what they hear – but they also haven't seen that reflect in the box score. This is all fine and good, but when will the fans see what's different than last year? Even more than knowing Fordham, showing out what Lehigh football progress is right now is critical.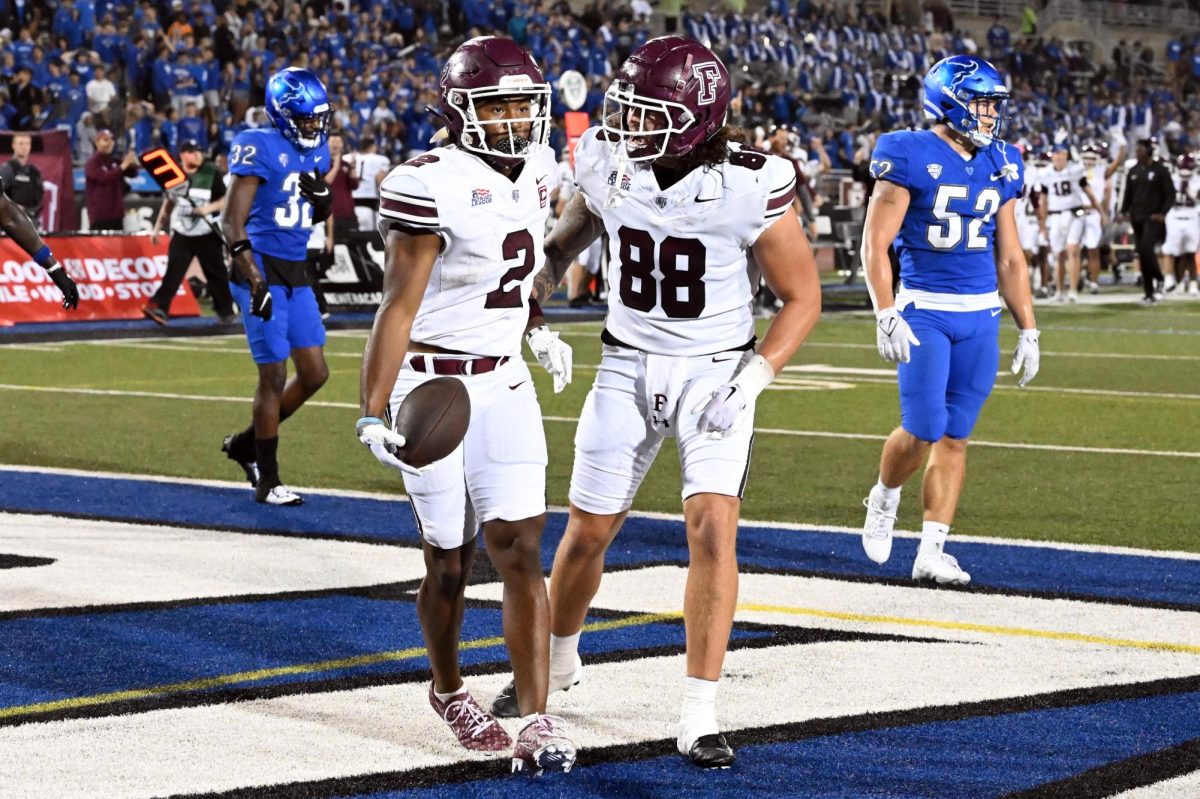 Fearless Prediction
I seem to say this every week, but once again, the circumstances are less than ideal for the Mountain Hawks heading to the Bronx. It feels like it is the destiny of this 2023 team to be handed nothing. If they are to win and to make a run at a winning record, it will be all on them fighting through quite a bit.
I am not a fan of the word "adversity" in football unless it really means "adversity", but there is something very satisfying in a team battling though a tough situation, and the seeds are there for that to happen here. Injuries, Mother Nature, the Universe – they don't want to make it easy on Lehigh.
Yet Georgetown did demonstrate a compelling blueprint on how to beat Fordham, or any Patriot League team for that matter. The Rams are going to make it their life's work to prevent Lehigh for executing the same blueprint, but the fact remains its there. Sixty minutes, keeping mistakes at a minimum, stopping the run, establishing the run – that's what's possible. It's there.
Conversely, though, Joe Conlin must have looked at the Monmouth tape and seen things to exploit. If Fordham gets a lot of the big plays that the Hawks got, it stands to reason it could be a very long afternoon.
History shows that this game is one that's competitive, but ultimately goes Fordham's way. I see no need to deviate from that prediction at this time. But the hope is that this comes down to the wire, and Lehigh fights through the Universe, Mother Nature and pretty much every movable force in college football to win in the 4th quarter.
Lehigh 34, Fordham 35