LEHIGH AT MONMOUTH 9/30/2023: Game Preview And Fearless Prediction: Can Lehigh Follow Lafayette's Opening Act Against the Hawks?
BETHLEHEM, PA – Lehigh fans are used to scoreboard watching when it comes to Lafayette.
I can't say how many times in the stands when the announcer announces "Scores from other games…." and home or away, the Lafayette score is announced, either to a huge cheer (losing) or a big groan (winning) when it's announced.
Last week, after a rough, physical 34=17 loss to Dartmouth by Lehigh, the scoreboard groans came later.
In an upset, in Easton, Lafayette hung on to beat Monmouth 28-20 in an outcome that really couldn't have worked out much worse for the Brown and White.
Lafayette sophomore QB Dean DiNoble had a hand in all four touchdowns, notching two touchdown passes and two running touchdowns, but it was Lafayette's defense, who held Monmouth's powerful rushing attack to 75 yards on a wet, windy afternoon.
It's an outcome that does two things for the Mountain Hawks, both of them bad.
It surges the Leopards to a 3-1 record, their best September since 2012. That season they upset William and Mary at home 17-14, and beat Penn and Bucknell before losing to Robert Morris and backsliding to a 5-6 record.
It also gives Lafayette a surge of confidence going into league play. This week they face off against Bucknell and will certainly be favored to come away with a win against the Bison.
Lehigh's scoreboard watchers should probably prepare for more groans, then, this week.
More to Lehigh's deteriment, though, is the focus that Monmouth's loss brings to the Hawks.
The Hawks, known for an explosive, big-play offense, has been stifled the last two weeks. They'll be really looking to uncork it this week version the Mountain Hawks, and to play better than they have been.
"We need to really evaluate what we're asking the players to do. Are we asking them to do the right things? Are we putting them in the right position to be successful?" Monmouth head coach Kevin Callahan said on the CAA's weekly conference call.
"We're at the point where we've lost two-in-a-row, we're not doing things at a high level – so as a coaching staff, as the head coach, I have to evaluate everything we're asking our players to do and we'll have a plan moving forward, and it will be a plan that not only fits what we have planned but we want to be philosophical."
So much for a Lehigh team that might catch Monmouth sleeping.
Their loss to Lafayette essentially makes their game against the Mountain Hawks a must-win in terms of any postseason dreams they might have.
Oh, did I mention that it's Monmouth's homecoming?
"From our standpoint, we did not play up to the level of our expectations," Callahan said. "We hurt ourselves with mistakes. I think those mistakes were ultimately the difference. The mistakes that you can't make regardless of who you are playing."We had 10 penalties, seven were what I classify as mental mistakes, false starts, lining up offsides. Those are the things a well-coached, disciplined team doesn't do. The other thing is we're not good on third downs. They won third down easily. And then the turnovers created good field position for them. It wasn't a good day and they played well."
In that sense, Lehigh and Monmouth were similar last week.
"I don't think we came out to compete in the second half," Lehigh head coach Kevin Cahill said after the loss to Dartmouth. "We killed ourselves. You can't turn the ball over and you can't have a punt blocked. That's a recipe for how to lose a football game, and it came true."
Cahill expanded on that with Tom Fallon this week on the radio.
"We fell back into some bad habits," he said, "habits we've been trying to get rid of. It was uncharacteristic of the way we want the guys to act. We had to have a reality check [in Sunday's practice] to make sure we all know who we are, what we're trying to do, and move forward and learn from it. If we don't learn from it, then shame on us."
"We had a physical practice yesterday after Dartmouth," Lehigh OL Christian Richter told WFMZ 69 news this week. "I thought we came out in the second half pretty flat. But the things we've learned this week, we needed to make sure that we're bringing the physicality again."
"We had trouble responding to that third quarter run they put on us," DL Ben Murphy added. "So, all week in practice we've been working on just process-oriented, taking it one step at a time and competing all throughout practice."
Monmouth and Lehigh come to this game from different places in 2023, but historically it's become a very competitive game. Lehigh holds a 5-4 lifetime record against the Hawks, but Monmouth has won the last four. The last time they met in 2022, the Hawks blew the doors off of Lehigh 35-7, piling up 490 yards of offense in Murray Goodman stadium as QB Tony Muskett had a fantastic afternoon, finishing 20-of-27 passing for 261 yards and 3 TDs. Despite being sacked three times, he would deliver long scoring touchdown passes, adding for good measure a 10 yard touchdown run on a play when Lehigh had twelve men on the field, but couldn't stop him.
Muskett, who transferred to Virginia this offseason to play out his final season as the Hoos' starting QB, won't be starting this week for Monmouth, but you can bet a refocused Hawk coaching staff will be looking at the tape of that game closely to see how they can do it again.
LEHIGH MOUNTAIN HAWKS (1-3. 0-0 Patriot) AT MONMOUTH HAWKS (1-3, 1-1 CAA)
Kessler Stadium/West Long Branch, NJ. 1:00PM
TV BROADCAST: SNY/NBC Sports Philadelphia+ (streamable for free through the NBC Sports App if you have a subscription)
STREAMING BROADCAST: FloSports (subscription needed)
PxP – Matt Harmon, Analyst – Emory Hunt
BROADCAST (Fox Sports Lehigh Valley 94.7 FM/1230 AM; LVFoxSports.com):
PxP – Matt Kerr; Analysts – Steve Lomangino, Connor Mills
LFN's Drink of the Week
In 2022, I put up as Drink of the Week a drink that was sweeping the world, the Aperol Wine Spritzer. It remains my wife's absolute favorite (and was helpful last week after watching the loss to Dartmouth at home). This recipe, which is the one I make for her, is #LFNSignificantOtherApproved.) You can find the full recipe here. If you want a Monmouth twist to this, I'd suggest adding about a tablespoon of orange juice to it and a drop of grenadine syrup. Call it a Bon Jovi Wine Spritzer, if you will (Jon Bon Jovi being Monmouth's most famous alumnus).
LFN's Tailgate Dish of the Week
This picture is bittersweet to me as it shows me Coco, our wonderful dog that left us in August, photobombling this picture. Every fall, we enjoy figs from several fig trees on our property, and it means every year in late fall, we get delicious figs and can use them in a lot of different dishes (cook them with chicken, make fig spreads, etc.). Our favorite application of this is a goat cheese, caramelized onion and fig dip that will certainly be a hit at your next tailgate. At this time of year, we make loads of the stuff for friends, family… or sometimes, just us. And it's easy to make beforehand and keep on a hot plate for your tailgating needs! You can find the recipe here.
Game Notes and Injury Report
The Lehigh depth chart reflects from changes from last week as the Mountain Hawks returned from Hanover quite dinged up. Most curiously, and worryingly, RB Gaige Garcia, who was banged up near the end of the Dartmouth game, is not on the depth chart. (Senior RB Jack DiPietro and freshman RB Luke Yoder are RB1 and RB2 respectively). It is not clear if Garcia, who scored Lehigh's lone touchdown against Monmouth last time, will suit up this weekend in West Long Branch, but we don't know. What is clear is that his presence would be a huge help to the offense in a thin area of the roster after DiPietro and Yoder..
Big 6'7, 300 lb OL Christian Richter is now officially listed at blind side tackle after officially starting the last two games. This is the first week this season that the composition of the O line was unchanged from last week, seemingly finally stable after injuries to OL Langston Jones and OL Christian Jablonski, who are now back in the mix.
Another huge question is whether WR Eric Johnson will be ready to go this week after being held out the last three weeks with injury. He made the trip to Dartmouth but did not dress for the game, which was encouraging in the sense that he might be close to coming back either this week or next week vs. Fordham. We'll see.
Scouting Monmouth
It's easy to determine Monmouth's urgency. It's easy to know that head coach Kevin Callahan, the only head coach Monmouth has ever known, will have his team ready to play. What isn't easy to determine is who will be suiting up against Lehigh at running back.
The Hawks have two incredible athletes at running back normally, junior RB Jaden Shirden and RB Sone Ntoh, a graduate transfer from Harvard. But both Ntoh and Shirden, a Walter Payton award nominee, got injured during the Lafayette game. They are listed 1 and 2 on the current depth chart, but it's unclear whether both, one, or neither will play.
It's worth asking who might play if both Shirden and Ntoh are unable to go, and it looks like the next man up might be senior RB Jamir Barnes, who only had 1 rush for 4 yards against Lafayette but could possibly get much more work. QB Marquez McCray could also call his number more often as well, an athletic two-way QB.
Monmouth's offense historically has been explosive, and scored 42 points against Towson and 31 points against Campbell. WR Assanti Kearney, who has 3 touchdown catches this year and had one against Lehigh last year, is a big-play specialist as is bread-and-butter WR Dymere Miller, who has had two 10 catch games already this season. If the weather holds up and both Shirden and Ntoh are out, Callahan could try to use the pass game to Miller to move the ball downfield instead.
Monmouth's defense has been their Achillies heel against most teams, but the ease in which they shut down Lehigh's offense last year has to make one pause.
Last week, Lafayette gashed their defense on the ground for 4.3 yards a carry, and RB Jamar Curtis and QB Dean DiNoble racked up 193 yards on the ground and didn't turn the ball over. That's pretty remarkable because Monmouth runs a multiple 4-3 defense with some very big defensive tackles underneath led by DT Pat Hayden and two fifth-year LBs in Ryan Moran and Jake Brown, another transfer from Harvard.
LFN's Keys to the Game
Stopping the run. No matter who lines up at RB for Monmouth, the task will be to stop the explosive running attack of the Hawks. Lafayette's formula was to hold the Hawks to 1.6 yards per carry, aided by a host of Hawk mistakes. Lehigh won't have the luxury of counting on that this week, but they'll still need to keep a clean balance sheet if they hope to win.
Grind Harder. As Lafayette emphatically points out last week, Lehigh will not have the luxury of having a subpar running game this week if they want to have a chance to win. It's unknown if RB Gaige Garcia will be able to go, but Monmouth doesn't care. RB Jack DiPietro, RB Luke Yoder and maybe even WR Geoffrey Jamiel and WR Martin Laham will need to get yards on the ground and move the sticks – and not turn the ball over.
Four Quarters. If there is one thing that should have been learned in the first few games of the season is that Lehigh is not good enough to slack. Losing a quarter has been enough to lose games against Dartmouth and Cornell, and if that's the lesson that was learned, I'm OK with that. In order to have a shot, Lehigh will need to not have that brainless quarter where they lose focus and make too many mistakes that have doomed them in their last two games.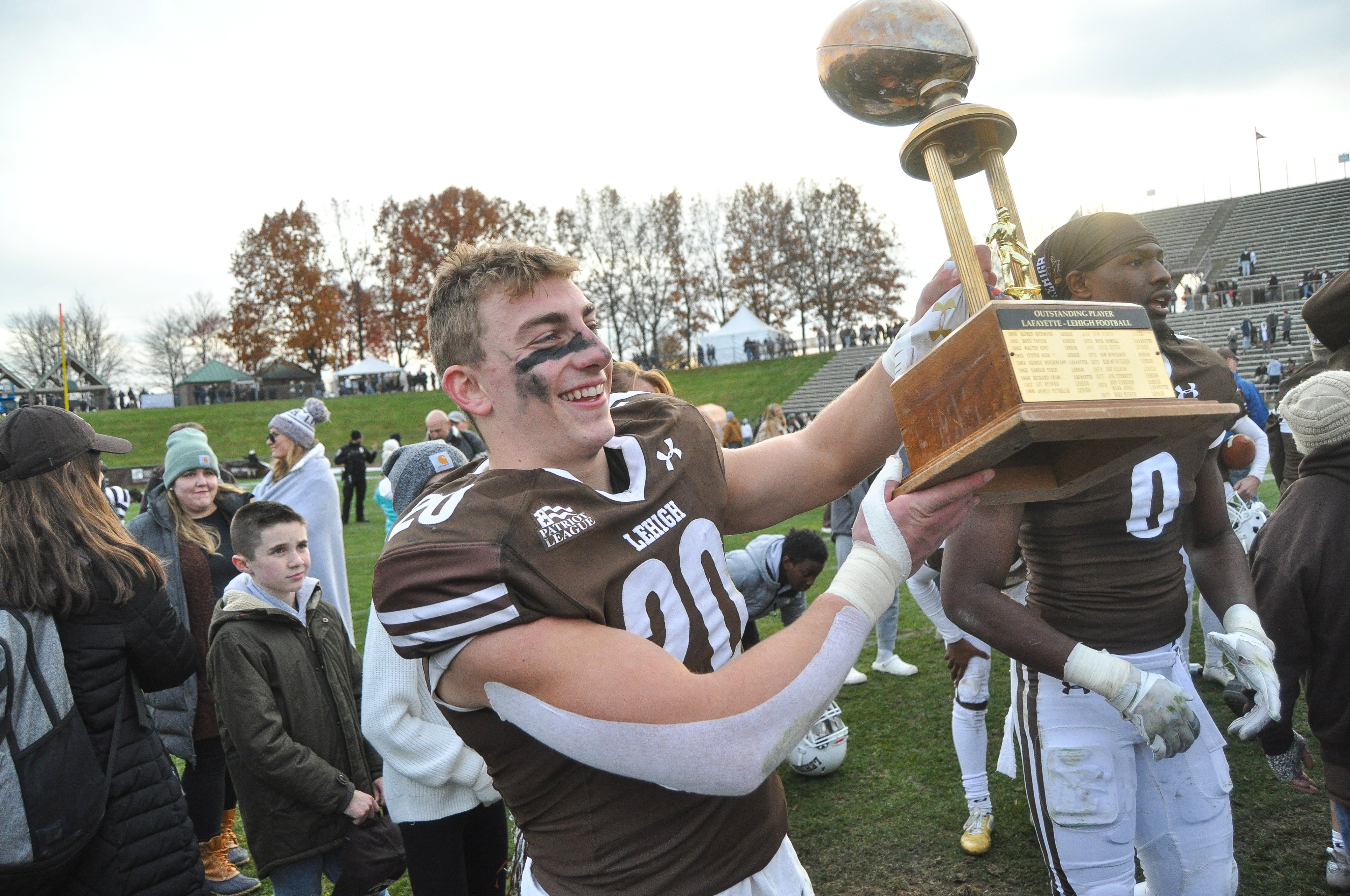 Fearless Prediction
Football is an emotional game, and for the second straight week Lehigh will take the field a half step behind in that department.
Last week, it was Dartmouth's first game back after learning of long time Big Green head coach Buddy Teevens' death. This week, it's a caged Monmouth Hawk team sitting at 1-3 backed into a corner, trying to save their season.
Starting the game a half step behind doesn't mean a Mountain Hawk loss, but it does make the path more challenging.
It's very hard to pick this game without a full view into Monmouth's RB room. I'm sure RB Jamir Barnes still wouldn't be a cakewalk for Lehigh to face, but a full-strength Shirden's explosive big-play ability would really be a game-changer. The Mountain Hawk defense will need to prepare for a range of possibilities.
Also – can the Lehigh offense awaken from it's slumber? Lehigh's offense sits at 110th out of 122 teams in FCS at 254.8 total yards per game, and 100th in scoring at 15.2 points per game. Monmouth has scored more than 20 points a game in all four of their games this year.
Right now I'm assuming Shirden is healthy, making big plays and sending Monmouth to victory. For my part I'm looking for more than 15.2 points per game and some marked improvement on the offense in getting yardage, drives and time of possession at the bare minimum. I think we might see that, but it probably won't be enough.
Lehigh 24. Monmouth 43