For many Lehigh fans, their football season is defined by the one game season that is the final game of the regular season schedule.
On November 22nd, 2019, the Mountain Hawks lost in heartbreaking fashion 17-16 to their archrivals Lafayette after Leopard PK Jeffrey Kordenbrock's converted a 28 yard field goal with under a minute remaining.
It's been 468 days since that game – a game that was there for the taking.
While the world has changed since that time, thanks to COVID-19 and the ongoing health emergency that continues to affect and shape everything, on March 13th Lehigh is scheduled to finally play a football game to put that loss, and the seemingly interminable offseason, behind them.
It has been an offseason like no other – with no guarantees.
Since then there has been an unnatural amount of time to sit and reflect – about how fleeting football is, how the opportunity to compete is a gift, and how through no fault of your own it can be taken away. When more than a calendar year passes after a bitter loss – with no opportunity to get a cleansing victory – there's more time to let that loss, not to mention the unprecedented circumstances of this offseason, stew and marinate.
That's the theme that runs through everything head coach Tom Gilmore shared with me as the Lehigh football team is in the midst of preparing for a football game that counts against Holy Cross at Murray Goodman Stadium, scheduled to be played on March 13th, 2021 with a noon kickoff time.
"I've been very impressed with the enthusiasm and attitude across the board," he told me. "Getting the opportunity to be on the field and to be working towards competitive opportunities has really motivated everyone. It just feels different out there this semester. There's an excitement in the air whenever we're on the field."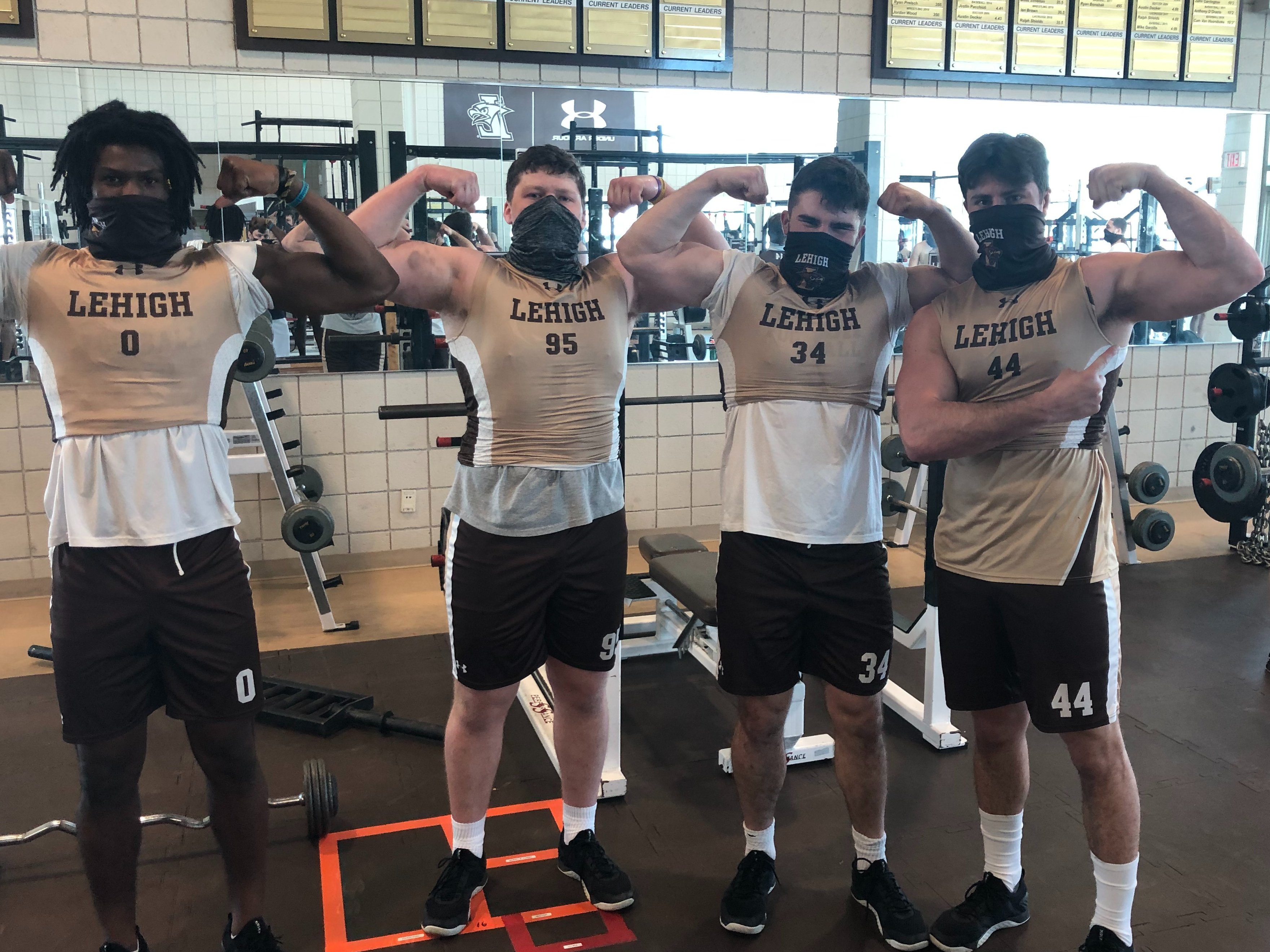 The Long Offseason
When the Patriot League decided to postpone the fall 2020 football season to the spring thanks to the COVID-19 pandemic, there was no guarantee that virus infections would be manageable enough to be able to contest games. The football players worked out anyway, preparing for a season that may not happen.
Even when practices resumed, there were no guarantees that they would be able to continue – and as expected, thanks to contact tracing and an abundance of caution, they were suspended multiple times. Spring practice in 2020 was cancelled when Lehigh's campus shut down, and all athletic activities were suspended in the fall when campus COVID positivity rates were higher than what was deemed safe.
"We're actually practicing football now for the first time since November of 2019," Gilmore told me. "We didn't get that opportunity last spring or fall, so everyone involved is very appreciative of this opportunity, even though many more obstacles exist compared to a normal preseason. I don't think anyone is taking anything for granted after what we've been through over the last year."
Adding to the challenges has been a record February snowfall that has blanketed the natural grass fields that, under normal circumstances, would have been the site of August preseason practices. That forced the football team to compete for the one FieldTurf field that a multitude of other Lehigh athletic teams needed to use.
"It has been a strain on everyone but I've been impressed with the work that all of our support staff has taken on themselves and the cooperation that has occurred with all of the other sports," Gilmore said. "It's far from ideal right now and new facilities on the horizon will have an enormous impact in the future, but we have to make the best of what is currently available to us."
Something that has impressed Gilmore is how his team has managed itself over the fall and spring in terms of the coronavirus. The work and planning by everyone has resulted in some very encouraging numbers.
"We've had just one positive [COVID] case on the squad so far this semester, and that resulted from residential spread from an individual not on the team," he said. "However, we've had a significant number of players quarantined for two weeks or more because of contact tracing from positive cases around campus. Some position groups were hit hard with those quarantines, while others have been more fortunate."
Since mid-February all contact tracing quarantine has been lifted and practices have been full go.
"I'm proud of the way our guys have conducted themselves – they've sacrificed their social lives and have been doing everything they can to stay safe from the virus. With the incredibly long layoff over the past year, any missed time is much more impactful now to our preparation than it ever was before."
Sometimes it's easy to forget, but the athletes are students, too, navigating some truly challenging academic disciplines. It's a very different experience installing a competitive playbook and doing the preseason work to be successful but still navigate 4 O'Clock exams and tough classwork.
"Having a full slate of academic classes, working under Covid protocols, practicing on cold winter nights and working back into football shape while progressing through a college football preseason certainly puts a lot on your plate at the same time," Gilmore said. "The athletes and staff have had a great attitude under challenging circumstances. I've been really impressed with how they have approached this and the enthusiasm that they have exhibited. All of these circumstances have pushed our staff and resources to their limits, but we're finding ways to make things work while not shortchanging the athletes in any way. "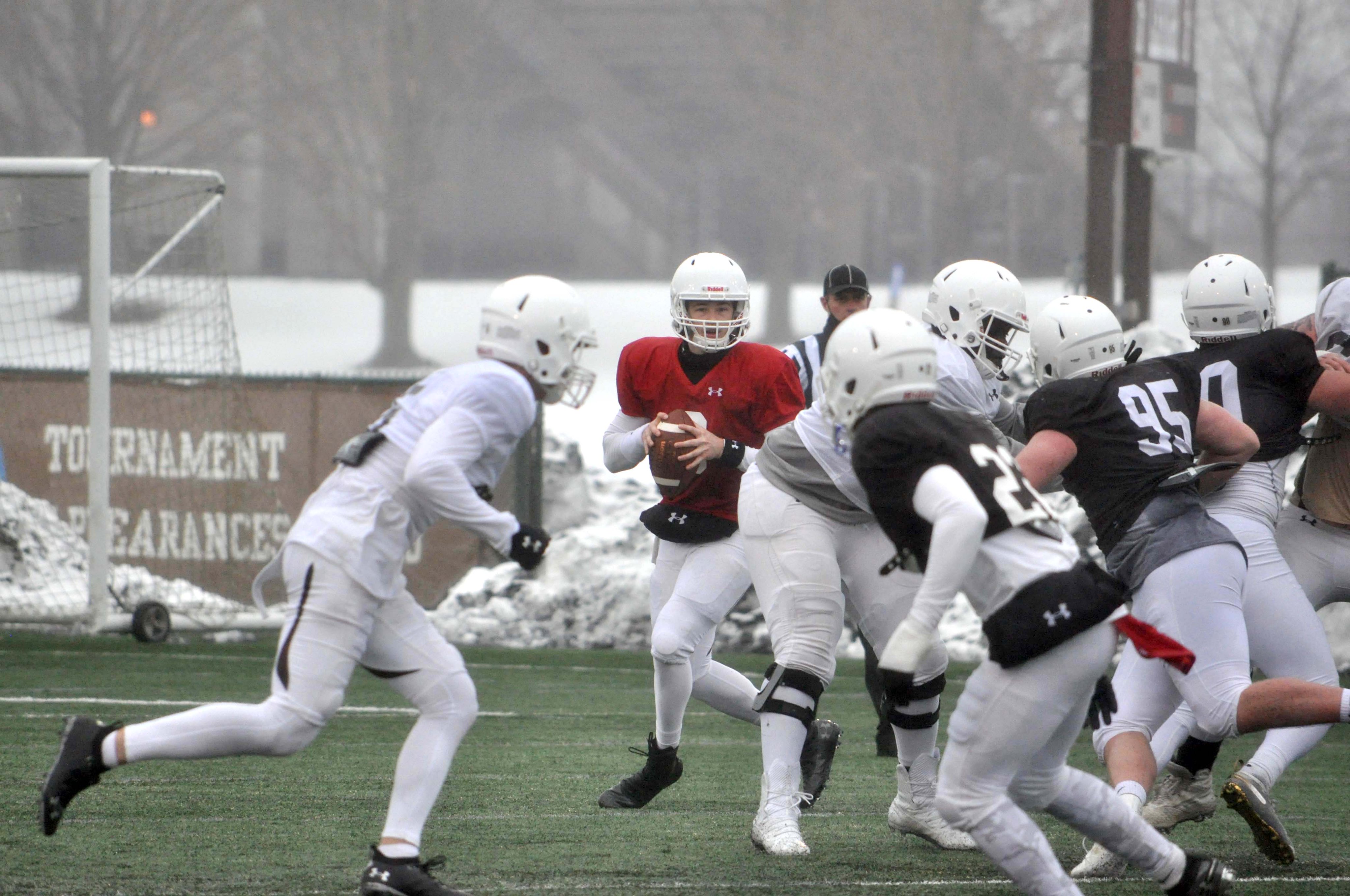 Next Week's Season Opener
Managing the pandemic and practice is one thing – fielding a team to contest a game against the defending Patriot League Champions is another.
The Mountain Hawks are practicing this week to get ready to face off against Holy Cross, who was picked this preseason by the Patriot League coaches and sports information directors to repeat as champions.
It's the sort of narrative-rich matchup that even under normal circumstances would be intense. Head coach Tom Gilmore for many years was head coach at Holy Cross before he returned to the Lehigh Valley to take over the team from retiring head coach Andy Coen.
The Crusaders are led by a fantastic young head coach named Bob Chesney, who has already crafted a very impressive Patriot League record – 9-3 in two years as head man, including last season's Championship year where they went 5-1.
Lehigh is going to be going from a 448 day layoff to playing the league favorites, after an unprecedented offseason. Coach Gilmore says, too, that the spring might be different in key ways than other years.
"With our current depth chart, I think almost everyone will play at some point," Gilmore told me. "The amount of playing time will depend on performance and health, like any season. However, this is a unique situation and I think we will have to play more guys because we haven't had the same kind of training we normally would have going into our competitive season."
It's worth remembering that this unique situation is one that seems to be playing out across the country. Not only due to possible COVID outbreaks on other teams, but there is more uncertainty is baked into the season due to the difference in preseason training than in most years.
"Most of the depth chart is pretty set at this point but there are multiple positions where it has been very competitive and the starters may change at any point of the season," Gilmore noted. "That competition will keep us improving and I'm excited that this is the case. I just wish we has more depth right now but I like who we have on the roster."
Lehigh was picked to finish 5th out of the 6 teams playing in the spring, which Gilmore attributed to Lehigh being an unknown quantity.
"I don't think people know what to expect from us," he said. "While we have some returning starters, we have a lot of younger guys and newcomers who are unknown at this time. I think we have talent in the program, we just don't have a lot of game experience across the board. That will come sooner rather than later."
But overall, it feels like a huge part of the battle has been to overcome all the obstacles to just get to this point. The obstacles are not unique to Lehigh – the same roadblocks are present to every school trying to play football this spring – but Gilmore credited this senior class in particular when it came to keeping things on track to get to this point.
"Leadership has taken different forms during the pandemic as we don't spend as much time together as usual," he said. "However, our returning players have done a good job of setting the examples and keeping us on track both on and off the field.
"This pandemic is the last thing you would want to happen at any time, no less your senior year. Those seniors that have stuck this out and have worked so hard since the 2019 season ended have gained my utmost respect and admiration. They have made a statement about their commitment to Lehigh Football and have also shown themselves to be amongst the most marketable young men in the country. I am certain these guys will succeed in life – they have what it takes! Their work ethic and grit is apparent and that will help them both on the off the field. I'm proud to be associated with them."