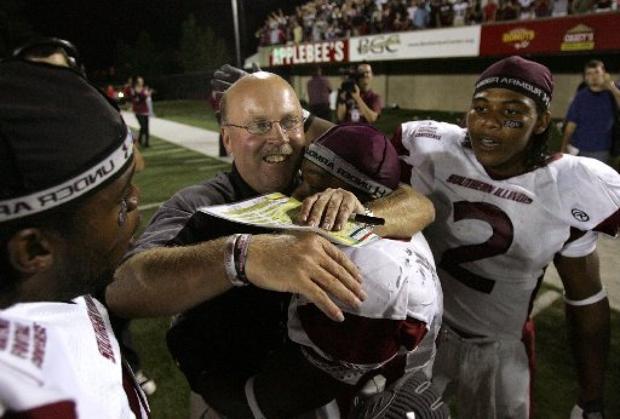 By David Coulson
Executive Editor
College Sports Journal
BOONE, N.C. — The news that University of Minnesota football coach Jerry Kill was stepping down Wednesday because of additional health concerns struck me like a ton of bricks.
In nearly 40 years of covering college football, I would be hard pressed to find another coach who exuded as much class, or came across as a nicer individual than this personable, home-spun midwesterner.
One moment, forever stuck in my memory, describes the genial qualities of Kill the person as well as any other tribute I could muster.
It was a blustery, snowy day in December, 2005 at Appalachian State's Kidd Brewer Stadium, where I showed up on a Friday afternoon to watch Southern Illinois go through its walk-through the day before it would meet the Mountaineers in the quarterfinals of the NCAA Division I Football Championships.
Kill was bundled up to stay warm on this particularly cold day, but he displayed a huge smile as he approach my daughter and I walking toward him on the frozen field turf.
After brief introductions, Kill looked at my then-10-year-old daughter and told her what pretty freckles she had.
It was a moment that Charlotte and I would never forget and it immediately told me that Kill wasn't your normal football coach.
In my book, Magic on the Mountain, which documents Appalachian State's run to its first of three consecutive national championships, I wrote this about the kind-hearted man:
"If ever a name didn't fit its bearer, it was the soft-spoken Kill."
It was still cold and snowing lightly the next afternoon when Kill and his Salukis took on the Mountaineers. ASU quarterback Richie Williams dismantled the Southern Illinois defense with 367 passing yards and three touchdowns as the Mountaineers hung a 24-0 score at the end of the first half and eventually won 38-24 in game that really wasn't that close.
In the press conference afterwards, Kill was gracious in defeat.
Less than two weeks later, I met Kill again at the 2005 Sports Network Banquet, where his running back Arkee Whitlock was one of three finalists for the Walter Payton Award.
You couldn't help but notice Kill's sincere interaction with Whitlock and the tailback's extended family, many who had driven from Charlotte, N.C. to Chattanooga, Tennessee for this festive event.
A year earlier, I had encountered Kill for the first time when he was at the same awards ceremony in Chattanooga to pick up his award as the Eddie Robinson Award, emblematic of the Football Championship Subdivision coach of the year.
When App State coach Jerry Moore rose to the rostrum to introduce Kill, Moore was quick to praise the hard work that Kill had done in building programs at Saginaw Valley State, Emporia State and then Southern Illinois.
"What an inspiring story," said Moore. "(Southern Illinois) took a chance on hiring a coach from a small school and look at what he has done through a lot of hard work and dedication."
A year later, Kill was helping to introduce Moore as the 2005 winner of the Eddie Robinson Award.
It was a mutual admiration society between these two classy coaches.
Before Kill had been hired to coach at Southern Illinois, the school was considering the drastic step of dropping its football program. After winning the 1983 I-AA national championship, the Salukis compiled losing seasons in 15 of their next 17 seasons, including nine in a row.
Within three years, Kill had taken Southern Illinois from 1-10 to 9-3 and was named the national coach of the year.
If he had been auditioning for a role on Star Trek, the 54-year-old coach would have been perfect for chief engineer Montgomery Scott, better known as "Scotty" and "the Miracle Worker."
At each step along the way, Kill took most of his dedicated staff with him, along with a blueprint of building his teams on the time-honored precepts of rushing offense and hard-nosed defense.
Kill left SIU for further challenges in 2008 and continued to turn around struggling programs at Northern Illinois and Minnesota. He was named Big Ten coach of the year last season and finished his coaching career with a record of 152-99.
But health concerns always seemed to be a more difficult opponent than the obstacles he encountered on the field.
I was watching a television game when his Salukis took on Illinois State in October, 2005 and Kill collapsed on the sideline with seizures. Kill was diagnosed with kidney cancer, which he was treated for and beat, but it wasn't until much later that it came out publicly that he was also suffering from epilepsy.
Under the intense microscope of the Big Ten, Kill's health struggles became more noticeable. In all, he suffered through four game-day seizures between 2011 and 2013 and several hospitalizations.
After guiding the Golden Gophers to a 4-1 start in 2013, this throughly-likable coach had to miss a key game with Michigan as his team competed for the Little Brown Jug following another on-field seizure. He then took a 10-day leave of absence to focus on his health as his squad finished the season at 8-5 with him in the press box on game days.
"Epilepsy is a bad word to people," Kill told columnist Bill Stump of Men's Health in an interview last year. "They don't understand it. In fact, a lot of people don't want others to know they have it."
Kill learned that lesson the hard way, most powerfully when a naive and ignorant columnist for the Minneapolis Star Tribune called for the coach's removal in 2013.
"The face of your program can't belong to someone who may be rushed to the hospital at any moment of any game, or practice, or news conference," wrote Jim Souhan. "No one who buys a ticket to TCF Bank Stadium should be rewarded with the sight of a middle-aged man writhing on the ground. This is not how you compete for sought-after players and entertainment dollars."
Souhan's column was met with almost universal disapproval by my peer group of sportswriters and editors around the country. The Star Tribune actually wrote Kill and its readers an apology.
Even Souhan penned a half-hearted explanation, saying he wasn't intentionally demeaning the coach.
Among those disagreeing with Souhan's misguided take was my former sports editor with the Los Angeles Times, the estimable Bill Dwyre.
In an email exchange with my ex-boss after he took Souhan to task in print, Dwyre said "I'd pondered the same question you pose here, about what I would have done to a Souhan column as an editor. I know for sure it wouldn't have gotten in my sports section."
Through all of this, Kill — as expected — took the high ground.
Instead of hiding from his conditions, Kill and his wife Rebecca have started the Coach Kill Cancer Foundation to assist low-income patients get treatment and have become involved with the Epilepsy Foundation.
There is no doubt that Kill has helped raised understanding on such a misunderstood medical problem.
It would be this writer's hope that we find a cure in the near future for this disabling disease and that this isn't the end of Kill's coaching career. I hope to see that pleasant smile on the sidelines again, rebuilding still another program.