South Dakota State is the MVFC champion, well at least co-champion right now after the Jackrabbits won a tough road contest this past week over Northern Iowa. The Jacks have claimed the automatic qualifier for the league and will look to be at least a Top 2 seed in the playoffs by winning their last regular season home game this weekend over Illinois State. SDSU then has a bye week in the last week of the regular season so SDSU likely will have two weeks off due to a bye in the playoffs before it would play its first playoff contest.
A 26-yard Hunter Dustman field goal as time expired sent top-ranked South Dakota State past Northern Iowa, 31-28.
The dramatics of Dustman's game-winner went beyond the usual, though, as UNI WR Sergio Morancy was penalized for leaping on a 34-yard game-winning attempt from the junior place kicker that missed wide left and would have sent the game to overtime.
Dustman's heroics came after the Jackrabbits forced UNI to punt after Caleb Sanders recorded his third sack of the game and the fifth by SDSU in the contest. Jadon Janke fielded a line-drive punt at his own 42 and returned it 19 yards to the Panthers' 39 with 1 minute and 8 seconds remaining and the game tied at 28-28.
SDSU finished with a 427-358 advantage in total offense as QB Mark Gronowski completed 21-of-34 passes for 263 yards. RB Isiah Davis carried 24 times for 105 yards and added five catches for 34 yards. TE Tucker Kraft and WR Jaxon Janke each finished with four catches for 69 and 60 yards, respectively.
While that game was a cliffhanger, another close game happened in Normal as Youngstown State visited Illinois State.
YSU never led until the final five seconds of the game when QB Mitch Davidson found WR Bryce Oliver on a 12-yard touchdown pass on third down. The Penguins marched 80 yards on eight plays after Illinois State decided not to attempt a long field goal with the wind at their back and a punt ended up for a touchback.
The defense pitched a shutout in the second half to keep the Penguins in the game and set up the wild final drive.
The win for YSU kept them square in the playoff picture and diminished the Redbirds hopes for a postseason berth.
South Dakota won another tight one over Missouri State 20-13 in Vermillion. The Coyotes win ensured that the Bears, once considered a MVFC title contender, to have a losing record.
Coyote QB Aidan Bouman passed for 235 yards and two touchdowns while the Coyote defense held Missouri State to a season-low for points. The third win for the Coyotes, who have a very young team this year to be an improving squad that will lead to a better season in 2023.
The two other MVFC contests were two road blowouts for the two North Dakota schools.
NDSU defeated Western Illinois 56-17with the Bison only attempting five passes all game. Instead, NDSU used a dominate running game and defense that secured four interceptions on a very windy day in Macomb. Overall, the Bison ran for 453 yards, with RBs TaMerik Williams recording 120 yards and two touchdowns and TK Marshall had 118 yards and also two scores as the leading offensive performers.
UND also had an easy time on the road in Terre Haute as the Fighting Hawks won easily over the Sycamores 42-7. The game was knotted up at 7-7 early in the second quarter before a pair of Sycamore turnovers led to Fighting Hawk touchdowns to put UND up by two scores at the break. UND finished the game with 35 unanswered points.
UND QB Tommy Schuster paced the offense through the air, going 16-of-19 for 162 yards and two touchdowns. The two touchdowns thrown gave Schuster the UND Division I record for touchdown passes (37), while the 162 yards passing gives him 6,259 yards through the air to make him the all-time career passing yards leader at UND.
See highlights of all of these games below:
2022 Missouri Valley Standings
| Pos | Team | W | L | Conf W | Conf L | PF | PA |
| --- | --- | --- | --- | --- | --- | --- | --- |
| 1 | South Dakota State | 10 | 1 | 8 | 0 | 345 | 171 |
| 2 | North Dakota State | 8 | 2 | 6 | 1 | 341 | 170 |
| 3 | North Dakota | 7 | 3 | 5 | 2 | 312 | 290 |
| 4 | Youngstown State | 6 | 4 | 4 | 3 | 286 | 258 |
| 5 | Northern Iowa | 5 | 5 | 4 | 3 | 304 | 269 |
| 6 | Southern Illinois | 5 | 5 | 4 | 3 | 290 | 266 |
| 7 | Illinois State | 5 | 5 | 3 | 4 | 170 | 211 |
| 8 | Missouri State | 4 | 6 | 2 | 5 | 277 | 294 |
| 9 | South Dakota | 3 | 7 | 2 | 5 | 165 | 263 |
| 10 | Indiana State | 2 | 8 | 1 | 6 | 169 | 336 |
| 11 | Western Illinois | 0 | 10 | 0 | 7 | 138 | 406 |
WEEK 11 PREVIEW & PREDICTIONS
Right now, there likely are six MVFC squads that have realistic hopes for a Division I FCS playoff berth. As mentioned, we already know South Dakota State is as the automatic qualifier for the league but North Dakota State, North Dakota, Youngstown State, Illinois State, and Southern Illinois still have the ability to get to the overall seven-win total.
With the MVFC ranked in most areas as the top ranked conference in the FCS, seven wins from a MVFC should secure a playoff bid.
This week though we have two games between playoff contenders with Southern Illinois hosting NDSU as the top billing this week and Illinois State traveling to SDSU. With both SIU and ISU having four losses on the season, those two Illinois schools likely need to win this week to stay in the playoff chase.
On the other side, SDSU hopes to win its last regular season game and finish the MVFC slate undefeated and capture a Top 2 seed in the playoffs. NDSU needs to win this week and next at home over North Dakota to secure a Top 5 seed most likely.
Two other games involve those playoff hopefuls against teams out of the postseason picture with North Dakota hosting South Dakota and Youngstown State traveling to Missouri State.
The last game this week has Indiana State traveling to Western Illinois with both looking to capture their first conference win of the season.
Northern Iowa has its bye this week and will finish up its season next week at South Dakota.
Here is a look at my predictions for all five games this week: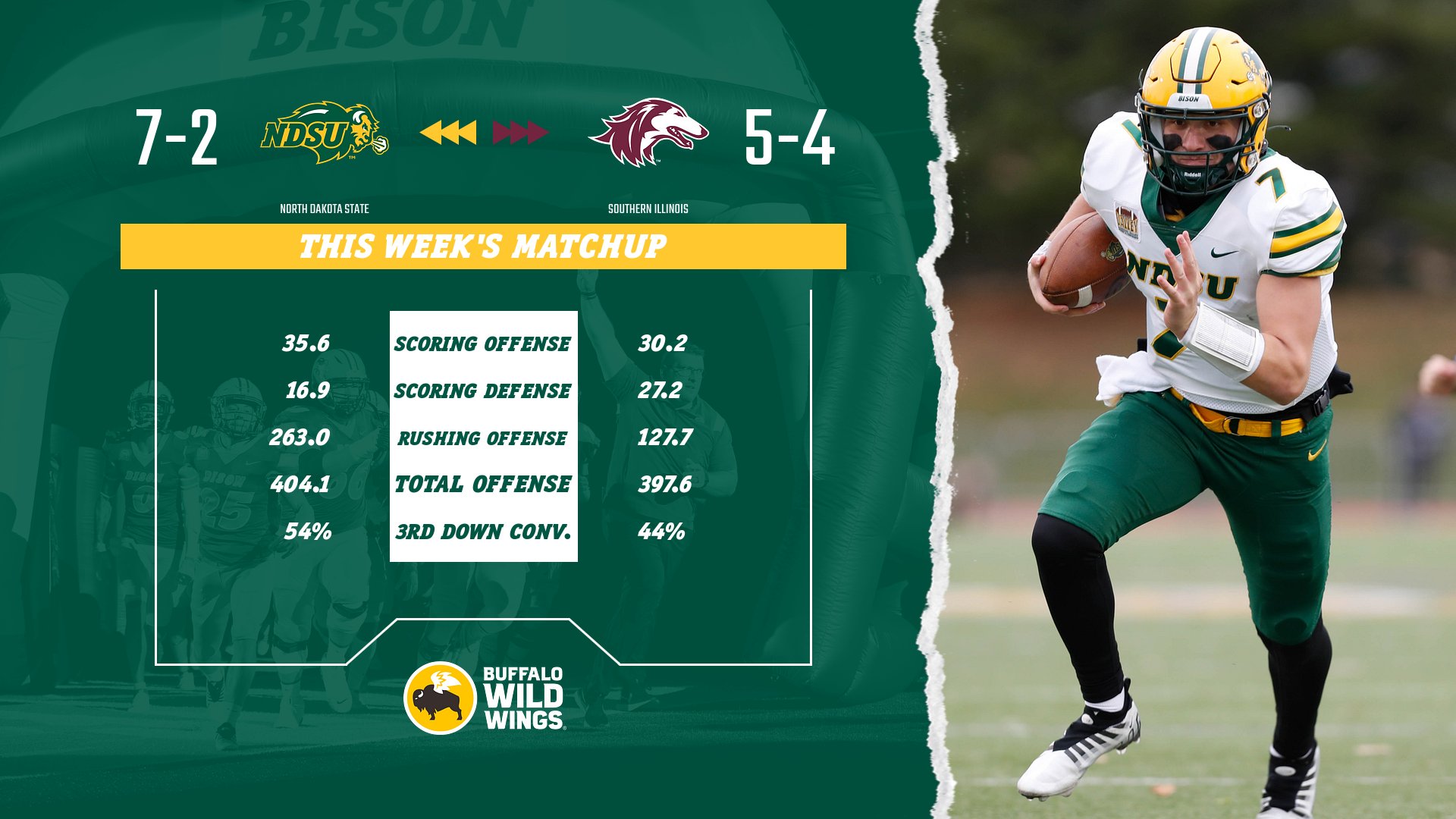 Southern Illinois as mentioned will be playing for their playoff lives in this game. SIU though can use the spring 2021 season as its guide to beating NDSU. The Salukis handed the Bison their first loss in 39 games that February day. However, NDSU took revenge last season when the Bison beat the Salukis 38-7 in the second round of the NCAA playoffs rushing for 389 yards and five touchdowns that day. SIU is coming off a bye after losing its last game to Northern Iowa two weeks ago when it just missed winning the game on a hail mary pass in the end. NDSU last week had an easy game at Western Illinois that saw many of its starters sit in the second half of the game.
The key to SIU defense will be stopping the dominate NDSU running game. NDSU's defense has not been quite as stout as it has been in past years so SIU will need to use its running game to keep possession.
I don't think this game will be as one-sided as the the last two contests these two teams have had and think this game will come down to the wire with one of the teams needing to drive late to win the game. This is the typical time of year though for the Bison to start getting into playoff shape and think they will have just enough to get by the Salukis. North Dakota State 34 Southern Illinois 28
This is senior day for the Jackrabbits, although we know that they will have at least one more home game coming up in the playoffs. Illinois State has been an up-and-down kind of team as it has won a tough road game at Northern Iowa this year but then lost at home to Youngstown State a week ago. The Redbirds will need to be up for this game in what will be a cold day in Brookings (highs expected to be in the mid-to-upper 20s).
For the Jackrabbits, this will be its final test before the playoffs and really need to win this game to secure homefield advantage throughout. I think both teams will play an inspired brand of football this day but in the end the Jacks just have too much talent for the Redbirds to overcome. South Dakota State 31 Illinois State 17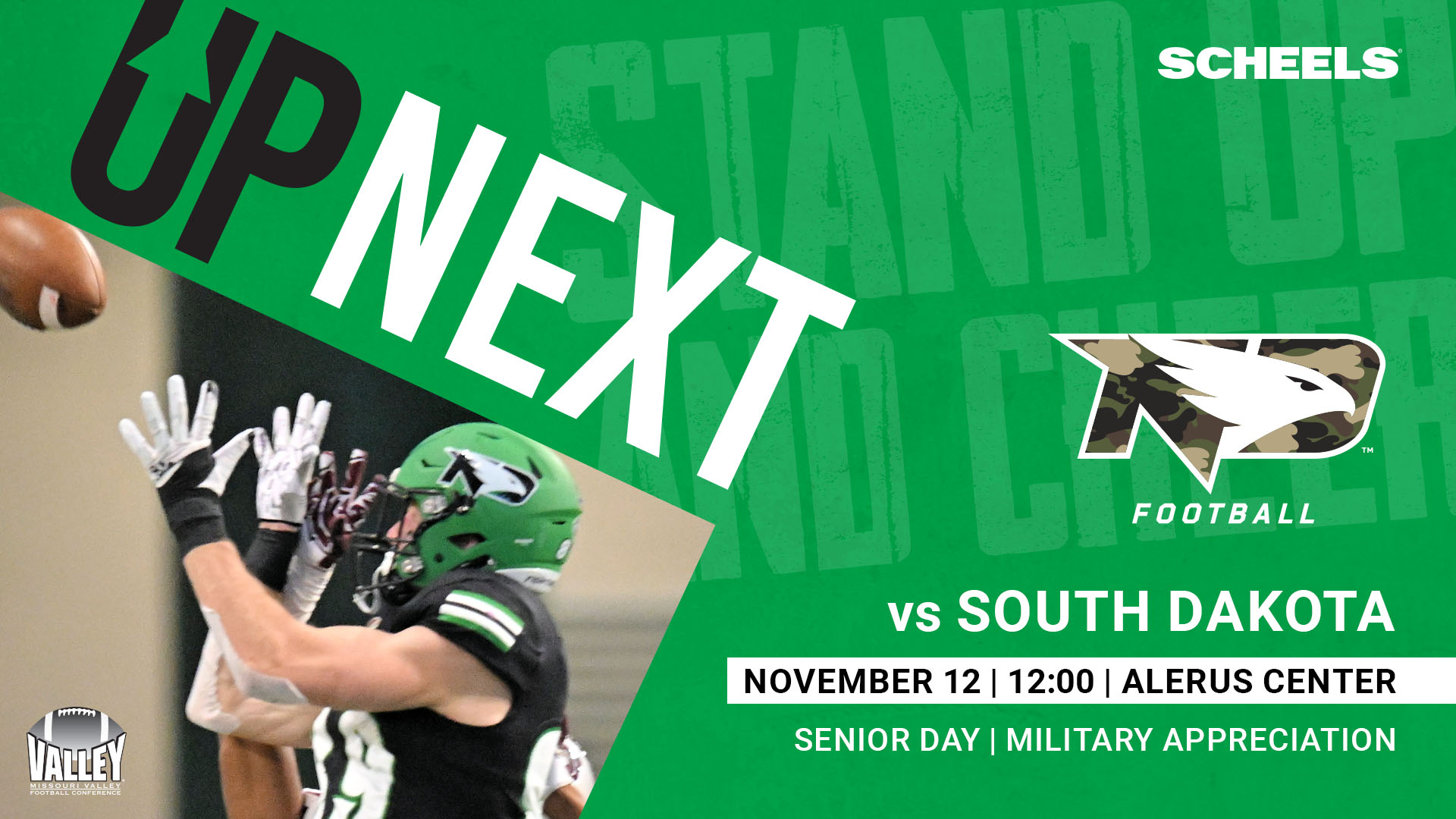 This old Sitting Bull Trophy rivalry game (the trophy was last played in 2000 as it was retired amid the ongoing NCAA controversy over the use of Native American names and symbols) has been played 98 prior times with UND winning 62 of these contests. Much is on the line for UND to win this game this year ahead of playing its instate rival of NDSU next week. A win this week might just put the Fighting Hawks in the playoffs regardless of what it does in the regular season finale. As MVFC foes, the two have split the two contests so far with both winning on their home fields. I think that trend continues with a Fighting Hawks win this year. North Dakota 27 South Dakota 17
This game at the start of the season looked like a game for Missouri State to get ready for the postseason. Well, that has changed considerably as Missouri State with six losses is ensured to not be in the postseason party. On the other hand, Youngstown State was thought to be possibly an up and comer but likely finish near the .500 mark and possibly somewhere in the middle to lower range of the MVFC standings.
That script has been switched this year as YSU is the team looking to break into the playoffs after the Penguins had not seen the postseason since it reached the Division I FCS title game in the 2016 season. With a win in this road game and a home win over Southern Illinois next week, YSU should see the playoffs again this year.
Missouri State has the more talented squad but has not played like they have the past two seasons and think that trend will continue with the Penguins getting this road win to set themselves up for a playoff berth. Youngstown State 28 Missouri State 20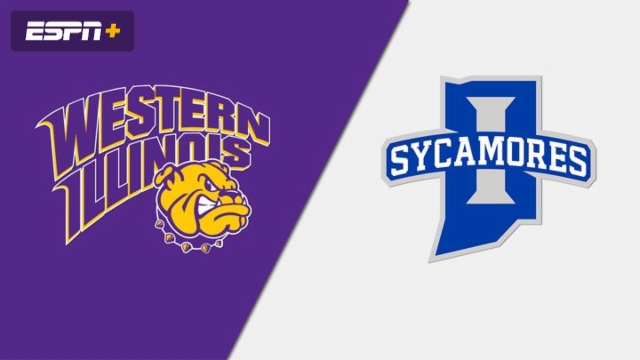 The last game this week will likely decide which team will finish in the MVFC basement. Western Illinois is winless overall but outside of last week's blowout loss, has played a better brand of football over the past few weeks in comparison to earlier in the season. Indiana State has one non-conference win on the season and has played most of its opponents in MVFC tight but failed to get over the victory line. I think Indiana State will pull this one out in a very competitive game to notch their first MVFC win and keep WIU winless. Indiana State 26 Western Illinois 21
Originally from LaMoure, North Dakota, Kent is a 1996 graduate of North Dakota State University. His prior writing experience is over 15 years having previously worked with D2football.com, I-AA.org, and College Sporting News before coming to College Sports Journal in 2016. His main focus is college football is the Missouri Valley Football Conference within the Division I FCS. And in 2017, he began also to look at the FBS Group of Five conferences of the American Athletic, Conference USA, Mid-American, Mountain West, and Sun Belt.
Reach him at this email or click below: