Montana's Perfect Day Results In 38-35 Upset Of North Dakota State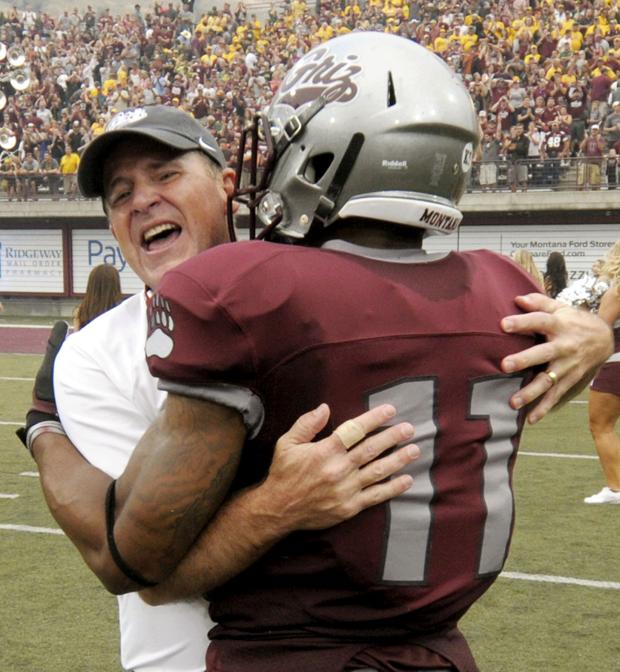 By David Coulson
Executive Editor
College Sports Journal
MISSOULA, MT. — Much like the national championship game less than eight months ago brilliantly showcased the Football Championship Subdivision brand, with North Dakota State coming from behind for a 29-27 victory over Illinois State, those who watched Saturday's exhibition between the four-time champion Bison and Montana were treated to another FCS masterpiece.
NDSU is the team normally known for its resiliency, but this time it was Montana that displayed that long-desired quality as Joey Counts blasted into the end zone with two seconds left to lift the Grizzlies to a 37-34 victory before a record crowd of 26,472 at Washington-Grizzly Stadium and an ESPN television audience on the opening game of the 2015 college football campaign.
Trailing for much of the game, Montana put together a 16-play, 80-yard drive in 99 seconds behind the cool hand of new quarterback Brady Gustafson to hand the Bison their first opening-season loss since 2009 and only their second regular-season defeat in the past 30 games.
The Grizzlies marched from their own 20 to a first and goal at the NDSU one with 19 seconds to play as Gustafson hit Reese Carlson for 31 yards on fourth and 10 and then found Ellis Henderson for 12 more and another first down.
There were six seconds left on fourth down when Counts dashed left and cut across the goal line on an isolation play to give Montana the win on a hazy day, with smoke clouding the sky from wildfires in Hellgate Canyon.
"We only had a couple of plays we were going to run down there and we ran both of them," Montana coach Bob Stitt, who picked up an historic win in his first game as the Grizzly coach, told an ESPN reporter.
Not only was it a storybook ending for Montana, but it was perfect finish to an extraordinary day for FCS.
The television broadcast was, arguably, the best presentation of an FCS event in the 38-year history of a subdivision that has traditionally struggled for attention.
Besides the fact it was a great game in a classic venue, much of the credit for this has to go to Montana native Brent Musberger, who set the proper tone before the opening kickoff.
"On this day, Missoula is the center of the college football universe," Musberger said as the broadcast began.
The rest of the way, with Musberger doing play-by-play and former Florida quarterback star Jesse Palmer on color commentary, the tone and delivery was close to perfect as the ESPN showed tremendous respect for the tradition of these two iconic programs, with six FCS national championships in their history and made sure those watching knew that this was a game that was being played at a very high level.
At the end, Musburger framed the game by stating that Icarus had prevailed.
Both teams experienced their share of first-game mistakes, but the tide of the contest went through constant ebbs and flows to crescendo to an amazing finish.
Utilizing the skills of senior quarterback Carson Wentz (16-of-26 passing for 198 yards and two TDs and 13 carries for 70 yards and two more scores), the Bison roared to a touchdown the first time they had the ball before Montana regrouped to take a 10-7 first-period lead.
North Dakota State looked capable of turning the game into a blowout as it stormed back for three second-quarter touchdowns to take a 28-21 lead into halftime.
The Grizzlies rallied to tie the game at 28 on a 62-yard strike from Gustafson (30-of-55 for 434 yards, three TDs and one interception passing) to Ellis Henderson midway through the third period.
When the Bison took the lead at 35-28 once more as King Frazier capped a seven-play, 79-yard drive with a seven-yard scoring spurt with 10:37 remaining, it looked like business as usual for North Dakota State — probably the best closing team in FCS over the past several years.
But the Montana defense made enough key plays down the stretch to keep hopes alive.
Linebacker Kendrick Van Ackeren scooped up a Wentz fumble at the Grizzly 43 to set up Daniel Sullivan's 28-yard field goal at the 2:47 mark and Montana held NDSU to a three and out to get the ball back with 1:41 remaining.
Gustafson then kept his cool and received some tremendous help from his receivers to get the ball into scoring range to set up Counts for his final seconds heroics.
Montana got enough out of its running game with 110 yards to keep the aggressive Bison defense off the 6-foot-7 Gustafson and finished with 544 yards of total offense. NDSU managed 427 yards against the seemingly undersized Grizzly defense, but Montana's bend-but-don't-break approach proved decisive in the end.
Montana also turned a pair of Bison fumbles into a pair of key field goals.
"It hasn't really sunk in," Stitt told ESPN at the end of the game.
When he was asked how he would celebrate, Stitt was quick with a response.
"I'm going to call in sick tomorrow."