New-Look Mountain Hawks Find Familiar Result In 38-10 Defeat to Villanova
BETHLEHEM, PA – There is a college football outcome simulator where, before this Saturday's matchup between Villanova and Lehigh, you could run hundreds of simulated games between the two teams. Based on subjective data and historic results, it spat out an average score of Wildcats 30, Mountain Hawks 10.
Judging by that, Villanova's (1-0, 0-0 CAA) 38-10 win over Lehigh (0-1, 0-0 Patriot League) was what AI – and for that matter, many other FCS fans – found a familiar result. 30-13, after all, isn't too far off from 38-10.
Villanova looked like a well-oiled machine with tons of veterans and few weak spots, at least in the first week of the season.
Sixth year running back RB Jalen Jackson ran for 144 yards and 2 touchdowns in the first half, easily eclipsing Lehighs rushing total in two runs – a 66 yard scamper that set up a Matthew Mercurio FG, and a 55 yard blast through the line that gave the Wildcats a 31-3 lead before halftime.
With only 8 rushes, he sat after halftime, allowing fifth year RB DeWill Barlee to also gain 102 yards and a touchdown as well. Villanova powered for 284 total rushing yards, which matched Lehigh's total offense on the afternoon.
Fifth year QB Connor Watkins had a quiet but efficient day, going 13 for 23 with 2 TDs and 1 interception. Both touchdowns went to fifth year WR Rayuon Pringle, who ended with 3 catches for 40 yards.
The Villanova defense also forced three turnovers, two of them interceptions by senior S Ty Trinh and S Tyrell Mims. The third was a result of a forced fumble by fifth year DE Jake Reichwein, a graduate transfer from Holy Cross.
"I am happy with the outcome," Villanova head coach Mark Ferrante said after the game. "Our guys prepared well in the preseason and the offseason. They came out and got it done on the field today. It is always good to win your opener. It shows that you have done good things from whenever last season ended and the upperclassmen have done a good job of bringing along the freshmen in summer training and the preseason."
Although it wasn't an unexpected result, and it wasn't the result that Lehigh head coach Kevin Cahill or the rest of the program would have liked, that didn't mean that it was a bad opener for the Mountain Hawks.
Instead, Cahill sees this more as a yardstick.
"I was excited to be back in Goodman, " Cahill said. "I told our team just now that I was proud of the way they fought. We fought through the fourth quarter and that's got to be a growth point for us."
Cahill mentioned the difference, currently, between the two programs.
"They looked a little different than we did," he said. "That's a program that we have to look at everything they do and how you emulate and how do you get to that level. Villanova came in here and did what they're are supposed to do. They were better than we were. They're bigger than us, they're faster than us, they're stronger than us. They're older than us. None of that matters when the ball is kicked off. You can't use it as an excuse. We have to play better and not make the mistakes that we made today and expect to win. That's not going to happen. We have to clean those things up."
But it wasn't all doom and gloom. Starting QB Brayten Silbor overcame some early yips and closed with a decent stat line (23/38, 206 yards, 1 TD), connecting with RB Gaige Garcia with a pretty soft touch to give the Mountain Hawks their first TD of the season.
"It felt great," Silbor said. "After last year when my arm got broken, throughout the spring we really worked on getting confidence back in there. I went out there, just felt good. I wasn't worried about the arm or anything, and just proud of the guys. There was a lot of good things we did, [but we also did] a lot of bad things that were killing us ourselves, like turnovers, penalties, all that stuff. Coach, Cahill talks about it. I've seen a lot of growth from this team, especially compared to last year."
"There's a lot of growth in Brayten's game," Cahill said. "Things were moving quick today for a lot of guys. When you go into camp you're going against yourself and you get tired of it. Then you come out and play against a team like Villanova and that's a pretty good challenge. Brayten played well. There were a couple of interceptions that weren't really on him and there were some tough decisions he made that he is going to learn from and learn not put us in that situation. But there's only going to be growth with him. Perri has worked his butt off, too. He has made Brayten and the whole quarterback group better."
Senior CB Donovan Lassiter also started at corner and nabbed the second interception of his collegiate career, finishing with a huge celebration on the sidelines with the coaching staff.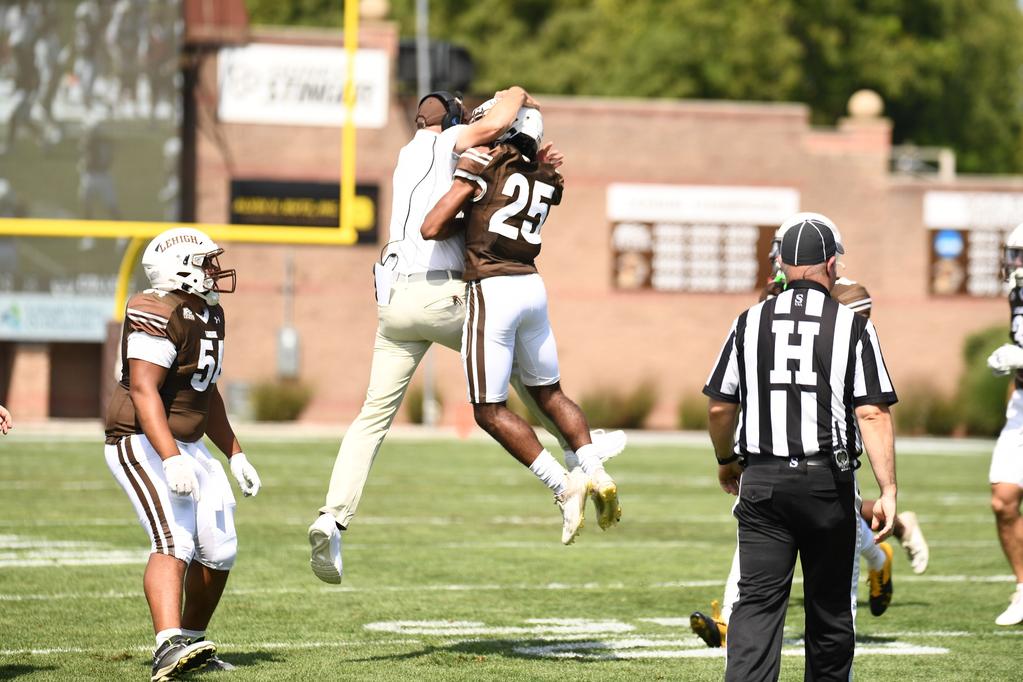 "It was just instinct," he said. "I was just trying to run to open space. I was really trying to get to that end zone, but things happen. But I was just trying to follow my eyes and it just led me to cross the field and I tried to make a play."
Like Silbor and Cahill, he also felt like the team was ready to learn from their mistakes.
"Definitely I'd say an improvement for the defense was chemistry," he said. "We felt like we bonded a lot this offseason and leading into the preseason. I definitely felt great to be out there knowing that everybody's going to try to do their 1/11th. But as we pointed out, there's definitely things to work on, but definitely chemistry is a big thing out there. "
"Donnie is a tremendous kid," Cahill said afterwards. "I was really happy for him to make that play. He had given up something early on and then he came back, made the interception and then he had a big tackle, too. That's growth that we can hang our hat on saying, Hey, you gave up one play, you came back and played the next play."
| Team | 1st | 2nd | 3rd | 4th | F |
| --- | --- | --- | --- | --- | --- |
| Villanova | 14 | 17 | 7 | 0 | 38 |
| Lehigh | 0 | 3 | 0 | 7 | 10 |
1ST QUARTER
03:58 – VIL – Jackson,Jalen 1 yd run (Mercurio,Matthew kick), 11 plays, 75 yards, TOP 06:26
7
0
01:53 – VIL – Pringle,Rayjuon 28 yd pass from Watkins,Connor (Mercurio,Matthew kick) 2 plays, 28 yards, TOP 00:46
14
0
2ND QUARTER
09:21 – LEH – Garrido,Nick 38 yd field goal 8 plays, 27 yards, TOP 03:52
14
3
05:26 – VIL – Mercurio,Matthew 37 yd field goal 6 plays, 58 yards, TOP 03:48
17
3
03:45 – VIL – Pringle,Rayjuon 7 yd pass from Watkins,Connor (Mercurio,Matthew kick) 2 plays, 17 yards, TOP 00:44
24
3
01:49 – VIL – Jackson,Jalen 46 yd run (Mercurio,Matthew kick), 2 plays, 51 yards, TOP 00:51
31
3
3RD QUARTER
04:13 – VIL – Barlee,DeeWil 1 yd run (Mercurio,Matthew kick), 9 plays, 97 yards, TOP 05:15
38
3
4TH QUARTER
08:02 – LEH – Garcia,Gaige 7 yd pass from Silbor,Brayten (Garrido,Nick kick) 7 plays, 55 yards, TOP 02:43
38