No. 5 Villanova Dominates Lehigh At Home, 45-17
RADNOR, PA – For most of the people in attendance, it wasn't an unexpected result.
In front of 6,101 enthusiastic fans, many of them students, the No. 5 ranked Villanova Wildcats did what was expected of them, running out to a big lead en route to a 45-17 victory.
It was a coming out party for Villanova QB Connor Watkins, who racked up 298 yards passing and 3 passing touchdowns in an efficient 11-for-15 passing performance to go with 25 yards rushing and a rushing score.
And Villanova looked every bit the part of the No. 5 team in the country on offense, with four different players scoring touchdowns.
It certainly didn't feel like it was going to be the last time Villanova's offense would do that to another team.
But don't tell that to Lehigh head coach Tom Gilmore or the Lehigh players.
"I'm actually angry right now," Gilmore told me after the game, after a longer than usual postgame meeting, "because I think we could have and should have played better than we did. I think that was a rude awakening against a good football team."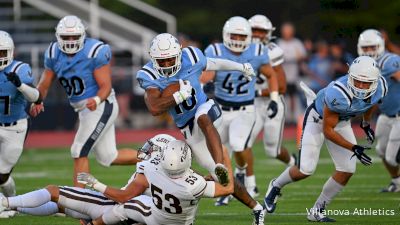 A Mixed Bag
As a former defensive coordinator who has very definite opinions on defense, it couldn't have pleased him to look at the box score and seen his defense give up 451 yards of offense, even if it is against the No 5 team in the country with most of its offensive weapons returning from last year.
It also must have been upsetting that more than 130 of those yards came from two big pass plays, resulting in touchdowns that kept the game way out of reach.
"I think we played hard and did a lot of good things," he told me, "but we shot ourselves in the foot with some bad decisions, a couple of turnovers, and then the penalties that were drive killers."
It was hard to deny that assessment, with eight penalties on the evening, several that knocked a promising offensive drive out of scoring range.
That, and some critical turnovers, gave Villanova plenty to work with in their victory. Basically, you can't expect to do that and beat that No. 5 team in the country.
That's not to say that there weren't positive takeaways, however, which Gilmore acknowledged.
"There are some encouraging things that I saw out there in all three phases," he said, "but we need to get a lot better at them."
One thing Gilmore pointed out was the play of the offensive line, which had to start two freshmen due some offensive line injuries that happened very late in camp.
"Those guys [the offensive line] came out and really competed," he said, noting that Lehigh's rushing attack carved out almost 200 yards rushing against a defensive line that averaged more than 280 lb across. "I'm proud how they played overall. We could be better and I think they're going to get better, but I think they played really hard and they did a lot of good things."
The 181 rushing yards were a stark contrast to the -12 rushing yards Lehigh got last year against Villanova, with QB Dante Perri, RB Jack DiPietro, RB Gaige Garcia and RB Zaythan Hill all getting carries and running effectively.
Then there was the spirited play of WR Jalen Burbage, who hauled in 8 passes for 106 yards and a touchdown, a 25 yard pass over the middle from Perri that Jalen forced across the plane, leaping from the 2 yard line to get the score right before halftime.
"The guys that were out there, the o-line, they were blocking their butts off," Jalen told me. "QB made a great read, and I got in the end zone, I couldn't do without these guys and without my team."
The Lexington, Kentucky native also added 102 yards in kickoff returns, which definitely infused a healthy dose of energy to the offense.
Overall, Lehigh racked up 408 yards of offense and 17 points against one of the best teams in FCS.
"Me and of the bunch of the guys were talking about how it was embarrassing last year [on offense], and we didn't want the same outcome this year," Burbage said.
Back Into The Lab
Neither Burbage or Gilmore were under any illusions – at the end of the day, it was a loss, and the main takeaway is that there is a lot of work to do for this team to be successful in 2022. Villanova, for better or worse, made that very clear.
Burbage, however, seemed to want to get back to it right away.
"We got get back into lab, and we've got to prepare for next week Georgetown for our league games," he said. "It's really important for us now that we're going to get back and watch some film, and then we'll be prepared for next week. We learned a lot, and we saw a lot today, but we'll bounce back."
As for Gilmore, his assessment was blunt.
"Defensively, I'm disappointed, but this game ended up being a really tough lesson to learn for them," he said. "We need to step it up big time on defense."