This past weekend, I arranged with my family to go on our longest outing in months.
St. Nicholas' Greek Orthodox Church in Bethlehem, Pennsylvania had changed their traditional Greek festival to be takeout-only, thanks to the COVID-19 pandemic. To me, it sounded like a great reason to drive the Greek-Americans with whom I share a household out of the house for a while.
Since things were locked down in March, my wife and I had driven more than an hour away exactly once, to pick up some plants. This would mark the first time since that day that we would be out of the house for an extended period that far away.
The outing would be good for the the whole family, I thought. It would take us past Lehigh University, the place where I went to school and the place that has been a huge, important part of my life. A nice several hours in the car, gyros and fries on the side of the road, and a fresh look at the lower campus. Not a bad afternoon.
Many people never go back to their old school, as the Steely Dan song goes, but I do. Often.
I've spent a long time covering Lehigh sports, mostly Lehigh football. Some might call me a superfan because of that. We live the county over from where Lehigh plays its football games. It is not quite the same as Nick Hornby in Fever Pitch purposely moving down the street from his beloved Arsenal's home field, but I'd be lying if I said proximity to Lehigh wasn't a consideration at all as to where I want to live.
As the pandemic has been raging, first through the state of Pennsylvania and then around the country, I, like many others, have gone from being hopeful to being disappointed to being horrified to being depressed.
I started out optimistic about resuming college sports, but then got more and more depressed and horrified as experts were undermined and it became abundantly clear that no national, unified strategy for testing or mitigation was ever going to emerge. Without a national, unified strategy, it seemed difficult at best to reopen schools. Without fully or at least mostly reopened schools, it seemed impossible to restart sports.
The past week had been horrible in terms of news. The Ivy League, the source of many Patriot League out-of-conference games, officially canceled fall competition, with them possibly revisiting a conference-only schedule in the spring. At that moment, Lehigh football lost two games I was going to cover and attend: September 19th vs. Columbia, and October 3rd at Yale.
Then the Big Ten announced they were going to a league-only schedule that they were going to try to contest during the fall, with the Pac 12 following them later. Though these decisions did not directly impact Lehigh football, they did affect many of the teams in Football Championship Subdivision, the arena in which Lehigh football competes for a NCAA football championship. Some FCS schools lost millions of dollars in guarantee money, and the implications for their athletic programs and maybe even their institutions made me shudder. Some NCAA schools will end up closing their doors over this; I don't know which ones, and I desperately hope none do, but it feels like we are hurtling uncontrollably towards that reality.
It was in the wake of this – up until now, the worst week in collegiate sports history – when I decided to take a trip with my family to my old school. Though I held out a crumb of hope that something might be salvaged of the sports season, I wanted to see for myself the state of the campus and of Bethlehem the city.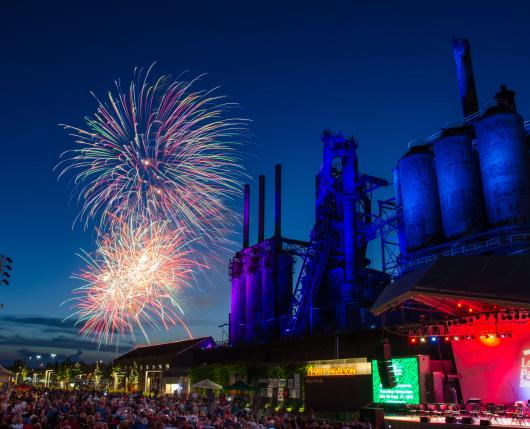 The Trip
We pulled out of our development in the mid-afternoon to make the trip I have made hundreds of times before. The early part of the trip didn't seem too different than the many other times I had made it – a handful of businesses seemed to have some variations on "Stay Safe" messages on their signage was the only difference. The deer butcher was still open. So was the Wawa and the gas stations. In our somewhat affluent suburban lives, the only real differences I could see were around the edges.
On my way to Lehigh's South Mountain campus, the way I take always takes me through a small hamlet called Hellertown, which is just about a mile away from Murray Goodman Stadium. That's where I go in the fall to watch the Mountain Hawks play football.
It was in Hellertown where I saw my first taste on the aftermath of what COVID-19 has wrought – shuttered small businesses.
Hellertown was never made for al fresco dining.
It's a little carriage town that is probably best known for being mentioned in the Kurt Vonnegut novel Slaughterhouse Five. It's a beautiful, sleepy town with a long main street with many local businesses, but it hasn't been a walking town for a long time. And a significant number of those businesses have shut their doors in the last few years. The local thrift store, the pizza place on the way to the stadium, the old electronics store – closed. At the best of times, especially during the summer, Hellertown has always been quiet, but I hadn't remembered it quite this barren.
Heading over to the stadium was a bit more familiar. As expected, it wasn't a hub of activity at this time of year except a handful of people. In the past, when the Philadelphia Eagles held their minicamps here, a steady stream of fans came in to watch the pros scrimmage. In order to go in, you had to go through a crowded, non social distanced makeshift Eagles store, filled with replica jersey and 50% deals on the inventory of Donovan McNabb jerseys they didn't sell before Donavan signed with Washington's NFL team. God, I miss it.
We then headed over the hill and over the bridge to North Bethlehem, where we would socially-distance and pick up the gyros. I didn't feel a need to head up to a place where I spent part of my university days – the Lehigh Valley Mall. That's because businesses in there are shuttering at an alarming rate. The Mall itself had been shuttered completely from March 22nd and then partially reopened in June, but some businesses decided to never come back. This tails with some major retailers declaring bankruptcy, too, and questions as to how long they might choose to stay open.
We went to a local, secluded park and ate our gyros in the car, as rain clouds were gathering. But I was thinking about how much had changed. When I was a student at school, and even last year, there would be so many actvites to look forward to in the Lehigh Valley area during the summer. Musikfest was an annual, week-long street fair with A-list entertainers. That was one of the first things to go. Then the minor league baseball season was cancelled completely. The Lehigh Valley IronPigs, one of the most innovative minor league affiliates in the nation and probably one of it's more successful ones, would play no games.
More than Broadway or the NFL or Major League Baseball, it is the quiet, less publicized decisions like the IronPigs not playing baseball that are the single most underreported story in the country right now. It is not industry – professional gambling and big money professional sports – that is the real story. It is the Lehigh Valleys of this world that have lost the little things that make life a bit less terrible in the summer.
When you view things from the local perspective, it becomes different – the loss of Patriot League sports seemed almost like a foregone conclusion. If "they" can't save the IronPigs, how can "they" save Lehigh and Lafayette sports?
On the way back home, we drove by the Lehigh campus, at my request. During the summer, Lehigh University is always fairly sleepy, with more residents in the streets than current and prospective students. It has always been a small city, but used to be more bustling.
In downtown, there were a few local businesses that seemed like they were doing well, which made me feel good. This would normally be their slow period, though without Musikfest I'm sure even the South Side businesses will take a hit.
On the skyline is the inescapable rusting husk of Bethlehem Steel's main furnace. While I was an undergrad, it was spewing out its last final gasps of pollution, winding down a century where it was a dominant industrial power. Today it is part of SteelStacks and adjacent to a casino, which like many other businesses was closed during the coronavirus lockdown. The steel stacks have gone from dying industry to gloomy ghost town to retro cool in the time I have been visiting and re-visiting Lehigh's campus.
However in the shadow of its smokestacks also is a hundred years of people living in the crammed communities next to the steel mill. Though the mill jobs are long gone, poverty and tiny rays of hope have always been a part of this community several blocks from Lehigh's campus, and before Lehigh moved their athletics field over the mountain, Taylor Stadium used to be within walking distance from these communities. Chuck Bednarik, future NFL hall of famer, grew up dirt poor in this area and used to sneak into Taylor stadium to watch Lehigh football games.
Going through this community this weekend, it felt like there was a restless energy with nowhere to go. People were outside, social distancing for the most part, but without an outlet for the energy. The usual distractions were gone, and even just the simple pleasure of going out to eat in a sit-down restaurant was largely unavailable. Like Hellertown, downtown Bethlehem is not made for al fresco dining. It's also not made for social distancing, making me realize how easily the Coronavirus could spread in such closed quarters, even if all precautions are being followed.
Murray Goodman
I didn't say to my family "This will probably be my last stop at Murray Goodman Stadium for a long time," but then again I probably didn't have to. Deep in my heart I knew that the Patriot League was going to decide to cancel its fall sports already, and that the streak of 124 consecutive years with at least one football game between the Lehigh Mountain Hawks and the Lafayette Leopards was almost certainly going to come to an end.
"This is the media parking lot I go to," I told my family, "and here's where I walk up to the press box. They made a new one last year."
The storm clouds briefly broke, meaning I got to see Murray Goodman in the sun. It's a place I love to go to. You can see the trees on South Mountain, and you can also see the colors of the leaves as they change throughout the fall. It has always been Instagram-ready – there are fewer more beautiful places to watch a football game in my mind.
To many Lehigh and Lafayette fans in the Valley and beyond, there is only one game in the entire season – The Rivalry, Lehigh vs. Lafayette. I don't only focus on the one Rivalry game in my Lehigh football coverage, but like the Bethlehem Steel smokestacks in South Bethlehem, the Rivalry always looms over every Lehigh football season.
There are many alumni who couldn't tell you the depth and the guts that Lehigh showed when they battled like hell losing to North Dakota State in the 2011 FCS Playoffs, but they can definitely tell you a play-by-play of Lehigh dominating Lafayette in Easton in 2016 to cap off their Patriot League Championship.
But even more than that, students and alumni have their own stories about watching The Rivalry – how they braved the freezing cold of the 1987 game, how they witnessed the Jonathan Hurt Hail Mary Heartbreak in 2005, or the Brian Klingerman overtime game in the dark in 1995. I know I do. I remember exactly was on the field for those moments, and the euphoria or pain I felt.
But exactly how could these types of memories be created in 2020? There was no way, with the coronavirus – and that's the point.
Without something different, how could Lehigh and Lafayette line up against each other on the line of scrimmage? You can't wear cloth masks on the defensive line. Are you really going to socially distance after the ball comes loose? What about the referees, many of whom are older and could be in higher-risk groups?
For the fans, are you really going to cram 16,000 fans in one area have them sit next to strangers, and then have everyone at halftime use the restrooms together? In what possibly could be sub-freezing temperatures?
More than most people I am keenly aware of what The Rivalry is. (Full disclosure: I have written a book about how The Rivalry came to be.) I have written about Rivalry games that have taken place over 100 years ago, and every single one of them I wrote about took place in front of non socially distanced crowds. (Even in 1918, as the Spanish Flu epidemic was still happening, Lehigh still held its traditional "smoker" pep rally in a smoke-filled gymnasium because "they were so well attended…. in this abnormal school year," The Brown and White reported.)
I had heard that many possible contingency plans were being discussed at Patriot League schools for games with limited, socially-distant fans or no fans. For most games, it wouldn't be an issue, but even knowing that it was probably necessary, it was still very hard to picture it actually happening in the case of The Rivalry.
For months I looked at the news and thought things were bad – but somewhere, in my heart, I still wanted to hope for some miracle that this game would be able to continue. After all, it has been contested every year since 1896 and is the most-played college football Rivalry in the country. And like the IronPigs, The Rivalry is an important part of the community around here – a true source of community pride in a world where community is getting destroyed day by day.
And personally, I had only missed one Rivalry game since I became an undergrad – it was because my wife's grandmother was in the hospital, and Lehigh was hosting a I-AA playoff game the following week against Hofstra.
I'm not blind – I have seen for weeks how bad things are, and how unlikely fall sports truly is. Yet the event and spectacle of the Lehigh and Lafayette Rivalry, something I've been a part of for more than three decades, is not something that leaves the mind easily.
Coronavirus
Once society shut down in March, the only way there was going to be football in the fall was if national leaders, the NFL, and medical professionals attacked the coronavius in a united way on three fronts.
National leaders would have had to direct the public to mitigate the spread of the virus, and pushed that message with repetition and passion. Social distancing was discovered pretty early on to help stop the spread – there needed to be a full, public, head-on effort to promote this and other mitigation efforts, like mask-wearing. NFL and college football coaches could have been even more involved in this nationwide effort.
But that never happened. Politicians never delivered a consistent message on public health, which has been the ultimate source and blame of horrific outbreaks this summer. As a result, there is a significant amount of the country that has overwhelmed hospitals and shut down economies. Worse, since we have no consistent, affordable testing, we still, shockingly, have no idea who has it, had it, or is at risk to get it. It is the biggest disaster of my lifetime.
On a parallel track, the NFL needed to be working around the clock to figure out ways to practice safely and to redesign gear to limit or stop the spread of the coronavirus. This is happening now to a limited degree with the advent of full face shields for football helmets, and some professional teams are trying to come up with protocols on the fly to keep teams safe and to contact trace if God Forbid an outbreak happens.
But the progress has come way too late to save the Patriot League football season. If some of these questions had been answered by May, perhaps college football would have had a chance. But it's not here yet, and there is still no consensus as to what will work.
Finally, medical professionals have to find either a vaccine or at least a proven drug treatment to either lessen or alleviate the worst symptoms of a coronavirus infection.
Professionals around the world are working night and day to figure this out, but their efforts are not coordinated and our political leadership does not seem to be interesting in trying to coordinate it. So we as a society simply wait.
In March, it was possible to hope that progress was to be made on one, two, or three of these fronts.
But hope is not a strategy, and the truth is the strategy failed in an effort to have college football this fall.
And like so many other aspects of life these days, it's the citizens of Bethlehem, Easton, and so many other similar small cities across the nation that will feel the burn of this the deepest – not the cities where large professional sports franchises can distract from the misery of people's everyday lives, but the many, small community events that make life worthwhile in small towns and make people feel special for a day or two.
It is in that where national leadership has failed us so badly. Not Patriot League leadership, whose athletic directors are simply looking around the minor league sports and events around Bethlehem, PA, Easton, PA, Hamilton, NY, Lewisburg, PA, and Worcester, MA – but national leadership, who failed to put enough value in the happiness of the lives of the people who could have used college football the most.
Some might say sports, music festivals, even eating out are luxuries that need to be sacrificed so that we as a nation can beat the coronavirus. But this sacrifice isn't being asked of everyone. Sports franchise owners appear to be ordering their players back to work in order for them to make money. Power Five athletic directors are doing everything but ordering their students to head back to campus to put their lives at risk for coronavirus infection so that they can still get their six-figure paychecks.
And the pain is not being spread evenly – that much was very clear from my excursion. The pain is being felt deeply in the Lehigh Valley, and every IronPigs game and Rivalry event that disappears off the schedule is just another cut, another humiliating blow to a community that neither deserves it or needs it.
In its wake and lack of preparation by our nation, FCS schools and Patriot League schools have little choice but to cancel competitions and hope one of the three things that a responsible nation would have been focusing on in laser-like fashion back in March would begin to, perhaps, start happening today.
So as I drove back from Bethlehem with my family, they were laughing and having a great time. But inside, I had to fight back depression.
There wasn't going to be a fall Patriot League sports season, and there are only two possible outcomes for fall collegiate sports in general – that every conference suspends their sports, too, or some student, somewhere, is going to die from the coronavirus as a result of trying to play a season for money.
Some might say that with appropriate action, things will be back to normal. But I think in all of our hearts we know that's not true. The trajectory is already set. The Patriot League is just getting there before somebody gets killed, which makes them responsible leaders.