QB Sonny Jurgensen Etches Name in NFL History
NAPLES, Fla. – Knowing and being aware of his own physical limitations made the goal simple enough in Sonny Jurgensen's mind as to what would make him successful as a quarterback in the National Football League.
And when all was said and done, the fiery redhead landed himself a spot in the Pro Football Hall of Fame after his playing career that spanned with a pair of rival teams.
NORTH CAROLINA BORN & RAISED
Born during a time of turmoil in the United States with the Great Depression having come to an end and escalating tensions that would eventually lead to a world war beginning to mount America struggling to return to a sense of normalcy, sports became a showcase for the talented young Jurgensen.
While growing up in Wilmington, Jurgensen gravitated to sports. He helped his grammar school win city titles in baseball and basketball. He also added a city tennis title to his young trophy case and pitched a local Civitan Club to a city championship in baseball.
"There were a lot of friends in the neighborhood and that gave us plenty of opportunities to get involved in sports growing up," Jurgensen said.
Jurgensen eventually enrolled at New Hanover High School and continued playing football, basketball and baseball for the Wildcats.
He was a backup at quarterback as a junior when NHHS won the N.C. state championship and took over the starting role the following season as Jurgensen enjoyed solid seasons in all three sports.
He scored just 27 points in football by scoring three touchdowns and kicking nine extra points. But it was the way he played the game that made a name for himself.
"(Jurgensen) was a rugged boy," said Leon Brogden, who coached the future hall of famer in football at the school. "He could have been outstanding at center, guard, end or any backfield position."
Jurgensen, a guard, averaged 12 points per game for the Wildcats' basketball team as a senior and helped them to a runner-up finish at the North Carolina state tournament. He later played in the North Carolina all-star basketball game after graduating from high school. A versatile player on the baseball field, Sonny batted .339 in his final prep season where he saw time on the mound as a pitcher, while also catching and playing across the infield.
Jurgensen's successor at quarterback at New Hanover High School was Roman Gabriel, who would go on to play at North Carolina State before embarking on a successful NFL career of his own.
DUKE BLUE DEVILS
Jurgensen, who was the starting quarterback in 1953 at the annual Shrine Football Game that pits the best prep players from North Carolina against the top players from South Carolina, enrolled at Duke that fall.
He finished his first collegiate as a backup behind starting quarterback Jerry Barger and completed 12 of 18 passes for 212 yards. The new Blue Devil tossed one TD pass, but was intercepted three times on the season. He wasted little time in become one of the top defenders on the team by tying a team record with interceptions in four consecutive games. He ended the season with five interceptions as Duke captured the ACC crown and posted an 8-3-1 overall record after crushing Nebraska 34-7 on the Orange Bowl.
Jurgensen, who stood just five-feet, 11-inches tall and weighed a shade over 200 pounds, became the starting quarterback as a junior in 1955 while also returning to his familiar post in the secondary for the Blue Devils.
He completed 37 of 69 passes for 536 yards and three touchdowns while being intercepted seven times. He also rushed 54 times for 48 yards and two scores while logging a 33.7 average on four punts. On defense he intercepted four passes for the Blue Devils.
Jurgensen's final collegiate season started on a sour note as Duke lost a conference game for the first time in the short four-year history of the conference that was formed prior to the 1953 season. The Blue Devils would struggle much of the year and closed with a 5-4-1 record. He completed just 28 of 59 passes for 371 yards and two TDs while being intercepted six times. As a runner, he carried 25 times for 51 yards and three touchdowns.
Jurgensen, who played baseball briefly while at Duke, finished his football career with 77 completions, 156 pass attempts and 1,119 yards. He threw six touchdowns and was intercepted 16 times. He gained 109 yards as a runner and tallied 10 interceptions while in a Blue Devil uniform.
NFL CAREER
Despite the lack of eye-popping offensive numbers during his collegiate career, NFL teams, like his former high school coach had done years before, saw something in Sonny and the way played the game.
Philadelphia drafted Jurgensen in the fourth round of the 1957 NFL Draft and signed him, along with a $1,000 signing bonus, where he was the backup to Bobby Thomason in his first season in the league. The next three seasons (1958-60) he played behind future hall of famer Norm Van Brocklin. It was in Van Brocklin's final season that Jurgensen was part of a championship for the only time in his professional career.
Jurgensen became a starter for the first time in his NFL career in 1961 following Van Brocklin's retirement. He responded by thrown for an NFL record 3,723 yards and tying the league mark with 32 touchdowns while being intercepted 24 times that season and was chosen as an All-Pro.
He never duplicated that production again in the City of Brotherly Love and after an injury-plagued season in 1963 he was dealt to Washington in a trade the sent Norm Snead (QB) and Claude Crabb (CB) to the Eagles.
After beginning his first season with Washington as a backup, he took over as a starter midway through the season and became a fixture under center for the next three seasons.
Along the way he orchestrated the Redskins to several memorable moments in franchise history, including a 1965 game at home that saw Dallas take a 21-0 lead. Jurgensen would later run for a touchdown and tossed a 35-yard game-winning pass to Bobby Mitchell as Washington won the game 34-31.
The 1967 season saw the future hall-of-famer break his own league record for passing yards. He completed 288 of 508 pass attempts, which were both new NFL records, and he finished the season with 3,747 passing yards to eclipse the mark he established in 1961 by 24 yards.
Jurgensen saw limited action in 1968 as broken ribs and elbow surgery allowed him to appear in just 12 games.
One of those contests also stands out in the annals of the Washington franchise.
In the season opener at Wrigley Field against Chicago, Jurgensen completed a record-tying 99-yard pass to Jerry Allen as the Redskins defeated the Bears 38-28. It was the third, and last, time in franchise history that a Washington QB had completed a pass of that distance.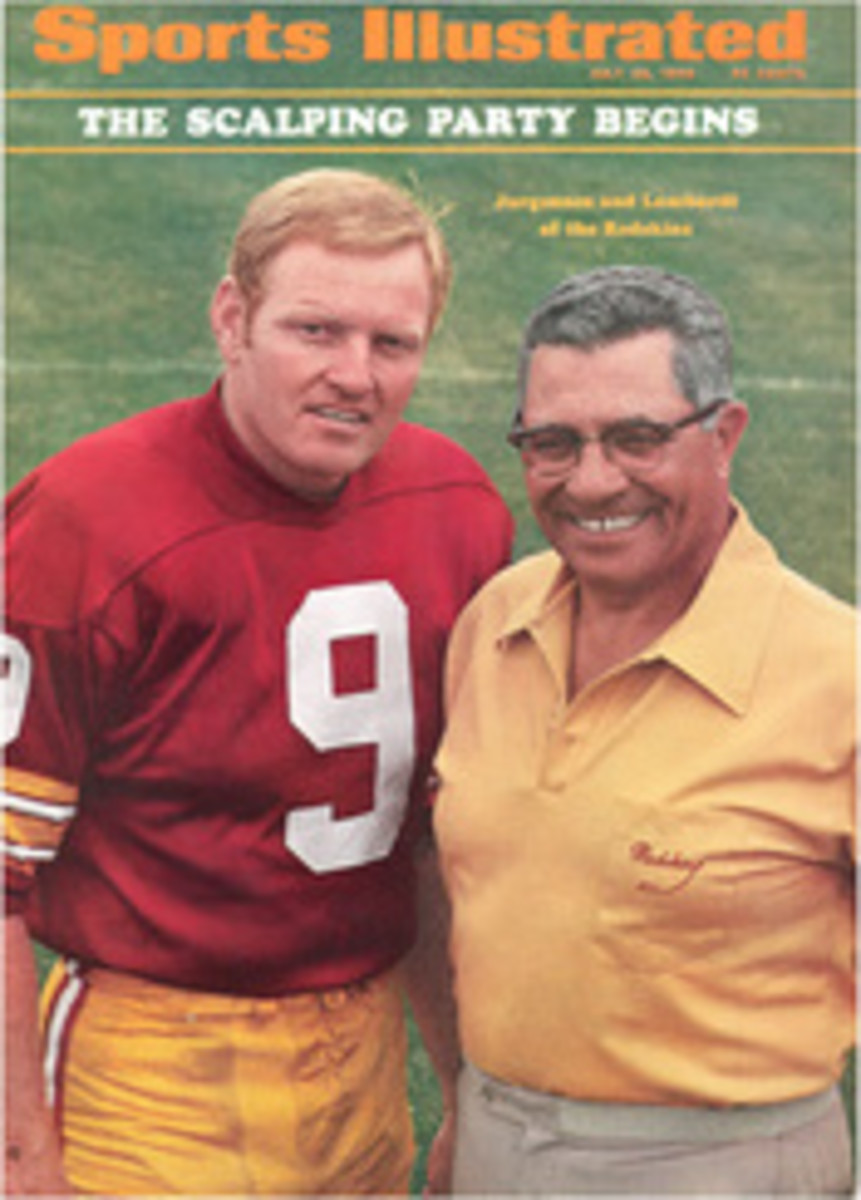 TEAMING WITH A LEGEND
The 1969 season saw Jurgensen team with a legend as Vince Lombardi took over the reigns of a Washington franchise after a highly successful tenure leading the Green Bay Packers.
Lombardi and Jurgensen developed a solid relationship both on and off the field that will entwine the two for eternity.
On the field, Jurgensen responded by leading the league in completions (274), pass attempts (442), completion percentage (.619) and yards (3,102). The Redskins finished the season with a 7-5-2 record, the team's best finish since 1955, which kept Lombardi's mark intact of never having coach at losing team in the NFL.
"(Jurgensen) is a great quarterback," Lombardi said during his short time as coach of the Redskins. "He hangs in there under adverse conditions. He may be the best the league has ever seen. He is the best I have ever seen."
The pair would not have a chance to foster the relationship further as Lombardi died of cancer shortly before the start of the 1970 NFL season.
Following the death of the legendary coach, George Allen took over as coach of the Redskins and the foundation of success put in place by Lombardi in his short stint as coach continue to pay dividends.
And a quarterback battle began to take shape in Washington.
After starting all 14 games during the 1970 season, Jurgensen suffered a shoulder injury in a preseason game in 1971 and Billy Kilmer, who had been acquired from the New Orleans Saints in the first trade made by Allen after taking over the Redskins, stepped in as the starter.
Jurgensen never fully recovered and started just nine more games in his career before retiring following the 1974 season. Despite starting just four games in what turned out to be his final season, Jurgensen managed to lead the league in passing by completing 64 percent of his passes (107-167) for 1,185 yards and 11 touchdowns.
"It was more of a defensive game when I played than it is today," Jurgensen said.
It was also the season in which the future hall of famer made his only postseason appearance of his NFL career. He came off the bench in relief of Kilmer in the Redskins' 19-10 loss to the Los Angeles Rams in the first round of the NFL playoffs and completed six of 12 passes in what turned out to be his final game in an NFL uniform.
ACCOLADES
Jurgensen, a five-time Pro Bowl selection during his career, is widely regarded as the best pure passer of his time. He finished his 18-year pro career with 2,433 completions on 4,262 attempts (.571) for 32,224 yards and 255 touchdowns. He threw for at least 400 yards in a game five times in his career.
His 82.62 passer rating is the highest of any quarterback in the so-called "dead ball era"(pre-1978) of the NFL.
He also rushed for 493 yards and scored 15 touchdowns.
Lombardi reportedly once said: "If we would have had Sonny Jurgensen in Green Bay, we'd never have lost a game."
Jurgensen, who reportedly could throw a ball 80 yards in the air, was know for his aggressive approach to playing quarterback, which would explain his philosophy and his size.
"All I ask of my blockers is four seconds," said during his career. "I try to stay on my feet and not be forced out of the pocket. I beat people by throwing, not running.
"I won't let them intimidate me into doing something that is not the best thing I can do," he added.
AFTER FOOTBALL
Jurgensen, like many other former players went from the playing football to the broadcast booth after the curtain closed on his brilliant career.
He began as a color commentator for CBS in 1975 and later teamed with another hall of famer, Sam Huff, to cover Redskins' games on the radio. He stepped away from broadcasting just before the 2019 season.
In 1983, Jurgensen was inducted into the Pro Football Hall of Fame. He was joined in Canton that year by former teammate Bobby Mitchell, along with Bobby Bell (Kansas City) and Paul Warfield (Miami). Former coach Sid Gillman was also inducted that same year.
Jurgensen is also a member of the North Carolina Sports Hall of Fame (1971) and the Wilmington Walk of Fame (2004). In 1999, Sports Illustrated ranked Jurgensen as the ninth best sports figure from North Carolina.
"Lombardi was the only coach I had who tried to simply the game of football," Jurgensen said. "With his style of calling plays, you knew what you were doing at all times."
Jurgensen seems to have taken that philosophy to heart when he talks to young players today.
"Listen to your coaches," he said. "They are the ones who will put you in the right position to be successful."
A native of Bismarck, N.D., Ray is a graduate of North Dakota State University where he began studying athletic training and served as a student trainer for several Bison teams including swimming, wrestling and baseball and was a trainer at the 1979 NCAA national track and field championship meet at the University of Illinois. Ray later worked in the sports information office at NDSU. Following his graduation from NDSU he spent five years in the sports information office at Missouri Western State University and one year in the sports information at Georgia Tech. He has nearly 40 years of writing experience as a sports editor at several newspapers and has received numerous awards for his writing over the years. A noted sports historian, Ray is currently an assistant editor at Amateur Wrestling News.