#Rivalry159 Preview, Lafayette at Lehigh
BETHLEHEM, PA – Many have said it's something you should do at least once in your life. Whether you're a Lehigh person, a Lafayette person, whether you're from the Lehigh Valley, whether you consider yourself a college football fan, it's a pilgrimage, a bucket list item.
Earlier this season, I went to Bucknell, where I met some of the very great members of the Bison sports information desk, including the legendary Doug Birdsong. Even though it was still October, word had spread that Lafayette had upset Holy Cross, taking charge of the Patriot League title race.
After the game, me and actual members of both the Lehigh and Bucknell staffs were shooting the breeze, and Doug and crew already were bringing up The Rivalry coming up in November and how it might end up being a critical game in the Patriot League title race.
"In that game, anything can happen," Doug said to us.
It is, indeed, one where you have to throw out the record books and it's the game you absolutely have to win, if you're a Lehigh or Lafayette head coach. It's great theater every year, no matter what the records are, but this year the theater suddenly ends up on the national FCS stage.
For many Lehigh and Lafayette fans, this game IS their championship. Their involvement with the football programs, bands, and stadiums begin and end with one massive tailgate on the third weekend in November and a football game with tens of thousands of their closest friends.
But for folks around the nation trying to assemble the FCS Playoff football field, they want to know if 8-2 Lafayette will beat their 2-8 Rival Lehigh to cement their place in the postseason, or if they will be upset in a game where "anything can happen", opening the door for 6-4 Holy Cross to win and possibly open up an at-large spot for another team.
You don't have to tell the players that this game means the most to many on the schedule. All week the events on campus are geared towards the big game on Saturday, and recently "Bedsheet Week" has become an extremely memeable way for folks to experience on social media what can happen when a bunch of smart people get together and focus their energy on hating their rivals. At Lafayette they had a spraypainted Lehigh car that students could "express themselves" with, i.e destroy it with heavy machinery.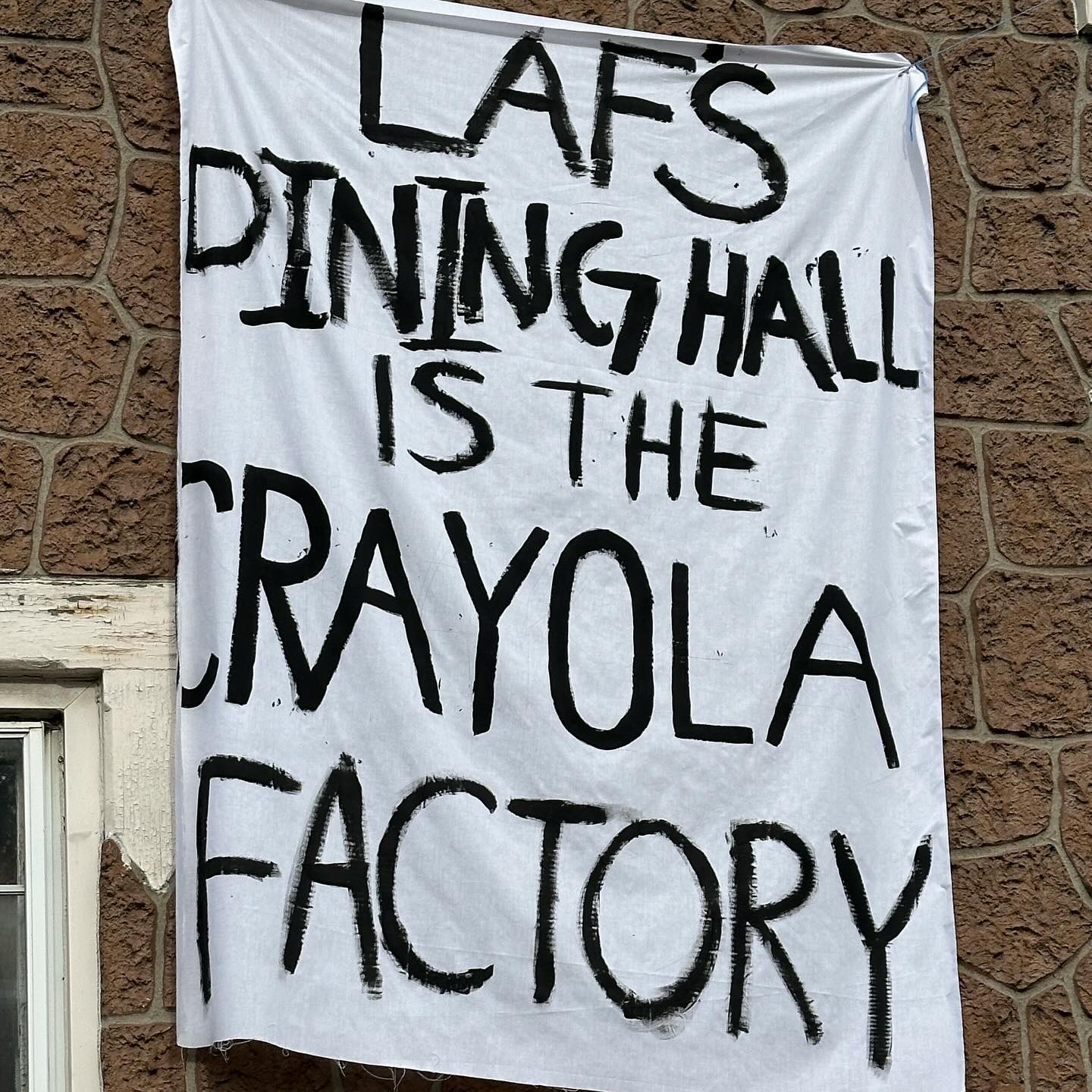 For so many of these seniors, it's not only their final college football game, it is also their final time wearing a football helmet and a jersey. I've found in this game that the seniors find it in themselves to play the best games of their careers.
If you're a Lehigh fan, you probably are looking to focus on a narrative where an under .500 Lehigh teams upsets a highly favored Lafayette squad. In the last 60 years, there are two games with that narrative that stand out.
In 1968, Lafayette came out of nowhere to surge to a 7-2 record and seemed on the bring of a Lambert Cup, given to the best small college in the East and the highest regional honor at the time. The only thing standing in their was was a 2-7 Lehigh squad with a head coach that seemed like he was going to get fired after the season.
In 2009, Lafayette was on their way to another Patriot League title, or so they thought. Embattled Lehigh head coach Andy Coen, under fire from alumni and some of the press, was fighting swirling accusations that he might be let go after another .500 season. It wasn't ever stated that he needed to beat Lafayette to keep his job, but it seemed like it.
****
Now, let's focus on the game this weekend.
LAFAYETTE LEOPARDS (8-2, 4-1 Patriot League) AT LEHIGH MOUNTAIN HAWKS (2-8. 1-4 Patriot)
Murray Goodman Stadium/Bethlehem, PA, Noon
STREAMING BROADCAST: ESPN+ (subscription needed)
PxP – Marco Socci, Analyst – Mike Yadush
BROADCAST (Fox Sports Lehigh Valley 94.7 FM/1230 AM; LVFoxSports.com):
PxP – Matt Kerr; Analysts – Connor Mills, Jim Guzzo
Game Notes And Injury Report
In the game notes, QB Brayten Silbor is listed as the QB1, but if you watched the Lehigh game vs. Colgate last week, you'll notice backup QB Dante Perri, the onetime starter, took over when Perri got hurt. There is a major question as to whether Silbor, who has started all season, or his backup Perri, who got in his first significant live game action all year in the second half against Colgate, will start and play.
There hasn't really been much of a controversy all year about starting quarterbacks – head coach Kevin Cahill anointed Silbor the QB in Week 1, and hasn't really changed course. He's never been asked about it all year. In that vein, it seems like if Silbor can play, he will. But will he, or will we see Perri? If I had to guess, it would be Perri, but if Silbor is healthy I know it will be him. We may not actually know until Saturday morning.
Scouting Lafayette
John Troxell is in his second season as head coach of the Lafayette Leopards. The '94 Lafayette alum returned to College Hill last season after a very successful 16-year head coaching stint at Franklin & Marshall College. When he came here, the excitement mostly stemmed from the fact that he knew how to build a winner, that he knew his way around Lafayette, and he knew the Rivalry. In his first year, he had an up and down first season which have saw some wins and some close losses to tough teams like FBS Temple and Holy Cross.
But it's been this year that Troxell has been able to build off of a very good senior class and plug in two very talented recruiting classes to have the Leopards on the brink of breaking the Holy Cross dynasty on top of the Patriot League.
Going into the season, it was a foregone conclusion that the Leopards would have a very good defense. With longtime contributors like LB Billy Schaefer (72 tackles, 20 tackles for loss including 10 sacks, 4 forced fumbles), LB Marco Olivas (60 tackles, 7 1/2 tackles for loss) and DB Saiku White (68 tackles, 2 INT), you knew they were going to be tough.
The question was always going to be whether Troxell would find an offense that could go with the defense, and boy, did he ever.
Sophomore QB Dean DiNoble took over the starting job in Week 2 vs. Duke, and while he understandably had a modest day vs. the ACC squad, he kept getting better and scarier as the season went along. He can take off with the ball and run (5 rushing touchdowns), doesn't make a lot of mistakes (only 5 interceptions, 2 of which came against Duke), and has an offensive line that has given him plenty of time to be Dean DiNoble. One of their most telling stats is that Lafayette is 10th in the nation in 3rd down conversion percentage.
DiNoble has spread the ball around to a lot of receivers, but it's the rushing game where Lafayette has really shined all season. RB Jamar Curtis (1,167 yards rushing, 9 TDs) is far and away the best running back in the Patriot League, and it isn't particularly close. As a team, Lafayette averages 4.8 yards per carry – again, a testament to their offensive line. If Lafayette's two seniors on their line, C Mike Barr and G John Olmstead aren't getting some NFL looks, something's wrong.
LFN's Keys to the Game
Get Out Of Your Own Way. If there's one thing that the 1968 and 2009 Lehigh teams did to pull off the upset, it was to really minimize their mistakes, something the Mountain Hawks have notably not done all season. Even in their two wins this Lehigh team has made a habit of making errors that have kept teams close. If any upset is to happen, it will have to be a clean, almost mistake-free game.
Nuke DeNucci. LB Mike DeNucci will have to be on top of his game tomorrow for Lehigh to have a chance, which is another way of saying Lehigh needs to be tough against the run and prevent what Lafayette does best, which happens to be convert on 3rd down and run the ball. Any upset will require Lehigh nuking Lafayette's offensive gameplan in this way.
35, 25, 27. The significance of these numbers? They're the number of points Lafayette's defense has given up against Holy Cross, Georgetown and Colgate in the last four weeks. The point being, there has been yardage given up and points being allowed by this defense. Whomever is under center, Perri or Silbor, they will need to take what the Lafayette defense gives them, which might be more than you think.
The Case For The Upset
On paper, this game is, frankly, a mismatch.
But in the 158 other versions of "The Rivalry", there have been plenty of mismatches that ended up in victories for the other team.
The way to overcome the statistics is to not give things away. The best under .500 Lehigh teams that have been ready to turn the corner have taken care of the ball and executed their gameplan, preferably with a long, sustained drive that ends in a touchdown.
Another formula is to jump out to an early lead, putting the Leopards on the defensive and having them make plays in order to take back what's at stake for them. In 1968, Lehigh jumped to a 7-0 lead and the Leopards never really got back into the game.
All these things have happened in the past, and can happen again this Saturday. If Lehigh does that, and the Mountain Hawks play their best game of the year, they can have one of the best celebrations ever in Murray Goodman Stadium – one that celebrates the first home win of the year, prevents the Patriot League Trophy from being presented to Lafayette on their field, and sets them into an offseason where they officially announce what they are and what they want to be.
Lehigh 24, Lafayette 17