Sam Houston State Outlasts Southern Utah For Crazy 42-39 Playoff Win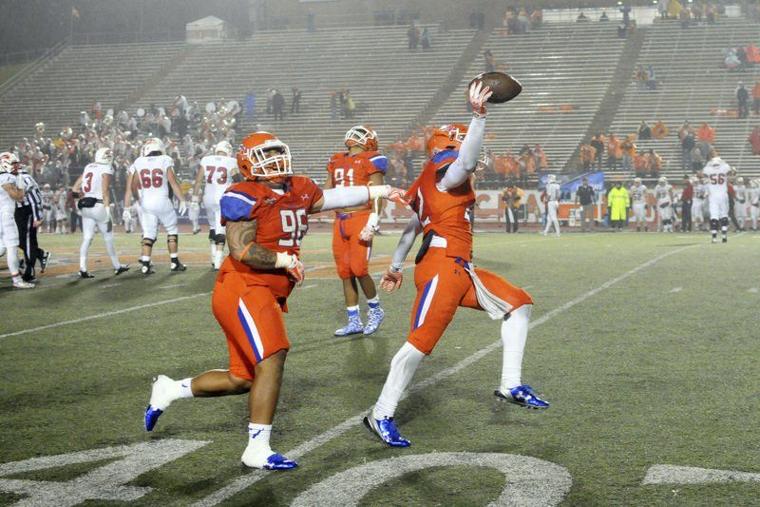 Special to College Sports Journal
Editor's note: This story is courtesy of Sam Houston State and Southern Utah athletics.
HUNTSVILLE, TX. — Quarterback Jeremiah Briscoe came off the bench to pass for 211 yards including a 55-yard scoring pass to Yedidiah Louis for the winning score with 3:44 to play as Sam Houston rallied for a 42-39 playoff victory over Southern Utah Saturday.
The win in the NCAA Division I Football Championship opening round Saturday advances No. 6 ranked Sam Houston to a second round showdown with No. 4 seed McNeese State in Lake Charles, La., next week.
The Cowboys, who defeated Sam Houston 27-10 in Lake Charles three weeks ago, drew a bye as a seed Saturday. McNeese won the 2015 Southland Conference championship and the Kats were the runners-up.
Briscoe entered the game for the last drive of the second quarter with Sam Houston trailing 32-26. He replaced starter Jared Johnson who had completed only three of his 17 passes to that point.
"All season long we've been talking about we had two quarterbacks we could win with," Sam Houston head coach K.C. Keeler. "Jeremiah gets a lot of snaps with the first unit every week just so he's ready to come in for a situation like today. He had a great early part of the year and battle through a couple of injuries. It was great to have him in there."
Sixth-year senior Ridgeway Frank posted a career high 137 rushing yards and 29 carries including touchdowns of one and two yards. Frank's second touchdown with 7 minutes left in the third quarter and a safety in the fourth period pulled the Kats to within four points 39-35.
"When you talk about guys paying their dues and working hard every day, you think about Ridgeway," Keeler said. "He's stuck around here doing everything he can to help this team win for six years. When our top two running backs go down, Ridgeway comes in and comes through.
Freshman running back Remus Bulmer also posted his college best with 111 yards on 16 carries.
"This was a great team win," Keeler said. "We beat a really good football team. We just keep coming back at them, even when things didn't go our way. It shows a lot of character."
SUU quarterback Ammon Olsen completed 33 of 58 passes for 379 yards and four touchdown passes. Mike Sharp caught 8 passes for 141 yards including 3 of Olsen's TD throws.
Sam Houston jumped out to a 19-6 lead early in the second quarter. But Olsen led a Thunderbird comeback, out-scoring the Kats 26-7 in the second quarter to take a 32-26 lead into the locker room at halftime. Another scoring throw three minutes into the third quarter put the T-Birds ahead 39-26.
That's when Briscoe, Frank and Bullmer took over as Sam Houston scored 16 unanswered points to win. The Bearkats upped their record to 9-3 while Southern Utah, the Big Sky Conference champions, finished 8-4.
P. J. Hall led a Bearkat defense that slowed the Thunderbirds down enough in the second half to make the Sam Houston comeback possible. Hall total four tackles for losses including a quarterback sack. He blocked two extra points, intercepted a pass, broke up two more passes and had two big quarterback sacks.
Louis led the Bearkat receivers with eight catches for 138 yards including the game-winning score. LaDarius Brown had four catches for 44 yards.
The T-Birds, the Big Sky champs who were making their first-ever playoff appearance, led for the majority of the second half, but a late touchdown gave the Bearkats the advantage and eventually the victory. SUU scored their final points of the game in the early part of the third quarter and were held scoreless the rest of the way.
"Just credit Sam Houston," SUU head coach Ed Lamb said. "They did a good job taking away some of the shorter passes and putting a lot of numbers in the box on the run. We tried to win over the top a couple times and we weren't able to connect. We had what we thought were some good one-on-one matchups and credit Sam Houston's DBs for playing physical down the field and not allowing those passes to connect."
The conditions in Huntsville were wet and windy, but both teams found a lot of success despite the weather.
Olsen finished the game with 379 yards through the air and four touchdowns, three to Sharp and one to Meason. Sharp ended the game with 141 yards and Meason had 118.
"On film they showed they were very athletic, they like to blitz, they like to load the box," Olsen said about the Sam Houston defense. "But they also have some great DBs so we knew we had to attack they way we could, and they made some changes at have time that made us struggle and you've got to credit them, but we were just a couple plays short today."
When asked about his quarterback's performance, Lamb said: "He's a warrior."
The Bearkats used two quarterbacks in the contest, with Briscoe and Johnson both seeing time for the Bearkats.
Both offenses moved the ball successfully, with SHSU finishing with 579 total yards and SUU finishing with 535.
Matt Holley had a big game for the Thunderbird defense finishing with 14 solo tackles and a tackle for loss.
Despite the loss, the Big Sky Conference Champion Thunderbirds had an extremely successful season, finishing with eight wins and set a school record for most consecutive wins in a season. They also reached their highest rankings ever in both the FCS Coaches Poll and the STATS FCS Poll.