Second-Quarter Explosion Leads UNI To Postseason Victory Against EIU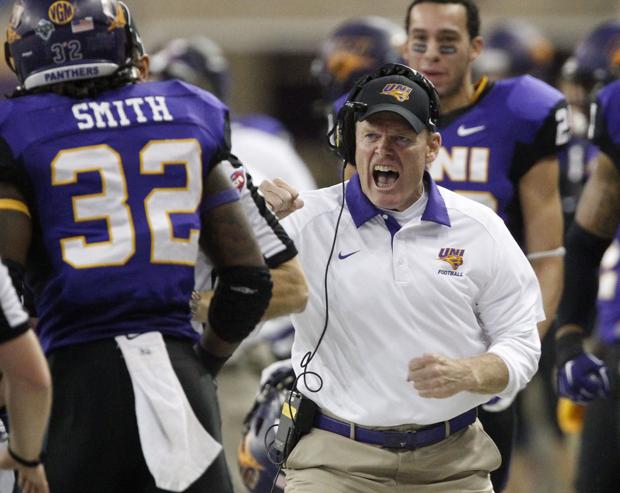 Special to College Sports Journal
Editor's note: This story is courtesy of Northern Iowa and Eastern Illinois athletics.
CEDAR FALLS, IA. — Northern Iowa exploded for 23 second-quarter points on the way to a 53-17 win over No. 24 Eastern Illinois Saturday, earning a spot in the second round of the FCS Playoffs.
Aaron Bailey finished the game with 162 yards through the air and a career-high three passing touchdowns for UNI (8-4).
Tyvis Smith rushed for 147 yards and a touchdown, his third consecutive game with 100 or more yards. Charles Brown and Daurice Fountain brought in three combined receiving touchdowns, with Fountain grabbing two catches for 73 yards and two touchdowns.
On the defensive side of the ball, UNI was led by Makinton Dorleant, who finished with six solo tackles, an interception and a key forced fumble. Isaac Ales and Jared Farley both chipped in six tackles each, with Brett McMakin adding five and a forced fumble.
Both teams started the game on their heels, each turning the ball over on their first offensive drive. UNI opened the game with a fumble on the first play of the game, but the Panthers answered with an interception from Dorleant in EIU's opening drive.
Eastern Illinois was then able to jump on the scoreboard first, scoring on a one-yard rushing touchdown by Devin Church, giving EIU a 7-0 lead with 6:44 on the clock in the first quarter. It ended a 10-play, 70-yard drive that took 3:18 off the clock.
Senior Michael Schmadeke gave UNI its first points of the game to start the second quarter, connecting on a 37-yard field goal at the 13:37 mark. The field goal wrapped up an 11-play, 44-yard drive that burned up 4:38.
The Panthers were able take a 10-7 lead with 7:22 left in the second quarter when Fountain came up with an acrobatic 32-yard catch in the end zone for UNI's first touchdown of the game. The scoring drive took 1:50 off the clock for five plays and 45 yards.
Schmadeke extended UNI's lead with his second field goal of the game, knocking in a 22-yarder with less than three minutes to play in the first half. His field goal ended a seven-play, 49-yard drive that took 2:57 off the clock.
UNI continued to press on both sides of the ball, with Dorleant forcing a fumble on Eastern Illinois's next offensive drive. Karter Schult recovered the fumble on the EIU 19-yard-line, setting up UNI's next touchdown. Smith punched in a two-yard rushing score with 1:48 remaining in the half, burning just 12 seconds off the clock for two plays and 19 yards, giving UNI a 20-7 lead.
Schmadeke was able to slip in one more field goal to end the first half, converting on a 30-yarder with one second left in the second quarter. The three points put UNI up 23-7 heading into halftime, ending a five-play, seven-yard drive that lasted 1:06.
Eastern Illinois (7-5) opened second half scoring after a muff punt return by UNI. Nick Bruno capitalized on good field position, hitting a 37-yard field goal to cut UNI's lead to 23-10 with 13:11 on the clock, ending a five-play, eight-yard drive.
UNI answered quickly when Brown caught a 52-yard pass from Bailey with 12:28 left in the third quarter, fighting off tackles to stretch across the goal line. It was just a two-play drive that went 62 yards down field for 43 seconds, giving UNI a 30-10 lead.
The EIU Panthers added to its score later in the quarter, scoring on a two-yard pass from Jalen Whitlow to Addison Bounds, making it 30-17. The receiving touchdown ended a five-play, 73 yard drive that took 1:44 off the clock.
The scoring frenzy continued, with Fountain scoring his second receiving touchdown of the game on a leaping 41-yard catch, putting UNI up 36-17 with 9:00 left in the third quarter. It was the fourth scoring play in just six minutes of play for both teams, ending a 69-yard drive for four plays.
The Panthers upped the score with less than two minutes to play in the quarter when Savon Huggins waltzed into the end zone for a 24-yard rushing touchdown, making it 43-17. The seven-play, 70-yard drive took 4:49 off the clock.
Schmadeke kicked in his fourth field goal of the game in the fourth quarter, hitting a 21-yarder with 6:38 left in the game. It ended UNI's longest scoring drive of the game, consisting of 10 plays for 94 yards and 5:02 off the clock.
The UNI defense struck again late in the fourth quarter with Ray Buchanan Jr. notching his first-career pick-six. The cornerback returned it 70 yards to the house for UNI's final score of the game, putting UNI up 53-17 with 4:07 remaining.
Eastern Illinois had the momentum in the opening quarter, but Northern Iowa took the momentum the final three quarters. EIU ends the year at 7-5.
Northern Iowa took the momentum from one play in the second quarter to take control of the game as they scored 23 points in the quarter to take a 23-7 lead at the half.
With EIU leading 7-3 and preparing to punt and pin UNI deep inside its own territory, EIU muffed a punt and turned the ball over to UNI at midfield.
The EIU Panthers defense was able to hold on three other drives limiting UNI to field goals of 37, 22 and 30 yards by Michael Schmadeke. UNI's other second quarter touchdown was on a 2-yard run by Tyvis Smith after EIU had one of two first half turnovers.
EIU's defense was led by Jourdan Wickliffe with 10 tackles. Kamu Grugier-Hill had eight tackles including a sack.
Smith had 147 yards rushing for UNI. UNI added a late field goal and interception return for touchdown for the final margin.
UNI will return to action on Saturday, Dec. 5 when it takes on Portland State on the road for the second round of the FCS Playoffs. The game is set to start at 9 p.m. CT.
Post-Game Notes
•Captains against Eastern Illinois: Deiondre' Hall, Jacob Rathmacher and Braden Lehman.
Junior quarterback and MVFC Newcomer of the Year,

Aaron Bailey

, is now second all-time in Missouri Valley Football Conference history in rushing yards by a quarterback in a season (1,101). He trails former UNI quarterback Tirrell Rennie, who rushed for 1,291 in 2010.
Tyvis Smith

has now rushed for over 100 yards in three consecutive games, finishing with 147 against Eastern Illinois.
UNI has scored 40 or more points in four consecutive games, including their 53 against Eastern Illinois. The last time UNI had four straight games with 40-plus points was in 2004 when UNI won its final four games of the season.
Aaron Bailey

finished the game with a career-high three passing touchdowns against Eastern Illinois. He went 7-11-0 for 162 yards. His 52-yard pass to

Charles Brown

for a touchdown in the third quarter was his second-longest passing touchdown of the season.
UNI has returned four interceptions for touchdowns this season, tying the school record for pick-sixes in a season. The previous record was four, set in 2014 and 1989.