It's been an eventful offseason for the Big South, with the departure of Liberty at the end of this season and the question on everyone's lips: can Charleston Southern possibly win back-to-back-to-back Big South football championships.
If they do, it won't only be due to their star players – it will likely come from one or more players who broke out, becoming stars after a season where they were more role players.
Which of these players in the Big South might fir that bill this year? We investigate six of them.
Solomon Brown, LB, Charleston Southern
Preseason defensive player of the year defensive lineman Anthony Ellis gets most of the preseason press, but it's this junior linebacker from Central, South Carolina (#34, above) that lodged most of the tackles on the Bucs defense (70) and also showcased his speed with 4 1/2 sacks as well. Ellis might get a lot of double teams, opening up a chance for Solomon to get some good looks at the quarterback and really explode on the national scene.
Khalil Lewis RB, Gardner-Webb
Most of the talk about the Gardner-Webb offense gravitates to the preseason Big South player of the year, quarterback Tyrell Maxwell. But don't sell Lewis, a 5'10 running back from Hilton Head, South Carolina short. In 10 games last year he had 955 yards rushing and 14 touchdowns, and if he can expand on those totals and get over 1,000 yards rushing – look out for the Runnin' Bulldogs.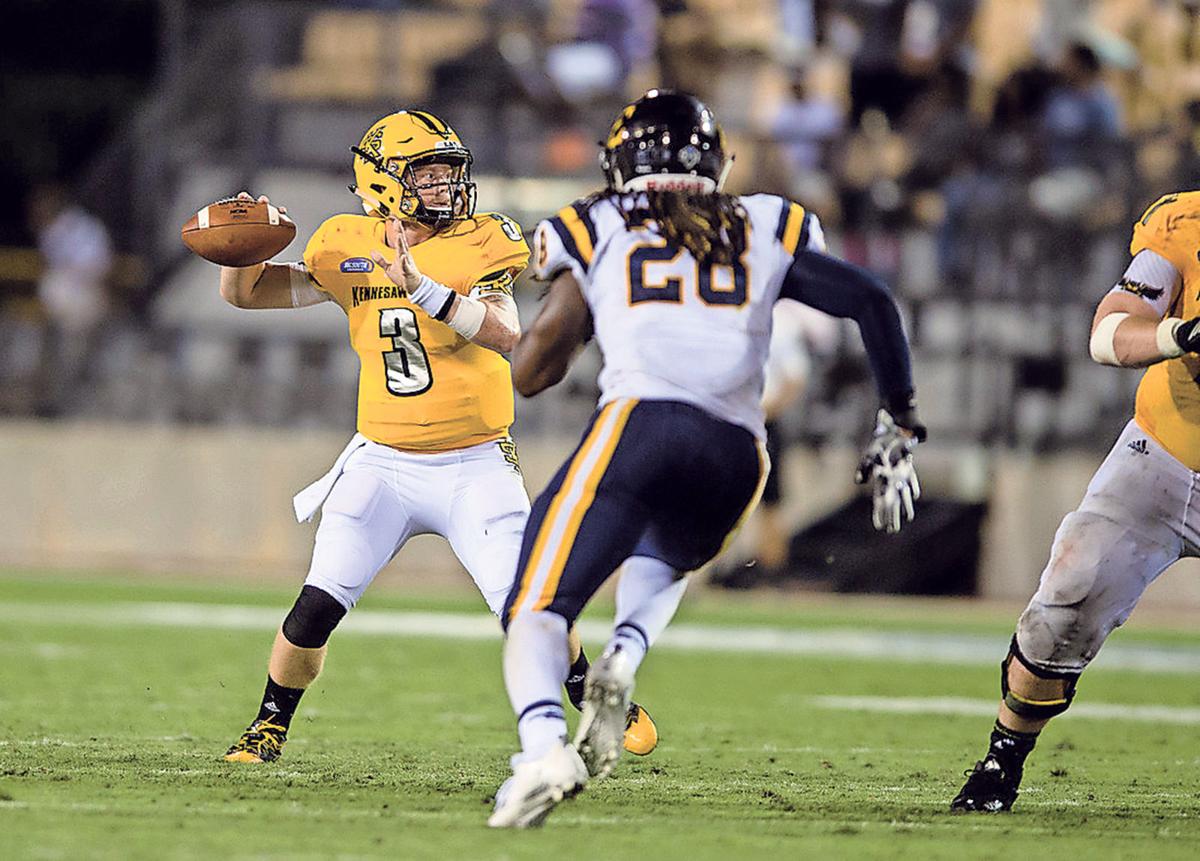 Chandler Burks, QB, Kennesaw State
The very first official football signee for the Owls, Burks may be a step behind Maxwell in terms of national recognition for a quarterback, but don't sleep on him in the Big South conference race this season. Last season he piled up 2,049 yard rushing and passing, and accounted for more than a third of Kennesaw State's touchdowns with 22 – 13 through the air, and 9 on the ground. Only a redshirt junior, he's poised to only get better in 2017.
Chris Turner, CB, Liberty
As the Flames embark on their swan song season in FCS, a player to watch on Liberty in their final season in Big South football is Turner, a 6'3, 175 lb corner from Columbia, South Carolina that is a fearsomely talented cover back. Last season he co-led the league in passes defended and had 3 interceptions, and will have a chance to impress the folks of FCS one last time this season as he continues to get even better.
Alex Thompson, OL, Monmouth
It might seem odd to have an offensive lineman on this list of breakout players, but Thompson, a 6'4, 295 lb center from Lawnside, New Jersey, (#54, above) is literally the linchpin of a veteran offensive line that returns five starters. Though the Hawks are mostly breaking in a new stable of running backs, this group allowed running back Lavon Chaney last season to net 810 yards rushing and paved the way for 26 rushing touchdowns. Thompson, and the Monmouth offense, is looking to carve out more holes this season to allow for more rushing success and rushing touchdowns this season, too.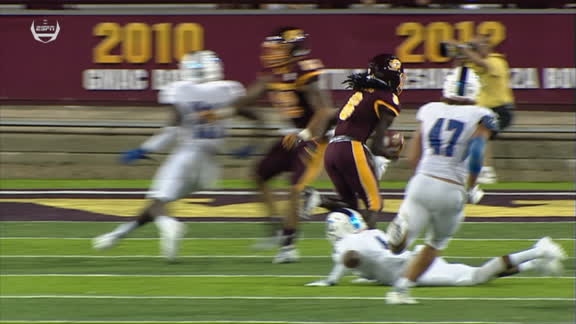 Grant Beidel, LB, Presbyterian
One of the bright spots for the Blue Hose last year, this Roswell, Georgia native (#47, above) led Presbyterian in tackles with 75, adding two interceptions, four tackles for loss, and overall cementing the center of the defense in 2016. In 2017 he'll be looked at to expand his game even more and get the Blue Hose and get them back into competitiveness in Big South play.