Holy Cross survived a season of long COVID pauses and a chaotic schedule the same place they were at the conclusion of the 2019 football season – Patriot League Champions. This time, however, they ended with a perfect 3-0 record.
The Crusaders started the season with a trip to Lehigh, thumping the Mountain Hawks 20-3 behind a smothering defensive performance, and followed that up two weeks later with a 34-24 win over Fordham. The Crusaders then had to suffer a series of COVID cancellations, waiting for nearly a month before playing in the inaugural Patriot League Championship Game on April 17th, where they handled Bucknell, 33-10.
The Jackrabbits on the other hand played games all spring from February 19th to April 17th, starting with a 24-20 win over Northern Iowa and concluding with a thrilling win over North Dakota State for the Dakota Marker, 27-17. Like Holy Cross, South Dakota State waited about a month in between their final two games – before beating the Bison, the Jackrabbits traveled to Carbondale and spanked Southern Illinois 44-3.
South Dakota State's wins over Southern Illinois and North Dakota State meant the Jackrabbits went 2-1 against teams appearing in the FCS Playoffs this spring. Their lone loss was a 28-27 defeat on the road to North Dakota, and they did not play against Missouri State.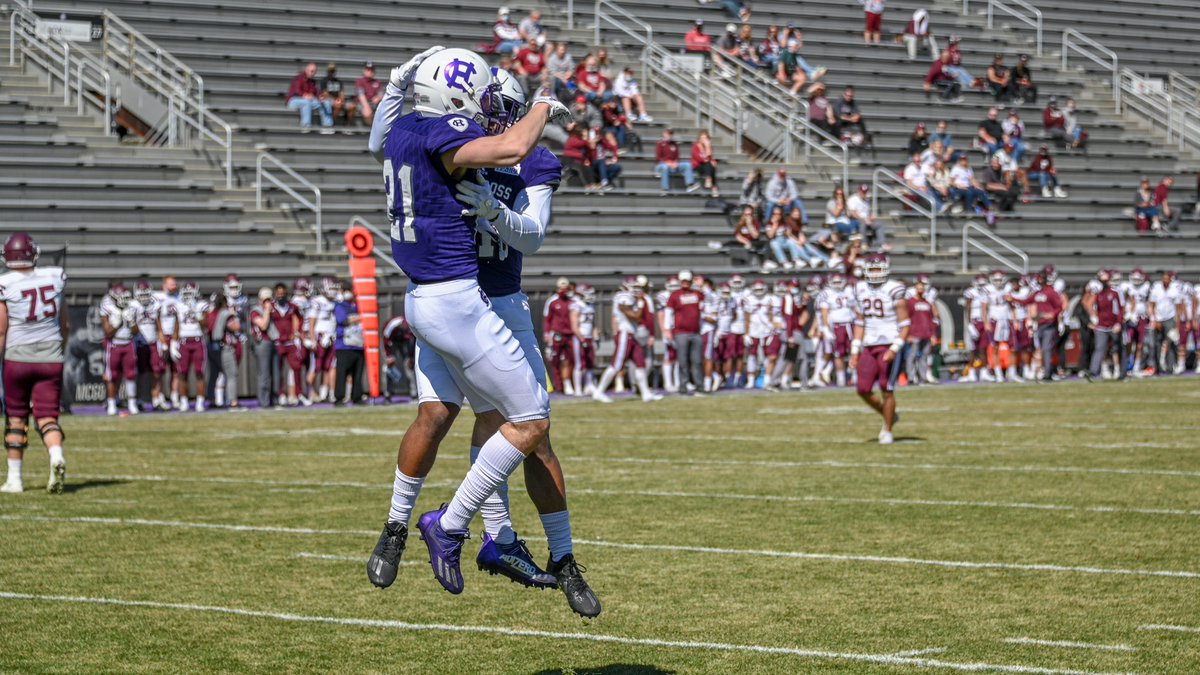 Holy Cross Crusaders (3-0 overall, 3-0 in Patriot League)
It's a very small sample size, but Holy Cross won the Patriot League title on the back of their defense. Against Bucknell, the Crusaders forced an eye-popping nine turnovers, including a 58 yard pick six by junior DB John Smith. Smith had 3 interceptions on the season, one in every game the Crusaders played.
Sophomore LB Jacob Dobbs was another revelation for the Crusaders, who led the team in tackles (28) in the spring and for good measure added an interception of his own. Junior DL Dan Kuznestsov led Holy Cross with 4 tackles for loss on a defensive front that smothered its Patriot League competition.
Offensively, QB Conor Degenhardt was knocked out of the Crusaders' second game against Fordham and freshman QB Matthew Sluka stepped right in and didn't miss a beat. Sluka would end up leading the Crusaders in rushing with 231 yards, adding 111 yards passing in 1 1/2 games, going an efficient 10 for 14.
Holy Cross' special teams and kicking game were also a big reason why the Crusaders won the Patriot League title. All-league PK Derek Ng went a perfect 10/10 on extra points, and went 5 for 7 on FGs, including a 51 yard FG on the natural grass of Murray Goodman Stadium.
South Dakota State (5-1 overall, 5-1 in Missouri Valley)
South Dakota State is making its ninth consecutive appearance in the Football Championship Subdivision and 10th overall, so they won't be wowed by the stage of the FCS Playoffs. South Dakota State is one of only two Football Championship Subdivision programs to reach the playoffs each of the last nine seasons, including making consecutive national semifinal appearances in 2017 and 2018.
The straws that mix the Jackrabbits' drink offensively are RB Pierre Strong, Jr., and QB Mark Gronkowski. Strong is averaging 5.7 yards per carry and has scored a pair of rushing touchdowns, while also ranking third on the squad with 12 receptions for 88 yards and a touchdown. He has rushed for 90 or more yards four times, including a season-high 124 yards on 21 carries March 13 versus Youngstown State. Gronowski, a freshman, started all six games and averaged 239 yards of total offense per game, completing 76-of-133 passes (57.1 percent) for 1,051 yards and rushing for 383 yards.
The Jackrabbits are also loaded on both defense and special teams. LB Preston Tetzlaff (41 tackles) and DE Tolu Ogunrinde (6 TFL, 3 sacks) are part of a daunting, aggressive defense that limited UNI to 28 net yards rushing to open the season.
Junior PK Cole Frahm has made a field goal in all six SDSU games this season and has been a rock-solid presence on kickoffs and extra points. He's 19/20 on extra points and also nailed a 52 yard FG against Youngstown State.
Fearless Prediction: I think Holy Cross is a team that will take the Jackrabbits by surprise to some degree, and will hang in the game for about a half. But the Jackrabbits are a team built to win the spring, and they'll survive the Holy Cross challenge and advance to the next round.
South Dakota State 31, Holy Cross 13