Richmond 37, Virginia (FBS) 20
Richmond TImes-Dispatch: Richmond outclasses Virginia in Bronco Mendenhall's first game as Cavs' coach
Virginia's new huddle-less offense bothered the Spiders not a bit, and quarterback Kurt Benkert looked unsure as a passer early, though he finished 26 for 34 with three touchdowns. The Cavaliers, who rushed for 38 yards, committed four turnovers, three of them fumbles. The most damaging was a fumble lost by Taquan Mizzell at UR's 5 in the first quarter. The Spiders, who did not commit a turnover, led 6-0 at the time.

From that point forward, Virginia wasn't very competitive, and the Spiders showed they know how to extinguish an opponent.

"We have a mature team. We've got an experienced team," said UR coach Danny Rocco, who has 15 starters back from the team that advanced to the 2015 FCS semifinals. "We've got a team that's been to battle together. We've got a team that has won some big games.

"Our team expected to win when we left Richmond (Friday), and we expected to win when we took the field to start the game."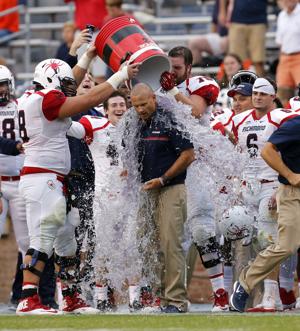 Richmond Times-Dispatch: Spiders hope big win over Cavaliers starts big season
Among those who listened to the comments of Richmond's players and coach Danny Rocco in the media meeting that followed Saturday's 37-20 win at Virginia was Keith Gill, the Spiders' athletic director.

When the session ended, Gill was asked what a win over an ACC team means to Richmond.
"It creates a lot of momentum as we go forward," said Gill. "It shows we have potential for a great season."

There were loads of reasons for Richmond to celebrate dominance over a Power Five member with 22 more scholarships and vastly superior resources. The Spiders took a 30-7 lead with 10 minutes left.

"When we're in sync like that, we have a chance to be pretty stinkin' good," said Rocco.
But the words Gill used – "potential for a great season" – are worth noting.

Subjugation of the lifeless Cavaliers in the first U.Va. game for coach Bronco Mendenhall represents an attention-grabbing liftoff for UR, one comparable to Richmond's last win over an ACC program, a 23-21 win at Duke to begin the 2011 season. That kicked off a 3-0 start for the Spiders.
Albany 22, Buffalo (FBS) 16
Albany TImes-Union: UAlbany football stuns Buffalo, 22-16
The University at Albany football team had more than enough money for the tolls, gas and even a stop at the travel plaza on what was certain to be a jubilant bus ride back to the campus Friday night.

The Great Danes got a $275,000 guarantee check from the University at Buffalo, ostensibly to serve as a sacrificial lamb in the opener at UB Stadium for the second consecutive year.
However, UAlbany flipped the script this time.

Sophomore quarterback Neven Sussman threw the go-ahead touchdown pass to junior wide receiver Brad Harris with 9:37 to play and the Great Danes upset Buffalo 22-16 for their first-ever win against a Football Bowl Subdivision program.

"It's huge," Sussman said. "It shows we're the real deal. It shows we're legit. It shows we're working really hard, and there's something coming that's a lot greater than what's been shown."
East Tennessee State 20, Kennesaw State 17, 2OT
ETSU Athletics: Bucs enjoy dramatic double overtime win over KSU in season opener
After suffering a lopsided loss to Kennesaw State in the historic return of East Tennessee State football last season, the Buccaneers stood toe-to-toe with the Owls in the 2016 season opener Saturday night at Fifth Third Bank Stadium. Overcoming multiple momentum shifts throughout regulation and two overtimes, the Bucs ultimately took home a hard-fought 20-17 victory thanks to a game-winning 24-yard field goal from JJ Jerman (Seymour).

Head coach Carl Torbush: "This is a great win for our program and the fans. It says a lot about where we are headed as a program. We have to keep grinding. This is one step out of 11 games, but I want our team to enjoy this win. They deserve to enjoy it as we head into our open week.

"Win or lose, I would have felt great about the effort we played with tonight. We were so much better. We have more size, maturity and are a more physical football team this year. We are both entering our second year as programs and both have improved as football teams. Kennesaw State is going to win some ball games this year and it was a great here environment tonight."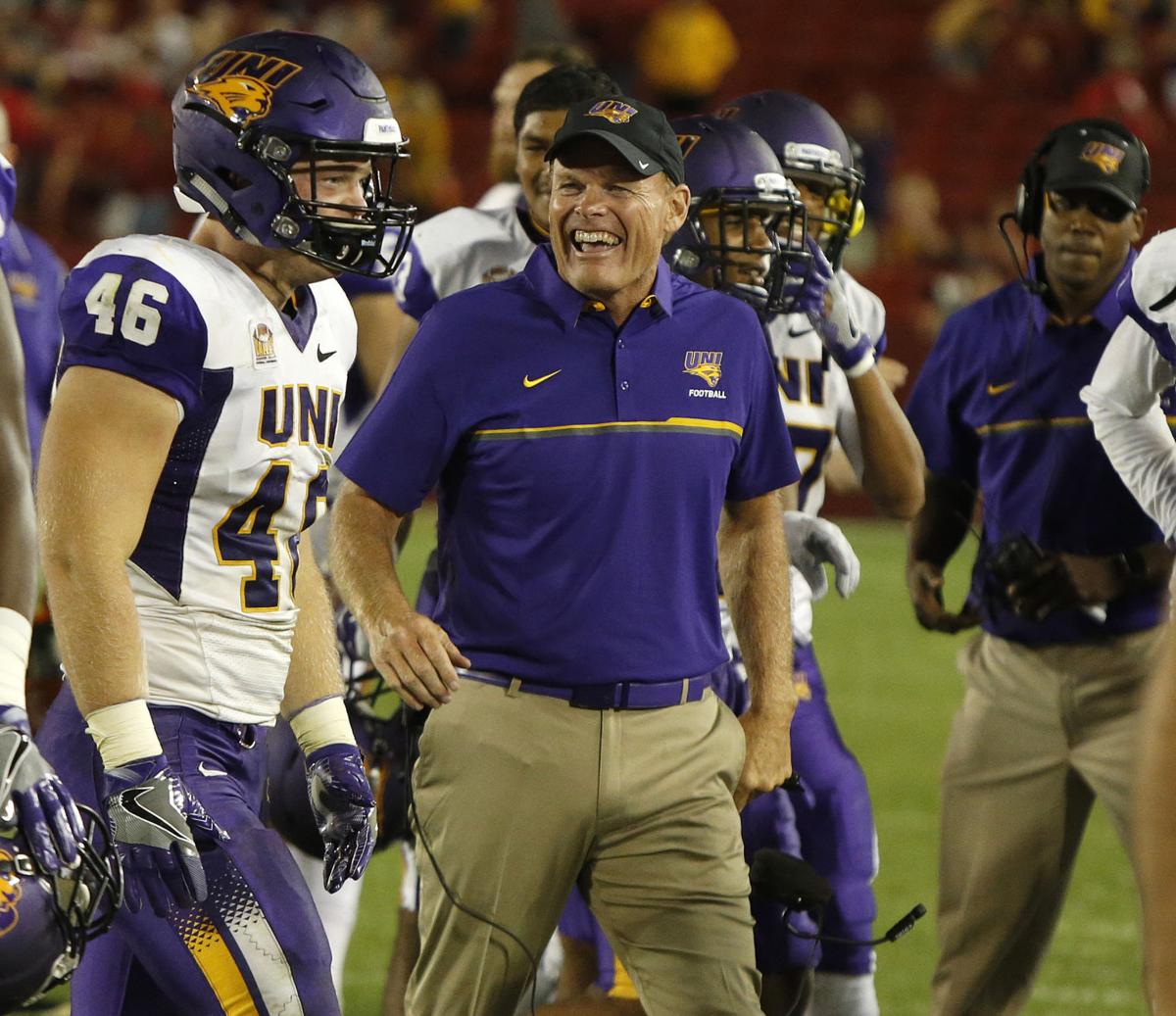 Northern Iowa 25, Iowa State (FBS) 20
Waterloo-Cedar Falls Courier: Panthers clip Cyclones, 25-20
It was a defense that came in with more question marks than answers. It turns out, Northern Iowa's young defense did have answers.

The Panthers forced a three Iowa State turnovers in the final five minutes, turning one into a game winning touchdown and a second and a third to seal UNI's fifth victory over the Cyclones, 25-20, in school history Saturday at Jack Trice Stadium.

"I'm very pleased with our play from start to finish," UNI head coach Mark Farley said. "That was a great team win because every player on that team somehow helped us win that game."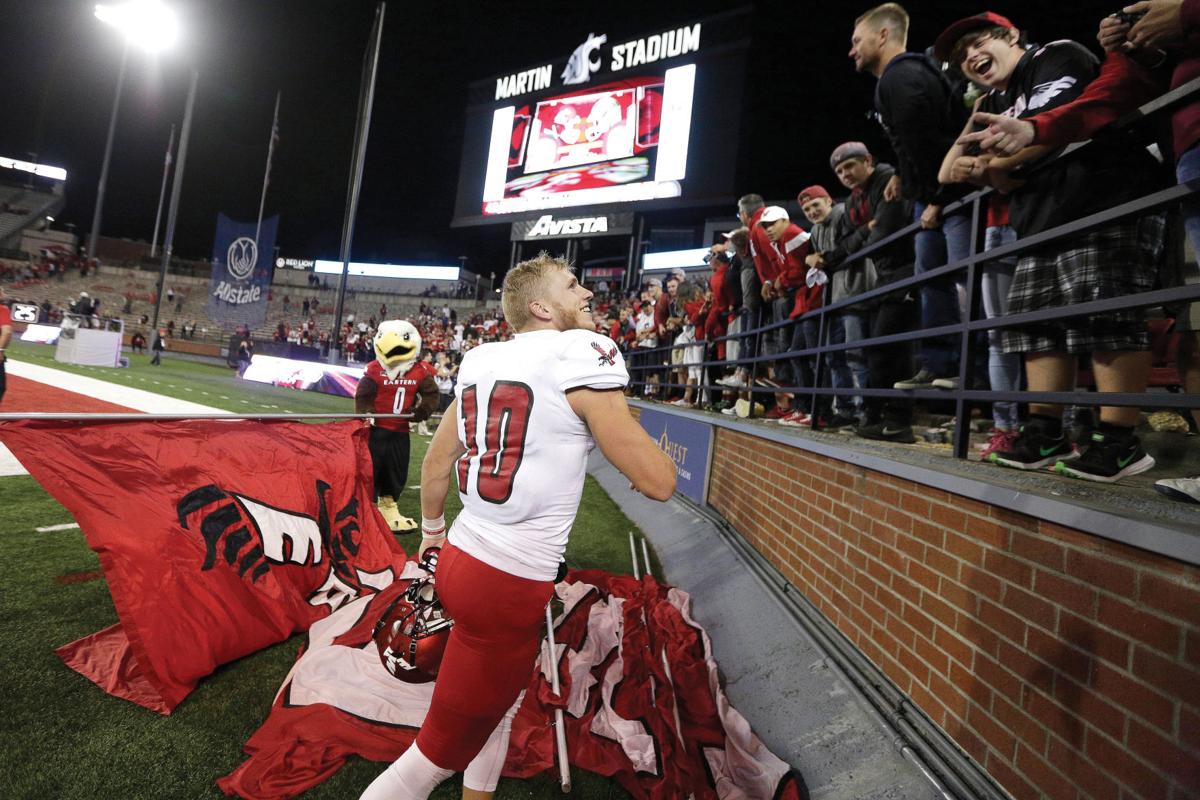 Eastern Washington 45, Washington State (FBS) 42
AP/Yakima Herald: WR helps EWU football stun WSU
Opponents of Eastern Washington's football team can try to focus on stopping receiver Cooper Kupp, but coach Beau Baldwin said that won't be enough to beat the Eagles.

"We have a lot of great players on this offense," Baldwin said after Eastern Washington of the FCS upset Washington State 45-42 on Saturday.

Washington State, which lost to Portland State of the Football Championship Subdivision in its opening game last year, could not stop the Eastern Washington offense, which produced 606 yards.

Eastern Washington, which came in as three-touchdown underdogs, also upset Oregon State of the Pac-12 three years ago.

"I just learned there is no fear" in this team," Baldwin said. "This was the enjoyment of all the labor and all the work."