NEWARK, N.J. – A unique college basketball doubleheader returns to the hardwood with the renewal of the Never Forget Tribute Classic.
The event, which will be held Dec. 11 at the Prudential Center in Newark, N.J. will feature a women's game and a men's game on the same day on the same court. It will be the first time in the short history of the event which helps support the Families of Freedom Scholarship Fund. That fund helps provide assistance for education to the children of the Sept. 11 terrorist attacks.
Perennial women's power Connecticut will take on UCLA in the first game of the day with tipoff slated for 11 a.m. (ET) while the Connecticut men will face St. Bonaventure in the other game.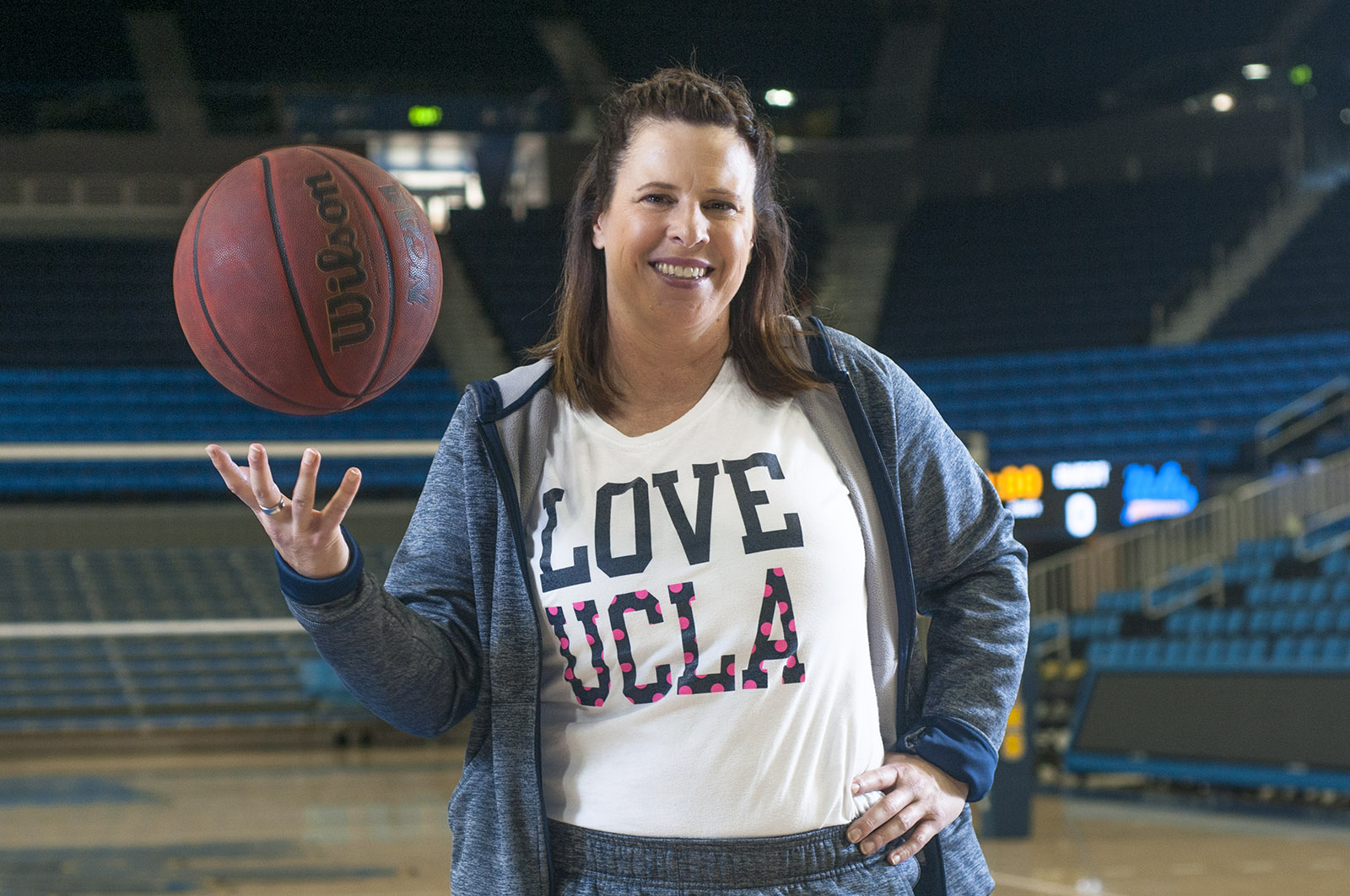 UCLA (W) (0-0 PAC-12, 5-2 Overall)
The Bruins, coached by Cori Close, who is in her 11th season as coach at UCLA, enter the game against UConn on the heels of a historic afternoon in the City of Angels as they rolled to a 112-33 win of San Jose State. Ilmar'l Thomas and Natalie Chu combined for 63 points in that win over the Spartans. Teammate Jaelyn Penn added 20 points in the triumph.
The Bruins trailed 4-2 early in the contest, but rallied to take a 28-12 lead into the second quarter. They virtually put the game away over the second 10 minutes as they outscored the Spartans 27-0 to take a 55-12 lead at the intermission.
Chou scored 15 of her 31 points in the third quarter as UCLA extended its lead to 83-22 heading into the final period.
UCLA is being led by four players who are averaging in double figures this season for a team that is scoring at a 71.4 points per game clip through the first seven games of the season. Thomas (5-10, Grad., F) is leading the way with her 19.1 points per game. She has connected on 59 of 97 (.608) shots from the floor, which is 4 of 10 from 3-point range, along with 12 of 17 (.706) from the free throw line. She is also averaging 4.3 rebounds per contest. Nineteen of her 30 total rebounds have come on the offensive end and has provided the Bruins with plenty of second-chance points. Charisma Oborne (5-9, Jr., G) is also off to a fiery start for the Bruins. She has connected on 34 of her 88 (.386) field goal attempts, which includes 17 of 43 (.395) from behind the arc, and is 26 of 30 (.867) from the foul line to account for her 18.5 points per game output. Her 5.5 rebounds per game ranks second on the team in that department and her 20 assists are the most by a Bruin on the young season.
Natalie Chou (6-1, Grad., G), meanwhile, is averaging 13.4 points per game after her brilliant performance last week against San Jose State. She has connected on 33 of 68 (.485) shots for the floor and has been impressive by hitting on 14 of 30 (.467) shots from behind the arc. She has also been successful on 14 of her 17 (.824) attempts from the charity stripe. The talented playmaker is leading UCLA in steals this season with 11 and her 19 assists ranks third on the squad in that department.
The fourth Bruin to come into the game against the Huskies is Jaelynn Penn (5-10, Grad., G), who is averaging 13 points per contest. She is shooting 40 percent (33-82) from the floor, which includes 10 of 30 from 3-point range, and has been perfect on all 15 of her free throw attempts this season. She tops the Bruins in total rebounds with 43 (12 offensive) and in assists (20) while being tied for second on the squad with eight steals.
UCLA will close out the non-conference portion of its schedule with home games against Texas Southern (Dec. 16), Ohio State (Dec. 19) and Bakersfield (Dec. 21). The Bruins will play host to cross-town rival Southern Cal on Dec. 28 inside Pauley Pavilion.
Bruins Results
W-PEPPERDINE 78-69
W-CSU-NORTHRIDGE 73-46
W-VIRGINIA 69-57
Gulf Coast Showcase At Estero, Fla.
L-vs. Kent State 75-69
L-vs. South Dakota State 76-66
W-vs. St. John's 73-65
W-SAN JOSE STATE 112-33
CONNECTICUT (W) (1-0 Big East, 5-1 Overall)
The storyline all week leading into the Never Forget Classic has been the injury to UConn standout Paige Bueckers, who was injured in last week's game against Notre Dame.
Added to the question marks is how the Huskies would respond with Bueckers absent from the lineup. The answer to that only created more questions as UConn lost to Georgia Tech 57-44 on Dec. 9 before heading to Newark for the game against UCLA.
The loss to the Yellow Jackets was the first by UConn to an unranked team in nearly 10 years. The last time the Huskies lost to an unranked opponent was Feb. 18, 2012 against St. John's and recent loss snapped a streak of 240 consecutive wins against an unranked team.
The first freshman to ever earn the Wooden Award, Bueckers was injured late in the win over the Irish. She underwent testing earlier in the week and was diagnosed with a tibial plateau fracture. She is expected to miss six to eight weeks and will miss the game against the Bruins.
The Minnesota native, who is a sophomore this season, was averaging 21.2 points per game this season and ranked second on the team in rebounding with 5.5 rebounds per contest. She also leads the team with 37 assists and 16 steals.
The absence of Bueckers (5-11, So. G) will surely be missed. But, UConn is still UConn.
The Huskies, under the leadership of longtime coach Geno Auriemma, who is in his 37th year at the school. He took over a program that had just one winning season prior to his arrival on campus for the 1987-88 season. Since then he has transformed the program into a model of consistency. His teams have won 88 percent of their games under his leadership. Just the fourth women's coach to reach 1,000 wins, Auriemma has led UConn to 11 national titles during his time in Storrs.
Without Bueckers in the lineup for the next several weeks, the Huskies will look for several other players to help fill the void.
Christyn Williams (5-11, Sr., G) is the only other player currently averaging in double figures in scoring heading into the game against the Bruins. She is scoring at a 15.0 points per game clip. She has already connected on half of her 68 field goal attempts, including being 6 of 19 (.316) from behind the arc. She has also been successful on 16 of 21 (.762) foul shots on the season to account for her scoring production.
Evina Westbrook (6-0, RS-Sr., G) and Olivia Nelson-Ododa (6-5, Sr., F) will be looked upon for added production on both ends of the floor. Such expectations are not too much for either player to handle as they have both been playing solid basketball so far this season.
Westbrook was averaging 9.5 points and 4.0 rebounds through the first six games of the season for the Huskies, who played their first game without Bueckers on Dec. 9 at Georgia Tech. She has already tallied 20 assists on the season and has seven steals prior to that game. Nelson-Ododa, meanwhile, was averaging 8.3 points and a team-best 7.3 rebounds per game before the matchup in Atlanta against the Yellow Jackets. Nelson-Ododa also had 13 blocked shots and was second on the squad with 23 assists.
Huskies Results
L-vs. Arkansas 95-80 (at Hartford, Conn.)
Battle 4 Atlantis At Paradise Island, Bahamas
W-vs. Minnesota 88-58
W-vs. South Florida 60-53
L-vs. South Carolina 73-57
W-at Seton Hall 74-49
W-NOTRE DAME 73-54
L-at Georgia Tech 57-44
CONNECTICUT (M) (0-0 Big East/8-2 Overall)
The name Hurley is synonymous with success in basketball.
And Dan Hurley is certainly carrying on the tradition set in place by his father, Bobby Hurley Sr. and his brother, Bobby Hurley Jr.
The elder Hurley coached St. Anthony High School (Jersey City, N.J.) to 26 state championships in his 39 years at the school. He is one of just 10 high school coaches to ever win 1,000 games and in 2010 became just the third high school coach to be inducted into the Naismith Memorial Basketball Hall of Fame.
Bobby Hurley, Jr. established himself as one of the greatest college basketball players in history during his playing career at Duke, where he helped the Blue Devils to a pair of NCAA titles. He is now leading the program at Arizona State after previously coaching at Buffalo.
Dan Hurley is producing winning seasons at virtually every turn in his own coaching career. He coached at Wagner (2010-12) and Rhode Island (2012-18) and brought stability and winning back to struggling programs at each school. The same type of success has followed him to Storrs when the Huskies have continued to improve in each of his three previous seasons at the school.
Hurley has his UConn team off to an impressive 8-2 start on the season as his team is averaging 82.6 points per game and outscoring the opposition by nearly 21 points per contest. The two losses have come by a combined seven points.
R.J. Cole (6-1, 185, Grad., G) is leading the way on offense for the Huskies. He is scoring 16.1 points per game while quarterbacking the team. Cole has connected on 51 of 127 (.402) field goal attempts, including 20 of 57 (.351) from 3-point range, and has missed just four of his 43 free throw attempts on the season. He is also leading the team in assists (43) and steals (18).
Adama Sanogo (6-9, 240, So., F) continues to emerge as one of the top young players in the nation this season. He has shooting 55 percent (53-96) from the floor and is 19 of 25 (.760) from the foul line to account for his 15.6 points per game production. He is tied for second on the team with 50 total rebounds and is averaging 6.3 rebounds per game in the eight games he has played in.
Tyrese Martin (6-6, 215, Sr., G) has played in just seven games this season, but is also averaging in double figures in scoring for the Huskies. He has connected on 35 of 66 (.530) shots from the floor, including 7 of 16 (.438) from behind to arc, and has made 13 of 21 (.619) his free throws to combine for his 12.9 points per game scoring average. He also leads the team in rebounding with 54 total rebounds and a team-best 7.7 rebounds per contest.
Huskies Results
W-CENTRAL CONNECTICUT 99-48
W-COPPIN STATE 89-54
W-LIU 93-40
W-BINGHAMTON 87-63
Battle 4 Atlantis At Paradise Island, Bahamas
W-vs. Auburn 115-109
L-vs. Michigan State 64-60
W-vs. VCU 70-63
W-vs. Md.-Eastern Shore 72-63 (at Hartford, Conn.)
W-GRAMBLING 88-59
Big East/Big 12 Battle
L-at West Virginia 56-53
ST. BONAVENTURE (M) (0-0 A-10, 8-1 Overall)
Somehow St. Bonaventure seems to be flying under the radar to most college basketball "experts."
Despite winning eight of nine games so far this season, the Bonnies, who made history a year ago, sit outside the Top 25 in the recent Associated Press poll.
St. Bonaventure won the A-10 regular season title last year and followed that up with a win in the conference tournament. It was the first time the Bonnies had won both titles in the same season.
Coach Mark Schmidt's squad has picked up where it left off last season as they won three of the final four games of the regular season before sweeping through the conference tournament with three wins to earn the league's automatic bid to the NCAA Tournament. A 76-61 loss to LSU ended St. Bonaventure's season at 16-5.
The Bonnies won each of their first five games to open the season before dropping a 90-80 decision at home to Northern Iowa. But, they have bounced back quickly and have won three games in a row heading into the clash on Dec. 12 against the No. 15 Huskies.
Kyle Lofton (6-3, 185, Sr., G) is one of four players in a backcourt loaded with people who can score points. He has made 36 of 88 (.409) shots from the field, including 10 of 31 from 3-point range, and has drained 40 of 44 (.909) foul shots to account for his team-best 17.4 points per game average. He also leads the team with 41 assists and is tied for the team lead with 11 steals on the season.
Lofton is one of four guards scoring in double figures for the Bonnies so far this season. Jaren Holmes (6-4, 210, Sr.) is not far off the pace being set by Lofton. Holmes, who is averaging 17.2 points per game, has been successful on 51 of his 117 (.436) field goals attempt, which includes 15 of 40 (375) from beyond the arc. He has made 51 trips to the free throw line where he has converted 38 of those attempts.
Jalen Adaway (6-5, 215, RS-Sr.) and Dominick Walsh (6-5, 205, Sr.) are also providing solid point production from the guard position this season. Adaway is shooting 52 percent (48-92) overall from the floor, which includes a respectable 44 percent (7-16) from long range, and has converted on all 14 of his foul shots to account for his 14.6 points per game. A strong player, Adaway also leads the team in rebounding with 7.5 caroms per contest.
Walsh, meanwhile, is checking in at 10.8 points per game on the season by shooting 38 percent (33-88) overall from the floor which includes a phenomenal 24 of 71 (338) from 3-point range in the nine games. He is also 7 of (875) from the foul line. Another strong rebounder on the team, Walsh is averaging 5.6 rebounds per game this season.
Osun Osunniyi (6-10, 220, Sr., F) gives the Bonnies a fifth player who is putting up solid numbers on both ends of the floor this season. Osunniyi is averaging 10.2 points per game after making good on 44 of 71 (.620) shots from the floor, all from inside the arc, and has made four of eight foul shots. He has already grabbed 65 rebounds, 23 of those on the offensive end to give him an average of 7.2 rebounds per game while leading the team in both blocked shots (29) and steals (13).
Bonnies Results
W-SIENA 75-47
W-CANISIUS 69-60
Charleston Classic At Charleston, S.C.
W-vs. Boise State 67-61
W-vs. Clemson 68-65
W-vs. Marquette 70-54
L-NORTHERN IOWA 90-80
W-COPPIN STATE 93-81
W-BUFFALO 68-65
W-LOYOLA (Md.) 84-71
A native of Bismarck, N.D., Ray is a graduate of North Dakota State University where he began studying athletic training and served as a student trainer for several Bison teams including swimming, wrestling and baseball and was a trainer at the 1979 NCAA national track and field championship meet at the University of Illinois. Ray later worked in the sports information office at NDSU. Following his graduation from NDSU he spent five years in the sports information office at Missouri Western State University and one year in the sports information at Georgia Tech. He has nearly 40 years of writing experience as a sports editor at several newspapers and has received numerous awards for his writing over the years. A noted sports historian, Ray is currently an assistant editor at Amateur Wrestling News.