2018 College Football Team Previews: Georgia State Panthers
August 11, 2018
Georgia State Panthers
Location: Atlanta, GA
Coach: Shawn Elliott (7-5 @GSU, 8-10 overall) 2nd Season
Stadium: Georgia State Stadium (Capacity: 25,000)
CSJ Projections:
5th: Sun Belt (3rd East Division)
4th: Georgia
113th: FBS
139th: Division I
2017 In A Sentence: The Panthers defeated Western Kentucky 27-17 in the AutoNation Cure Bowl for their first bowl game victory and school-record seventh win—finishing 7-5 overall.
Biggest Shoes to Fill: QB Conner Manning was a two-year starter and two-time All-Sun Belt honoree. He passed for 5,830 yards and 30 touchdowns in 22 games for the Panthers. He ranked second to Nick Arbuckle in the GSU record book in every passing category, including yards, TD passes, completions (566), attempts (776), completion percentage (60.1) and total offense (5,950).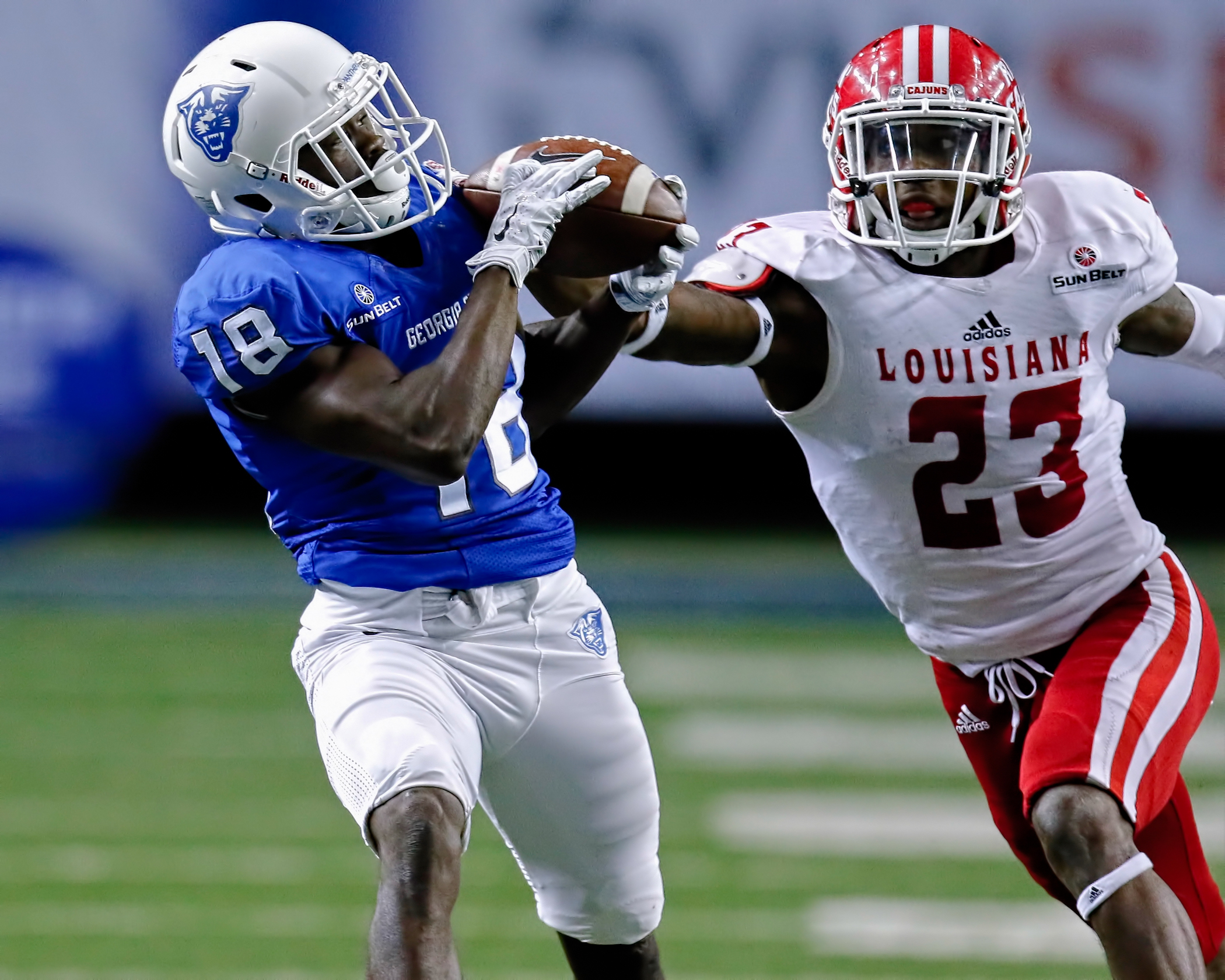 Key Player: WR Penny Hart enters the 2018 season ranked first among active FBS receivers with 2,281 career receiving yards (2,281) and 17 touchdown receptions and fifth with 153 receptions. He is also first in career receptions per game (5.67) and yards per game (84.5) and fifth in consecutive games with a reception (27 – every game he has played).
Fearless Prediction: With the unexpected first year success under Coach Elliott, Georgia State now has those kinds of expectations for this season. But with a new quarterback and a number of other new starters along with a the Panthers may temper those hopes a little for 2018 but with a solid recruiting class, this team will be on the rise in years to come it seems under its second year head man.
Originally from LaMoure, North Dakota, Kent is a 1996 graduate of North Dakota State University. His prior writing experience is over 15 years having previously worked with D2football.com, I-AA.org, and College Sporting News before coming to College Sports Journal in 2016. His main focus is college football in the western half of the United States– the Big Sky Conference and Missouri Valley Football Conference within the Division I FCS. And in 2017, he began also to look at the FBS Group of Five conferences of the American Athletic, Conference USA, Mid-American, Mountain West, and Sun Belt.
Reach him at this email or click below: