2017 Season G5 FBS College Football Picks: American Athletic Conference
CSJ's Predicted Order of Finish
EAST DIVISION
1. South Florida *
2. Central Florida
3. Cincinnati
4. Temple
5. East Carolina
6. Connecticut
WEST DIVISION
1. Houston
2. Tulsa
3. Memphis
4. Navy
5. SMU
6. Tulane
*Overall Conference Champion
Below are the overall rankings in a row.
South Florida
Fearless Forecast: The Bulls from a talent level are likely the best G5 team this year to start the season and will look to be playing for a New Year's Six Bowl game. New Coach Charlie Strong coming to Tampa after being fired at Texas should take what Willie Taggart, who moved to Oregon, put in place and this year should put all of those pieces fully together. It helps to have a quarterback like Quinton Flowers to run the offense, and a linebacker like Auggie Sanchez to handle the defense.
Impact Player: QB Quinton Flowers is likely the top G5 Heisman Trophy candidates. Last year, the now-senior accounted for an astonishing 42 touchdowns and also led the team in rushing with 1,530 yards. He also threw for 2,812 yards and should lead again a team that scored over 43 points per game in 2016.
Houston
Fearless Forecast: Coach Major Applewhite takes over the reins from Tom Herman, who left for the Texas job and has a great defensive line centered around Ed Oliver on the inside, an interesting group of quarterbacks, and a linebacker group good enough to take over games. The rest of the holes – the running backs, the secondary – should be filled in quickly, but the team isn't as good as last year's version. Despite a drop off seemingly in talent Applewhite could have the Cougars playing in the AAC championship game.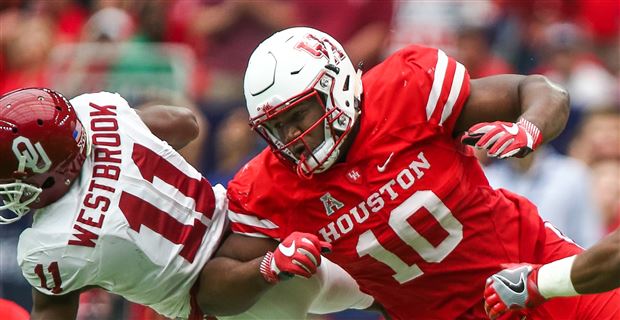 Impact Player: DT Ed Oliver had an outstanding freshman season where he returns as the second for all returning players with 23 tackles for a loss. He also showed his athletic ability despite his 6'2" 290 lb frame with nine pass defended. He ranked second nationally among all defensive linemen with 47 solo tackles and was 13th among all defensive linemen nationally with 66 total tackles.
Tulsa
Fearless Forecast: The Golden Hurricane will need to replace much of the passing game but most of the remaining talent returns for Coach Phillip Montgomery's team. The offensive line may be the best in the league, the defensive front is young but has the talent to breakout this season. The secondary is somewhat suspect but should be able to provide enough resistance in the passing game. Tulsa might contend for the West division title if the quarterback situation gets solved.
Impact Player: RB D'Angelo Brewer has 2,400 rushing yards and 14 rushing TDs in his career to rank 9th on the school's all-time rushing chart, while catching 24 passes for 190 yards and two touchdowns. Last year, the now-senior completed the fourth best mark on the school's single-season rushing list with 1,435 yards for a 5.4 average and 7 scores.
UCF
Fearless Forecast: The Knights have talent and should show it better in Coach Scott Frost's second season. Last year, Central Florida finished ith just a 6-7 record but could put things together this year to be a challenge for Florida rival USF. The defensive pass rush should be a strength upfront and have a very good group of linebackers. The offense needs to improve but has enough talent and a little more experience very well could provide for better results in Orlando.
Impact Player: LB Shaquem Griffin is the reigning AAC Defensive Player of the Year and returns for his senior season. He has excelled despite losing his left hand when he was a young boy. He finished last year with 92 tackles and led the league with 11.5 sacks. He also finished third in the league with 20 tackles for a loss.
Cincinnati
Fearless Forecast: Luke Fickell takes over the Bearcats and has just one head coaching job—albeit at Ohio State just after Jim Tressel was fired in 2011—on his resume. He takes over an underachieving group that finished just 4-8 last year. Fickell is a defensive minded coach, and he's got the parts with what might be the best linebackers, and a talented defensive line. The offense has quarterback Hayden Moore returning but must replace a number of the key other weapons around him.
Impact Player: LB Marquise Copeland is the top returning tackler on the team after recording 59 stops in 2016. The now-junior also added 4.5 of those stops for a loss, two forced fumbles, a sack and a pass defended.
Memphis
Fearless Forecast: The Tigers offense should be potent with senior signal caller Riley Ferguson leading the way. He is joined by a strong backfield and a dominant receiving corps that could be among the league's best. The Memphis defense, however, needs to replace a number of key spots and also needs to improve to try to better the 8-5 overall mark last year. The special teams are among the league's best, and head coach Mike Norvell should improve in his second season.
Impact Player: QB Riley Ferguson transferred to Memphis last year from junior college and proved to be a very viable replacement for NFL first round pick Paxton Lynch. He threw for 284.5 yards per game and finished with 3,698 yards passing and a program best ever 32 touchdown throws.
Temple
Fearless Forecast: The defending AAC champions are the least experienced team in the league coming into this season so the Owls will have many pieces to try to replace to attempt to repeat. And to add to that, Temple will have new leadership under head coach Geoff Collins—the former Florida defensive coordinator. The defense may have the best secondary in the conference, but the lines on both sides of the ball will be big question marks as will finding a new quarterback.
Impact Player: S Sean Chandler made the switch from starting corner to safety last year and did get hit by the injury bug to his leg that sidelined him four games in the middle of the season. Despite the injury, the now-senior still had 69 tackles and was named to the AAC second team all-conference.
Navy
Fearless Forecast: The Midshipmen have to reload and rebound from three straight losses to end the season—including the first loss to rival Army in 14 years. But Coach Ken Niumatalolo does know how to build a team as his history has shown. With the option attack, the offense will need running backs have to emerge around new quarterback Zach Abey. The defense is not as inexperienced and have some key pieces to build around include strong line and linebacker groups.
Impact Player: DE Jarvis Polu finished last year with 53 tackles, 3.0 sacks and 4.0 tackles for loss. The now-senior also broke up a pair of passes and was credited with two quarterback hurries.
East Carolina
Fearless Forecast: ECU will have a number of questions to answer in Coach Scottie Montgomery's second season in Greenville. The addition of Duke transfer quarterback Thomas Sirk should help – if he can stay healthy which was a problem at Duke. The receiving corps should give the new quarterback plenty of weapons despite losing Zay Jones—the FBS career and single season record holder. The defense is experienced but needs to finds a way to stop opposing offenses and if that happens, the Pirates might be in the mix for a bowl game.
Impact Player: LB Jordan Williams has ranked among program' top two tacklers in successive seasons (second/2015, first/2016). The now-senior led 2016 with a team-leading 77 tackles (35 solo), 4.0 resulting in lost yardage.
SMU
Fearless Forecast: The Mustang offense likely supports the best receiver in the league in Courtland Sutton but with the up tempo attack needs quarterback Ben Hicks to improve. Also, the defense needs to be more consistent as shown in SMU's upset over Houston but had several games that gave up over 30 points. If this side of the ball improves, the Mustangs will improve on a five win season and might become bowl eligible.
Impact Player: WR Courtland Sutton recorded 1,246 yards on 76 receptions and 10 touchdowns in 2016. The now-junior ranked 12th nationally with 103.8 yards per game. He not only may be the top AAC receiver but also one of the best in the entire FBS.
Tulane
Fearless Forecast: The Green Wave should be better in the offensive option attack under head coach Willie Fritz. The running backs have shown the ability to run this kind of offense but needs quarterback Glen Cuiellette or a new starter to better orchestrate this attack. Tulane's defense will be anchored by a good secondary, but must find better play in the front seven.
Impact Player: RB Dontrell Hilliard led the Green Wave with 759 yards rushing last year in his junior season. He helped Tulane to the second-highest rushing total in school history during Fritz's first season in New Orleans. He has 1,857 rushing yards during his career, which places him 13th on the Green Wave's all-time list. If he runs for 660 yards in 2017, he would move into sole possession of fifth place on the school's all-time rushing list.
Connecticut
Fearless Forecast: Randy Edsall returns to Storrs after being the Huskies coach from 1999 to 2010. He returns from the NFL's Detroit Lions where he was the director of football operations. He will have some work to do to jump start a woeful offense and find a stronger defense. The linebackers, however, should be the team's strength to try to rebuild this once powerful program.
Impact Player: LB Vontae Diggs recorded a team second high 84 tackles and eight of those for a loss in 2016. The now senior also added a sack and a forced fumble on the season.
****************************************************************************
AAC Preseason All-Conference Team- Offense
| | | | | |
| --- | --- | --- | --- | --- |
| Position | 1st Team | Team | 2nd Team | Team |
| | | | | |
| Quarterback | Quinton Flowers | USF | Riley Furgeson | Memphis |
| Running Back | D'Angelo Brewer | Tulsa | Dontrelle Hillard | Tulane |
| Running Back | Braeden West | SMU | Ryquell Armstead | Temple |
| Wide Receiver | Courtland Sutton | SMU | Jimmy Williams | ECU |
| Wide Receiver | Anthony Miller | Memphis | Devin Gray | Cincinnati |
| Wide Receiver | Linell Bonner | Houston | Ventell Bryant | Temple |
| Tight End | Mitchell Wilcox | USF | Jordan Akins | UCF |
| Tackle | Evan Plagg | Tulsa | John Leglue | Tulane |
| Tackle | Brandon Smith | ECU | Korey Cunningham | Cincinnati |
| Guard | Evan Martin | Navy | Gabe Kuhn | Memphis |
| Guard | Tyler Bowling | Tulsa | Jeremi Hall | USF |
| Center | Chandler Miller | Tulsa | Will Noble | Houston |
AAC Preseason All-Conference Team- Defense
| | | | | |
| --- | --- | --- | --- | --- |
| Position | 1st Team | Team | 2nd Team | Team |
| | | | | |
| Defensive End | Justin Lawler | SMU | Kevin Mouhon | Cincinnati |
| Defensive End | Jesse Brubaker | Tulsa | Freddie Booth-Lloyd | Temple |
| Defensive Tackle | Ed Oliver | Houston | Cortez Broughton | Cincinnati |
| Defensive Tackle | Deadrin Senat | USF | Tony Guerad | UCF |
| Linebacker | Shaquem Griffin | UCF | Auggie Sanchez | USF |
| Linebacker | Micah Thomas | Navy | Junior Joseph | UConn |
| Linebacker | Genard Avery | Memphis | Vontae Diggs | UConn |
| Cornerback | Deatrick Nichols | USF | Jamar Summers | UConn |
| Cornerback | Parry Nickerson | Tulane | Jeremy Winchester | Houston |
| Cornerback | Jordan Wyatt | SMU | Artrel Foster | Temple |
| Safety | Sean Chandler | Temple | Jonathon Cook | Memphis |
| Safety | Garrett Davis | Houston | Delvon Randall | Temple |
AAC Preseason All-Conference Team- Special Teams
| | | | | |
| --- | --- | --- | --- | --- |
| Position | 1st Team | Team | 2nd Team | Team |
| | | | | |
| Kicker | Aaron Boumerhi | Temple | Redford Jones | Tulsa |
| Punter | Spencer Smith | Memphis | Jonathan Hernandez | USF |
| Returner | Tony Pollard | Memphis | D'Ernest Johnson | USF |
Originally from LaMoure, North Dakota, Kent is a 1996 graduate of North Dakota State University. His prior writing experience is over 15 years having previously worked with D2football.com, I-AA.org, and College Sporting News before coming to College Sports Journal in 2016. His main focus is college football is the Missouri Valley Football Conference within the Division I FCS. And in 2017, he began also to look at the FBS Group of Five conferences of the American Athletic, Conference USA, Mid-American, Mountain West, and Sun Belt.
Reach him at this email or click below: