CSJ's Predicted Order of Finish
EAST DIVISION
1. Western Kentucky *
2. Old Dominion
3. Middle Tennessee
4. Marshall
5. Florida Atlantic
6. Florida International
7. Charlotte
WEST DIVISION
1. Louisiana Tech
2. Southern Miss
3. North Texas
4. UTSA
5. Rice
6. UTEP
7. UAB
*Overall Conference Champion
Below are the overall rankings in a row.
Western Kentucky
Fearless Forecast: The Hilltoppers are still the team to beat in C-USA despite the loss of head coach Jeff Brohm to Purdue. In the Sagarin rankings, WKU finished with the highest rankings amongst the G5 schools and should be high in those rankings again this year. Offense should not be a concern with QB Mike White having much of his receiving talent back and a good stable of running backs behind him. And the WKU defense just may be the most talented in the league.
Impact Player: QB Mike White had the unenviable task of following up WKU's all-everything quarterback in Brandon Doughty and responded in dynamic fashion, leading an offensive attack that led the FBS in points per game (45.5) and was No. 3 in passing efficiency (174.87), No. 5 in total offense (523.1) and No. 5 in passing offense (336.8). The now-senior finished his first campaign third nationally in passing efficiency (181.4) and passing yards per completion (15.58) – both the top marks in Conference USA. He completed 280-of-416 passes for 4,363 yards with 37 touchdowns to just seven interceptions.
Louisiana Tech
The Bulldogs will need to replace most of the key parts of the high-octane passing game. The defense, however, should be steller with possibly the best pair of ends in the league in Jaylon Ferguson and Deidrick Canty. The offense should be able to replace enough to win the West Division of this league.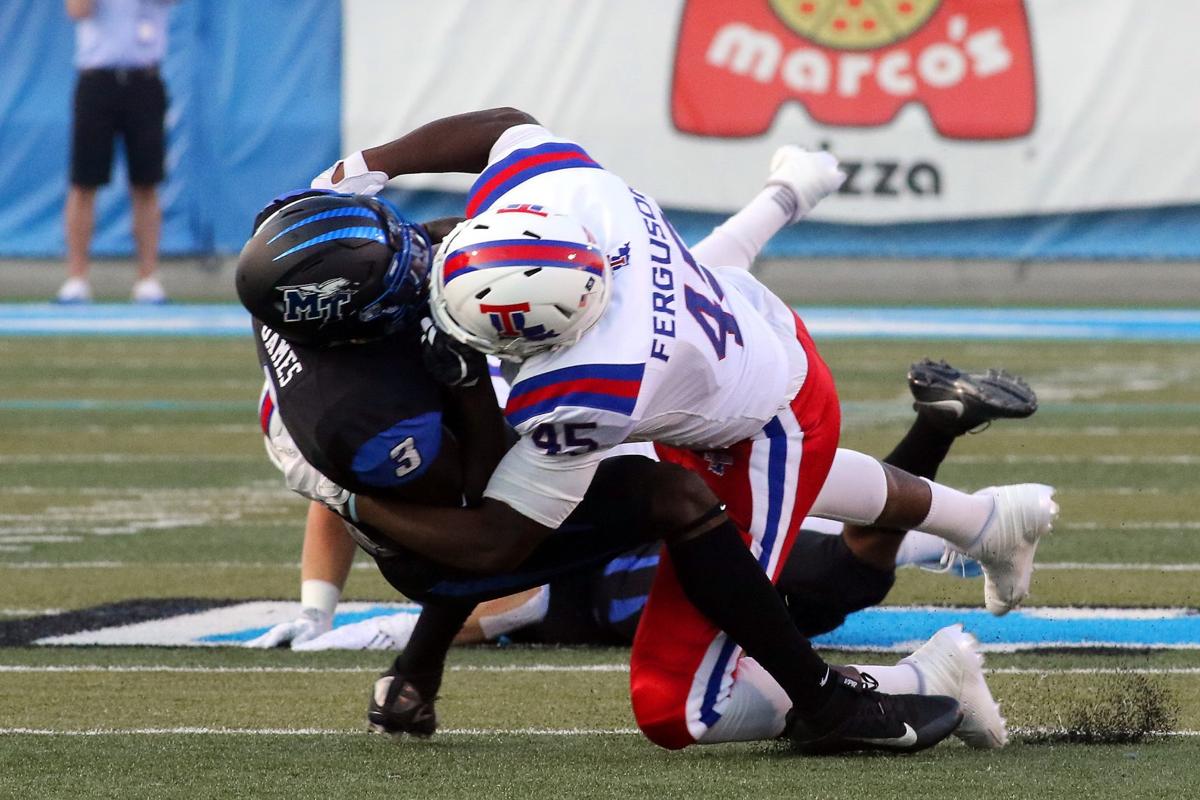 Impact Player: DE Jaylon Ferguson totaled 49 tackles (27 solo, 22 assisted) on the year with a team-high 16 tackles for loss and a school record 14.5 sacks in his sophomore season. He broke the school record from 1986 for sacks in a season with 14.5 and had a career-high eight total tackles (2 solo, 6 assisted) versus WKU (12/3) in the Conference USA Championship to highlight his big game potential.
Old Dominion
Fearless Forecast: The Monarchs had a breakthrough season last year in finishing 10-3 and just behind WKU in the East Division standings. On offense, ODU needs to replace the graduated David Washington at quarterback, but the Monarchs should have no problems in the running game with Ray Lawry, who should be among the league's top running backs. On defense, the line looks strong and the secondary should be able to contend with the other league team's passing attacks.
Impact Player: DE Oshane Ximines was seventh on the team with 42 tackles … Had a team-best 7.5 sacks and 11.5 tackles for loss. The now-junior had 7.5 sacks is a new single-season school record and notched a season-high seven tackles and a tackle for loss at Appalachian State.
Southern Miss
Fearless Forecast: The Golden Eagles finished 2016 at just 7-6 overall. This was after the team was the preseason favorites in the West Division. Southern Miss could use this as motivation this year. The Golden Eagles have a great defense in led by one of the league's best secondary units. One offense, Southern Miss has a star in running back Ito Smith and wide out in Allenzae Staggers and these two should carry the offense.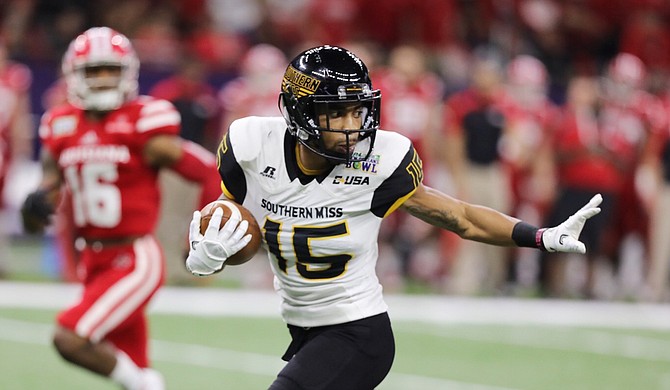 Impact Player: WR Allenzae Staggers was by far the team's receiving leader after recording 63 catches, 1,165 yards, 18.5 yards per catch and seven touchdowns. The now-senior currently owns two of the five all-time 200-yard receiving games in Southern Miss history.
Middle Tennessee
Fearless Forecast: With the return of quarterback Brent Stockstill and the league's best receiving groups including Richie James, the Blue Raider offense could be as explosive as any in the conference. The defense may be the issue, especially up front against the run. The best area on the defense should be its linebackers, but the Blue Raiders may have to just outscore their opponents this year.
Impact Player: WR Richie James currently ranks first among active players nationally in receptions per game and receiving yards per game. The now-junior had 105 receptions for a school record 1,625 yards and 12 TDs while rushing for a career-best 339 yards.
North Texas
Fearless Forecast: The Mean Green defense will be headed by its secondary but has to replace much in the front seven. The North Texas offense has a great ground game headed by running back Jeffery Wilson but elsewhere the offense just might not be explosive enough. The special teams also should be good and it may just help win some tight games this year to get back to a bowl again—something two years ago seemed very high fetched.
Impact Player: S Kishawn McClain led North Texas with 91 total tackles (67 solo), had a career-high three interceptions and had three pass break-ups, one-and-a-half sacks, five tackles for loss and forced two fumbles. The now-senior was just named to the Paycom Jim Thorpe Award preseason watch list.
UTSA
Fearless Forecast: The Roadrunners will be one of the league's toughest teams. Joshua Tauaefa will likely make a push to be the top linebacker in the league and others will also show their defensive talents this year. The receiving group should be fine and Dalton Sturm is a veteran quarterback lead the offense. UTSA, however, may just not have all the talent required to complete compared against the league's explosive teams.
Impact Player: LB Josiah Tauaefa was last year's Conference USA Freshman of the Year and was also a first-team all-league and C-USA All-Freshman Team member. He racked up a program single-season record 115 tackles (50 solos/65 assists) to go along with nine TFLs, six sacks, seven QB hurries and an interception. He ranked second among FBS freshmen in tackles.
Marshall
Fearless Forecast: Marshall is one team in this leasgue that is tough to predict. The question will be if last year's distaterous season was a mirage or if that really is more the reality. The passing game should be fine, and the defensive secondary boasts a nice pair of cornerbacks. How well the Thundering Herd competes likely will come down to the how well each lines do and how quickly a youthful rushing attack emerges.
Impact Player: TE Ryan Yurachek returns as the team's active leader in career receptions (89), receiving yards (864), touchdown receptions (16) and scoring (96). The now senior enters the 2017 season with a streak of 29 consecutive games with a reception.
Florida Atlantic
Fearless Forecast: Lane Kiffin brings in a lot of notarity as the Owls new head coach. The running backs are outstanding and should make the lives of the new coaching staff easy, while Florida State transfer De'Andre Johnson very well could emerge to be the league's most talented quarterback. While the offense seems to be coming together, however, the defense has a number of question marks so how well FAU does likely will come to how this side of the ball comes together.
Impact Player: RB Devin Singletary had a tremendous freshman after taking over the starting spot for the final six games. He rushed for 874 yards on 7.7 yards per carry and finished the season with 1,021 rushing yards. He set a school freshman record with 257 yards on 24 carries against Rice. Singletary, who was third in C-USA in yards per carry (6.8), also added 26 receptions for 163 yards.
Florida International
Fearless Forecast: The other C-USA Florida team is also breaking in a another familiar name ins south Florida in former Miami cosch Butch Davis. This team likely will be strong enough to push for a winning season with one of the league's best groups of linebackers and a fantastic group of running backs to steady the offense. The lines on both sides of the ball, however, will likely need to prove themselves. And the passing game needs more constistant play but likely will be improved over last year's team.
Impact Player: LB Anthony Wint finished last year with 108 total tackles (57 solo), 6.5 tackles for loss, two forced fumbles and one fumble recovery. The 108 tackles on the year were the sixth-most in school history, while his career total of 244 ranks ninth all-time at FIU. The now-senior registered 10-or-more tackles six times, including a career-high 13 at Charlotte
Rice
Fearless Forecast: The Owls are coming off a very mediocre 3-9 season. The biggest improvement needs to be with the quarterback play and both offensive and defensive lines have to be able to step-up its play. If these things happen and I believe they very well could, Rice likely will outpace its three wins from a year ago.
Impact Player: LB Emmanuel Ellerbee led the conference in tackles per game (10.7) and solo tackles (70) and finishing second in total tackles (118) despite missing one game. The now-senior ranked sixth nationally with 10.7 tackles and tied for seventh in solos.
UTEP
Fearless Forecast: The Miners could turn out to be one of the league's bigger dark horse candidates. The offense has a very good start with a solid line upfront and running game should be the stronger aspect as the receivers will need to prove themselves yet. The defense has a leader in linebacker Dante Lovilotte but will need to be stronger in the front four but if this can happen UTEP just might finish in the top half of the overall league standings.
Impact Player: LB Dante Lovilotte ranked second on the team with 89 tackles (38 solo). The now-senior ranked 15th in C-USA in tackles and tackles per game (7.4) and ranked second on squad in tackles for loss (6.5). He added 0.5 sack, three pass breakups, four quarterback hurries (tied for second on team) and a forced fumble a season ago.
Charlotte
The 49ers have a possible star in the making for its offense in Hasaan Klugh. The question on the offense if he will have some receivers to emerge as open targets. The offense also needs its line to solidify. The linebackers and secondary look solid on the defense but will should be a strength and the safeties are great, but the line needs some talent to emerge.
Impact Player: CB Anthony Covington is currently second all-time with 14 career pass breakups (PBU) in school history. The now-senior scored a touchdown on a fumble recovery at Louisville and added another on a 48-yard interception return vs. Rice, which tied for second in school history.
UAB
Fearless Forecast: Alabama's largest city welcomes back the Blazers' football team after a two year hiatus. With a lot of new talent, expectations likely are not really on wins and losses this year but rather how its talent progresses on both sides of the ball. The likely progress will help later in the season when the team gels together so teams later in the season might see a different type of team that ones to begin the season.
Impact Player: RB Kalin Heath comes to Birmingham after transferring from Kansas State after his redshirt freshman season. He played for Cartersville High School in Cartersville, Ga and amassed 3,594 yards and 48 touchdowns during prep career.
*******************************************************************
2017 C-USA Football Coaches Preseason Awards
Offensive Player of the Year
Mike White, Sr., QB, WKU
Defensive Player of the Year
Emmanuel Ellerbee, Sr., LB, Rice
Special Teams Players of the Year
Kylen Towner, Sr., KR, WKU
Offense
QB Mike White, Sr., WKU
RB Ray Lawry, Sr., Old Dominion
RB Ito Smith, Sr., Southern Miss
OL O'Shea Dugas, Jr., Louisiana Tech
OL Will Hernandez, Sr., UTEP
OL Trey Martin, Sr., Rice
OL Austin Pratt, Sr., UTSA
OL Brandon Ray, Sr., WKU
TE Ryan Yurachek, Sr., Marshall
WR Richie James, Jr., Middle Tennessee
WR Jonathan Duhart, Sr., Old Dominion
WR Allenzae Staggers, Sr., Southern Miss
Defense
DL Marcus Davenport, Sr., UTSA
DL Jaylon Ferguson, So., Louisiana Tech
DL Chris Johnson, Sr., WKU
DL Oshane Ximines, Jr., Old Dominion
LB Emmanuel Ellerbee, Sr., Rice
LB Alvin Jones, Sr., UTEP
LB Josiah Tauaefa, So., UTSA
LB Anthony Wint, Sr., FIU
DB Brandon Addison, Sr., Old Dominion
DB Nate Brooks, Jr., North Texas
DB Joe Brown, Sr., WKU
DB Kishawn McClain, Sr., North Texas
Special Teams
K Canon Rooker, Sr., Middle Tennessee
P Jake Collins, Jr., WKU
KR Kylen Towner, Sr., WKU
PR Nacarius Fant, Sr., WKU
LS Matt Bayliss, Sr., UTSA
Originally from LaMoure, North Dakota, Kent is a 1996 graduate of North Dakota State University. His prior writing experience is over 15 years having previously worked with D2football.com, I-AA.org, and College Sporting News before coming to College Sports Journal in 2016. His main focus is college football is the Missouri Valley Football Conference within the Division I FCS. And in 2017, he began also to look at the FBS Group of Five conferences of the American Athletic, Conference USA, Mid-American, Mountain West, and Sun Belt.
Reach him at this email or click below: