Florida State Seminoles
Location: Tallahassee, Florida
Coach: Willie Taggart (0-0) 1st Season at Florida State
Stadium: Doak Campbell Stadium (Capacity 79,560)
CSJ Projections
6th ACC (4th Atlantic Division)
3rd: Florida
26th: FBS
26th: Division I
2017 In a Sentence: Florida State was beset by injuries in 2017 and it started early. Quarterback Deondre Francois was injured in the first game of the season and the Seminoles, who started the season #3, never recovered going 7-6 on the year.
Biggest Shoes to Fill: S Derwin James Opposing offenses knew who they had to stay away from when they played Florida State, Safety Derwin James. As a redshirt sophomore, James was one of the best safeties in the country and was ultimately drafted 17 overall by the San Diego Chargers in the 2018 NFL draft. James was great in run support and pass coverage racking up 84 tackles, good enough for second on the team, and 11 pass breakups. James was a weapon for the Seminoles' defense and the hole he leaves will be tough to fill.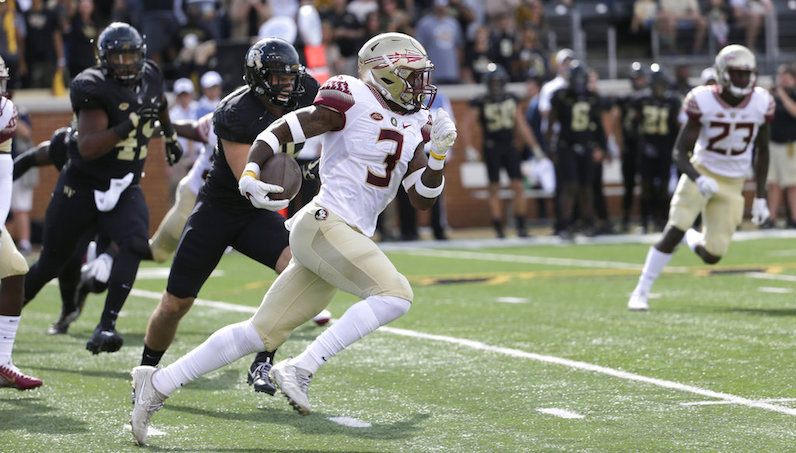 Key Player: RB Cam Akers As a true freshman in 2017, Cam Akers quickly established himself as the lead back for the Seminole's offense racking up nearly 1100 yards on the ground. While the Noles sort out their 3-man quarterback battle, they will be able to lean on Akers in the ground game. Akers does need to work on involving himself in the passing game to be considered one of the best all-around backs in the country.
Fearless Prediction: Florida State has talent at all positions on the field, but they are going to have to stay healthy, and settle one a starting quarterback. If they can do so, there is no reason to think that the Seminoles wont compete for a spot in the ACC Championship game and an invite to a major bowl game.
Jamie is a proud 2002 graduate of James Madison University. He's witnessed the growth of the program from no one in the stands in 1998, to the hiring of Mickey Matthews, to the 2004 National Championship, to the 2008 team, to the struggles in the early 2010s, and finally the rebuild under Mike Houston. He also allegedly really enjoys Washington, DC-based Stanley Cup winners.
Reach him at: