Florida Gators
Location: Gainesville, FL
Coach: Dan Mullen (0-0@ UF, 69-46 overall) 1st Season
Stadium: Vanderbilt Stadium (Capacity: 40,550)
CSJ Projections:
12th: SEC (5th in East Division)
6th: Florida
64th: FBS
67th: Division I
2017 In A Sentence: Florida and former Coach McElwain mutually agreed to part ways in late October with defensive coordinator Randy Shannon finished the season as the interim–the team overall finished just 4-7.
Biggest Shoes to Fill: DT Taven Bryan was a All-SEC second team performer last year and was the plug in the middle. He rcorded 40 total tackles, six tackles-for-loss, four sacks and three quarterback hurries. He was drafted in the NFL Draft's first round by the Jacksonville Jaguars.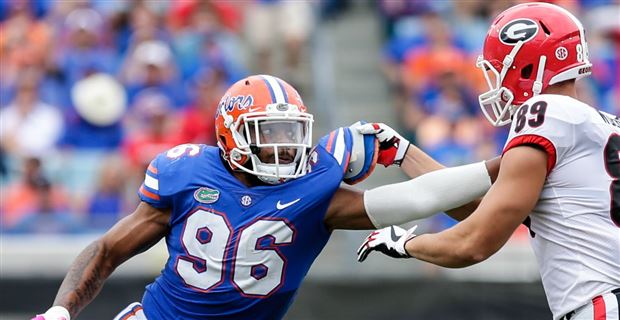 Key Player: DE Cece Jefferson could thrive as a stand-up rusher this year with the defense moving to a 3-4 alignment. The now-senior totaled 47 tackles, which ranked fourth on the team. He led the team in tackles-for-loss (13.5 for 38 yards) and sacks (4.5 for 14 yards).
Fearless Prediction: Coach Mullen comes to Gainesville from Mississippi State and was a former offensive coordinator for the Gators when Florida won two national titles in the mid-2000s. His team this year will have plenty of pieces but question marks remain especially with the change of schemes on both sides of the ball . The future looks bright, but this year will likely see several growing pains but this team likely has enough to get to bowl-eligibility.
Originally from LaMoure, North Dakota, Kent is a 1996 graduate of North Dakota State University. His prior writing experience is over 15 years having previously worked with D2football.com, I-AA.org, and College Sporting News before coming to College Sports Journal in 2016. His main focus is college football is the Missouri Valley Football Conference within the Division I FCS. And in 2017, he began also to look at the FBS Group of Five conferences of the American Athletic, Conference USA, Mid-American, Mountain West, and Sun Belt.
Reach him at this email or click below: