Liberty Flames
Location: Lynchburg, VA
Coach: Turner Gill (66-78 overall, 41-29 at Liberty) 7th Season
Stadium: Williams Stadium (Capacity: 25,000)
CSJ Projections:
5th: FBS Independents
6th: Virginia
125th: FBS
182nd: Division I
2017 In A Sentence: In the Flames last FCS season, the team started off 3-0 including a win over the Big 12's Baylor but slumped in the middle part of the season with four straight losses before winning winning three of its last four games to finish 6-5 overall.
Biggest Shoes to Fill: RB Carrington Mosley rushed for a team high 896 yards and 9 touchdowns in his final season for the Flames. He added 15 receptions for another 100 yards as well.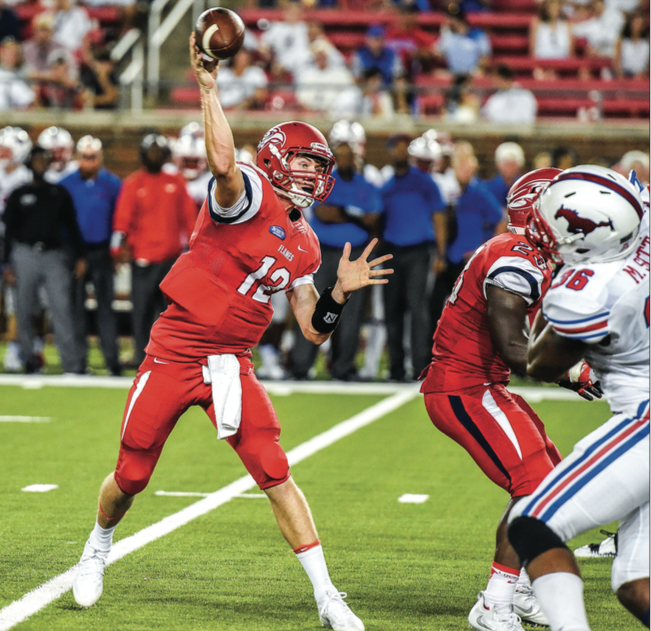 Key Player: QB Stephen Calvert totaled 303.5 yards per game passing in his sophomore season last year. He set school records for yards, touchdowns (29), and passing efficiency (142.3 rating) in his second year of being the Flames signal caller.
Fearless Prediction: Liberty has 11 straight winning seasons and that mark will be on the line this year as the Flames up their competition with 10 of its 12 games against FBS opposition. As an independent, this team will likely fly under the FBS and even Group of Five radar but with 14 returning starters, this team could surprise a few teams on the schedule just as they did to Baylor last year.
Originally from LaMoure, North Dakota, Kent is a 1996 graduate of North Dakota State University. His prior writing experience is over 15 years having previously worked with D2football.com, I-AA.org, and College Sporting News before coming to College Sports Journal in 2016. His main focus is college football is the Missouri Valley Football Conference within the Division I FCS. And in 2017, he began also to look at the FBS Group of Five conferences of the American Athletic, Conference USA, Mid-American, Mountain West, and Sun Belt.
Reach him at this email or click below: