2019 FCS Playoffs Semi-Finals Matchup: Weber State at James Madison (The Weber State Edition)

FCS Semifinal Round Playoff Matchup: Weber State at James Madison
Where: Bridgeforth Stadium, Harrisonburg, Virginia
When: Saturday, December 21st, 4:30PM MST
TV/Streaming: ESPNU/Watch ESPN, 94.1 ESPN (Sports Radio)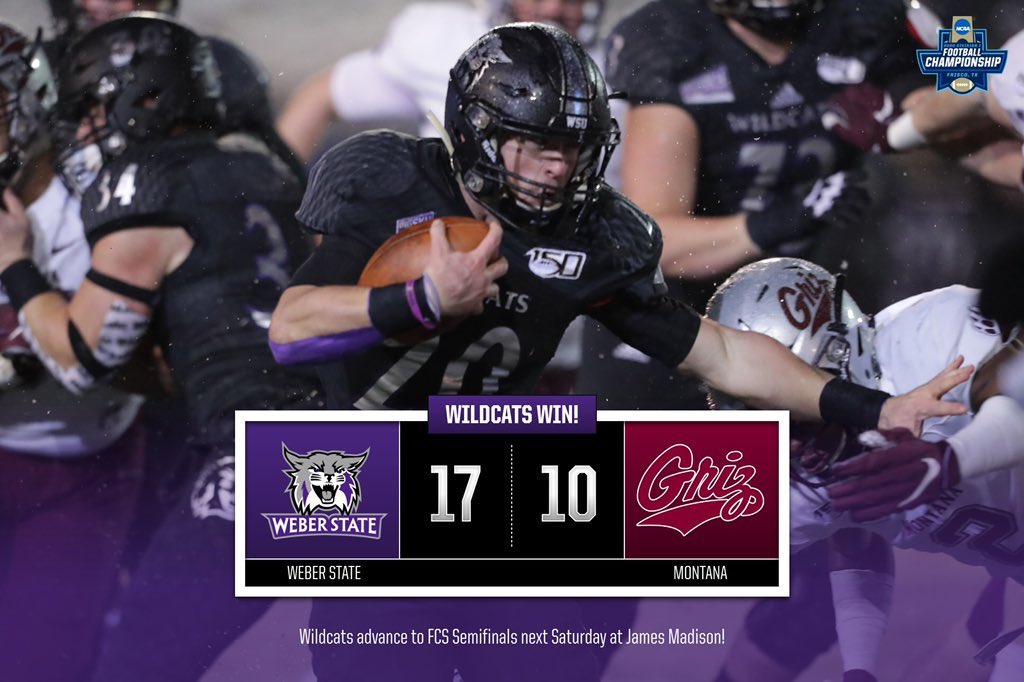 PC: Weber State AthleticsLast Week: Weber State may have taken down the most dangerous team outside of James Madison and North Dakota State. Montana was a fierce competitor that I thought had all the weapons necessary to move past Weber and make a push to Frisco. The Wildcat defense surprised many of us from the Big Sky as they stopped Montana from scoring big and punished their offense in the second half. Weber State was able to intercept Dalton Sneed five times and sack him six times. Four of those six sacks contributed to a record for Adam Rodriguez as he tormented Sneed. Weber State's special teams helped the banged-up offense with JaKobe Harris blocking a Montana punt for the go-ahead touchdown.
The offense struggled in the cold and wet snow conditions they were forced to play in, but the defense took over as the star. There are some health concerns about Josh Davis as he took several hard hits and walked around gingerly towards the end of the game. If one thing is known about this Wildcat team is that no matter what they do not give up. If Josh Davis is limited in his snap counts that will hurt the offense's rhythm, but unlikely their production. Since the Wildcats played late Friday night they will have an extra day to recover their injuries than normal before meeting the Dukes in Harrisonburg.
Last time these two teams met it was electric. Weber State controlled the game until the fourth quarter where JMU would score 21 points. Whether JMU or Weber State moved on in the 2017 Quarterfinals all depended on JMU kicker Ethan Ratke could make a 46-yard field goal with only seconds left on the clock. Ratke made the kick and JMU went on to be the national runner-ups that year. This year will be even higher stakes than the last meeting since the one who moves on is going to Frisco against either Montana State or North Dakota State.
Weber State
Coach: Jay Hill – 6th Year at Weber State – 6 Years Total as a Head Coach
Record at Weber State: 47-29
Overall Record: 47-29
Big Sky Championships: 3 (2017, 2018, 2019)
Offensive Player to Watch: Josh Davis, RB. Depending on the injury status of Davis he is an integral part of the offense as he is a talented runner and produced 1,000+ yards and 10 touchdowns in the regular season. As a run-heavy offense, the Wildcats will not be likely to shy away from it even if Davis is limited. Constantine can make good passes when needed, but the higher his pass attempts go the more fatigued and more likely he throws a costly pick raises too. Kevin Smith Jr. and Kris Jackson make a talented duo to back up Davis if he is not in good health. Both backs are more stocky than Davis which will give them more of a hard-nosed approach up the A and B gaps rather than relying on Davis to make his signature quick-footed moves. The Wildcats have found success in the ground-and-pound scheme in tough games that takes the pressure off Constantine so that he can make throws in the secondary with less man coverage. The Wildcats should feel blessed to have such a talented backfield since they will be a crucial part of the toughest game they have played this year and every yard will matter.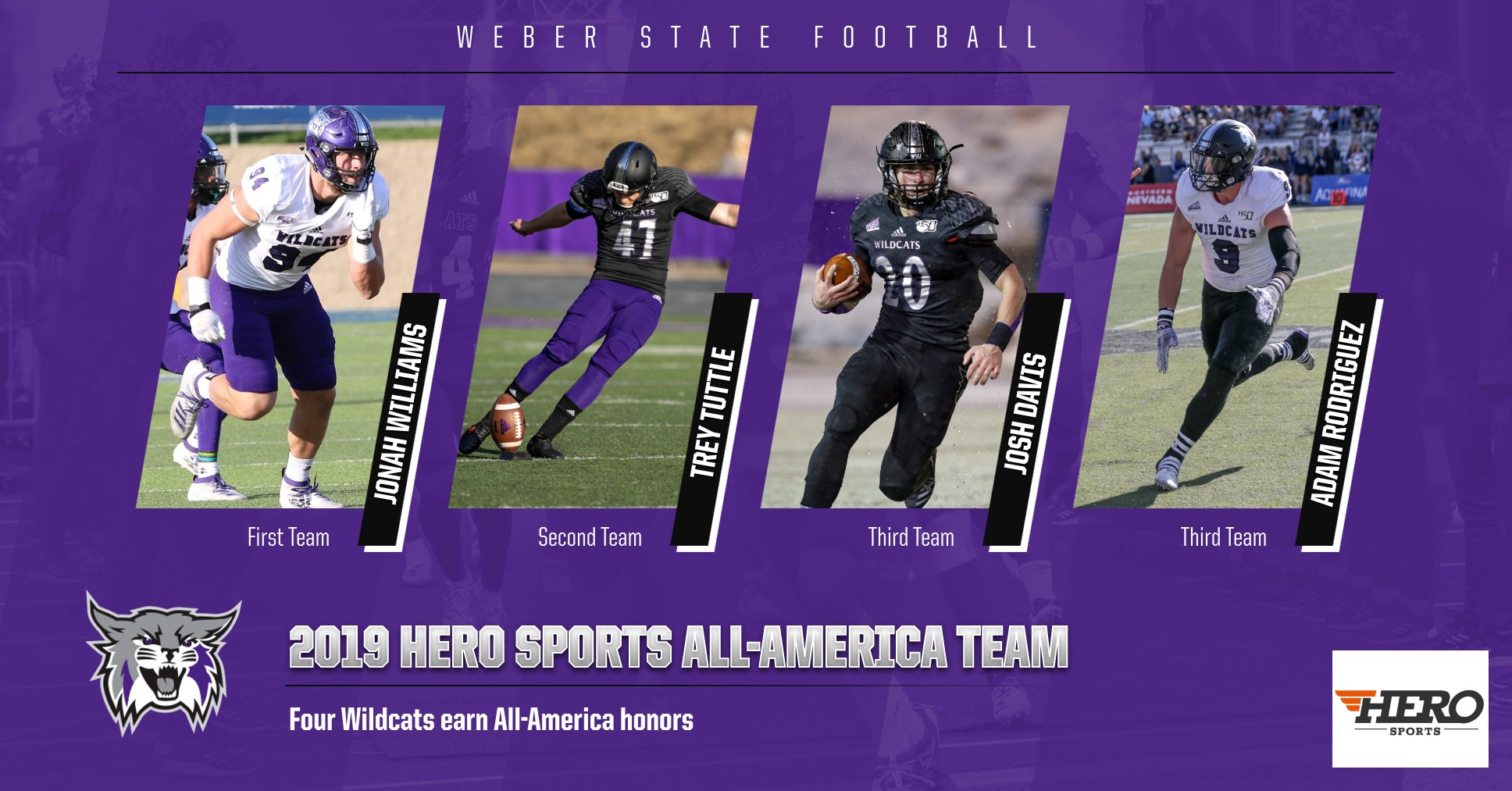 Defensive Player to Watch: Adam Rodriguez, LB. Rodriguez absolutely horrified Griz fans last Friday night as their quarterback had no relief from pressure or turnovers. If Weber State wants to survive this coming matchup with the Dukes they need to be as savage and brutal as they were against Montana. A win is always possible for the Wildcats, but they need to do many things right in order to be in the position to bring down the Dukes at home. Rodriguez and Jonah Williams need to be eyeing the quarterback and running backs all night long as if they were a delicious snack. If they can put pressure up front and especially on the edges then the Dukes will be forced to pass against Weber. It is expected for JMU to still have an incredible pass attack against Weber even with a strong effort on defense, but if the only progress available is through the air then Weber has a chance to do something special like they did last week at Stewart Stadium. If the Wildcats can force a combination of three turnovers and limit JMU to three or fewer touchdowns then Weber may be able to win.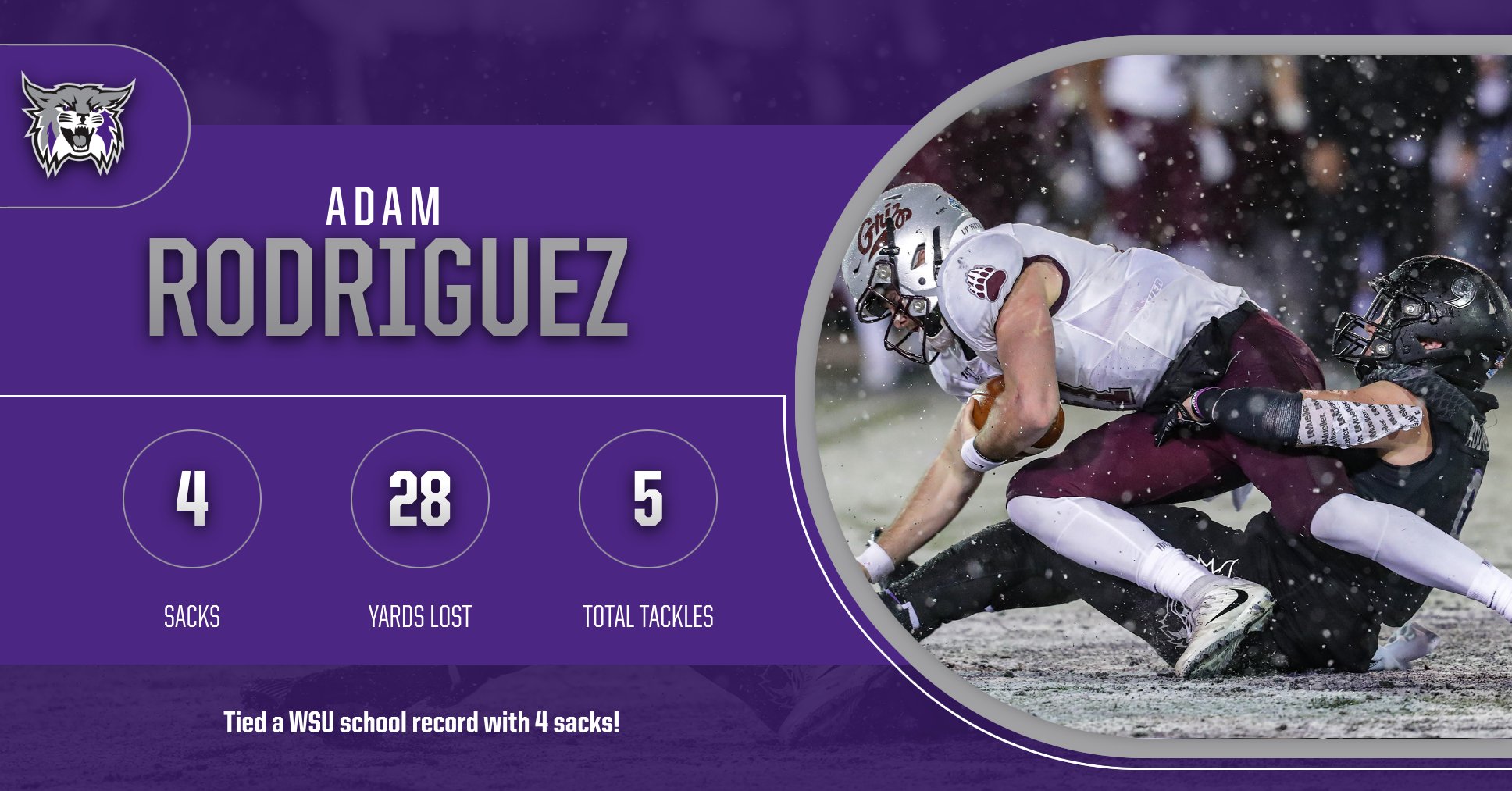 Reasons Weber State could Win:
Weber has the 14th best scoring defense in the FCS
Weber is tied with JMU for interceptions at 7th best in the FCS
Josh Davis is a premier running back when healthy with 10 touchdowns
The Weber running back community is hard to bring down and have 12 touchdowns off the bench
The defense has produced 17 interceptions, 44 sacks, and 101 tackles for a loss this season
Three players have 80+ tackles – one player is a redshirt freshman CB and the other is a sophomore LB
Reasons why JMU may Lose:
The majority of the defenses JMU played did not rival Weber State's resume
Other than the Stony Brook game, the UNI defense cause JMU to play their worst game
Weber State is peaking now, while JMU played its worst game
If Weber State keeps JMU at 17 points then a repeat of last week would force overtime or a late walk-off score situation
If JMU underestimates Weber they will fall behind early and may not be able to claw back
Fearless Prediction
Many betting lines are giving James Madison a two-score prediction over Weber State. It is easy to know why James Madison is the favorite when they lead many statistical categories and have been at number two all season long it seems. I think James Madison is incredibly talented, but I trust coach Jay Hill will find a way out of Harrisonburg this year. Coach Hill has been constantly improving Weber including three Big Sky titles in six years of coaching. Unlike JMU, Coach Hill had to build Weber into a winning program rather than taking over an already powerhouse team. That combined with the player talent, only losing to Montana and two Mountain West schools by a combined 12 points, and getting through the season with minimal player injuries will amount to the best chance yet for Coach Hill to lead his team to Frisco. JMU may have headline players or NFL bound talent, a fantastic stadium, and a rowdy fan base, but can the Dukes carry Curt Cignetti farther than Semi-Finals? At Elon he never made it past the first round so either he is doing something right at JMU or JMU is carrying Cignetti on their backs.
Weber State 27, James Madison 24
My name is Ben Schleiger and I'm your representative for the Big Sky Conference. I have done work for multiple newspapers and sports blogs including The Johnstown Breeze, The University of Northern Colorado Mirror, and Mile High Maniac. I am a proud alumnus of the University of Northern Colorado with a degree in Psychology and a minor in Political Science. In my free time, I like watching sports, playing video games, and trying new foods.