Georgia Southern vs. Liberty (Cure Bowl)
When: Saturday, December 21st, 2:30 PM EST
Where: Exploria Stadium, Orlando, Fla.
TV/Streaming: CBSSN
Cure Bowl History
Dec. 19, 2015: San Jose State 27, Georgia State 16
Dec. 17, 2016: Arkansas State 31, UCF 13
Dec. 16, 2017: Georgia State 27, Western Kentucky 17
Dec. 15, 2018: Tulane 41, Louisiana 24
Georgia Southern Eagles (2nd Sun Belt, 7-5, 5-3)
Bowl History: Georgia Southern, winners of six Football Championship Subdivision national titles before making the transition to the FBS in 2014, is appearing in a bowl game for the third time in school history. The Eagles defeated Bowling Green 58-27 in the 2015 GoDaddy Bowl and topped Eastern Michigan 23-21 a year ago in the Camelia Bowl.
Coach: Chad Lunsford, a longtime assistant coach at Georgia Southern, Lunsford was promoted to interim head coach midway through the 2017 season and was elevated to the head coaching position just over one month later.
In his first full season at the helm of the GSU program he orchestrated the top turnaround in the nation by leading the Eagles to a 10-3 record. The Eagles had finished 2-10 in 2016. He was voted the Sun Belt coach of the year by Southern Pigskin and 12 of his players earned all-conference accolades.
2019 Season: Georgia Southern started off the season with a 55-3 loss to LSU in the season opener. The Tigers were ranked No. 6 at the time, but played pretty well the rest of the season. GSU also lost a narrow 35-32 decision at Minnesota, before losing its Sun Belt opener to Louisiana and falling to 1-3 after the first four games.
The Eagles went on to win their next four games, including a 24-21 win over then-No. 20 Appalachian State and closing the season with wins in just two of the final four games of the regular season.
2019 Eagles: Georgia Southern enjoys running the football, really enjoys running the football. The Eagles are averaging 260.9 yards per game rushing heading into their bowl game. On the flip side, GSU averages just 72.3 passing yards per game this season. The Sun Belt Conference runners-up combined for 333.7 yards of total offense and scored at a 29.2 points per game pace this season.
When on defense the Eagles a decent at stopping the run and has allowed just 136.7 yards per contest. It's on pass defense that opponents seem to have the most success as GSU is allowing 240.6 yards per game. The 377.3 yards of offense that the Eagles allow could come into play in a big way against the Flames.
Key Players: The Georgia Southern offense is led by QB Shai Werts, the MVP of last year's Camelia Bowl. Werts, a 5-11, 205-pound redshirt junior, has completed 57 of his 108 pass attempts for 704 yards and nine touchdowns this season. He has also added 676 yards on 149 rushing attempts (4.5 ypc) and scored five touchdowns. His rushing total ranks him third on the team in that category,
The rushing attack is dominated by J.D. King (5-11, 220), a junior, who has carried 175 times for 776 yards (4.4 ypc) and eight touchdowns. He has been helped out in a big way by Wesley Kennedy (5-10, 180), another junior, who has 110 carries for 760 yards (6.9 ypc) this season and 10 TDs of his own.
The Eagles go to the air with little consistency that their top three receivers have combined for just 34 catches for less than 600 yards. Mark Michaud (6-4, 220) leads that group with 14 catches for 218 yards and four touchdowns, while Malik Murray (6-0, 180), a speedy slotback, has added 16 catches for 176 yards and three scores. Darion Anderson (6-0, 915) had caught just four passes for 116 yards, but two of his receptions have yielded touchdowns for the Eagles this season.
Defensively, the Eagles are led by a trio of standouts in the form of linebackers Rashard Byrd (6-0, 230) and Reynard Ellis (6-1, 230), and safety Kenderick Duncan (6-3, 225). Byrd tops the team charts with 79 (41 solo) tackles and has nine TFLs to his credit, along with two sacks, two interceptions and a pair of forced fumbles.
Ellis is right behind with 78 (50 solo) tackles, including 8.5 tackles for loss and a pair of sacks of his own. Duncan, meanwhile, has accounted for 71 (40 solo) tackles, and seven pass breakups to lead the Eagles in that department.
Liberty Flames (7-5, Independent)
Bowl History: When Jerry Falwell founded what is now Liberty University he made no attempts to hide the fact he wanted the school to become a big-time player in collegiate athletics. Nearly 50 years after the founding of the school in 1971 and 12 years after Falwell's death (2007), the school gets it first chance at a bowl game when the Flames take on Georgia Southern in the Cure Bowl.
Coach: Hugh Freeze had a record of success while at Ole Miss (2012-16), unfortunately his tenure was also marred by off-the-field issues that resulted in the school forfeiting 27 victories while Freeze was directing the program. Freeze was hired as the new Liberty coach on Dec. 7, 2018 and has the Flames in a bowl game for the first time in school history. He has also served as the head coach at Lambuth (2008-09) and Arkansas State (2011) before his tenure in Oxford.
2019 Season: Liberty started the Hugh Freeze Era in less than desirable fashion as the Flames dropped the first two games of the season by a combined 59-14 score. Five straight wins seemed to be the perfect tonic as the Flames established themselves as a contender for a bowl game in their first season of eligibility.
2019 Flames: While Georgia Southern relies on running the football, Liberty's focus appears to be getting down the field in a hurry, thanks to a strong pass attack. The Flames average 290.5 yards per game through the air and have accounted for just 152 yards via the run. The 442.5 yards of total offense is an impressive total and could prove to be troublesome for the Eagles as they try to devise a plan to slow the Flame attack.
Liberty does a respectable job at stopping the run by limiting opponents to just 192.7 yards per game, while giving up 229.8 yards per contest through the air. The combined 422.5 yards of offense allowed by the Flames is a good indication that plenty of points will scored in Saturday's game.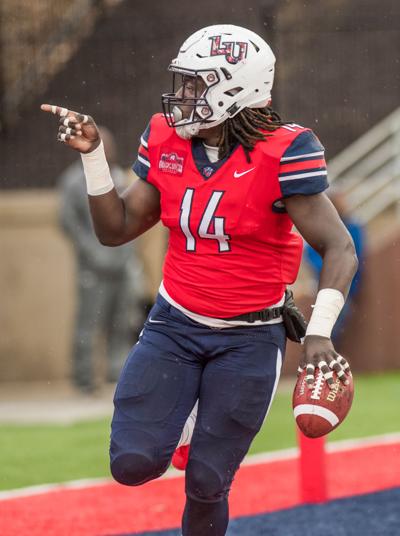 Key players: Stephen Calvert (6-2, 180), a senior QB leads the Flame offense. He has passed for 3,393 yards on the year after completing 233 of his 398 pass attempts. He has thrown 26 touchdowns and has been intercepted just five times this season.
The running game is spearheaded by Frankie Hickson (5-8, 190) and Joshua Mark (6-0, 195), who have combined for nearly 1,700 yards this season. Hickson paces that duo with 165 carries for 921 yards (5.6 ypc) and 12 TDs, while Mark has added 767 yards on 125 carries (6.1 ypc) and six scores of his own.
The top receiver is Antonio Grandy-Golden (6-4, 220), a senior, who has caught 74 passes for 1,333 yards and nine touchdowns this year.
The Liberty defense is led by linebacker Soloman Ajayi (6-1, 235) and his 84 (44 solo) tackles, including 4.5 TFLs on the year. Elijah Benton (6-1, 205) has added 79 (48) solo tackles from his safety position for the Flames, including 2.5 tackles for loss. Jesse Lemonier (6-3, 240), a defensive lineman, has chipped in with 72 (38 solo) tackles, including 13.5 tackles for loss.
Fearless Predictions:
Ray: History is always a fun and interesting thing to witness. Just how well Liberty adjusts to the pomp and circumstances of appearing in a bowl game for the first time could mean the difference of which side of the scoreboard the Flames find themselves at the end of the day. Hugh Freeze has been on bigger stages while coaching in the Southeastern Conference and somehow figures to keep his team focused on the task at hand. Liberty 35, Georgia Southern 31.
Chuck: Liberty probably should have been in the New Mexico Bowl, considering three of their wins for bowl eligibility came against New Mexico and New Mexico State. Georgia Southern, who stunned App State earlier this year, will outclass them easily. Georgia Southern 47, Liberty 14
A native of Bismarck, N.D., Ray is a graduate of North Dakota State University where he began studying athletic training and served as a student trainer for several Bison teams including swimming, wrestling and baseball and was a trainer at the 1979 NCAA national track and field championship meet at the University of Illinois. Ray later worked in the sports information office at NDSU. Following his graduation from NDSU he spent five years in the sports information office at Missouri Western State University and one year in the sports information at Georgia Tech. He has nearly 40 years of writing experience as a sports editor at several newspapers and has received numerous awards for his writing over the years. A noted sports historian, Ray is currently an assistant editor at Amateur Wrestling News.