FCS Second Round Playoff Matchup: Illinois State at Central Arkansas
Where: Estes Stadium, Conway, Arkansas
When: Saturday, December 7th, 3:00 PM
TV/Streaming: ESPN3 (subscription req'd)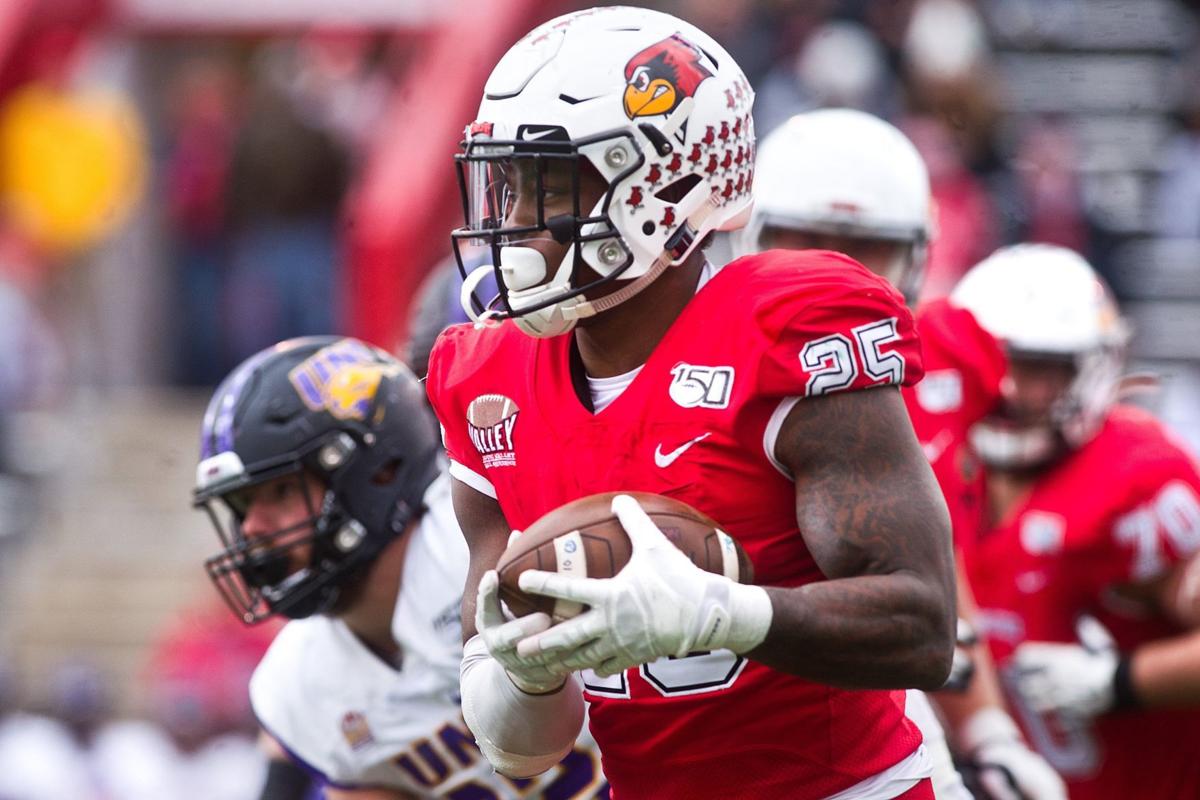 Illinois State Redbirds (9-4), Head Coach: Brock Spack
Missouri Valley
Normal, Illinois
In order for Illinois State to come away with a victory in its first-round playoff game at Southeast Missouri, the team knew it was going to have to have a good day on the ground from RB James Robinson.
But the dominance of the Walter Payton award candidate was truly on display during the Redbirds 24-6 victory over Southeast Missouri State last weekend.
The senior All-American broke the school record with 297 yards rushing and set school and conference records for most rushing yards in a playoff game. That effort bested Marshaun Coprich's 258 yards gained in a win at Eastern Washington in 2014.
"James has had a great career here. He's capable of so much I don't really get surprised," Spack said. "I'm happy for him. He's a really good kid. Sometimes he's misunderstood because he's so quiet. He's physical, explosive, tough, smart and he loves to play."
A fair number of people picked against a banged-up Illinois State team in the first round, underestimating the will of Robinson and the Redbirds defense to carry them on their backs though to the next round. Even though their quarterback was starting for the first time in his college career, it ended up not making a difference.
"I'm really proud of our team. We played a field position game and ran the football well, which you have to do in the playoffs," said Illinois State Coach Brock Spack. "I was impressed with our defense. That team is very explosive, particularly through the air."
The challenge ahead for the Redbirds is considerable on the purple and gray turf of Estes Stadium, but thanks to The Talented Mister Robinson, the Redbirds have a chance. They will run the ball, and everyone in Estes Stadium will know they are running the ball. It will be up to the Bears to try to figure out a way to stop him.
Key Player: The easy answer to this question is Mr. Robinson, but don't sell the Redbirds' defense short. Led by S Luther Kirk, Illinois State's defense is one of the best in the Missouri Valley and doesn't really boast much of a weak spot. Few QBs test Kirk over the middle and Kirk also does a tremendous job in run support, leading the team in tackles with 79. If Kirk and the Redbird secondary can ground UCA's air attack, they could be in trouble.
Central Arkansas Bears (9-3), Head Coach: Nathan Brown
Southland
Conway, Arkansas
The Bears have had a weird, wild ride of a season that saw them be slotted as the eighth seed.
Central Arkansas started the year with a win against bowl-eligible Western Kentucky to start the season, then followed it up with an impressive win over eventual FCS Playoff participant Austin Peay.
But the young Bears, after that impressive start, found themselves in some real head-scratching games, like a narrow 31-30 victory over Abilene Christian and an awful 31-0 shutout loss to Southeastern Louisiana at home.
There are no official stats for "number of teams that were shut out at home during the regular season but still given a seed in the FCS Playoffs", but Central Arkansas has to be the only member of that club.
Nonetheless, Central Arkansas' offense, when firing on all cylinders, can be very tough to stop. 6'8, 320 OL Hunter Watts is almost certainly going to be on NFL draft boards this April and he facilitates whatever Brown wants to do on offense, whether it's spreading the ball around through the air or handing the ball off to RB Carlos Blackmon, who has seven rushing touchdowns.
Perhaps the biggest question about the Bears is how the bye week might affect their chances on Saturday. On the one hand, the bye week gives a chance for the Bears to heal after a tough, grueling season, especially since Central Arkansas had to win against Incarnate Word to ensure they would even be in the playoffs. On the other hand, head coach Nathan Brown told the Democrat-Gazette that his UCA team has sometimes come out a little rusty out of bye weeks.
Whatever the answer to that question might be, what's certain is this game is not going to be an easy assignment for Central Arkansas.
Key Player: In the quarterback-centric Southland, a terrific QB is the starting point for every team in the conference, and the Bears are no exception. QB Breylin Smith has spread the ball around for 31 TDs, but also has thrown 13 interceptions, which in a way echoes the heights and depths of this Bears team. When firing on all cylinders, this offense cooks. When it doesn't, and Smith is turning the ball over, games like the home shutout vs. Southeastern Louisiana happen.
Fearless Prediction: This could be the most fascinating game of the first round. In a lot of ways, Illinois State is Central Arkansas' worst nightmare – a physical team with a possible NFL rusher, controlling the game through the run game. But can Robinson carry the team on his back, and what offensive tricks does Breylin Smith and the Bears offense have to keep the Redbird defense off balance? I think Robinson has another day to make his NFL stock rise a little further, and the Redbirds win their second straight road playoff game. Illinois State 26, Central Arkansas 14