2019 NCAA Division I College Football Team Previews: Idaho State Bengals
Idaho State
Location: Pocatello, Idaho
Coach: Rob Phenicie 3rd season, 10–12 (.455)
Stadium: Holt Arena (Capacity: 12,000)

CSJ Projections:
8th: Big Sky
3rd: Idaho
68th: FCS
196th: Division I
2018 in a Sentence: Idaho State had an above-average and verging on a great season if a few games had gone differently. A 6-5 season is a winning season, but missing out on the playoffs is a rough feeling negating that optimism. This sentiment rings even truer since the Big Sky team ahead of them, Montana State, was one of the games they had won. This team was an offensive juggernaut but, it fell short in important games like overtime against UC-Davis and a touchdown short of beating now FBS Liberty University. Bengals fans can still rejoice in the stomping of their freshly reacquainted in-state rival University of Idaho 62-28.
Biggest Shoes to Fill: Tanner Gueller at quarterback for the Bengals established that juggernaut mentality for the offense. Without Tanner at quarterback, there will be a strong receiving core, but Gunnar Amos is an inexperienced quarterback. Another aspect to consider is the loss of James Madison their 1,000-yard rusher who graduated. This not to say that Idaho State cannot compete offensively, but the SportsCenter highlights, big-time scores, and quick offensive drives will be in a smaller quantity for this season.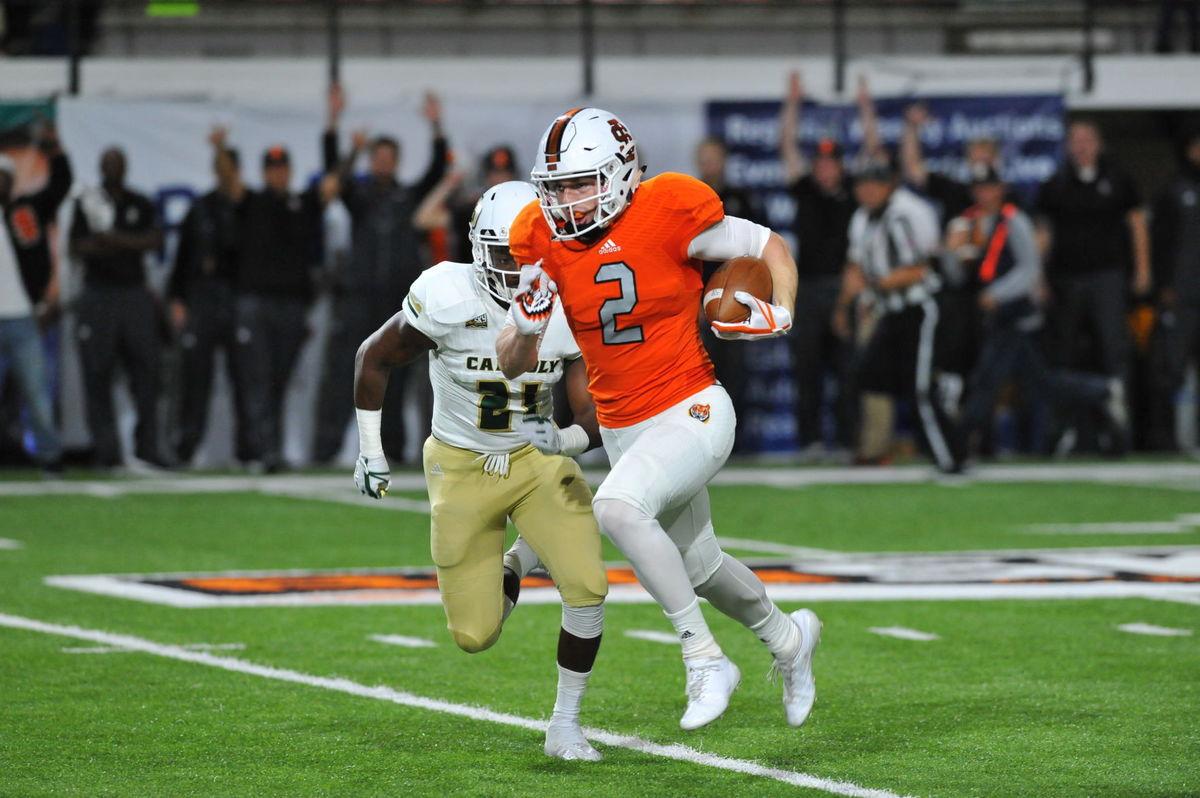 Key Player: Mitch Gueller may not be able to catch passes from his brother anymore, but this big-bodied receiver will still create havoc for Big Sky cornerbacks. At 6-3 220 lbs. Mitch Gueller brings danger to the offense by catching over 1,259 yards and nine touchdowns last season. On defense, the Bengals will count on Adkin Aguirre to shut down the opposing receivers as a pass defender and tackler. Last season, Agurrie had three interceptions, six pass breakups, and 77 tackles.
Fearless Prediction: The Bengals have improved significantly over the past few years, but may take a step back this year. The conference opponents for this year are split as half difficult and half realistic games to win for the Bengals and this is where their success will come from. The non-conference schedule is brutal with two FBS opponents (Utah and BYU), two hard-hitting playoff fringe teams (Northern Iowa and North Dakota), and a division two game (Western State) which will not help their resume, only their preparedness for week two. Overall, the Bengals will show some fight, but ultimately miss the playoffs, whether it be by a narrow or far margin will be up to Gunnar Amos.
My name is Ben Schleiger and I'm your representative for the Big Sky Conference. I have done work for multiple newspapers and sports blogs including The Johnstown Breeze, The University of Northern Colorado Mirror, and Mile High Maniac. I am a proud alumnus of the University of Northern Colorado with a degree in Psychology and a minor in Political Science. In my free time, I like watching sports, playing video games, and trying new foods.