Big Sky Predicted Order of Finish
Playoff Tier
These teams are high caliber teams who will be in contention for playoff consideration until they take themselves out of it.
1. Eastern Washington
The National Runner-Ups will continue to assert their dominance over the Big Sky and FCS. Cheney's Eagles have few true tests on their schedule other than a marquee matchup with Jacksonville State. Eric Barriere will be in charge of the team this year as he starts his campaign for the playoffs and possibly a Walter Payton award too.
Read our full EWU team preview here.
2. UC Davis
Jake Maier and the Aggies made a deep playoff run before getting knocked off by conference foe EWU. While some talent has departed with Keelan Doss's graduation, the team still has a strong foundation. Even though the Eagles are favored to keep an eye on Dan Hawkins and company. Their mission this year will be to fly past the Eagles to get to the national championship game.
Read our full UC Davis team preview here.
3. Weber State
An absent passing game left it up to true freshman Josh Davis on the ground and a stingy defense to win games in 2018. While the passing game does not look to impress, Josh Davis is sure to capitalize on the spotlight with another huge year. As a second team, All-America team player on Hero Sports Davis has high expectations he will need to fulfill.
Read our full Weber State team preview here.
4. Montana State
The Bobcats have the talent and ability to make another postseason bid. It will all come down to can they close games out. Despite a talented defense, they gave away too many points this year. Hopefully, the dynamic offense can carry the team far enough.
Read our full Montana State team preview here.
5. Montana
It is too early to say that Montana is back as a conference power, but they turned over a new leaf last season by showing a lot of heart. Young defensive players have stepped up tremendously, including Dante Olson who is on the award watch list. If the offense had been more careful it could have been an 8-3 season and even playoffs.
Read our full Montana team preview here.
The Swing Tier
These teams are headed towards playoff contention or aaway from it sharply, but none will make the playoffs.
6. Northern Arizona
The Lumberjacks are like the end of a propane tank. They are either hot or cold with no middle ground to speak of. If Case Cookus can stay healthy NAU may be able to have a solid winning season due to a friendly schedule.
Read our full NAU Team Preview here.
7. Idaho
Year two of their renewed residency in the FCS will show more poise and precision. Idaho knows that they must be playing at a high level early on to be able to make any noise in the Big Sky. After a solid recruiting season and more fans made aware of their return, it should be a positive season for the Vandals and company.
Read our full Idaho Team Preview Here.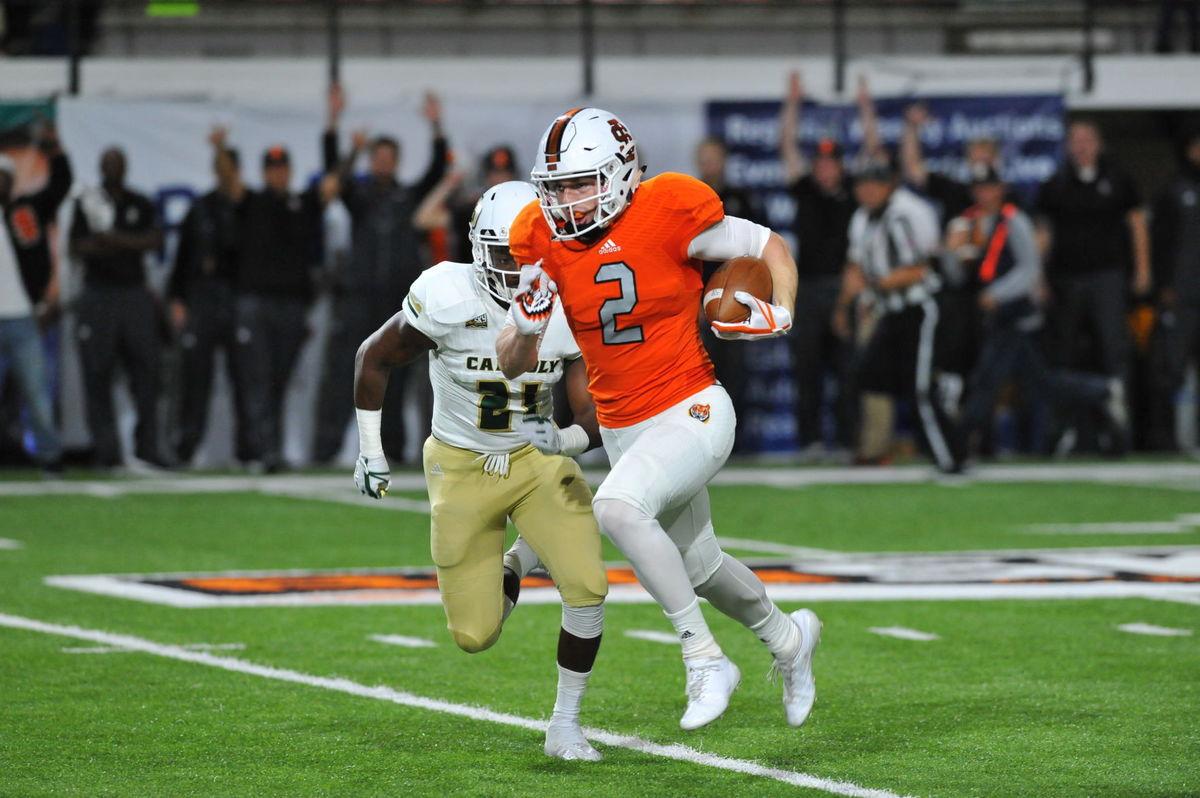 8. Idaho State
Many questions are raised about the quarterback situation for the upcoming season. Last season the offense was a juggernaut squad that scored at will. This season an inexperienced quarterback situation may set the offensive power back several notches.
Read our full Idaho State team preview here.
9. Portland State
The Vikings had an incredible recruiting class the year before and may see that pay off this season. That combined with their first-team All-American tight end Charlie Taumoepeau could rejuvenate the whole team towards a successful season.
Read our full Portland State team preview here.
The Bottom Looking Up Tier
No one wants to be the bottom teams, but these teams have more than a few significant hurdles to get where they want to be.
10. Northern Colorado
The Bears have not had an easy time in the Big Sky. They found success with their first winning seasons in 2015 and 2016, but have returned to losing seasons. Whether it is poor coaching choices, injuries, or not playing a full game it has been low. Will Jacob Knipp's sixth season be the charm under a new offense?
Read our Northern Colorado team preview here.
11. Southern Utah
The Big Sky's roller-coaster team of recent years could definitely be Southern Utah. A Big Sky Championship team in 2015 and 2017, but 1-10 last year. Could the odd year pattern continue? "Slim to none, and none just left town" as Charles Davis likes to say. Not enough to reload and not enough recruited to keep up the odd year wins.
Read our Southern Utah team preview here.
12. Cal Poly
A scrappy team with Joe Protheroe, but without could spell mediocre or disaster. Either way, the Mustangs will be running away from possibly becoming the unlucky 13 in the standings. It will take significant effort to overcome their losses.
Read our Cal Poly team preview here.
13. Sacramento State
There is no lack of try for Sacramento, but rather a lack of winning games in or out of the conference. Only a few on the roster are notable in stats and resume. If the Hornets want to be known as something other than the last place they will have to prove it.
Read our Sacramento State team preview here.
5 Big Conference Games to Watch
1. Weber State at UC Davis 10/26
2. Montana at Montana State 11/23
3. Eastern Washington at Montana 10/26
4. Montana State at UC Davis 11/16
5. Idaho State at Idaho 10/19
Ten Players to Watch from the Big Sky
Offensive Players to Watch
1. Eric Barriere, QB – Eastern Washington
2. Jake Maier, QB – UC Davis
3. Josh Davis, RB – Weber State
4. Charlie Taumoepeau, TE – Portland State
Defensive Players to Watch
1. Dante Olson, LB – Montana
2. Bryce Sterk, DL – Montana State
3. Jahque Alleyne, S – Montana State
4. Nik Navarro, LB – Cal Poly
Special Teams Players to Watch
1. Rashid Shaheed, KR – Weber State
2. Cade Coffey, P – Idaho
My name is Ben Schleiger and I'm your representative for the Big Sky Conference. I have done work for multiple newspapers and sports blogs including The Johnstown Breeze, The University of Northern Colorado Mirror, and Mile High Maniac. I am a proud alumnus of the University of Northern Colorado with a degree in Psychology and a minor in Political Science. In my free time, I like watching sports, playing video games, and trying new foods.