CSJ's AAC Predicted Order of Finish
1. Cincinnati
2. UCF
3. Memphis
4. SMU
5. Navy
6. Tulane
7. Houston
8. Temple
9. Tulsa
10. South Florida
11. East Carolina
2019 Bowl Results
Conference Record: 4-3
With all the uncertainty going into the 2020 college football season due to the COVID-19 pandemic, the American Athletic Conference has decided to forge ahead for a 2020 season in the fall. Two other Group of Five leagues have halted play in the Mountain West (MWC) and Mid-America (MAC) Conferences, along with independent schools of Connecticut (UConn), Massachusetts (UMass), and New Mexico State, to go with Conference USA's Old Dominion.
The AAC is joined in the Group of Five this year with remainder of Conference USA and the Sun Belt Conference to play; along with Power Five leagues of the Atlantic Coast (ACC). Big 12, and Southeast (SEC) Conferences to play football this fall. Two Power Five leagues of the Big 10 and Pac-12 have also canceled their seasons.
The 2020 AAC title race looks to be a three-team battle at the top, as very little appears to separate Cincinnati, UCF and Memphis. Memphis was the champion last year after defeating Cincinnati in the AAC title game. The Tigers would also become the Group of Five's selection into the New Year's Six bowl bid. Memphis would fight hard against Top 10 ranked Penn State in the Cotton Bowl but lost in a high scoring affair, 53-39.
The AAC in 2020 will also have a different look than in the past. UConn has departed and the conference did not replace the Huskies. It will continue as an 11-team conference with no divisions for at least this year. The lack of divisions makes the middle of the league tough to sort out, as very little separates the teams picked from five to nine. SMU to me is a clear fourth with quarterback Shane Buechele returning, while Tulane, Navy, Houston, Temple, and Tulsa each have a chance to finish in the top five. USF and East Carolina are picked at the bottom of the league, but neither program will be an easy out in 2020 in what might be the most balanced FBS league in the country.
As the has been seen through its brief history having started the league in 2014, the AAC has dubbed itself with the "Power 6" branding meaning it could be on some equal footing what is now the Power Five of the Atlantic Coast, Big 1o, Big 12, Pac-12, and Southeastern Conferences. There is really no question since its inception, that this league has been the tops amongst the Group of Five conferences. An AAC has been represented in the New Year's Six Bowl game four of the six years and has been the representative the last three years in a row. (Houston-2014, UCF-2017 & 2018, and Memphis 2019).
The AAC, especially without the Mountain West Conference teams playing this year, appears to be this season's frontrunner again for that New Year's Six bid with possibly the biggest opposition coming from Appalachian State out of the Sun Belt Conference especially if these top AAC teams knock each other out.
Without divisions this year, the top two teams in the standings will play in the title game at #1 regular season seed. This could mean two former division rivals could meet and my pick will be just that of two former East Division rivals of Cincinnati hosting UCF for the winner take-all championship game.
The AAC may even have consideration beyond just a New Year's Six bowl game bid. Without the Big 10 and Pac-12 playing this year due to COVID-19, the winner of the AAC very well could find itself in the College Football Playoff final four; especially if one team could stay undefeated on the season.
The fact that the three remaining Power Five leagues of the Southeastern Conference (SEC) (which is playing just conference games this year) and the Atlantic Coast Conference (ACC), and the Big 12 Conferences, which will allow one out-of-conference game only, there is little cross section to know the true strength of a league. The AAC teams have scheduled two games against Big 12 foes with Tulsa playing at Oklahoma State and SMU traveling to rival TCU. The ACC also has two contests with the AAC with UCF traveling to Georgia Tech and USF going to Notre Dame. The results of these games will go a long way for the AAC champion to be considered in the CFP four teams.
With COVID-19, the AAC made a late announcement that it was still allowing its schools to play a full 12-game schedule if so desired with eight being the already scheduled league games. The league right now only has two teams with a full 12-game schedule in SMU and USF. And Temple is the only one on the opposite spectrum of having no non-conference games scheduled at least of the time of this preview write-up.
The AAC COVID-19 testing protocol is right now one of the tops amongst all college football. The following will be the AAC's testing:
Top Conference Games of 2020
The three top picks of Cincinnati, UCF, and Memphis in my preseason picks all will play the others with these games likely to decide the top two spots in the standings. Each has a home and each a road game against the other top contenders so whomever can break through on the road will likely be the regular season champion.
Oct. 16 – UCF at Memphis
Oct. 31 – Memphis at Cincinnati
Nov. 21 – Cincinnati at UCF
Here is the countdown my 11 AAC teams' predictions:
11. East Carolina Pirates
Head coach: Mike Houston (4-8, second year)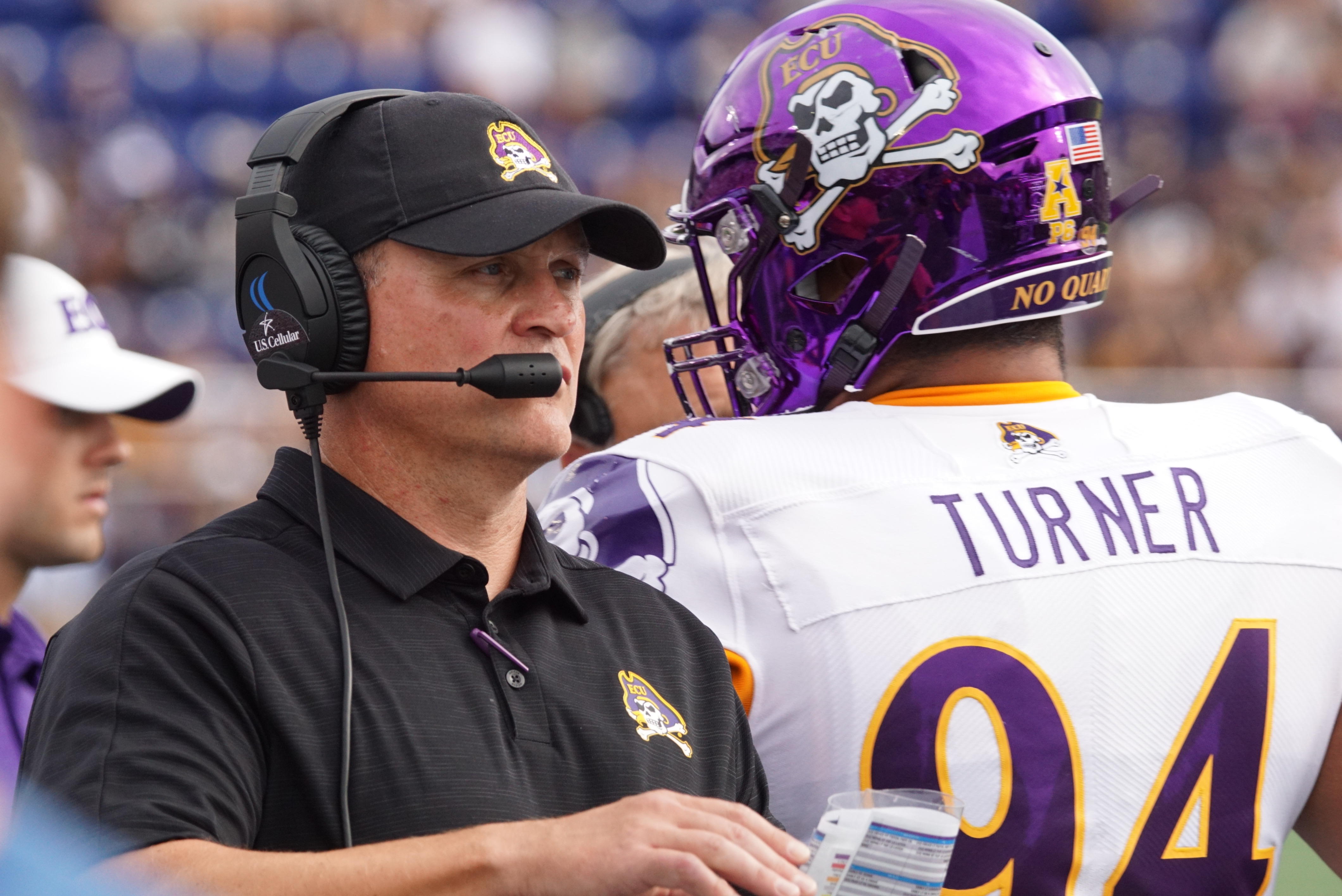 Offensive Coordinator: Donnie Kirkpatrick
Defensive Coordinator: Blake Harrell
Stadium: Dowdy-Ficklen Stadium (50,000)
Location: Greenville, NC
2019 Record: 4-8 Overall (1-7 AAC)
Five best returning players: QB Holton Ahlers, WR CJ Johnson, CB Ja'Quan McMillian, WR Tyler Snead, DE Chance Purvis
For two weeks in late last season, we saw proof of a very good offense for Coach Mike Houston's new team.
Against Cincinnati and SMU, teams that finished a combined 21-6, the Pirate offense was terrific. QB Holton Ahlers completed 64 passes for 1,033 yards, 10 touchdowns and just one interception. He took whatever the defense gave him and produced explosions: CJ Johnson caught 12 passes for 283 yards against Cincinnati, and when he missed the SMU game with injury, Tyler Snead caught 19 balls for 240 against the Mustangs. Wideouts Blake Proehl, Jsi Hatfield and Audie Omotosho combined for 397 yards in the two games, as well. ECU produced prolific yardage (1,282) and point totals (94).
Granted, the defense also gave up 1,123 yards, Ahlers' one interception was a game-turning pick six, and ECU managed to lose both games. But if you watched those two contests and nothing else, you would have thought the Pirates were a bowl-level team with one of the best offenses in the country.
The rest of the season, however, we did not see this. The Pirates beat two FCS opponents and survived two of the lowest ranked G5 teams in Old Dominion and UConn by a combined 10 points.
Ahlers returns in 2020, as will all the top wide receivers. Everybody but Omotosho was either a freshman or a sophomore. The same goes for the top three running backs, three of the top four linebackers and half the secondary. Houston went with a Year 1 youth movement.
Ahlers could threaten 4,000 passing yards this year; but the key for the team will be to get more out of its run game. Those three young running backs combined for just 1,004 yards at 3.8 per carry, and Ahlers was constantly asked possibly to do more with the passing game than would be liked. The offensive line returns 80 career starts so this should be a cohesive unit.
On defense, former FCS Kennesaw State coordinator Blake Harrell inherits a deep linebacking corps as well as Ja'Quan McMillian, one of the best cornerbacks in the AAC. The defensive line must be rebuilt, as end Chance Purvis (12 tackles for loss) is the only one of last year's top five tacklers to return.
Houston's resumé is golden (his prior job included an FCS national title at James Madison in 2016), but the goal in his Year 2 likely will try to get to the .500 mark. That would be ECU's best record since 2014 but with all the underclassman, this team might be another year away from a winning record and challenging within the AAC race.
10. USF Bulls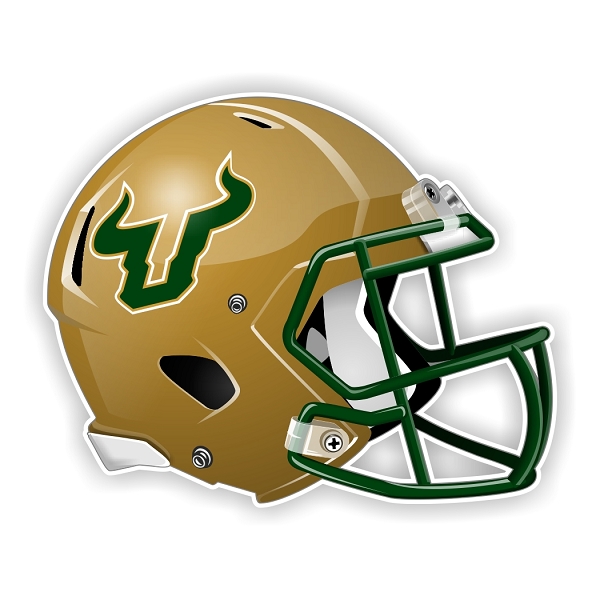 Head coach: Jeff Scott (first year)
Offensive Coordinator: Charlie Weis Jr.
Defensive Coordinator: Glenn Spencer
Stadium: ​​Raymond James Stadium (65,618)
Location: Tampa, FL
2019 Record: 4-8 (2-6)
Five best returning players: LB Dwayne Boyles, DB Bentlee Sanders, FS Nick Roberts, LB Antonio Grier, RB Kelley Joiner Jr.
USF's history is reasonably rich considering the short time span. The Bulls have won eight or more games 10 times in its 20 FBS seasons. They briefly reached second in the AP poll in 2007 and finished ranked in the Top 25 twice. But an inability to get the offense and defense peaking at the same time seems to be what has held them back. And while the 2019 defense bounced back a bit, the offense was overwhelmingly young and to be quite frank, horrible. The Bulls averaged just 9.4 points per game in its eight losses.
With former Coach Charlie Strong now gone, Clemson head coach Dabo Swinney disciple Jeff Scott takes over. What Scott's initial recruiting class will offer quite a few potential instant-impact players. UCF brought in nine transfers, including two quarterbacks (North Carolina's Cade Fortin and FCS Alcorn State's Noah Johnson), as well as two running backs (Oregon's Darrian Felix and South Carolina's Lavonte Valentine).
USF's 2020 team will be one with much competition for starting spots on the offense even with starting quarterback Jordan McCloud back. The McCloud-Fortin-Johnson battle could be an interesting to see the starting signal caller, as will the running back battle between Felix and Valentine. The wide out group should be headed by Randall St. Felix, who did not have great numbers in the poor offense but could have a breakout season this year.
The key will be for a vast improvement on the offensive line. The Bulls were 126th in the FBS in sacks allowed, at 3.75 sacks a game.
With a seasoned secondary (CB KJ Sails, S Nick Roberts, CB/S Bentlee Sanders) to go along with several other key pieces returning, the defense should again be solid. The Bulls also have strong overall experience with players such linebackers Dwayne Boles and Antonito Grier, who are among the best in the AAC.
The offense could take a while to sort out and why I think they will be towards the bottom of this year's standing. However, there are several relative toss-ups on the schedule where USF will be in most every game with its strong defense so the potential win total will likely depend if the offense overachieves its experience.
USF also will have a challenging schedule with out-of-conference road games at C-USA champion Florida Atlantic and newly admitted ACC member Notre Dame. The Bulls also must travel to Memphis and Cincinnati in league play but the do get other predicted front runners Navy and rival UCF at home.
9. Tulsa Golden Hurricane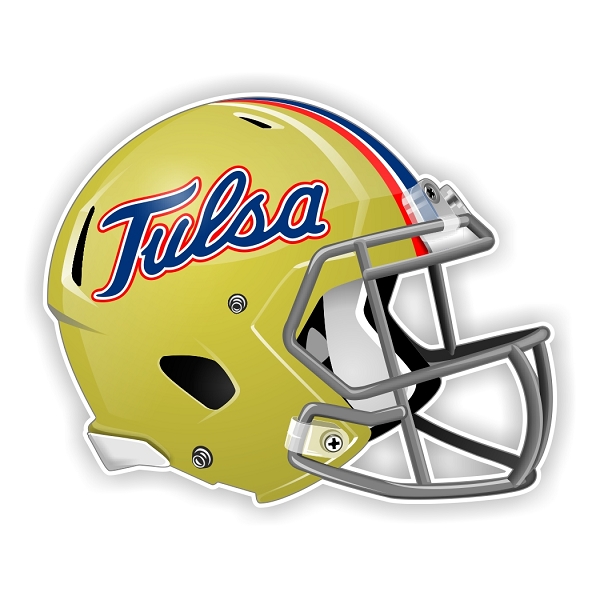 Head coach: Philip Montgomery (25-37, sixth year)
Offensive Coordinator: Philip Montgomery
Defensive Coordinator: Joseph Gillespie
Stadium: H. A. Chapman Stadium (30,000)

Location: Tulsa, OK
2019 Record: 4-8 (2-6)
Five best returning players: QB Zach Smith, LB Zaven Collins, WR Keylon Stokes, NG Jaxon Player, CB Allie Green IV
Tulsa was just on the cusp of getting a bowl bid a year ago. Tulsa showed just enough last season to think there might be something about to happen this year as a possible breakthrough team in the American Athletic Conference.
Tulsa did have an impressive win over recent AAC power UCF and came very close to defeating Memphis and SMU. Two more wins and the Golden Hurricane would have been in a bowl game.
With now a veteran group, Coach Montgomery's team will need to get over the hump in a program that has seen success (Montgomery finished 10-3 in his first season and has somewhat regressed and slowly progressed since).
Thanks to sturdy linebacker and safety play, they were a very efficient defense a year ago. Pass-rusher Trevis Gipson and corner Reggie Robinson II, the team's two top defensive playmakers, are gone, but linebacker Zaven Collins and tackle Jaxon Player return and should keep the Tulsa defense as one of the AAC's strongest. And despite losing seven starters in total, the depth is there. Of the 21 players to log at least 80 snaps, 13 are back this fall.
While the defense might regress at least a little, the offense could be poised to make up the difference. QB Zach Smith returns, as does almost his entire skill corps. That returning group includes Smith as a 3,000-yard passer, a 1,000-yard rusher in Shamari Brooks and a 1,000-yard receiver in Keylon Stokes. The offensive line was a big reason for a poor offense last year and was mainly due to being young. Of the 60 combined starts in 2019, 44 of those went to freshmen and sophomores.
With another year under their belts, the young line might be poised for greater success this year. The run game was mainly where Tulsa could not get much going in early downs which put Smith in a lot of passing downs. If there is a better balance of the run and pass game, this offense should outperform last year.
The Hurricane looked very good against good opponents in 2019 and return a lot of the production from last year. But the losses on defense combined with an offensive line that might not automatically improve just with experience put some questions on how this team will finish.
Tulsa also has a tough schedule with road games at Big 12 Oklahoma State, as well as Sun Belt power Arkansas State to go with AAC foe UCF in its first three games. How well the Hurricane can finish that tough three-game road start will go a long way in determining the rest of the season.
8. Temple Owls
Head coach: Rod Carey (8-5, second year)
Offensive Coordinator: Mike Uremovich
Defensive Coordinator: Jeff Knowles
Stadium: Lincoln Financial Field (68,532)
Location: Philadelphia, PA
2019 Record: 8-5 (5-3)
Five best returning players: DT Ifeanyi Maijeh, CB Christian Braswell, S Amir Tyler, OG Vincent Picozzi, QB Anthony Russo
Consistency will be the key for the Owls this year where it was lacking last year. In between the big Power Five wins over Maryland and Georgia Tech, the Owls were handed a 16-point loss at the MAC's Buffalo. After upsetting eventual champion Memphis, they lost to SMU and UCF each in blowouts. Also, after winning three of four final regular season games to finish 8-4, they were invited to the Military Bowl but got blown out by North Carolina.
Temple had one of the conference's top defenses last season, limiting teams to 25.9 points a game and 4.93 yards a play. However, just four starters are back for 2020. The Owl defense must replace three of the top four tacklers on the line, the top three linebackers, and three of four in the secondary. But there are still some proven veterans — tackle Ifeanyi Maijeh, corner Christian Braswell, safety Amir Tyler — plus breakthrough-ready youngsters like end Arnold Ebiketie, tackle Khris Banks. But depth is a massive concern when you lose that many stars at once.
Coach Rod Carey's defense still should have a good foundation in place, so a steep drop-off should not be expected.
For the Owls to have a chance to push for a finish in the top five of the standings, the offense has to pick up more of the slack. Quarterback Anthony Russo (2,861 yards and 21 TDs) is back, as is receiver Jadan Blue (1,067 yards) and running back Re'Mahn Davis. The interior line gets a makeover — All-America center Matt Hennessy and all-conference guard Jovahn Fair are both gone, but both tackles return, as does another all-conference guard in Vincent Picozzi.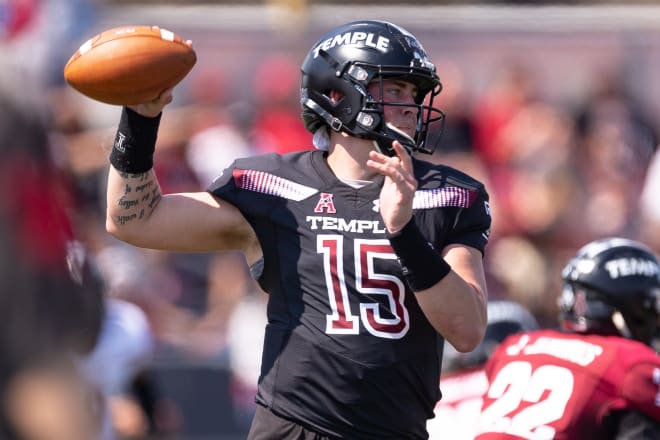 The Owls face trips to UCF, Memphis, Navy and Tulane and a home game against Cincinnati. There are really no sure-fire victories on the schedule and as of the date of this publishing, the Owls have no out-of-conference games on the slate having had all canceled due to COVID-19.
7. Houston Cougars
Head coach: Dana Holgorsen (4-8, second year)
Offensive Coordinator: Shannon Jones, Brandon Jones
Defensive Coordinator: Doug Belk, Joe Cauthen
Stadium: TDECU Stadium (40,000)
Location: Houston, TX
2019 Record: 4-8 (2-6)
Five best returning players: WR Marquez Stevenson, WR Keith Corbin, LB/DB Grant Stuard, QB Clayton Tune, LB Donavan Mutin
With the Cougars starting 1-3 in 2019, new Houston Coach Dana Holgorsen decided to attempt something possibly no other college coach has done. He basically called it quits on the season and started building toward 2020. That meant redshirting QB D'Eriq King, leading receiver Keith Corbin and several others. At least 11 players played either three or four games while redshirting.
King ended up transferring to Miami (FL), but after making liberal use of the redshirt rule and inking double-digit five-year and JUCO transfers in two years, Holgorsen has a roster that is talented and greatly experienced. The full starting roster possibly could be made up with all 22 starters as juniors or seniors.
QB Clayton Tune returns and in parts of two seasons he has thrown for 2,328 yards, 19 touchdowns and 11 interceptions. He benefited with more experience after playing following King's redshirting. He will have one of the most explosive receiver duos in all of FBS in Keith Corbin and Marquez Stevenson. Three of four main running backs return, including 2019 leader Kyle Porter. Houston surrendered 35 sacks last season, but the offensive line was also decimated with injuries. If the injury bug stays away, the Houston line should improve in 2020.
The secondary should be stronger with transfers, including Troy's Marcus Jones, Oklahoma State's Thabo Mwaniki and UCLA's Colin Samuel. Plus, all of 2019's contributors return as well; that includes LB/DB Grant Stuard and CBs Damarion Williams and Shaun Lewis. In total, seven starters are back but will need to improve especially against big plays. Last year, Houston gave up 34 points a game and 6.8 yards per play.
With the COVID-19 reschedule, Houston lost its opener against cross-town rival Rice, as well as the Pac-12's Washington State to start the season. Houston will travel to Memphis, Navy and Cincinnati as well as BYU in an out-of-conference match-up. Getting through this schedule will be tough so a .500 mark might be the best this team could muster this season.
6. Tulane Green Wave
Head coach: Willie Fritz (23-27, fifth year)
Offensive Coordinator: Will Hall
Defensive Coordinator: Jack Curtis
Stadium: ​Yulman Stadium (30,000)
Location: New Orleans, LA
2019 Record: 7-6 (3-5)
Five best returning players: RB Corey Dauphine, CB Jaylon Monroe, DE Patrick Johnson, RB/SLOT Amare Jones, FS Chase Kuerschen
When Willie Fritz took over in 2016, the Green Wave had won three or fewer games in six of the previous eight seasons. But Fritz upgraded the win total in each of his first three seasons, and while the win total remained at seven last fall, the team still improved statistically on offense and defense. The Wave were held back from a better season by three tight losses to top AAC teams.
Tulane will have to replace starting quarterback Justin McMillan, as well as their most heavily used running back and receivers and three offensive linemen with a combined 76 career starts. But terrific roster balance, plus an incoming recruiting class that might be Tulane's best ever, will give the Wave a chance to continue the ascend upward in the AAC standings this year.
There might be only one unbalanced position on the roster heading into 2020 but it is the most important one at quarterback. Tulane does return former Southern Miss starter Keon Howard. But Howard is a run-heavy signal caller, and if he gets hurt, the options for replacing him are either sophomore walk-on Josh Holl or one of two true freshmen (Michael Pratt or Justin Ibieta).
Otherwise, this team will be blending experienced producers (RBs Corey Dauphine and Amare Jones, OG Corey Dublin, DE Patrick Johnson, DT De'Andre Williams, LB Marvin Moody, CB Jaylon Monroe, S Chase Kuerschen) to go along with Power Five transfers in Oklahoma WR Mykel Jones and Florida State DB Kyle Meyers.
Tulane avoids Cincinnati on the schedule but must travel to UCF but has Navy, SMU, and Memphis at home so the schedule should work well for the Green Wave to pull off an upset or two amongst the projected top teams in the AAC. The team will also have to overcome two out-of-conference road games at South Alabama and Southern Mississippi
5. Navy Midshipmen
Head coach: Ken Niumatalolo (98-60, 13th year)
Offensive Coordinator: Ivin Jasper
Defensive Coordinator: Brian Newberry
Stadium: ​Navy-Marine Corps Memorial Stadium (34,000)
Location: Annapolis, MD
2019 Record: 11-2 (7-1)
Five best returning players: LB Diego Fagot, FB Jamale Carothers, FS Evan Fochtman, SB CJ Williams, DE Jackson Perkins
Navy's football program found itself on a slide before last season's outbreak. The Midshipmen had gone 11-2 in 2015 but fell to 9-5 in 2016, then 7-6 in 2017, and possibly rock bottom at 3-10 in 2018.
But in 2019, the offense took off after the quarterback position went solely to Malcolm Perry, a previous utility player who had played at just about every offensive skill position and entered the 2019 campaign as Navy's leading returning passer, rusher and receiver, remarkably.
Perry was excellent, posting just over 2,100 rushing yards (outside of sack yardage) while completing 48 passes for 1,084 yards to help lead the Midshipmen to a 10-3 overall record that included a Power Five Bowl victory over the Big 12's Kansas State in the Liberty Bowl. He was drafted this past spring by the NFL's Miami Dolphins as a receiver.
At the same time of the offensive improvement under Perry, the defensive also made strides. Navy tried to attack the quarterback more and worked as it finished 18th in the FBS in sack rate and leaped to its best overall ranking on defense since 2004.
This year, there is a lot of turnover of players and not just Perry at quarterback.
Of the 18 players in the front seven on defense with 90-plus snaps, 10 are gone. But the team does return LB Diego Fagot, DE Jackson Perkins, DT J'arius Warren, and LB Chelen Garnes to make a strong nucleus to work around. The secondary will be the most experienced area on defense with safeties Kevin Brennan and Evan Fochtman and corner Cameron Kinley all back.
The Navy offense depends heavily on the quarterback in the Navy option attack and a replacement for Perry will be needed. Sophomore Perry Olsen, junior Tyger Goslin and senior Dalen Morris all saw 2019 action, and slotback CJ Williams could even be in the mix after posting 298 rushing yards, 210 receiving yards and 90 passing.
The offensive line also was struck hard by graduation, though OT Billy Honaker is back to be the cornerstone for a rebuilt line. Outside of the quarterback position, the rest of the offensive specialists are mostly back. Fullbacks Jamale Carothers and Nelson Smith (combined: 1,305 yards, 21 TDs) return, and if Williams isn't the quarterback, he and fellow slot Keoni-Kordell Makekau are dangerous on the edges. Every player who caught more than two passes is back, as well, including leading receiver Mychal Cooper.
Overall, there seems just the right mix of returning talent to make up for the losses. The Midshipmen may drop slightly but will still be in the AAC race until late as it avoids playing both Cincinnati and UCF and gets last year's champion Memphis at home. COVID-19 forced Navy and Notre Dame to cancel its out-of-conference game this year for the first time since 1927. But Navy replaced that game with BYU at home as a season opener spotlight on Labor Day evening. Navy's other out-of-conference games will be against its traditional service academy rivals of Air Force and Army.
4. SMU Mustangs
SMU Head coach: Sonny Dykes (15-10, third year)
Offensive Coordinator: Garrett Riley
Defensive Coordinator: Kevin Kane
Stadium: ​​​Gerald J. Ford Stadium (32,000)
Location: Dallas, TX
2019 Record: 10-3 (6-2)
Five best returning players: WR Reggie Roberson Jr., QB Shane Buechele, LB Richard McBryde, LT Jaylon Thomas, TE Kylen Granson
SMU football broke out in 2019 with an eight-game winning streak before falling back to earth late in the season. For the first few months of the 2019 season, it felt like the Pony Express days of the 1980s again in Dallas. Of the eight straight wins to start the season, possibly the biggest was an impressive Battle for the Iron Skillet win over Dallas-Fort Worth metroplex rival TCU.
The Mustangs sort of ran out of gas at the end of the season where they lost two of its final four regular season games on the road to Memphis and Navy. SMU also lost its bowl game—the Boca Raton Bowl—to Florida Atlantic, which was playing on its home field in that bowl contest. But regardless of the late season swoon, it was the school's first 10-win season since those Pony Express days in 1984.
The reason for the 10-win season stemmed from Big 12 Texas transfer quarterback Shane Buechele's play and his ability for an explosive passing offense. Buechele led the AAC in passing touchdowns and yards per game, finishing the year just under 4,000 passing yards with 34 scores. While top WR James Proche is gone from the receiving corps and was selected in the 2020 NFL draft by the Baltimore Ravens, fellow WR Reggie Roberson Jr. will look to take over once again as the top threat after an injury cut an effective 2019 campaign short.
The biggest loss to the offense may not be on the field but rather on the sideline. Last year's offensive coordinator, Rhett Lashlee, headed to Miami (FL) to take the same position for the Hurricanes. He will be replaced by Garrett Riley, the younger brother of the Big 12's Oklahoma head coach Lincoln Riley, who SMU snatched away from Appalachian State before the Mountaineers could elevate their running backs coach to their own vacant coordinator position. App State liked to use the running game so it will be interesting to see what offensive changes the new coordinator brings.
The temptation to air the ball out this season might be pretty high. Aside from Roberson Jr., fellow WR Rashee Rice and TE Kylen Granson (three combined for 1,927 yards, 11.3 per target), also are back this fall. The two leading running backs from last season in Xavier Jones and Ke'Mon Freeman have exhausted their eligibility. The offensive line is experienced, so it looks to be sophomore RB TJ McDaniel looks to be the top running back. Because of more experience with the receiving corps, SMU likely will have more passing plays despite the new coordinator's past history with the running game.
The SMU defense is what likely needs to improve if SMU wants to win the AAC crown this year. In the Mustangs' three losses, they allowed 6.5 yards per play and 47 points per game, and they won five games while allowing 30-plus points as well. They also gave up 4.7 passes per game of 20-plus yards.
The return of players of LB Richard McBryde and CBs Brandon Stephens and Ar'mani Johnson should again assure high aggression levels, but defense of the passing game needs to improve. The SMU secondary ranked 95th in the FBS in opponent passing efficiency and 125th in passing yards allowed in 2019. The defensive line must replace five of last season's top six tacklers, and the two-best pass-rushers (DE Delontae Scott and LB Patrick Nelson) are also gone.
The schedule works well for the Mustangs to have to repeat a 10-win type season though. The Mustangs are scheduled to play four out-of-conference games but do not leave the state of Texas in any of those. They have Texas State, TCU, and North Texas on the road, while FCS Stephen F. Austin is their lone home non-AAC foe. SMU also gets leading contenders Memphis, Navy, and Cincinnati in Dallas and avoids playing UCF altogether within AAC play.
3. Memphis Tigers
Memphis Head coach: Ryan Silverfield (0-1, first year)
Offensive Coordinator: Kevin Jones
Defensive Coordinator: Mike MacIntyre
Stadium: ​Liberty Bowl (58,325)
Location: Memphis, TN
2019 Record: 12-2 (7-1)
Five best returning players: RB Kenneth Gainwell, WR Damonte Coxie, QB Brady White, DE/DT Joseph Dorceus, FS Quindell Johnson
Simply stated, the 2019 campaign was the best season in Memphis school history. The lone regular season blemish was a 30-28 loss at Temple when the Tiger offense twice stalled on fourth down in the fourth quarter while trailing by two points. The first even came in Temple territory, so they were extremely close to an undefeated regular season—one that included a Power Five win at Mississippi. This best season in school history cost Memphis its head coach in Mike Norvell, who left the Tigers before their Cotton Bowl loss to Penn State to become the head man at Florida State.
Ryan Silverfield comes in as the new coach and he actually lead the Tigers in what was their biggest bowl game in school history. Silverfield has been with the Tigers since 2015 as an assistant under Norvell. For the 2019 season, he served as the assistant head coach to go with his duties as the offensive line coach and run game coordinator.
The Tiger offense returns a 4,000-yard passer in QB Brady White, 1,200-yard WR in Damonte Coxie) and possibly the most unique all purpose player in all of college football in Kenneth Gainwell. In 14 games, the redshirt sophomore Gainwell gave Memphis incredible balance offensively last season by rushing for 1,459 yards and 13 touchdowns while also catching 51 passes for 610 yards and three more scores.
The Tigers also feature junior Kylan Watkins, SEC Auburn transfer Asa Martin and JUCO All-American Kalyn Grandberry at running back, and the receiving group also returns two seniors in WR Pop Williams and TE Sean Dykes to go with Coxie. Outside of Coxie, the receiving corps does not have a lot of size but makes up for that with their speed. Three starters and last season's top two backups return on the offensive line so the Tigers should be fine upfront again.
The Memphis defense struggled at times last year. They averaged giving up 26 points per game and teams were able to run on them. The pass defense held teams under 200 yards per game though. Quindall Johnson returns as the top returner in the secondary with a pair of interceptions, 48 tackles, and 4 pass breakups. Jacobi Francis broke up eight passes and had a pick. La'Andre Thomas also added 63 tackles.
At linebacker Xavier Cullens had a good year with 69 tackles, a sack, and an interception. Tim Hart is also a proven starter with 34 tackles and two sacks. There is experienced depth behind them with several reserves that have seen extensive playing time as well.
The defensive line lost its lead pass rusher in Bryce Huff, but Joseph Dorceus returns after notching five sacks and five quarterbacks hits last season. Morris Joseph should have a bigger role in his second year after transferring from JUCO.
Riley Patterson may be the Group of Five's best kicker. He converted 23 of 25 field goals with a long of 52 yards. In the kick return game, Memphis returned three kickoffs for touchdowns from three different players. Gabriel Rogers, Antonio Gibson, and Chris Claybrooks all broke 90+ yard touchdown returns so the special teams are just that; special for the Tigers.
The Tigers schedule might be what puts them down a little this year. Memphis has to travel to SMU, Cincinnati, and Navy but does get UCF at home. Right now, Memphis has two non-AAC games on the slate with a home game with Arkansas State and travels to UTSA.
2. UCF Knights
UCF Head coach: Josh Heupel (22-4, third year)
Offensive Coordinator: Alex Golesh and Anthony Tucker
Defensive Coordinator: Randy Shannon
Stadium: Spectrum Stadium (44,206)
Location: Orlando, FL
2019 Record: 10-3 (6-2), 14th
Five best returning players: RB Otis Anderson, QB Dillon Gabriel, DE Tre'mon Morris-Brash, WR Marlon Williams, LB Eric Mitchell
Over the past three seasons, UCF has an incredible 35-4 record. But the Knights did dip last year with three of the four losses coming 2019 alone. However, the increase in losses is nothing to be too concerned about for coach Josh Heupel's program. Of those three defeats, all came by three points or less. They lost at the ACC's Pittsburgh via a last-second two-point conversion, then fell to conference foes Cincinnati and Tulsa by a combined six points despite winning the yardage battle in both of those contests.
With 16 starters back, the Knights are again poised to challenge for the AAC title and ranking as the top Group of 5 team in 2020.
As the Knights faced quarterback uncertainty following McKenzie Milton's serious leg injury at the end of 2018, it was freshman Dillon Gabriel who rose to the top early in the 2019 season. He had one of the best seasons nationally for a freshman, passing for 3,653 yards, 29 touchdowns and just seven interceptions. The Knight offense finished second nationally in total offense (540.5 yards) and fifth in scoring (43.4),
UCF will need to replace a couple of All-AAC offensive linemen in 2020, plus 1,200-yard receiver Gabriel Davis, who was drafted by the NFL's Buffalo Bills. The UCF offense has three top running backs all coming back in Otis Anderson, Greg McCrae, and Bentavious Thompson. The candidate to be the go-to receiver is Tre Nixon following the departure of Davis. Gabriel will also have a couple of deep threats in the slot position in Marlon Williams and Jacob Harris. These two combined for 1,165 yards and 16.6 per catch in 2019.
The Knights main reason for the three losses might have been their fourth quarter defense. UCF was outscored 89-50 in the final frame. But overall, it was second in the AAC and third in the nation in pass efficiency defense, while also leading all of the FBS in tackles for loss.
Leading tackler Nate Evans is gone from the linebacking corps, but overall 11 of the top 12 tacklers are back. Of the group, it should be headed in the secondary. Safeties Richie Grant (second on the team with 78 tackles) and Antwan Collier (66 tackles and a team-high four interceptions) should highlight the defense. And the corners should be better this year after Brandon Moore returns following missing most of last year with a knee injury to team up with Tay Gowan.
LBs Eric Mitchell and Eriq Gilyard were the two tied for third on the team with 77 tackles are back and should lead a linebacking group following the loss of Evans.
The schedule for the Knights basically has three headline matchups with a road out-of-conference game to start the season at the ACC's Georgia Tech and then two AAC foes; at Memphis and at home with Cincinnati. UCF avoids SMU and Navy this year, so it is very favorable to UCF to at least make it to the AAC title game in December.
1. Cincinnati Bearcats
Head coach: Luke Fickell (26-13, fourth year)
Offensive Coordinator: Mike Denbrock
Defensive Coordinator: Marcus Freeman
Stadium: ​​Nippert Stadium (40,000)
Location: Cincinnati, OH
2019 Record: 11-3 (7-1), 34th
Five best returning players: DE Myjai Sanders, DT Curtis Brooks, OT James Hudson, CB Ahmad Gardner, QB Desmond Ridder
Unlike at Memphis, which lost its head coach to a Power Five school, Cincinnati coach Luke Fickell turned down the Big 10's Michigan State in February to remain with the Bearcats. His staying might just be what Cincinnati needs to get over the hump and finally win the AAC crown.
The Bearcats have put together two straight 11-win seasons and last year, made it to the AAC title game but fell to Memphis.
Unlike many of the other AAC squads, the Bearcats are headed by their defense. And that should not change this year as Cincinnati returns 10 starters from a group that held offenses to just 20.6 points a game last fall.
The biggest question mark on defense will be at linebacker, as Cincinnati must replace a pair of all-league players in Bryan Wright and Perry Young. But the Bearcats will have a defensive line that returns almost the entire two-deep and a defensive backfield that sees star safety James Wiggins return after a missed season due to injury. Up front, senior Elijah Ponder and junior Myjai Sanders will look to build off their breakout 2019 seasons.
The secondary, however, very well could be one of the best in all of not just the Group of Five but all of FBS. The Bearcats bring back All-AAC CB Ahmad Gardner and S Ja'von Hicks, who led the team with five interceptions and four fumble recoveries. Senior CB Coby Bryant, sophomore CB Arquon Bush and senior S Darrick Forrest also return so there should be no questions on this team in the defensive backfield.
An improved Cincinnati offense though might be what is needed to get this team over the hump to win the AAC. The Bearcats like to run the ball first and will be without Michael Warren II, who left for the NFL Draft after his junior season (was not selected but signed as a free agent with the Philadelphia Eagles). With Warren last year, the team finished 25th in the FBS and will now look to Gerrid Doaks, who amassed 526 yards and five TDs in 2019, or possibly Alabama transfer Jerome Ford, who has been ruled immediately eligible, to carry the load on the ground.
QB Desmond Ridder is also back. He started all but one game but was hampered with injuries much of the season so having him at full strength will be key in the hopes of getting back to his AAC Rookie of the Year level of 2018. Ridder will also need to have some playmaking receivers emerge this season. Lost is leading receiver in TE Josiah Deguara but a top wide receiver in Alec Pierce might be who emerges as his top target this year.
The team also added two transfer receivers from Power Five schools in Michael Young from Notre Dame and Jordan Jones from Arkansas. Both are eligible this year and should add more targets for Ridder. Also, helping the offense both in running and passing games is that the line that returns six players with starting experience including OC Jakari Robinson and OT Darius Harper, and also adds Michigan transfer OT James Hudson who did play in the Bearcats bowl victory over the ACC's Boston College.
Cincinnati lost its big out-of-conference contest at the Big 10's Nebraska due to COVID-19. As a replacement, they now have added FCS Austin Peay, and also added FBS independent Army for its non-AAC slate at the time of this publishing. But the two games that will determine Cincinnati's fate of an AAC championship will be at home with Memphis and on the road with UCF. It looks on paper that Nov. 21st match-up might be a preview of another game in the AAC title game with the regular season winner getting the home field in the conference title contest in December.
CSJ All-AAC 2020 Preseason Team
Offense
QB – Shane Buechele, Sr. SMU
RB – Shamari Brooks, Sr. Tulsa
RB – Gerrid Doaks, Sr. Cincinnati
AP – Kenneth Gainwell, Soph. Memphis
WR – Damonte Coxie, Sr. Memphis
WR – Marquez Stevenson, Sr. Houston
TE – Kylen Granson, Sr. SMU
OT – Isaac Moore, Jr. Temple
OG – Corey Dublin, Sr. Tulane
C – Dylan Parham, Jr. Memphis
OG – Cole Schneider, Jr. UCF
OT – James Hudson, Jr. Cincinnati
Defense
DE – Joseph Dorceus, Sr. Memphis
DT – Ifeanyi Maijeh, Jr. Temple
DT – Elijah Ponder, Sr. Cincinnati
DE – Patrick Johnson, Sr. Tulane
LB – Dwayne Boyles, Jr. USF
LB – Zaven Collins, Jr. Tulsa
LB – Diego Fagot, Jr. Navy
CB – Ahmad Gardner, Soph. Cincinnati
S – Richie Grant, Sr. UCF
S – Ja'von Hicks, Jr. Cincinnati
CB – Aaron Robinson, Sr. UCF
Special Teams
PK – Riley Patterson, Sr. Memphis
P – James Smith, Sr. Cincinnati
KR – Marquez Stevenson, Sr. Houston
PR – Otis Anderson, Jr. UCF
AAC Players Opting Out of the 2020 Season
The following are players that have decided to not play in the 2020 season due to the COVID 19 pandamic at least at the time of publishing.
Houston
DL Sedrick Williams
SMU
DB Eric Sutton
DL Mike Williams
UCF
DB Devunte Dawson
USF
RB Josh Berry
DB Eugene Bowman
LB Devin Gil
WR Eddie McDoom
WR Jernard Phillips
DL John Waller
NOTE: all photos included are courtesy of the conference and each school's sports information department.
Originally from LaMoure, North Dakota, Kent is a 1996 graduate of North Dakota State University. His prior writing experience is over 15 years having previously worked with D2football.com, I-AA.org, and College Sporting News before coming to College Sports Journal in 2016. His main focus is college football is the Missouri Valley Football Conference within the Division I FCS. And in 2017, he began also to look at the FBS Group of Five conferences of the American Athletic, Conference USA, Mid-American, Mountain West, and Sun Belt.
Reach him at this email or click below: