CSJ's Predicted Order of Finish
East Division
1. Western Kentucky *(overall champion)
2. Florida Atlantic
3. Marshall
4. Charlotte
5. Middle Tennessee State
6. Florida International
Old Dominion
West Division
1. UAB
2. Southern Mississippi
3. Louisiana Tech
4. Rice
5. North Texas
6. UTSA
7. UTEP
2019 Bowl Results
3-5 Record Overall
Twice in the past three years, Florida Atlantic ran away with the Conference USA East Division crown and the Owls ran away with the overall title last year following its championship game victory over UAB.
The Owls' quest for three in four, however, will take place without head coach Lane Kiffin (and quite a bit of last year's defense). That could open up the division battle. FAU still has a formidable offense, WKU has one of the best defenses in the Group of 5, Marshall is loaded with experience and upside, FIU's got the upside at least (if not the experience), Middle Tennessee might have the conference's best quarterback and Charlotte also boosts a strong offense.
UAB has won the last two West Division crowns, which is somewhat remarkable as the Blazers had canceled football following the 2014 season. But in 2015, the school announced it would return in 2017. The year after it returned, the UAB won the C-USA crown and returned to the C-USA title game last year. UAB will again be the favorites in this division with Louisiana Tech and Southern Miss being the biggest opposition this fall.
With the COVID-19 pandemic, Old Dominion has decided to not play this fall, so the East Division is down to just six teams.
But the league did announce, much like the other two Group of Five leagues playing, that it would allow for a full 12-game schedule. At the time of publishing, Charlotte, Marshall, Southern Miss, UAB, UTEP, UTSA, and WKU had published full 12-game schedules. Rice is the only C-USA squad currently without a non-conference foe.
The league does have several Power Five games on its schedule, most notably being UAB's first road contest at the ACC's Miami (FL). Western Kentucky opens in Week 2 at an in-state foe, also from the ACC, in Louisville. Charlotte's second game in Week 3 is at the ACC's North Carolina and later plays Duke. Louisiana Tech opens its slate in Week 2 at the Big 12's Baylor and UTEP plays its second game against a Big 12 foe in Texas.
The C-USA has been one of the most unpredictable leagues to prognosticate in recent years. Since 2016, in fact, no preseason divisional winner (predicted by the media poll by the conference) has finished atop of their division standings. The last to do so was in 2015 when Western Kentucky was selected as the overall champions and WKU did just that in that season.
We shall see if WKU and UAB can live up my preseason picks or if more recent history will repeat itself with another couple of surprises in each division in 2020.
Top Conference Games of 2020
Of the top four picks (WKU, FAU, UAB, and Southern Miss), these are the top games of the year within the conference.
Oct. 10 – FAU at Southern Miss
Oct. 17 – WKU at UAB
Nov. 7 – WKU at FAU
Nov. 14 – Southern Miss at WKU
Nov. 27 – Southern Miss at UAB
East Division
Old Dominion Monarchs
(not playing in 2020)
Coach: Ricky Rahne (first year)
Offensive Coordinator: Kirk Campbell
Defensive Coordinator: Blake Seiler
Stadium: ​S. B. Ballard Stadium (21,944)
Location: Norfolk, VA
2019 Record: 1-11 (0-8)
Old Dominion decided to cancel all of its fall athletics, including football on August 10th.
This was to be the first season at the helm for Ricky Rahne, who came to Norfolk after being the Big 10's Penn State offensive coordinator for the past two seasons and being with the Nittany Lions as an assistant since 2014. He is replacing Bobby Wilder after ODU's worst season at the FBS level.
For the 13 other C-USA schools including the eight that were scheduled to play ODU, the league announced those schools would just play one less conference game.
6. Florida International Panthers
Head coach: Butch Davis (23-16, fourth year)
Offensive Coordinator: Rich Skrosky
Defensive Coordinator: Jeff Copp and Jerod Kuse
Stadium: Riccardo Silva Stadium (20,000)
Location: Miami, FL
2019 Record: 6-7 (3-5)
Five Best returning players: FS Rishard Dames, DE Alexy Jean-Baptiste, C Shane McGough, CB Richard Dames, LB Jamal Gates
Butch Davis has guided FIU to three consecutive bowl games but another trip to the postseason should be in jeopardy, especially with QB James Morgan gone. Morgan was drafted in this year's NFL Draft by the New York Jets.
Even with Morgan, the offense took a step back in 2019 after a strong 2018. The Panthers only averaging 377 yards while failing to hit 28 points seven times – it only failed to get there four times in 2018.
Morgan had a big arm and was able to push the ball deep, but he only hit 58% of his chances. Junior Kaylan Wiggins was his main backup last year, and he got in a little work.
D'Vonte Price, Arkansas transfer Maleek Williams, Lexington Joseph and Shaun Peterson should make for a strong ground game, and FIU's receiving corps – featuring Georgia transfer J.J. Holloman – ranks among the best in C-USA.
Seniors LT D'Antne Demery and C Shane McGough form a good foundation up front for the new quarterback. The group led C-USA in sacks allowed in 2019 and again could be the strength of its offense given the uncertainty at many of the specialty positions.
Until the pieces fall into place on offense, the Panthers can lean on a defense that returns six starters but must improve after giving up 27.2 points a game last year. There are all-conference picks at each of the three levels of defense, while recent transfers in LB Tyson Maeva (Boise State), CB Josh Turner (Iowa), and DE Alexy Jean-Baptiste (Arkansas) should help the defense improve this year.
FIU's schedule is in question given the COVID-19 outbreak is currently slated to start with a road game at Liberty in the last weekend of September. As of publishing, this is the only non-conference game on FIU's slate.
5. Middle Tennessee State Blue Raiders
Head coach: Rick Stockstill (91-86, 15th year)
Offensive Coordinator: Tony Franklin
Defensive Coordinator: Scott Shafer
Stadium: Floyd Stadium (30,788)
Location: Murfreesboro, TN
2019 Record: 4-8 (3-5)
Five Best returning players: QB Asher O'Hara, LT Will Gilchrist, LB DQ Thomas, WR Jimmy Marshall, FS Reed Blankenship
Last year's 4-8 record marked the first time Middle Tennessee posted a losing season since 2011. Two of the eight losses were to two of the lesser teams in North Texas and Rice teams – instead of losing to each one by three – and 6-6 with a bowl appearance would've made the season look and feel a whole lot different.
For Stockstill's team to return to the postseason, the offense must lean heavily on quarterback Asher O'Hara. The junior led C-USA in total offense (306.2 ypg) and accounted for 29 overall scores. He not only had a terrific year throwing the ball, but his 1,058 rushing yards and nine scores carried the offense.
A running back situation is a little unsettled as two transfers in Martell Pettaway (West Virginia) and Amir Rasul (Florida State) have opted out of the season due to COVID-19 concerns. MTSU may look to throw it more due to the inexperience at running back and has experienced options like Jarrin Pierce, C.J. Windham and Jimmy Marshall back at receiver for O'Hara.
Middle Tennessee's defense regressed to 10th in the conference in points allowed and finished last in total defense. The key for the full team will be to turn this around. Last year, Middle Tennessee was 0-8 when allowing more than 26 points but 4-0 when allowing that many or fewer.
With only three starters returning, the MTSU defense will be in transition mode to start 2020. LB D.Q. Thomas is back after making 74 stops, two sacks and 12 tackles for loss, but he made eight sacks with 14.5 tackles for loss as a sophomore. The return of FS Reed Blankenship after missing a chunk of '19 due to injury is a boost to the secondary. Those two will look to
The route to bowl eligibility is aided by a crossover schedule that misses the projected top three projected teams from the West Division in UAB, Southern Miss and Louisiana Tech. The Blue Raiders also avoid any Power Five schools this year with very winnable non-conference games in a road contest at Army and two games with Troy.
4. Charlotte 49ers
Head coach: Will Healy (7-6, second year)
Offensive Coordinator: Mark Carney
Defensive Coordinator: Brandon Cooper and Marcus West
Stadium: Jerry Richardson Stadium (15,314)
Location: Charlotte, N.C.
2019 Record: 7-6 (5-3)
Five Best returning players: QB Chris Reynolds, WR Victor Tucker, LB Henry Segura, DE Markees Watts, WR Tyler Ringwood
Charlotte is a program on the rise with Will Healy at the helm. The 49ers earned their first winning season and bowl appearance last fall and should be poised to match both of those marks in 2020. An offense that averaged 6.3 yards a snap and 29.8 points a game leads the way and is guided by one of the top quarterbacks in the conference (Chris Reynolds) and a talented group of receivers featuring Victor Tucker (52 receptions for 909 yards in 2019).
Replacing back-to-back 1,000-yard rusher Benny LeMay will be tough, but Aaron McAllister and Northern Illinois transfer Tre Harbison should be an effective one-two punch.
But the 49ers now has to go on without offensive coordinator Alex Atkins, who left for Florida State . He will be replaced by Mark Carney.
Charlotte's defense finished 11th in Conference USA last fall, surrendering 32.4 points a contest. The departure of LB Jeff Gemmell and DE Alex Highsmith adds to the challenge of improvement. The return of S Ben DeLuca from a season-ending injury boosts the secondary and six other starters are back for 2020.
The 49ers have manageable crossover matchups hosting UTEP and traveling to North Texas. But Charlotte has a couple key road trips against key East Division foes in Marshall and FAU. The 49ers are also slated to play two Power Five scquads from the ACC in North Carolina and Duke. Charlotte also has a tough opener in state against Appalachian State.
3. Marshall Thundering Herd
Head coach: Doc Holliday (78-51, 11th year)
Offensive Coordinator: Tim Cramsey
Defensive Coordinator: Brad Lambert and J.C. Price
Stadium: ​​​Joan C. Edwards Stadium (38,016)
Location: Huntington. WV
2019 Record: 8-5 (6-2)
Five Best returning players: RG Cain Madden, DE Darius Hodge, RB Brenden Knox, QB Isaiah Green, LB Tavante Beckett
Marshall was the only team to beat C-USA champ FAU in league play last season, but a late loss to Charlotte prevented an invite to the conference title game.
Coach Doc Holliday's team needs more out of its offense (25.8 ppg in 2019) to win the East this fall. That task got a little tougher in July after QB Isaiah Green entered the transfer portal. With Green departing, redshirt freshman Grant Wells is the frontrunner to start under center.
With an inexperienced quarterback taking over, the offense will have to lean even more on four starters back along the offensive line, and reigning C-USA Offensive Player of the Year Brenden Knox (1,387 rushing yards) to grind out yardage on the ground.
Marshall's defense returns only four starters from a group that held teams to 25 points a game last fall, but there's plenty of talent present to ensure a quick rebuild. LB Tavante Beckett is a first-team All-C-USA selection and along with DE Darius Hodge (seven sacks) will lead the group this year.
The conference slate is inviting for the Herd ast FAU and Charlotte both come to Huntington this fall but Marshall does have to visit WKU. ECU was slated to be the opener for Marshall but this game was postponed a couple of times and is unknown if the two will play. Marshall also has another inviting non-conference game though at home against Appaachian State.
2. Florida Atlantic Owls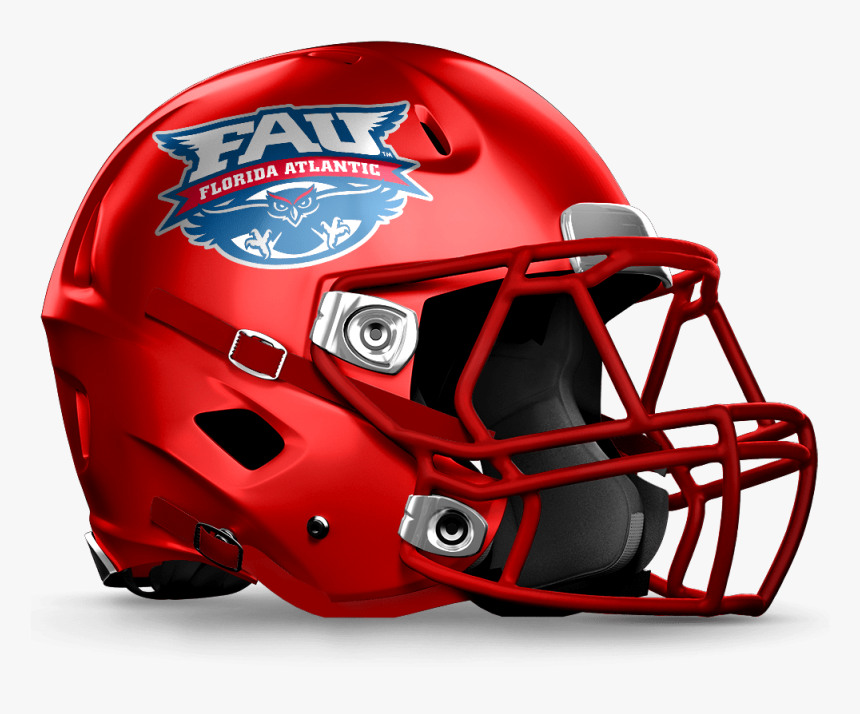 Head coach: Willie Taggart (first year)
Offensive Coordinator: Drew Mehringer and Clint Trickett
Defensive Coordinator: Jim Leavitt
Stadium: ​FAU Stadium (29,571)
Location: Boca Raton, FL
2019 Record: 11-3 (7-1)
Five Best returning players: RB Malcolm Davidson, QB Chris Robison, LB Akileis Leroy, LG Desmond Noel, DE Leighton McCarthy
The Owls have won two out of the last three C-USA titles, and another conference championship is within reach under new coach Willie Taggart. However, the lack of offseason practice for a team returning just nine starters under a new staff creates some obstacles. The offense was to be expected also at quarterback with Chris Robison but he was left off the fall roster. Without Robison this leaves Nick Tronti as the projected starting quarterback.
The backfield one of the deepest in C-USA, but question marks remain up front, and the receiving corps needs a quick transition from a handful of transfers to help the offense maintain its 2019 form.
New defensive coordinator Jim Leavitt plans to make a timely shift on defense to more of a 3-4 approach. FAU is lacking proven talent up front, but DE Leighton McCarthy is a good place to start the rebuilding effort, and LB Keke Leroy can be an impact defender provided he returns to the team after missing the spring. The secondary also must identify two new starters at cornerback.
The Owls' schedule includes a road trip to Marshall, but FAU hosts both WKU and Charlotte, amongst the top four in the division. To start the season though in its non-conference games, FAU travels to Georgia Southern and hosts USF as it lone two non-C-USA games.
1. Western Kentucky Hilltoppers
Head coach: Tyson Helton (9-4, second year)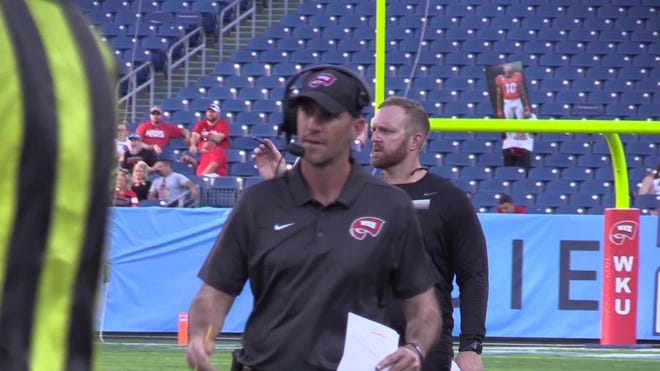 Offensive Coordinator: Ryan Aplin and Bryan Ellis
Defensive Coordinator: Maurice Crum and Clayton White
Stadium: ​​Houchens Industries-L.T. Smith Stadium (22,113)
Location: Bowling Green, KY
2019 Record: 9-4 (6-2)
Five Best returning players: DE DeAngelo Malone, LB Kyle Bailey, WR Jahcour Pearson, RG Jordan Meredith, DE Juwuan Jones
Western Kentucky was a team on the rise last year after starting slow in Coach Tyson Helton's first year. The Hilltoppers started 2019 with a loss to FCS Central Arkansas, but the program rebounded in a big way after that. The Hilltoppers finished last season with a 9-4 mark, with both of its losses in C-USA play coming to the two teams that finished ahead in the divisional standings – Marshall and FAU. Also, WKU crushed SEC Arkansas 45-19 in Fayetteville as its signature win last year.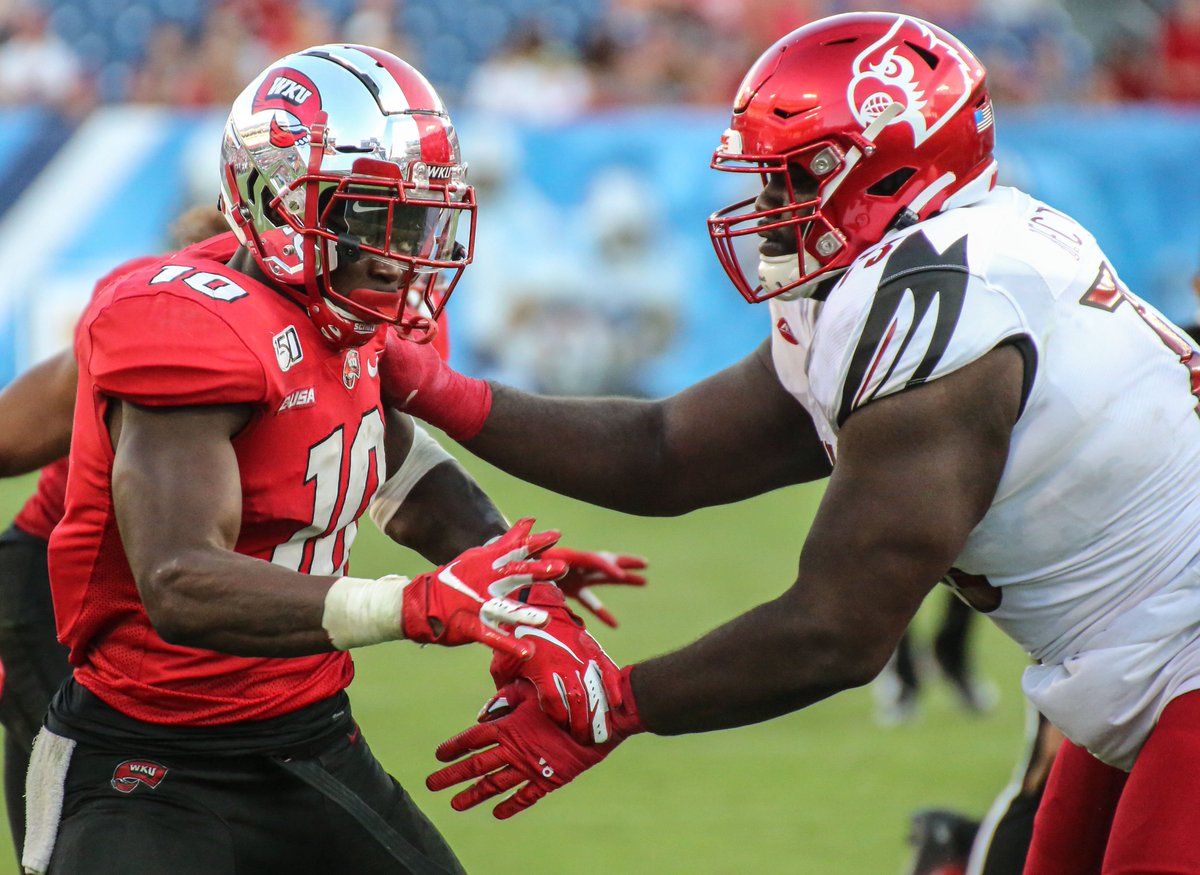 The Hilltoppers are powered by one of the top Group of 5 defenses, holding teams to just 20.1 points a game last fall. This unit is led by standout DE DeAngelo Malone (11.5 sacks). The Hilltopper linebacker and secondary units also ranked near the top of the conference a season ago.
Coach Helton's background on offense should take this side of the ball a step further after averaging just 25.4 points a game last fall. Big 10 Maryland transfer Tyrrell Pigrome looks to be the new quarterback this year.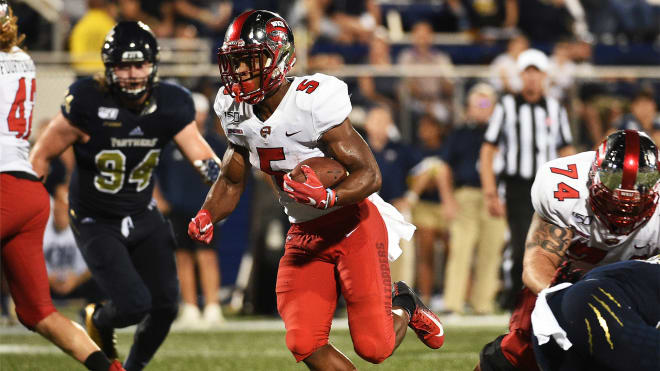 WKU has a solid offensive line to go with a 1,000-yard rusher in Gaej Walker. WRs Jahcour Pearson and Jacquez Sloan, along with TE Joshua Simon rounding out a key group of weapons in the passing game for the new signal caller.
The Hilltoppers play at UAB in crossover play, but hosts Marshall as its two of its top conference games. WKU starts the season at in-state foe in the ACC's Louisville and could very well be an upset. The other non-C-USA games is at home with Liberty and FCS Chattanooga, while traveling to BYU so the Hilltoppers have a full 12-game schedule this year.
West Division
7. UTEP Miners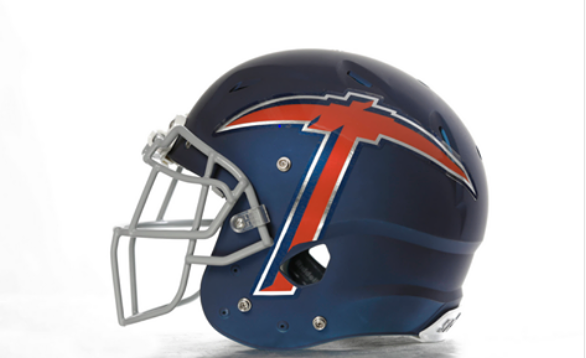 Head coach: Dana Dimel (2-22, third year)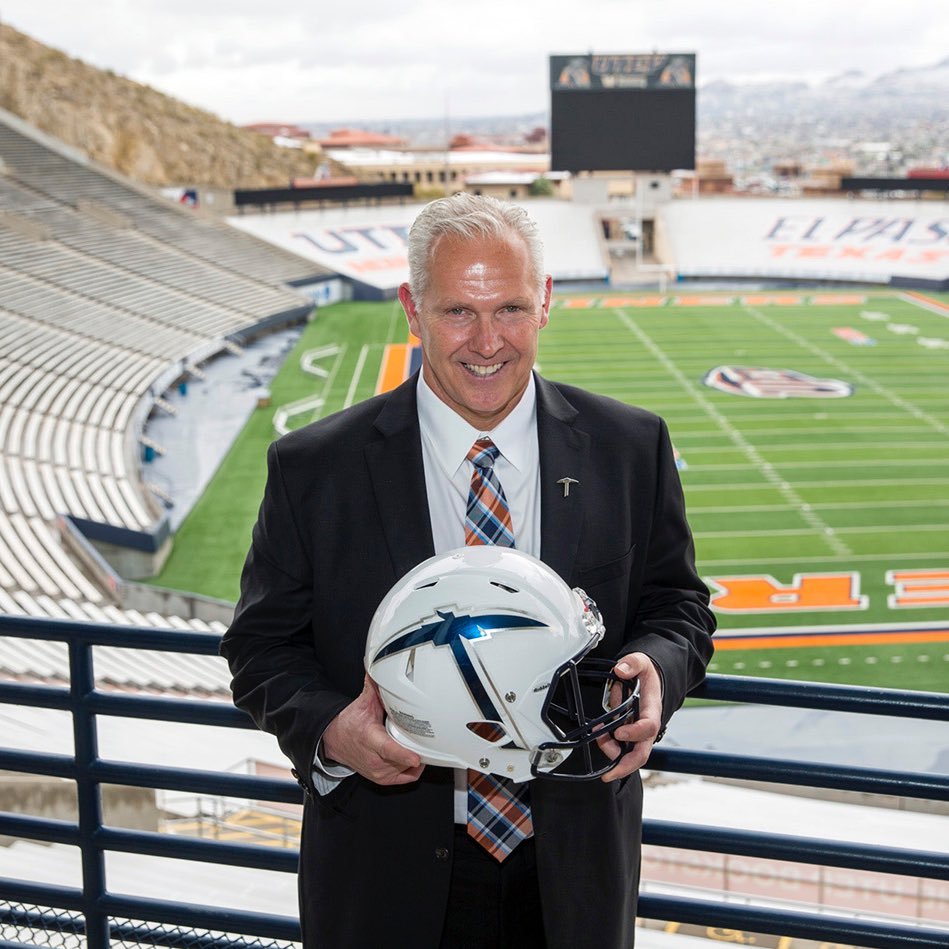 Offensive Coordinator: Mike Canales
Defensive Coordinator: Mike Cox
Stadium: Sun Bowl (51,500)
Location: El Paso, TX
2019 record: 1-11 (0-8)
Five Best returning players: DE Praise Amaewhule, CB Josh Caldwell, WR Jacob Cowing, S Justin Prince, LG Bobby DeHaro
Dana Dimel has won just two games in his two years at UTEP, and with only seven starters back, 2020 appears to be another rebuilding season in El Paso. The Miners defeated FCS Houston Baptist narrowly in last year's opener as its only victory and only one of their 11 losses was decided by one score or less. As this tells, this team has a long way to go in order to avoid the C-USA West basement.
A running back corps featuring Quardraiz Wadley, Deion Hankins and Josh Fields is the offense's strength. However, the line has only two returning starters and a quarterback looks to be Gavin Hardison after TJ Goodwin opted out of the season due to COVID-19.
The Miners have finished last in C-USA in scoring defense in two out of the last three years. Nine of the team's top 15 tacklers from 2019 are gone, with DE Praise Amaewhule, CB Josh Caldwell and LB Jayson VanHook leading the effort this fall.
UTEP has two FCS foes in Stephen F. Austin and Abilene Christian at home with road games at the Big 12's Texas and Sun Belt's Louisiana-Monroe. Possibly, the Miners could double their win total this year and maybe could surprise a C-USA foe but given its history, this looks to be the best it might finish.
6. UTSA Roadrunners
Head coach: Jeff Traylor (first year)
Offensive Coordinator: Barry Lunney Jr.
Defensive Coordinator: Tyrone Nix
Stadium: ​​Alamodome (65,000)
Location: San Antonio, TX
2019 record: 4-8 (3-5)
Five Best Returning players: DT Jaylon Haynes, WR Zakhari Franklin, LB Clarence Hicks, DE DeQuarius Henry, LG Spencer Burford
New coach Jeff Traylor has extensive ties to the state of Texas from his days as a high school head coach. However, Traylor is a first-time head coach and really did not have coordinator experience during stints as an assistant at Arkansas, SMU and Texas. While there's a learning curve for Traylor, UTSA is a program may be a program on the rise in the near future but might take another year for this team to get to being eligible for a bowl.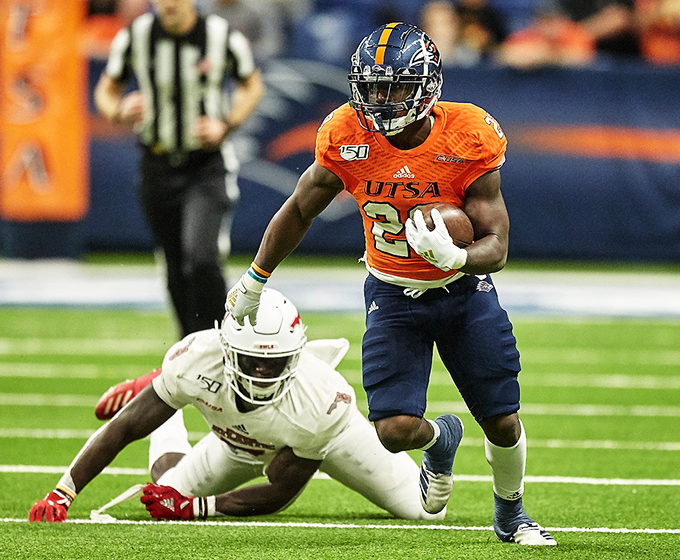 The new staff has some intriguing options at quarterback, starting with New Mexico State transfer Josh Adkins, Lowell Narcisse, and Frank Harris. Regardless of who wins the battle under center, the offense needs to do a better job of generating big plays and must get the ball in the hands of RB Sincere McCormick (983 yards) more through both the running and passing games.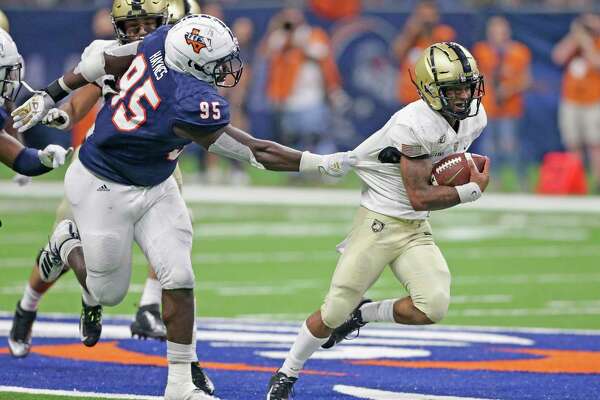 New coordinator Tyrone Nix moves UTSA to a 3-3-5 defensive scheme this year. This new line-up hopes to hoping to improve on one that surrendered 33.9 points a contest and ranked near the bottom of C-USA in rush defense. The strength of the 2020 group is up front to the return of Jaylon Haynes, Lorenzo Dantzler, along with edge rushers DeQuarius Henry and Solomon Wise.
UTSA will be another C-USA team with a full schedule this fall in hosting FCS Stephen F. Austin, Army and AAC defending champion Memphis with road games at Texas State and BYU. UTSA was one team that was to have ODU on its schedule and will play an extra out-of-conference game.
5. North Texas Mean Green
Head coach: Seth Littrell (27-25, fifth year)
Offensive Coordinator: Seth Littrell
Defensive Coordinator: Clint Brown
Stadium: ​Apogee Stadium (30,850)
Location: Denton, TX
2019 record: 4-8 (3-5)
Five Best returning players: WR Jyaire Shorter, DT Dion Novil, LB Tyreke Davis, RB Tre Siggers, RG Manase Mose
After recording back-to-back nine-win seasons, North Texas skidded to 4-8 in 2019. Getting back to a bowl will require coach Seth Littrell to find a replacement for record-setting QB Mason Fine, who was signed into the NFL's Chicago Bears camp this fall. Sophomores Austin Aune and Jason Bean are slated to battle for the job under center. Whichever of the two wins the job, he will have plenty of skill talent around him, including RB Tre Siggers and WRs Jaelon Darden and Jyaire Shorter.
The line was a question mark last season and is unsettled again going into the fall with just two starters back this year.
The Mean Green must improve a defense that allowed 32.5 points a contest in 2019. New defensive coordinator Clint Bowen will try to improve this statistic by using a couple returning talented LBs in Tyreke Davis and K.D. Davis., as well as NT Dion Novil (13 TFL). The Mean Green secondary ranked seventh in pass efficiency defense in C-USA and will try to improve with three new starters this year.
How fast the Mean Green reload up front and settle the quarterback battle, as well as its an improvement on defense, will determine if UNT can rebound this year.
UNT will play three out-of-conference games in hosting FBS Houston Baptist and Dallas metro area foe in the AAC's SMU. They will also travel to another AAC foe in the state of Texas in Houston. In conference, the Mean Green get Southern Miss, Rice, and Louisana Tech at home but will travel to predicted West champion UAB.
4. Rice Owls
Head coach: Mike Bloomgren (5-20, third year)
Offensive Coordinator: Jerry Mack
Defensive Coordinator: Brian Smith
Stadium: Rice Stadium (47,000)
Location: Houston, TX
2019 record: 3-9 (3-5)
Five Best returning players: LB Blaze Alldredge, RG Shea Baker, LB Treshawn Chamberlain, CB Tyrae Thornton, WR Brad Rozner
Even though Rice has just five victories over the last two years, Mike Bloomgren has this program trending in the right direction. The Owls ended 2019 on a three-game (ironically the only three wins of 2010) winning streak and could be sneaky good this fall.
Big 12 TCU transfer QB Mike Collins could be the missing piece to a passing game that averaged just 166 yards a contest in 2020. He will have one of the conference's top receiving duos in Brad Rozner (55 catches) and Austin Trammell (60) at his disposal.
A healthy Juma Otoviano looks to be the lead running back after the team's top two rushers from 2019 graduated. Three new starters on the offensive line also will be required to help what the Owls hope to be an improved offensive output.
The Owls defense held teams to 25.9 last fall, which was almost 10 points per game better than 2019. With 10 starters returning, there's optimism that improvement should continue. LB Blaze Alldredge is one of C-USA's top defenders, and Elijah Garcia and De'Braylon Carroll back to anchor the the defensive line.
Rice decided to delay its football season start until Sept. 26th and will only play C-USA opponents this fall. The postponement will allow school administrators to continue monitoring the health situation with COVID-19 both locally and nationally, as well as evolving developments in athletic competition stated AD Joe Karlgaard. Rice will have tough road games at Marshall, Southern Miss, and Louisiana Tech but will host predicted divisional winner UAB.
3. Louisiana Tech Bulldogs
Head coach: Skip Holtz (56-36, eighth year)
Offensive Coordinator: Joe Sloan
Defensive Coordinator: David Blackwell
Stadium: Joe Aillet Stadium (28,562)
Location: Ruston, LA
2019 record: 10-3 (6-2)
Five Best returning players: C Kody Russey, DE Milton Williams, RB Justin Henderson, LB Ezekiel Barnett, LB Willie Baker
The Bulldogs have been a model of consistency under head coach Skip Holtz. Approaching the 2020 season, this program has recorded six consecutive winning records and earned a bowl trip each year in that duration. Even what looks to be a rebuilding year in 2020, extending the streak of winning seasons to seven looks likely.
New QB Aaron Allen gained valuable experience in a two-game stint as the starter last fall, but FCS Abilene Christian transfer Luke Anthony and redshirt freshman Jakson Thomson are also in the mix.
Until the quarterback situation stabilizes, Holtz can lean on RB Justin Henderson (1,062 yards). Last year's top receiver Malik Stanley is gone, but the Bulldogs bring back five others who caught at least 21 passes in 2019.
The rebuilding effort will be greater on defense. New coordinator David Blackwell inherits just two returning starters from a group that held teams to 21.8 points a game.
But it does not look completely dire as the Owls have experience at all three levels, and a couple of transfers in S Khalil Ladler from Virginia Tech and DL Gerald Wilbon from Texas should be the stars on the defense right away. Replacing CB Amik Robertson, who was selected in the NFL Draft by the Las Vegas Raiders, might be the most difficult in the secondary.
UAB and Marshall is a nice break for a team in rebuild mode. Louisiana Tech opens at the Big 12's Baylor in what could be another upset possibily for the Group of Five. It also have two non-conference foes at home in FCS Houston Baptist and the Sun Belt's Louisiana-Monroe.
2. Southern Miss Golden Eagles
Head coach: Jay Hopson (28-22, fifth year)
Offensive Coordinator: Matt Kubik, Scotty Walden
Defensive Coordinator: Tony Pecoraro
Stadium: M. M. Roberts Stadium (36,000)
Location: Hattiesburg, MS
2019 record: 7-6 (5-3)
Five Best returning players: QB Jack Abraham, LB Ky'el Hemby, LB Jordan Smith, WR Tim Jones, LB Swayze Bozeman
The Golden Eagles have been just alright under coach Jay Hopson. In his four years, he has yet to exceed more than eight victories. With 15 starters back and the addition of a handful of junior college transfers, this team looks poised to at least get to the eight-win mark, if not exceed it.
QB Jack Abraham threw for 3,496 yards last fall and connected on 67.9 percent of his throws but also tossed 15 interceptions so turning the ball over will need to improve. He will also be without his main target Quez Watkins (drafted this spring the NFL's Philadelphia Eagles), but USM will have plenty of weapons on the to catch the ball with Tim Jones (73 catches) and Jaylond Adams (48).
New play-caller Matt Kubik has to get more production out of a ground game that managed only 3.5 yards a carry and ranked 13th in the conference in production. With four starters back up front, along with RBs Kevin Perkins (547 yards), Trivenskey Mosley (back from injury), and freshman Frank Gore Jr., there's optimism for improvement.
Tony Pecoaro returns to Hattiesburg after calling the defensive signals from 2016-17 and has plenty of pieces to work with, including DE Jacques Turner (5.5 sacks), LB and Ky'el Hemby, as well as DB Rachaun Mitchell.
The Sep. 19th matchup versus Louisiana Tech could decide which team emerges as the biggest challenger to UAB. And if the Golden Eagles can win that one, a de facto West Division title game could take place in Birmingham on Nov. 28. Outside of the conference play, the Golden Eagles have a full schedule with the Group of Five's season opener against South Alabama. Southern Miss also gets Tulane and FCS North Alabama at home and will travel to Liberty.
1.UAB Blazers
Head coach: Bill Clark (34-19, fifth year)
Offensive Coordinator: Bryant Vincent
Defensive Coordinator: David Reeves
Stadium: Legion Field (72,000)
Location: Birmingham, AL
2019 record: 9-5 (6-2)
Five Best returning players: DT Jaylon Haynes, WR Zakhari Franklin, LB Clarence Hicks, DE DeQuarius Henry, LG Spencer Burford
The Blazers have won the West Division in back-to-back years, and coach Bill Clark's team enters 2020 as a heavy favorite to win the division again. UAB lost big in the C-USA title game last year at FAU but did win the league in 2018.
UAB's defense has ranked near the top of the conference in each of the last three seasons and should be just as good in 2020. The linebacker unit features Jordan Smith (10 sacks) and first-team All-C-USA Kristopher Moll (104 tackles). Garrett Marino's (undrafted selection by the NFL's Dallas Cowboys) upfront on the line will be missed, but UAB has a host of other up and coming stars.
A secondary that limited teams to a completion percentage of 51.7 brings back four starters from 2019, plus the return of lockdown CB Brontae Harris, who missed all of last fall due to injury.
The Blazers have room to improve on offense after managing only 23.1 points a game last year. However, injuries to QB Tyler Johnston III and RB Spencer Brown were big reasons why there was a lack in production. With both returning fully recovered, the Blazers should also improve their offensive numbers.
All five starters are back up front and also has leading WR Austin Watkins (1,092 yards).
UAB's schedule features a road trip at the ACC's Miami (FL) and the Sun Belt's South Alabama after hosting FCS Central Arkansas in non-conference play. Later in the season, UAB also gets another Sun Belt foe at home in Louisiana. The big conference road game will be at Louisiana Tech the week after on Halloween. However, two other C-USA hopefuls in Southern Miss and WKU come to Birmingham.
CSJ All-C-USA 2020 Preseason Team
Offense
QB – Chris Reynolds, R-Jr., Charlotte
RB—Brendon Knox, R-Jr., Marshall
RB—Spencer Brown, Sr., UAB
AP— Justin Henderson, R-Sr., Louisiana Tech
WR—Adrian Hardy, R-Sr., Louisiana Tech
WR—Austin Watkins, Jr., R-Sr., UAB
TE—Joshua Simon, Soph., Western Kentucky
OT— D'Antne Demery, Sr., Florida International
OT—D'Mitri Emmanuel, R-Jr., Charlotte
OG—Cain Madden, R-Sr., Marshall
OG—Jordan Meredith, R-Sr., Western Kentucky
OC—Kody Russey, R-Sr., Louisiana Tech
Defense
DE – DeAngelo Malone, Sr., WKU
DE—Jordan Smith, R-Jr., UAB
DT—Dion Novil, Sr., North Texas
DT– Milton Williams, R-So., Louisiana Tech
LB— Tavante Beckett, R-Jr., Marshall
LB—Blaze Alldredge, Jr., Rice
LB- Kristopher Moll, Jr., UAB
CB—Brontae Harris, R-Sr., UAB
CB—Nafees Lyon, Gr., Charlotte
S— Reed Blankenship, Jr., Middle Tennessee
S—Ky'el Hemby, R-Sr., Southern Miss
Special Teams
PK –Ethan Mooney, Jr., North Texas
P—John Haggerty, Sr., Western Kentucky
KR—Deion Hair-Griffin, Jr., North Texas
PR—Talik Keton, Soph., Marshall
C-USA Players Opting Out of the 2020 Season
The following are players that have decided to not play in the 2020 season due to the COVID 19 pandemic at least at the time of publishing.
FAU
DB Quran Hafiz
MTSU
WR Tyrese Johnson
RB Martell Pettaway
RB Amir Rasul
Southern Miss
WR Jaylond Adams
RB Steven Anderson
LB Racheem Boothe
DL Garrett Crawford
DL Jacques Turner
UAB
RB DaQuon Godfrey
UTEP
QB TJ Goodwin
NOTE: all photos included are courtesy of the conference and each school's sports information department.
Originally from LaMoure, North Dakota, Kent is a 1996 graduate of North Dakota State University. His prior writing experience is over 15 years having previously worked with D2football.com, I-AA.org, and College Sporting News before coming to College Sports Journal in 2016. His main focus is college football is the Missouri Valley Football Conference within the Division I FCS. And in 2017, he began also to look at the FBS Group of Five conferences of the American Athletic, Conference USA, Mid-American, Mountain West, and Sun Belt.
Reach him at this email or click below: