2021 CSJ OVC Spring Season Preview
February 18, 2021
The Ohio Valley Conference readies to continue this strange college football season this spring.
College athletics, as well as the rest of the world, hit the pause button in 2020 like never before as lives were altered.
As the calendar has now turned to a new year plenty a renewed sense of optimism permeates college campuses around the nation. The Ohio Valley Conference, which will use a seven game-game round robin schedule for the eight schools taking part in the spring season, is expected to begin play the weekend of Feb. 21 as the spring season is scheduled to get underway.
Games this season will be played on Sundays, with the exception of Easter weekend (April 3) when games will be contested on Saturday. No games are currently scheduled for March 7 or April 17 as the league left those dates open as possible makeup dates in the event games have to be rescheduled because of protocols in place.
But plenty of uncertainty surrounds the opening weekend.
AUSTIN PEAY
The Governors were one of the feel-good stories of the 2019 season as they claimed the OVC championship for just the second time in school history before falling to Montana State in the FCS playoffs.
Whatever optimism was created that season took a step back when the Governors lost all three games played during the abbreviated 2020 fall season. APSU was outscored 134-37 in those three contests.
The Govs played those three games last fall under the direction of Marquase Lovings who took over following the unexpected resignation of former coach Mark Hudspeth, who led APSU to a school-record 11 wins in the magical season of 2019.
Now the Governors look to find a spark as they prepare for this spring's opener Feb. 21 on the road at Tennessee Tech. And there will be plenty of competitions as new coach Scotty Walden, a former assistant at Southern Miss, looks to find the right ingredients to restore the winning in Clarksville.
Sheldon Layman (6-1, 182, RS, Fr.), a transfer from Memphis, has entered the conversation as to who may emerge as the starter at quarterback after Jeremiah Oatsvall, a former conference freshman of the year, transferred to Memphis where he will challenge for playing time this fall at wide receiver for the Tigers.
Layman redshirted while at Memphis in 2019 and sat out the fall season after entering the transfer portal before signing with the Governors.
C.J. Evans (5-9, 182, Fr.) and Brian Snead (6-1, 215, RS So.) both return at running back and are expected to find themselves in the starting lineup with the season opens against the Golden Eagles.
Evans rushed for 190 yards on 26 carries (7.3 ypc) during the fall season and scored three touchdowns for the Govs. Snead, meanwhile, carried 31 times for 88 yards (2.8 ypc).
Whoever does emerge as the starting signal caller will benefit mightily with the expected presence of a trio of talented pass catchers.
Deangelo Wilson (5-9, 173, SR, WR) leads the way following his All-American performance of a year ago where he became just the third player in program history to surpass 1,000 receiving yards in a single season. The talented Wilson set APSU school marks for catches (89), yards (1,564) and receiving touchdowns (15).
Baniko Hartley (6-1, 195, SR, WR) has unlimited potential to become the top receiver in the OVC and one of the best in the nation. He caught 11 passes for 216 yards, a whopping 19.6 yards per reception, in three games last fall.
Hartley will be joined by Geordon Pollard (6-3, 186, SO, WR) will be a complement to Hartley on the outside. He caught seven passes for 104 yards (14.9 ypc) last fall.
Bucky Williams (6-7, 290, RS, So.) is expected to anchor the offensive line for the Governors this spring.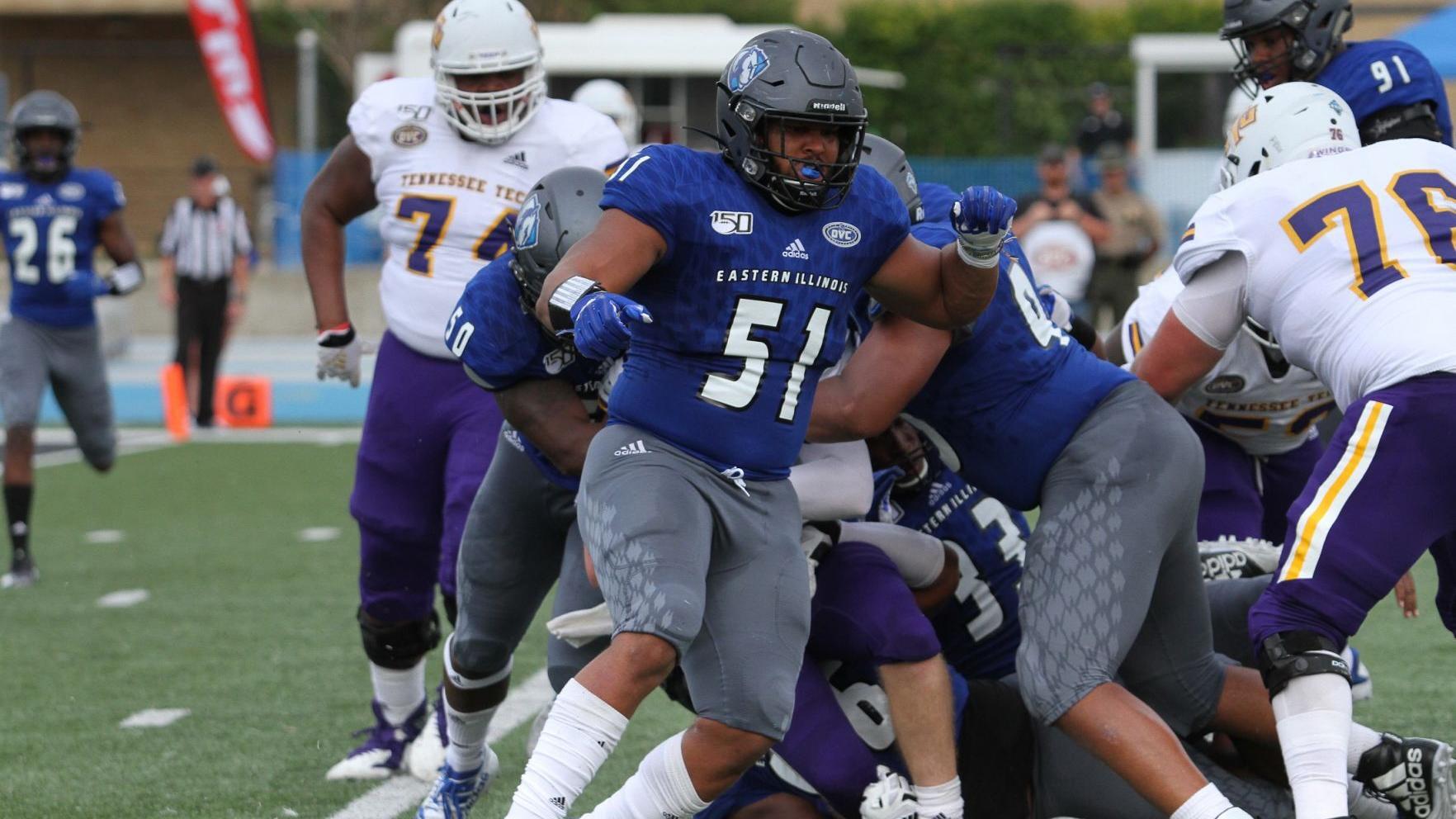 EASTERN ILLINOIS
An optimist would look at the long layoff following a disappointing 2019 season as a way to fuel the expectations to return to the winning culture Eastern Illinois has enjoyed in the past.
Oh, having talented players returning on both sides of the ball will always be a plus.
Harry Woodbery (6-2, 195, RS, Sr.) returns at quarterback for the Panthers, who finished 1-11 in 2019 after going winless in conference play. He completed 169 of 329 yards for 1,632 yards and 10 touchdowns as EIU completed its most recent season of play.
The Panthers also return a talented rusher and a pair of standouts who will be targeted whenever Woodbery goes to the air.
Jaelin Benefield (5-10, 160, So.) rushed for 402 yards on 125 carries (3.2 ypc) and five touchdowns in his first collegiate season. He also added 299 receiving yards and two more scores on his way to being selected to the All-OVC Newcomer Team.
To prove his versatility, he also started the 2019 season finale at quarterback as the Panthers opened the contest in a Wildcat formation against Austin Peay.
Isaiah Hill (5-11, 190, RS, Jr.) and Robbie Lofton (6-3, 185, RS, Sr.) both return as starters at wide receiver for EIU. Hill caught 57 passes for 569 yards and four touchdowns and two more TDs as a rusher on his way to joining Benefield on the all-newcomer squad in 2019. Lofton, meanwhile, added 296 yards on 28 catches and his production is expected to rise this season.
The Panthers also return six players along the offensive front who combined for 65 starting assignments in 2019. That familiarity should help the EIU offense enjoy improved efficiency in the new season.
Seven starters return on the defensive side of the ball, including three linebackers who combined for 182 total tackles.
That unit will be led by Dytarious Johnson (6-1, 270, Sr.) who recorded 67 total tackles, including 13.5 TFLs and 4.5 sacks, in 2019.
He will be joined by Jason Johnson (6-2, 200, So.) and Raymond Crittenden (6-1, 205, RS, Sr.) to provide the Panthers the potential for one of the best units in the conference at linebacker. Johnson had 59 total tackles, including 4.5 tackles for loss and was also named to conference's newcomer squad and also picked up all-American honors at season's end. Crittenden tallied 56 tackles (3.5 TFL) and added one interception and one fumble recovery for the Panthers.
JJ Ross (6-2, 195, So.) returns to lead the secondary this spring. He had 24 tackles in 2019 and added four interceptions and a pair of pass deflections. He was voted a freshman all-American.
Bryce Dewberry (5-10, 2010, Jr.) and Mark Williams (6-0, 175, RS, Sr.) also return in the secondary after combined for 88 total tackles a year ago.
EASTERN KENTUCKY
Eastern Kentucky will not compete in football this spring after finishing 3-6 in the 2020 portion of the schedule.
The school, one of the founding members of the Ohio Valley Conference, recently announced its plans to leave the league and join the Atlantic Sun Conference (ASUN). Fellow OVC member Jacksonville State, along with Central Arkansas (Southland Conference) will also join the ASUN beginning July 1.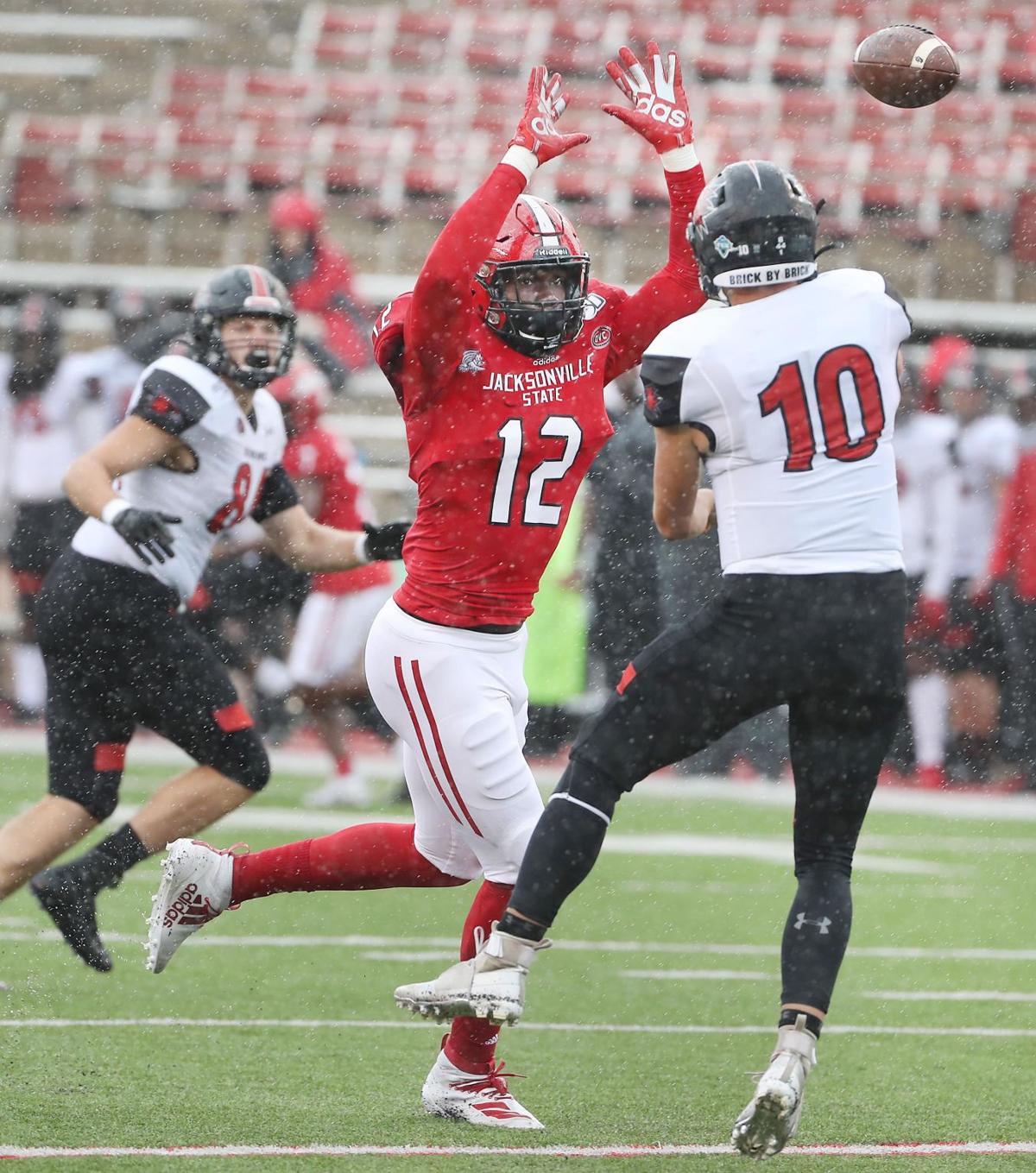 JACKSONVILLE STATE
Perhaps no school has the tools in place to quickly return to normal than does Jacksonville State.
Having one of the top players in the country in the fold certainly lifts the expectations for any team.
In fact, JSU has three players who were recently selected to at least one all-American team, though one of them won't be suiting up this spring.
All-American QB Zerrick Cooper is rehabbing from a broken leg, but QB Zion Webb, who led the Gamecocks to a 19-10 win over Florida International in the fall season, will continue to lead the offense during the spring.
Trae Barry (6-7, 245, Sr., TE) returns for his fourth season with the Gamecocks and tallied 13 catches for 240 yards during the abbreviated fall season as Jacksonville State won three of four games. Six of his 13 receptions went for at least 20 yards. As a team the Gamecocks had just nine catches that covered 20 yards or more.
That talented senior has accumulated 1,316 receiving yards already in his career on 80 catches and is just 184 yards shy of surpassing Rusty Fuller's school record of 1,500 yards receiving by a tight end. He has scored five TDS through the air.
The rushing attack is expected to be paced by Josh Samuel (5-11, 215, RS, Jr.) and Uriah West (6-0, 225, Jr., RB).
Samuel, who spent three seasons at Western Kentucky prior to transferring to JSU, and rushing for 251 yards on 42 carries (6.0 ypc) and two touchdowns in 2020.
Samuel's 639 rushing yards in 2018 while at WKU led all Conference USA freshmen rushers that season.
West, meanwhile, is in his third season at JSU. He has been used sparingly to this point, having rushed just 40 times for 332 yards through his first two campaigns with the Gamecocks. This past fall he gained 198 yards on 49 carrries (4.0 ypc) in the team's four contests.
Also being recognized as among the top players in the country heading into the spring season are DE DJ Coleman (6-6, 245, Jr.).
Coleman started 11 games for the Gamecocks in 2019 and finished with 59 (24 solo) tackles, including a team-high 10.5 tackles for loss and five sacks. He was also credited with 28 QB pressures. He did not let up. Coleman had 24 (12 solo) tackles during the fall portion of the schedule.
MURRAY STATE
Dean Hood got a little extra time in preparing for his first season as coach at Murray State when the school opted out of the fall season. Hood returns to the OVC after previously leading the Eastern Kentucky program for eight seasons and leading the Colonels to a pair of conference championships and three playoff appearances.
Before taking the MSU job in December of 2019 he was on the staff at Kentucky as the special teams coordinator and helping the Wildcats to back-to-back bowl victories.
He is known for his emphasis on the fundamentals and he promises to continue that approach in his new surroundings.
"First and foremost, the game is all about fundamentals," Hood said at the recent OVC media day. "I want out team to also be known for being tough, hard-nosed and passionate about the approach to the game."
Hood has a solid performer under center to help lead the Racers this season with the return of Preston Rice (6-1, 222, RS, Jr.) who accounted for 2,956 yards of total offense in 2019. He completed 247 of 394 passes for 2,648 yards and 18 touchdowns in 2019.
The veteran signal caller ranked 12th nationally in completions per game (23.42) and 20th in completion percentage (.637) in 2019.
Rice also rushed for 308 yards on 118 carries (2.6 ypc) in 2019.
Hood also has four freshman quarterbacks on the roster all vying for playing time behind Hood.
"Every single position becomes better if you have competition," Hood said.
Malik Honeycutt (6-0, 174, RS, Sr.), a first-team All-American following the 2018 season, also returns to provide the Racers with one of the most dynamic players in the league. He missed all of the 2019 season with an injury.
Honeycutt caught 29 passes for 477 yards in 2018 after transferring from Delta State. An electrifying return specialist, Honeycutt returned a pair of kicks that season for touchdowns, including a 79-yard kickoff return that helped MSU overcome a 31-0 deficit against No. 19-ranked SE Missouri. He also scored on an 80-yard punt return in a final game of the 2018 season against Austin Peay.
"(Honeycutt) can change a game in a moment's notice," Hood said.
SOUTHEAST MISSOURI STATE
Success has become commonplace in recent years at Southeast Missouri State and the Redhawks are looking for things to continue its upward trajectory.
And it all begins along the sideline where coach Tom Matukewicz enters his seventh season leading the program. In his tenure at the school. He has led SEMO to wins over nationally-ranked opponents six times and has guided the Redhawks to 9-4 record in each of the last two season.
That gave SEMO back-to-back winning seasons with eight or more wins for the first time in school history.
The Redhawks, who shared the OVC championship a year ago, advanced to the national playoff for just the third time before losing to
SE Missouri played just one game last fall and lost that contest to arch-rival Southern Illinois 20-17 on a last-second field goal.
Despite the loss optimism is running high in Cape Girardeau as the team prepares to open the spring season against Murray State.
The optimism is also being tempered with a bit of caution as the Redhawks will begin the season with new faces at two important positions.
Gone is former quarterback Daniel Santacaterina, who threw for 1,457 yards and 18 touchdowns in 2019.
Andrew Bunch (6-1, 215, RS, Sr.) is expected to step in and fill the void at that position. A native of Tennessee, Bunch began his collegiate career at Scottsdale Community College before spending the last three years at Nebraska and played sparingly during his time with the Huskers.
Also gone is former standout pass catcher Kristian Wilkerson who caught 71 passes for 1,350 yards in his final season in 2019. Wilkerson is currently playing for the New England Patriots of the National Football League.
But the Redhawks' cupboard is not bare at that position as Aaron Alston (6-1, 210, Jr. WR) appears ready to step in and become a threat on the outside. He caught 51 passes in 2019 for 687 yards and scored four touchdowns.
The focus of the SEMO offense, at least in the early portion of the spring season, is expected to be on the ground.
And why not?
Zion Curtis (5-8, 190, JR, TB) and Geno Hess (5-8, 209, RS, So., RB) both return to carry the ball for the Redhawks after combining for more than 1,200 yards in 2019. Curtis led that tandem with 684 yards on 142 carries (4.8 ypc) and scored five touchdowns on the year. Hess, meanwhile, carried 102 times for 575 yards (5.6 ypc) and scored six times.
The SEMO defense is expected to be led by the return of a pair of standouts in Bydarrius Knighten (6-0, 197, SR. DB) and Omardrick Douglas (6-3, 234, Sr., OLB).
Knighten finished third on the team with 75 (53 solo) tackles in 2019 while intercepting three passes for the Redhawks. Douglas added 31 tackles (14 solo) stops that season, including three tackles for loss and one sack.
TENNESSEE STATE
Not many things have made sense over the course of the last 12 months, but normalcy is finally beginning to be restored on college campuses across the country. The 2020 football season is finally preparing to get underway.
Tennessee State began its preparations for the delayed season on Jan. 23 to ready itself for the opener Feb. 21 at home against Jacksonville State.
The Tigers hope to improve on their 3-9 season in 2019. Whether an improved record materializes will depend heavily on the improvement at the skill positions where spirited competitions are likely going to determine who starts the season against the Gamecocks.
What won't be in question is the fact the Tigers have plenty of talent along the offensive front with the return of Cam Durley (6-6, 315, RS, Sr., OT), Will James (6-4, 305, SR, OL) and Demetrious Cooley (6-2, 280, RS, Sr., C) to protect the quarterback and open holes for the backs move up the field.
Durley, a recent preseason all-conference selection, started 10 games last season at right tackle and was a big reason the Tigers finished third in the OVC in total offense. He was also the anchor of a unit that allowed just 1.75 sacks per game last season, the second fewest in the conference.
Defense appears to be where the Tigers will hang their hat as seven starters return on that side of the ball.
Talented standouts Nick Harper (5-11, 178, RS, Sr., DB) and Josh Green (6-0, 180, RS, So., DB) headline that group of defensive stars, along with Terry Straughter (6-0, 230, JR., LB), the team's leading tackler in 2019.
Harper, who earned all-OVC honors in 2019, finished fifth on the team in tackles with 58 (46 solo) in 2019 while adding two interceptions and 14 pass deflections. Green, meanwhile, was voted to the conference's all-newcomer team a year ago
Straughter tallied 66 total tackles in 2019.
The Tigers also return a pair of talented players on special teams. Kicker Antonio Zita and punter Kaleb Mosley were both chosen to this year's preseason all-conference team. Zita etched his name in the TSU and OVC record books after connecting on 20 field goals last season, while Mosley paced the conference in punting by averaging 42.2 yards per kick.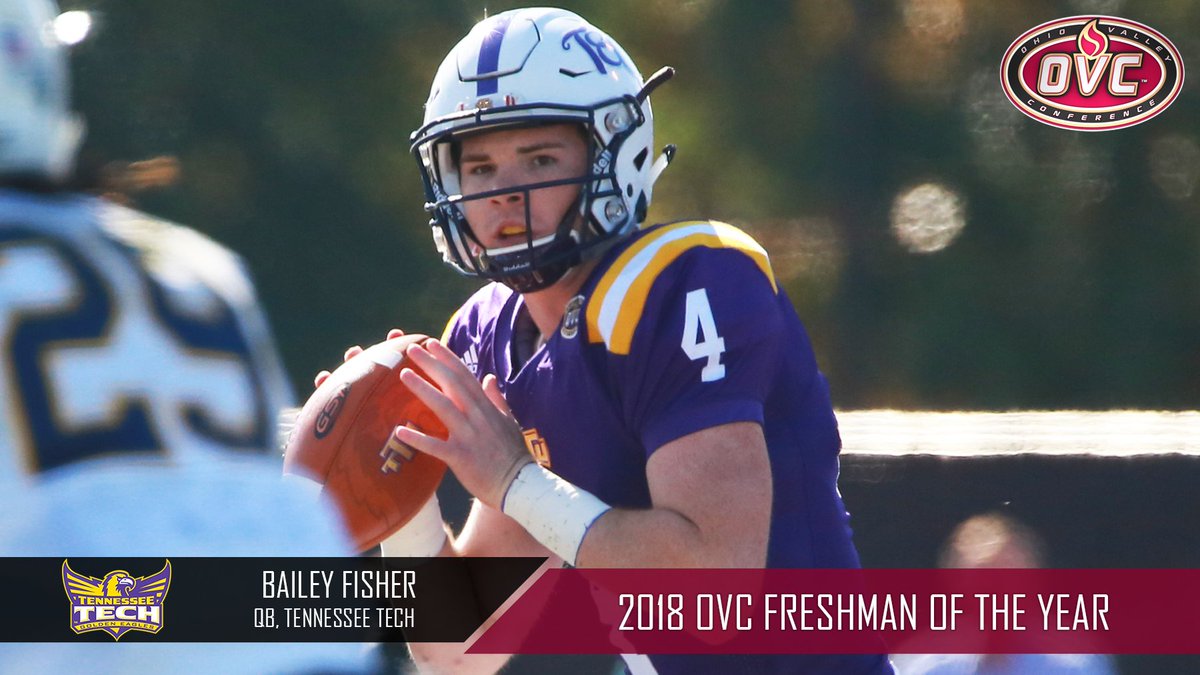 TENNESSEE TECH
As if a pandemic was not enough of a challenge to overcome, Tennessee Tech was forced to stare down other gut-wrenching events forcing the Golden Eagles to begin wondering if things would ever return to normal in and around Cookeville.
The struggles began March 5, 2020 when an EF-4 tornado ravished the college town leaving devastation behind. Nearly two dozen people were killed as a result of nature's fury.
Less than a month later the pandemic caused the halt of spring practice at TTU and a short time later tragedy struck again when Gerald Howse, who had been hired just five months earlier to coach the running backs at the school, died unexpectedly of a heart attack at the age of 28.
Through all the turmoil Tennessee Tech seems to have found a way to keep everything in perspective.
"I think a lot of growth has come out of everything that our community, our school and our football family has had to endure," said TTU Dewayne Alexander. "We have taken on an attitude of gratitude."
Alexander, who is beginning his third year as head coach at the school, returns one of the top players in the league to operate the Golden Eagle offense.
Bailey Fisher (5-11, 205, JR, QB), who became a starter as a freshman, has led the TTU offense over the past two seasons and has continued to improve, according to Alexander.
Bailey, the OVC freshman of the year in 2018, racked up some impressive numbers as a sophomore in 2019. He set school single-season records in completions (231), pass attempts (375), passing yards (2,643) and passing touchdowns (21). He also established new school marks in combined touchdowns (32) and total offensive yards (3,132). He finished the campaign by picking up all-OVC honors as a second-team selection.
"He is one of those players who certainly has the 'it factor,'" the Golden Eagle coach of his talented signal caller.
David Gist (5-11, 190, Jr, RB) is expected to continue to showcase his versatility out of the backfield for the Golden Eagles. Last year he rushed for 548 yards on 124 carries (4.4 ypc) and scored one touchdown. He also caught 32 passes for 423 additional yards (3.2 ypc) and three TDs.
Justin Oden (6-3, 175, So. WR), who caught just six passes for 28 yards and one touchdown last season, is expected to see plenty more action this season and should provide the Golden Eagles with a solid foundation of a young, but talented receiving unit.
Metrius Fleming (6-0, 178, So., WR/RS) will also return to provide Oden with support in the receiving department. Fleming caught 47 passes last season for 629 yards on one touchdown in his first collegiate season. A speedster in the open field, he also returned 18 kicks for 477 yards last season and averaged a whopping 26.5 yards per return for the Golden Eagles.
Mike Rhoades (6-1, 295, Sr. OL) will be in the fold to anchor the offensive front for the Golden Eagles this spring.
The defensive side of the ball will benefit by the return of three players who compiled significant numbers last fall.
Seth Carlisle (6-0, 225, Jr, LB) returns after finishing second on team with 88 (27 solo) tackles last season, including 4.5 tackles for loss. He also had a team-best three interceptions a year ago.
Carlisle will be joined by Chris Tucker (6-2, 270, Sr., DL) and Henry Karimu (6-0, 245, Sr., DL) who combined for 92 tackles a year ago. Tucker tallied 56 (23 solo) stops and had a team-high 13.5 TFLs, while Karimu recorded 36 (11 solo) stops on the year while also posting 5.5 sacks.
Tai Carter (5-9, 180, Jr., DB/LB) will provide plenty of versatility for TTU on defense with his ability to play a number of different spots on the field. He tallied 38 (24 solo) tackles last season and added two forced fumbles and one interception on the year.
UT MARTIN
The Skyhawks rebounded from an uncharacteristic losing season in 2018, the first at the school since 2011, to finish 7-5 (6-2 in conference play) in 2019. Four of the five setbacks came against either FBS teams or teams who advanced to the FCS postseason.
Longtime Martin coach Jason Simpson, the dean of conference coaches, has a chance to move into fifth place in career conference wins. Simpson, in his 15th season at the school, currently sits in sixth place in league history with 87 conference victories and needs just five wins this spring to move up the ladder.
The Skyhawks, who opted out of any games last fall, are set to open the spring season Feb. 21 when they play host to Eastern Illinois.
The path to that coaching milestone for Simpson will be a bit easier with the return of talented quarterback John Bachus (6-2, 215, RS, So.), who completed 188 of 332 passes for 2,549 yards and 18 touchdowns in 2019 on his way to being chosen as the OVC's freshman of the year.
"We were very pleased with (Bachus) in 2019," Simpson said during the OVC's recent virtual media day. "He is a great competitor."
The Skyhawks, with the return of Bachus under center, could have one of the most balanced offensive attacks in the league this spring.
Peyton Logan (5-8, 190, Sr, RB) also returns after leading the team with 784 yards on 109 carries (7.2 ypc) last season and scoring six touchdowns in just nine of the team's 12 contests. Teammate Colton Dowell (6-3, 215, RS, Jr.) returns as a starter at wide receiver. He caught 38 passes for 765 yards (20.1 ypc) last season and scored four times.
Simpson is also looking forward to watching his defense perform this spring. And with good reason.
"We will be untested, but I believe we will be solid on defense," he said, "especially in the secondary."
Safeties JaQuez Akins (509, 185, Sr.) and Takeem Young (6-1, 200, RS, Jr.) both return for the Skyhawks. Akins had 92 total tackles in 2019, including 5.5 tackles for loss and one interception. Young, meanwhile, had 64 total tackles to his credit and picked off two passes on the season.