CSJ'S PREDICTED ORDER OF FINISH
Mountain Division


*1. Boise State
2. Wyoming
3. Air Force
4. Colorado State
5. Utah State
6. New Mexico
West Division
1. Nevada
2. San Jose State
3. San Diego State
4. Fresno State
5. Hawai'i
6. UNLV
* Overall Champion
2020 BOWL RESULTS
Conference Record: 2-1
The 2021 season should provide plenty of intrigue in the Mountain West Conference. A year ago in the shortened COVID-19 season of a year ago, surprising San Jose State won the MWC crown with its win over Boise State in the MWC title game. San Jose State went to play Ball State in the Arizona Bowl but fell to the MAC champions 34-13.
Nevada and Hawai'i were the only other MWC teams to play in the abbreviated bowl season of last year with both picking up wins over their AAC opponents of Tulane and Houston.
San Jose State will look to win the conference again after winning a conference title for the first time in their Mountain West Conference history and the their first conference title anywhere since winning the now defunct Big West Conference title in 1990.
The Spartans will have a tough schedule this year with Southern Cal and Western Michigan on the road in their non-conference action, while also having to play at Nevada in what might be for the West Division crown.
SJSU QB Nick Starkel and Nevada QB Carson Strong could be one of the top signal caller battles this year not only in the MWC but all of college football.
Starkel started all eight games last year for the Spartans and threw for 2,174 yards and 17 touchdowns. He was also named Offensive MVP of the Mountain West championship game after throwing for 453 yards and three touchdowns in the win over Boise State.
Strong was named the Mountain West Offensive Player of the Year a season ago and is on most NFL Draft watch list as he enters into his junior season. He paced the Mountain West in passing yards (2,858), passing touchdowns (27), completion percentage (70.1).
In the Mountain Division, this has been owned by Boise State after the Broncos have won the last four straight division crowns and the Broncos look to make it five in a row this year. The Broncos with star WR Khalil Shakir look like the pick again this year. Shakir often looked like a one-man wrecking crew in the Broncos' passing game a season ago. He took a huge volume of targets to average 7.4 catches and 102.7 receiving yards per game.
The biggest threat to Boise State being a five straight year divisional champion looks to be Wyoming. The Cowboys are a smash mouth running type of offense with a powerful defense. Wyoming returns
Outside of the playing surfaces, the Mountain West Conference Commissioner Craig Thompson has been a part of this off-season's push for a larger College Football Playoff field. He and the rest of the committee members have concluded that expanding to 12 teams in the playoff is the future direction. Also, the playoff will bring in the six highest ranked FBS conference champions with the four top getting byes in the first round and the remaining six teams will be at-large selections. This is expected to be voted later this fall to see if and when this playoff expansion will happen.
TOP OUT-OF-CONFERENCE GAMES, FALL 2021
There are a number of key games outside of league play that will play a vital role if the MWC wants to get back into contention for a New Year's Six Bowl game. Here are the ten key games that will help determine if the MWC champion will be considered for that game:
Sept. 4 – Boise State at Central Florida
Sept. 4 – Nevada at California
Sept. 4 – San Jose State at Southern California
Sept. 11 – Air Force at Navy
Sept. 11 – San Diego State at Arizona
Sept. 18 – Oklahoma State at Boise State
Sept. 18 – Nevada at Kansas State
Sept. 18 – Utah at San Diego State
Oct. 9 – Boise State at BYU
Nov. 6 – Army vs. Air Force (Arlington, Tex.)
TOP CONFERENCE GAMES, FALL 2021
There are a number of key games within league play. Below are 12 games that I feel will be key ones in determining the MWC division champions:
Oct. 2 – Nevada at Boise State
Oct. 9 – Wyoming at Air Force
Oct. 16 – Air Force at Boise State
Oct. 16 – San Diego State at San Jose State
Oct. 23 – Nevada at Fresno State
Oct. 30 – Wyoming at San Jose State
Nov. 6 – San Jose State at Nevada
Nov. 13 – Wyoming at Boise State
Nov. 13 – Nevada at San Diego State
Nov. 20 – Air Force at Nevada
Nov. 27 – Boise State at San Diego State
Nov. 27 – Fresno State at San Jose State
MOUNTAIN DIVISION
6. New Mexico Lobos
Coach: Danny Gonzales (Second Season, 2-5 @ UNM & overall)
Offensive Coordinator: Derek Warehime
Defensive Coordinator: Rocky Long
Stadium: Dreamstyle Stadium (39,224 capacity)
Location: Albuquerque, New Mexico
2020 Record: 2-5 (2-5 MWC)
New Mexico played the 2020 season completely on the road due to COVID-19 restrictions the state had for traveling into and out of the state. The Lobos did win two games at the end of the season but could have been better as they either led or were tied in every game going into the second half of each contest. The team brings back 14 seniors from last year's team that get a second senior season with the NCAA ruling of allowing another year of eligibility so this team will have some veteran leadership.
The big question though for New Mexico will be at the quarterback position. Tevaka Tuioti was possibly the best signal caller last season when he was healthy. Trae Hall led the team in passing, and Isaiah Chavez led the way to the team's two wins in the final two games. The team also brought in Kentucky transfer Terry Wilson, who threw for 1,187 yards with seven TDs and four INTs but more glaring was he led the Wildcats to a 17-8 record when he was their starter.
Behind the quarterback, the Lobos will likely use a four or possibly five man rotation at the running back spot. Senior Bobby Cole will likely be the starter but sophomores Bobby Wooden, and Chad Alexander, as well as freshman Aaron Dumes will likely get carries as well.
At the wide outs, senior Mannie Logan-Green will lead the team again after he led the team last year in receiving with 30 catches for 277 yards. Also, Andrew Erickson is a good-sized veteran who can stretch the field. However, the Lobos most dangerous receiver in Jordan Kress transferred to MWC rival Colorado State.
The UNM offensive line showed last year if can handle the run game but was not so good in the pass game. The group returns four starters that is highlighted by C Kyle Stapley, who was one of the players to take advantage of getting another year of eligibility.
The New Mexico defense last year welcomed back for head coach Rocky Long as the defensive coordinator. His defense last year though was quite simply the worst in the Mountain West. In their seven games, the Lobos allowed 21 pass plays of over 30 yards. It also allowed over 32 points per game as well. These statistics will need to improve for the team to improve their win total.
The fight to get better starts upfront and DE Joey Noble should led this group after he led the team with four sacks in 2020, 280-pound seniors Ben Gansallo is a decent option on the nose, and most of the depth up front is back.
Leading tackler Brandon Shook is gone from the linebacking corps, and there's not a lot of size, but Devin Sanders is a decent tackler who can work inside or out.
As mentioned with the pass game, the secondary had its problems in 2020 but almost everyone is back around All-MWC CB Jerrick Reed II, who came up with a team-high four interceptions and was fourth on the team with 33 tackles.
5. Utah State Aggies
Coach: Blake Anderson (First Season, 0-0 @ USU, 51-37 overall)
Offensive Coordinator: Anthony Tucker
Defensive Coordinator: Ephraim Banda
Stadium: Maverik Stadium (25,100 capacity)
Location: Logan, Utah
2020 Record: 1-5 (1-5 MWC)
Coach Gary Andersen departed mid-way through the pandemic shortened 2020 season with a record of 7-9 (6-5) during the unsuccessful second tenure with the Aggies. Frank Maile took over and went 1-2, getting the Aggies their first and only win against New Mexico. Maile is also now gone after taking the defensive line coaching position at MWC rival Boise State.
Utah State welcomes new Coach Blake Anderson, who comes to Logan from Arkansas State, where he coached from 2014-2020. Anderson led the Red Wolves to six bowl games in seven seasons and two bowl wins to try to bring those kind of results for the Aggies.
On offense, the quarterback spot likely will be a familiar face for new Coach Anderson. He brought his former Arkansas State QB Logan Bonner with him and he will be in line to be the starter for USU this fall. He threw for 1,863 yards and 18 touchdowns last year for the Red Wolves.
Four starters return on the offensive line and be led by OG Demytrick Ali'ifua, who was the lone Aggie to earn a All-MWC spot a season ago.
The running back and wide receiver spots are a bit unknown commodities for the Utah State this year. TE Carson Terrell is the most experienced receiver back this fall, as is WR Justin McGriff, who led the team in 2020 with 185 yards and two touchdowns.
The Aggie defense might be the better side of the ball this year with a number of retruning starters and a few key transfers. Last year though, gave up big plays and Utah State ranked 120th in total defense, allowing a very concerning 485.3 yards per game.
The improvement should happen with the return of S Shaq Bond, CB Xavion Steele, CB Zahodri Jackson, DE Nick Heninger, LB AJ Vongphachanh (who led the team with 50 tackles), LB Kevin Meitzenheimer (who forced three fumbles), and LB Cash Gillam.
The Aggies also bring in notable transfer talent that should have immediate impact in LB Justin Rice (Arkansas State), DT Aurion Peoples (College of the Canyons), DE Byron Vaughns (Texas), and DE Patrick Joyner Jr (Miami, FL).
The special teams should again be special in the kick return side with returner Savon Scarver, who also should play a role in his normal WR spot. In his career, he has six kickoff returns for touchdowns. He only needs one more to tie the NCAA record with Houston's Tyron Carrier and San Diego State's Rashaad Penny.
4. Colorado State Rams
Coach: Steve Addazio (Second Season, 1-3 @ CSU, 58-38 overall)
Offensive Coordinator: Jon Budmayr
Defensive Coordinator: Chuck Heater
Stadium: Canvas Stadium (41,000 capacity)
Location: Fort Collins, Colorado
2020 Record: 1-3 (1-3 MWC)
Colorado State looks to bounce back in 2021 after a four game 2020 season that saw the Rams win just once. The team scored on average just 22 points per game while allowing nearly 36. This year's team returns almost all the starters from a year ago so there is some optimism for Coach Steve Addazio's squad to improve in the Mountain West standings.
The offense stars possibly two of the best receiving threats in the conference in TE Trey McBride and WR Dante Wright. McBride led the team with four touchdowns and also led the team in scoring with 24 point. He also led the team with 22 receptions for 330 yards. Wright on the other hand, played in just three games last season, but gained 315 yards for 15.8 per reception.
The offensive line returning all 5 starters for the Rams and will be helping out a new running back from Coach Addazio's old school in Boston College in David Bailey. He is a multi-dimensional back who led the Eagles last season in rushing and accumulated 844 yards as now NFL performer AJ Dillon's backup in 2019. Though he saw his role increase last season, he struggled to maintain the same efficiency as he had as the backup in 2019, seeing his yards/carry drop from 5.7 to 4.0. He hopes a change of scenery will get him back where he was two years ago for his first season in Fort Collins.
Another Boston College transfer in QB Matt Valecce was set to take over the signal calling duties this fall but he unfortantely was injuried in fall practices and is out for the season after suffering a lower body injury,
He was brought in as someone with three seasons of college experience and overtook last year's starter Todd Centeio for the starting job in spring ball. Centeio played in three of CSU's four games in 2020, but he battled injuries suffered in the first game. He completed just 14 of 36 passes for 207 yards in 2020 but will likley now be the starter going into this season.
The defense is the biggest question mark for the Rams this fall–just as it was last season. CSU had a sieve in the defensive backfield, allowing 250 passing yards per game in Addazio's first season. Overall, CSU ranked 104th out of 127 2020 FBS teams in college football scoring defense.
The area though that is the strength of the defense is the pass rush. In just the four games they played in 2020, the team racked up 16 sacks. Leading the front again will be Scott Patchan, who had five and a half sacks and seven and a half tackles for a loss. Not to be outshined, the Rams also bring back Toby McBride (Trey McBride's younger brother), Manny Jones, Devin Phillips, and Ellison Hubbard up front in arguably the best group of defensive front in the MWC.
One area the Rams shine is the punting game. P Ryan Stonehouse is one the nation's best punters and is the only punter in MWC history to be named on the All-MWC that many times. He also currently ranks No. 1 in NCAA history for career punting average 46.8 yards per punt.
3. Air Force Falcons
Coach: Troy Calhoun (15th Season, 101-72 @ USAF & overall)
Offensive Coordinator: Mike Thiessen
Defensive Coordinator: John Rudzinski
Stadium: Falcon Stadium (46,692 capacity)
Location: Colorado Springs, Colorado
2020 Record: 3-3 (2-2 MWC)
Air Force was one team in the MWC to play multiple non-conference games last year as it played against its two military instustion rivals of Navy and Army. The Falcons split those two contests while also spliting their four MWC games. That was the tone for the season overall for Air Force.
The team lost two the two MWC division champions of Boise State and San Jose State but beat up New Mexico and Utah State. There is, however, optimism coming this year's team with much of the offense that returns after leading the country in rushing a year ago with 305.7 rushing yards per contest.
The quarterback spot was in question last year after prior starter Donald Hammond III was a cadet but was "no longer a cadet in good standing" and could not play a season ago. This led to sophomore Haaziq Daniels getting the call with no prior experience at the collegiate level. But he was able to run the option game for the Falcons to a tee and should only be better after six games of experience from last year.
Air Force's leading rusher from 2020 in RB Brad Roberts returns this fall. He tallied a team-highs in carries (64), rushing yards (461) and rushing touchdowns (5) in just four games. He finished second behind another capable and returning Falcon RB Brandon Lewis in yards per carry (9.0).
In typical triple-option fashion, the Falcons ran the ball 78.5 percent of its plays last season, the second-highest percentage nationally (Army – 87.3 percent).
Given that statisic, only one player was able to have double digit recptions and that was TE Kyle Patterson, who is another returning player. He haulled in a team-high 12 catches for 205 yards with two of the team's three receiving touchdowns.
While the speciality players mostly return, the area of concern is the offensive line. Air Force loses three All-Conference offensive linemen from a year ago — Nolan Laufenberg (first team), Parker Ferguson (first team) and Kyle Krepsz (Honorable Mention). The unit should be headed by seniors Cody Mercer, Hawk Wimmer and Kris Campbell.
The defense was inexpericed coming into 2020 mainly due to players opting out of the 2020 COVID-19 plagued season but now have a very seasoned group with many of those backups playing last year and many of those that opted out in 2020 are back for 2021. Despite a number of new starters in 2020 though the Falcons finished atop the Mountain West in scoring defense (15.0 ppg) — its best mark in over two decades — and passing defense (166.8 ypg).
The group of players coming back after a COVID-redshirt include CB Milton Bugg III, LB Demonte Meeks, LB Lakota Wills, and DE Jordan Jackson. All will face still competion from the starters last year but will create a good problem for Coach Troy Calhoun's squad.
The linebacker group should be the strength of the defense with Meeks (team high 98 tackles in 2019) and Willis (36 tackles with six tackles-for-loss in 2019) heading the group after both had a season off.
S Corvan Taylor is the Falcons' top returning tackler from last year and is one of their leaders in the secondary along with the returning Bugg. The safety racked up 33 tackles with three pass breakups and recorded two of the team's five total interceptions.
2. Wyoming Cowboys
Coach: Craig Bohl (Eighth Season, 38-44 @ Wyo, 142-76 overall)
Offensive Coordinator: Tim Polasek
Defensive Coordinator: Jay Sawvel
Stadium: War Memorial Stadium (29,181 capacity)
Location: Laramie, Wyoming
2020 Record: 2-4 (2-4 MWC)
Coach Craig Bohl is entering his eighth season as Wyoming's head coach but is coming off just a two-win season (2-4 in six games), which was the worst season since his second year in Laramie in 2015 (2-10). The Cowboys rebounded in the 2016 season to win the program's only MWC division crown in its history and was Bohl's first bowl season in his tenor that season.
Coming off just two wins there might not seem like a team that might contend for a MWC crown but this team will be better mainly with the return of QB Sean Chambers. The starter two years ago is though having a rough time staying healthy – he was only able to play one game last year after suffering a knee injury the year before. Another reason for optimism is the hiring of Offensive Coordinator Tim Polasek, who comes to Larimie to rejoin Bohl after the two were together for three national titles at FCS North Dakota State.
Wyoming ranked 14th in the FBS in rushing last season (219.5 yards per game) but averaged just 153.3 passing yards per contest so the key for the offense will be how well Chambers or last year's majority starter Levi Williams, who gained valuable experience in place of Chambers. Williams though completed just 49.6 percent of his passes last season for 877 yards with one touchdown and three interceptions.
Last year's top two pass-catchers, WRs Ayden Eberhardt (252 yards) and Isaiah Neyor (248 yards) are also returning. Valladay was their third-leading receiver in 2020.
But what the Cowboys like to do is run the ball and what Bohl and Polasek had at NDSU was typically a two back committee and that should be the case this season for Wyoming. The 1-2 running back punch of Xazavian Valladay and Trey Smith was good for over 1,000 yards and nine touchdowns with over 5.5 yards per carry a year ago and likely will put up similar numbers this season.
These two backs will get their yards behind a solid line with all five starters expected back. OG Logan Haris and OC Keegan Cryder should head this talented squad.
The two win season was not because of the defense. Last year, the group finished 16th in the nation after it allowed 21 points per game. The Cowboys held four of the six teams on the slate to 17 points or fewer. And the good news is that 10 starters are back this season.
LB Chad Muma led the conference and was third nationally in tackles per game last season with 11.8. Senior Garrett Crall and sophomore Solomon Byrd at defensive end give Wyoming two solid bookends along the line. Byrd opted out last season, but he led Wyoming with 6.5 sacks in 2019.
Sophomore cornerback C.J. Coldon led the Cowboys with two interceptions, and senior free safety Esaias Gandy had 44 tackles; both earned all-conference honors in 2020. Wyoming gets back sophomore free safety Rome Weber, who opted out last season.
1. Boise State Broncos
Coach: Andy Avalos (First Season, 0-0 @ BSU & overall)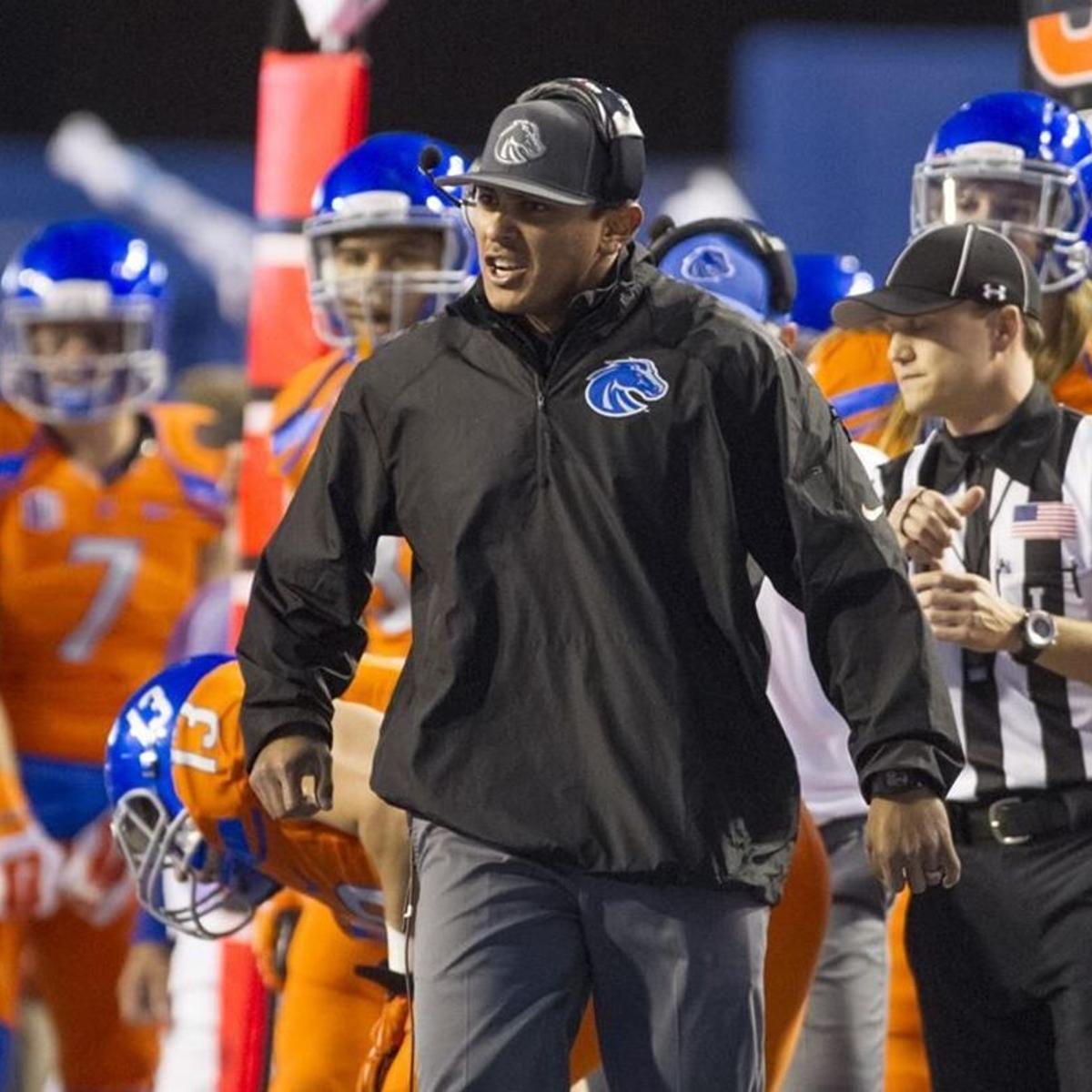 Offensive Coordinator: Tim Plough
Defensive Coordinator: Spencer Danielson/Kane Ioane
Stadium: Albertsons Stadium (36,387 capacity)
Location: Boise, Idaho
2020 Record: 5-2 (5-0 MWC)
Boise State won the Mountain Division again last year but were ousted by San Jose State and were also blown out by BYU. Former Coach Bryan Harsin was hired away from Boise by Auburn. Replacing Harsin is Andy Avalos, who spent the last few years as the Oregon defensive coordinator after working the same role at Boise State previous to that.
Avalos is stepping into one of the best first-year situations for a college football coach in 2021. The Broncos return 16 starters from a team that went 5-2 in the abbreviated 2020 season. Boise State has two capable quarterbacks in Jack Sears and Hank Bachmeier, and senior Khalil Shakir leads a talented group of receivers. Avalos' background is on defense, which is good news for a unit that took a step back last season that both San Jose State and BYU exploded.
The Broncos finished No. 1 in scoring offense in the Mountain West with 33.9 points per game but faded in its last two games. But with a lot of talent back, they should be in that position to replicate that average in 2021.
Both quarterbacks in Backmeier and Sears bring in much experience but the passing game has not been quite the same over the past few seasons. New offensive coordinator Tim Plough comes over from FCS UC Davis with a high-octane passing game so there could be some changes coming in better creating better passing outputs.
The one area without a question is the top receiver in Shakir. But the question if the offense will bring more passing will be who will be the number two pass catcher. Shakir ended the shortened 2020 season with 52 catches which was more than the next three Broncos receivers combined.
The Broncos return four starters on the offensive line. The unit though failed to create much room for the running game a season ago. The Broncos had its worst season since 1993 with just 107.1 yards per game and 3.3 yards per carry. The return of RB George Holani — a 1,000-yard rusher in 2019 — is a big plus after injuries limited him to just 19 carries in 2020. Oregon transfer Cyrus Habibi-Likio should give a nice second back to help keep both fresh.
The Broncos defense only had two interceptions last season, and they lose both starting cornerbacks. There is optimism that new head coach Andy Avalos can help bring back the attacking style he implemented as Boise State's defensive coordinator from 2016-18.
On the line, a lot of talent and experience returns, including senior DE Shane Irwin, who had a team-high six sacks. Junior DT Scott Matlock is coming off a good season plugging the middle and also had 4.5 tackles for a loss in 2020.
The linebacker corps has good tacklers, including senior Riley Whimpey (7.5 TFLs in 2020), who should head this group.
Two great corners – Avery Williams and Jalen Walker – are gone, but the secondardy will have veteran S Kekaula Kaniho back after he had 32 tackles as season ago.
WEST DIVISION
6. UNLV Rebels
Coach: Marcus Arroyo (Second Season, 0-6 @ UNLV & overall)
Offensive Coordinator: Glenn Thomas
Defensive Coordinator: Peter Hansen
Stadium: Allegiant Stadium (65,000 capacity)
Location: Las Vegas, Nevada
2020 Record: 0-6 (0-6 MWC)
The Rebels are coming off a tough 0-6 year under Coach Marcus Arroyo's first season. This second year allowed him to have a standard spring and fall camp heading into 2021. There is some talent on this team with RB Charles Williams, WR Kyle Williams, and LB Jacoby Windmon to name a few.
UNLV scored just 17.3 points per game with an average point differential of 20.3 points — both the ninth-worst marks nationally. It had inconsistent quarterback play throughout the season and couldn't generate any success on either side of the ball.
The quarterback play for for this year will come down to a three player battle for the starting spot. Former TCU transfer Justin Rogers, Miami transfer Tate Martell III and Doug Brumfield will all compete for the starting quarterback spot this fall.
Last season, Rogers appeared in only two contests where he threw for 161 yards with one touchdown. Brumfield also played in two games as a freshman and threw for 151 yards without a touchdown or interception. Martell's recent transfer completely changes the complexion of UNLV's quarterback race and might be his to lose.
Two years removed after recording the seventh-most rushing yards in school history with 1,257, RB Charles Williams had a down 2020 . He rushed for 495 yards on 116 carries — equating to 4.3 yards per carry, nearly two yards fewer than the year prior (5.9) — with a team-high four touchdowns. He will hope to get back to his 2019 self this year.
WR Kyle Williams was UNLV's breakout receiver in 2020 after he tallied team-highs in receptions (35) and receiving yards (426).
The Rebels' offensive line is one of their most formidable units offensively with OG Julio Garcia, an All-Mountain West honorable mention honoree in 2019, leading the group up front.
The Rebels defense allowed 482 yards and 38 points per game, having the biggest problem against the run. The Rebels allowed 34 points or more in all six games, but all 11 starters are back so experience should be a key to an improved performance.
Kolo Uasike and Eliel Ehimare lead its three-man front. NT Uasiketallied 17 tackles with a pair of sacks last year. Ehimare also had two sacks with 14 tackles in 2020.
USC transfer Connor Murphy could add interior pressure opposite of Ehimare. In 50 career contests with the Trojans, he totaled 18 tackles, 1.5 tackles-for-loss, one sack and two fumble recoveries.
Its top two sack leaders from a year ago were LB Jacoby Windmon, UNLV's only All-Conference member last year, and Adam Plant Jr.
5. Hawai'i Rainbow Warriors
Coach: Todd Graham (Second Season, 5-4 @ UH, 100-65 overall)
Offensive Coordinator: Bo Graham
Defensive Coordinator: Victor Santa Cruz/Jacob Yoro
Stadium: Clarence T.C. Ching Complex (9,000 capacity)
Location: Honolulu, Hawai'i
2020 Record: 5-4 (4-4 MWC)
The big news for Hawai'i late in the 2020 season was that their home stadium of Aloha Stadium was closed and will eventually be torn down and replaced. This is expected to be completed by the start of the 2024 season but could be delayed longer into the future. The Rainbow Warriors will play at least next few seasons at the much smaller Clarence T.C. Ching Complex that is on campus.
On the field, Hawai'i was one of two MWC teams that picked up a bowl win in 2020. The Warriors under new Coach Todd Graham, finished with a 4-4 conference mark and defeated Houston in the New Mexico Bowl to get a winning record for the third year in a row.
QB Chevan Cordeiro is a signal caller that can use both his arm and legs, He was the first quarterback to lead the Warriors in rushing yards since Michael Carter in 1991. In Coach Graham's offense it is more heavy on the run which is a sharp difference from the former run-and-shoot style they ran before his arrival.
The top RB in the backfield will be Dae Dae Hunter, who averaged just over 4 yards per carry a season ago and very well could have a similar season this year. He will be joined by FCS Howard transfer Dedrick Patson, who in 20 career games, accumulated 1,553 rushing yards, 409 receiving yards and 12 total touchdowns.
But the most exciting player for the Warriors on offense has to be Calvin Turner Jr. Last season, Turner Jr. lined up at running back, wide receiver, quarterback and returned kickoffs and punts and actually scored 11 touchdowns in three different ways (receiving, rushing, punt return).
The rushing and passing games should be aided by an experienced offensive line that returns three long-time starters with OT Ilm Manning and OG Solo Vaipulu leading the way (both three year starters).
The big question mark on defense is stopping the run. Hawai'i ranked 105th in that category in the FBS after surrendering 211 yards on the ground per game in 2020. Ten starters are back for the Warriors this year and should get better a year into the defensive minded head coach Graham.
LB Darius Muasau is a big hitter on the inside, and he's got veterans around him who'll attack the ball. The defensive backs can all hit, starting with part linebacker, part safety, all-baller Khoury Bethley – he made 153 tackles over the last two years.
The secondary has two stars in CB Cortez Davis and S QUentin Frazier back after both were named to the All-MWC squad a year ago.
4. Fresno State Bulldogs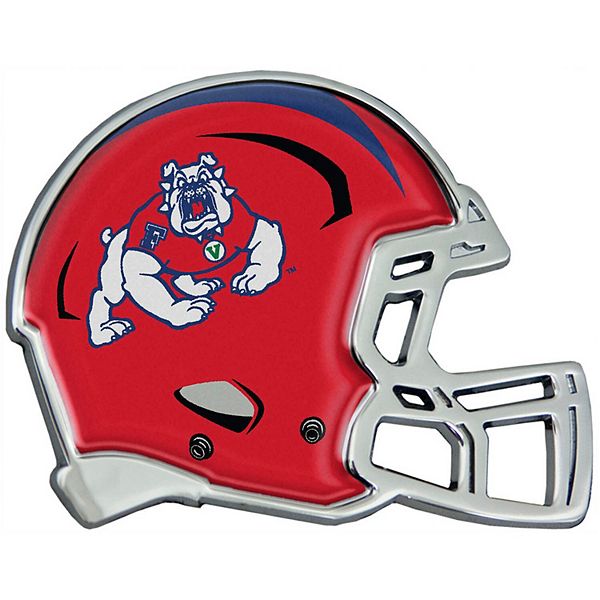 Coach: Kalen DeBoer (Second Season, 3-3 @ FSU, 70-6 overall)
Offensive Coordinator: Ryan Grubb
Defensive Coordinator: William Inge
Stadium: Bulldog Stadium (40,727 capacity)
Location: Fresno, California
2020 Record: 3-3 (3-3 MWC)
Fresno State started the shortened 2020 season with a 3-1 but COVID-19 seemed to doom the team for first year Coach Kalen DeBoer. The next two games against their two other California MWC (San Jose State & San Diego State) squads were canceled because of the protocol and the Bulldogs had nearly a month between games in November into December before playing again. The span hurt the team as it was blown out by Nevada and lost to lowly New Mexico in its season finale.
For the 2021 season, Fresno State will welcome back nine starters both on offensive and defense in the hopes it can build on the start from last year.
QB Jake Haener, who transferred from Washington before last season, was their starting quarterback but not until around the mid-point of their season a year ago. Despite not playing the full season, he had a really strong campaign, completing 64.7% of his passes while throwing for 14 touchdowns and five interceptions and averaging 336.8 passing yards per game and will be the clear-cut starter to begin this year.
The pleasant surprise for the Bulldogs this year is RB Ronnie Rivers coming back after using the NCAA extra year clause and not turning pro. He already tied for the school record in career TDs (44), and will likley have the school record to himself by coming back.
Sophomore Jalen Cropper was the team's leading receiver a year ago. He captured in 37 receptions for 517 yards and five touchdowns and earned a Mountain West All-Conference honorable mention. He sould again be the lead receiver this fall.
The line is the one question mark for the Bulldogs on offense. It ranked 124th in the FBS in sacks allowed so protecting Haener will be a big improvement it needs to make upfront.
Fresno State's defense ranked third in the nation in sacks per game last year (4.17) with 12 players getting in on the action. DE David Perales was a second-team all-MW pick after forcing fumbles in four consecutive games, the first time a Bulldog managed that in at least two decades. DT Kevin Atkins, the team's most veteran player with 32 career starts, and DE Kwami Jones are both coming off five-sack campaigns.
Another star on defense might be in the "Husky" defense position that is a hybrid linebacker/safety. That role had Justin Houston play that role later in the season and he should have a full season to improve his skills in this postion.
3. San Diego State Aztecs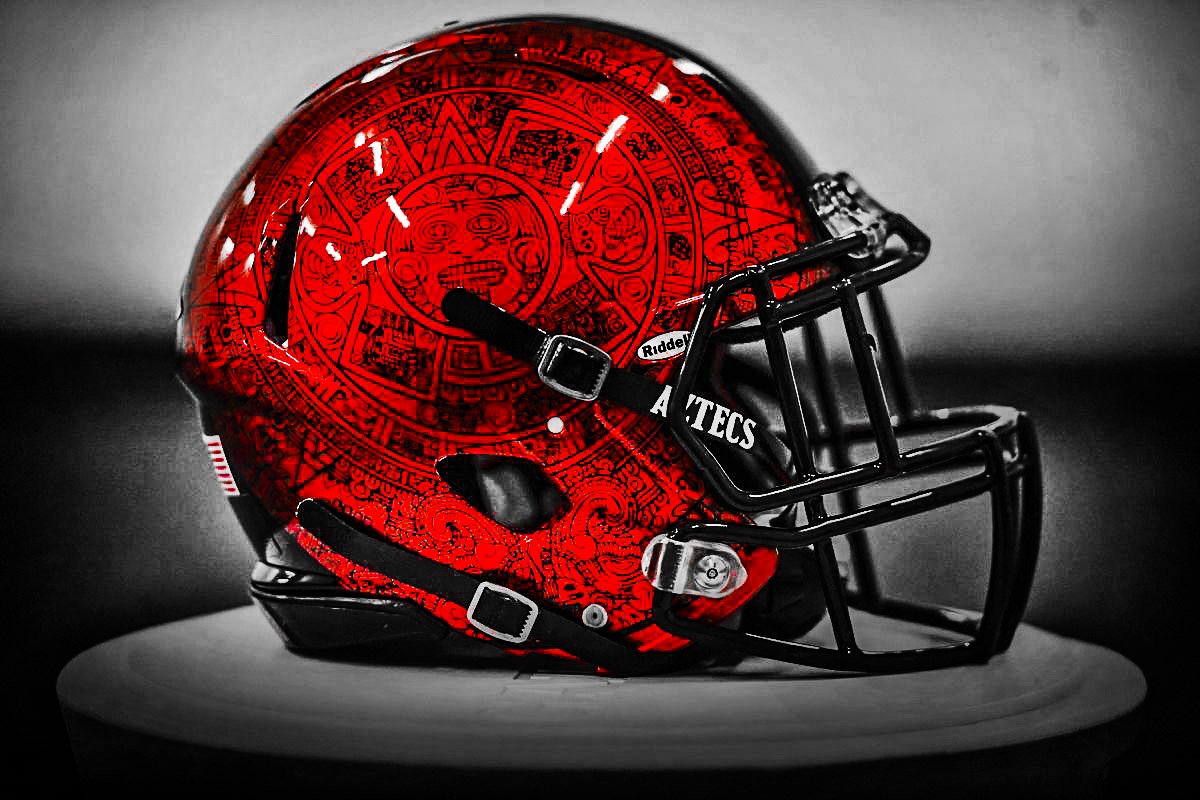 Coach: Brady Hoke (Fourth Season, 17-16 @ SDSU, 82-76 overall)
Offensive Coordinator: Jeff Hecklinski
Defensive Coordinator: Kurt Mattix
Stadium: Dignity Health Sports Park (27,000 capacity)
Location: San Diego, California (home games in Carson, CA)
2020 Record: 4-4 (4-2 MWC)
The 2020 season for San Diego State was a tale of two season within one shorten one. The Aztecs started the season 3-1 but then ended 1-3 to finish at the .500 mark overall. The team played its games in the Los Angles area of Carson (111 miles north of San Diego) and will again play its home games in Carson again. Its new stadium in San Diego that will be the Aztecs new home is expected to be ready at the start of next season.
The biggest offensive question will be at quarterback for SDSU. Last year's statistical leader in Carson Baker led the team with 617 passing yards and three touchdowns but he has transferred to Western Kentucky. Two other signal callers in Lucas Johnson and Jordon Brookshire both got limited time and both will be in a fall race with transfer Jalen Mayden from Mississippi State to get the starting nod.
Whichever quarterback wins the spot, he will have another Mississippi State transfer in WR Tyrell Shavers possibly as the biggest receiving threat but includes seven others that have had playing time last year. Another receiving threat will be All-MWC TE Daniel Bellinger, who had 21 catches for 203 yards last year.
The offensive line will be headed by OT Zachary Thomas but he is just one of two returnees back so this group will be the one with the least experience.
If the line can gel though, it should be able to handle the team's strong running game. The team rushed for over 200 yards per game last year led by RB Greg Bell, who himself had 537 yards on the shortened season a year ago. Keeping him healthy will be a key for this team as he was hampered with an Achilles injury later in the schedule and the running game was less without him.
The defense was definitely the strength of the team a year ago as it ranked third in all of FBS in total defense (283.5 yards per game). The secondary will be the key area to replace three starters that either were drafted or signed NFL free agent deals this past spring in S Tariq Thompson, S Dwayne Johnson, Jr., and CB Darren Hall. Returners CB Taylor Hawkins and S Trenton Thompson will be the key to keeping this group performing at a similar level as last year.
The defensive line has two All-MWC performers in Cameron Thomas and Keshawn Banks back here. The two are great run stoppers but will need to improve on helping with the pass rush.
LB Caden McDonald should be the leader of the linebackers. He had 4.5 sacks a year ago and likely will be asked to be one of the key pass rushers again this fall.
2. San Jose State Spartans
Coach: Brent Brennan (Fifth Season, 15-30 @ SJSU & overall)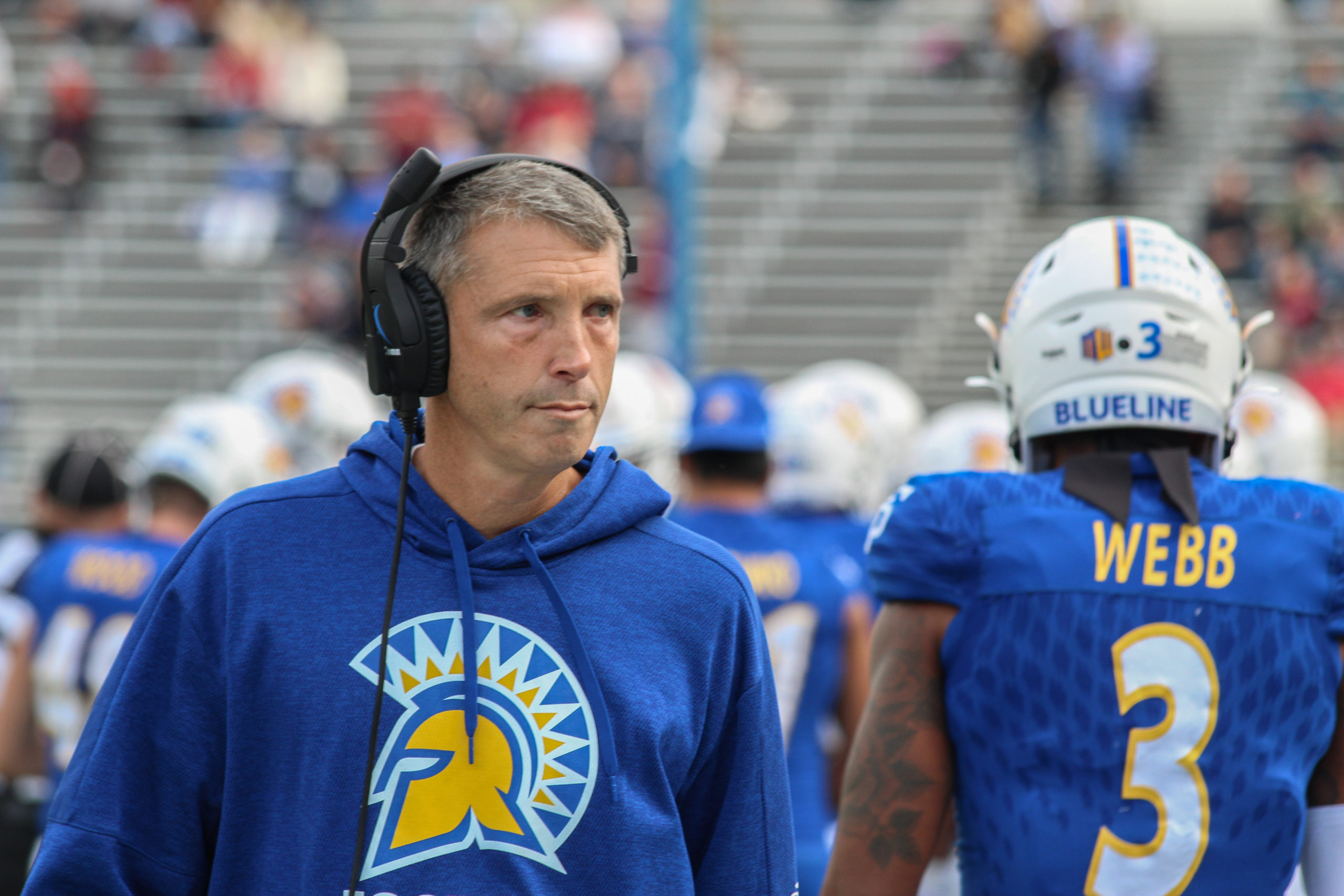 Offensive Coordinator: Kevin McGiven
Defensive Coordinator: Derrick Odum
Stadium: CEFCU Stadium (30,456 capacity)
Location: San Jose, California
2020 Record: 7-1 (6-0 MWC)
San Jose State was unquestionably the biggest surprise in the MWC last season. The Spartans went undefeated in the regular season for the first time since 1939 and also won the MWC championship with its win over Boise Sate in the conference's title game.
SJSU did lose the Arizona Bowl to Ball State 34-13 but it did play in a bowl game for the first time since a 2015 Cure Bowl win over Georgia State. The team should again be in the bowl game race this year and the game at Nevada in November very well could be for the division crown.
The Spartan offense will again be headed by QB Nick Starkel. He threw for 2,174 yards and had 16 touchdowns and four interceptions in the regular season prior to a three-pick performance in SJSU's bowl loss.
Starkel will need to find some new receivers this fall as last year's top to pass catchers ( are gone but he does have TE Derrick Deese, Jr., who had a team high five touchdown receptions a year ago.
All five offensive linemen are back this fall with NFL draft hopeful OT Jack Snyder leading the way upfront.
The running game will be a two-man combo with RBs Tyler Nevens and Kairee Robinson were a very formidable one-two combination. Nevens rushed for 515 yards on 7.8 yards per carry — the fourth-highest mark nationally among players with at least 500 rushing yards — with a team-high five touchdowns. Robinson had a team-high 82 carries for 345 yards (3.8 ypc) with two rushing touchdowns, adding 19 receptions for 156 yards.
On defense, ten starters from last year are back. The defense put up some impressive numbers in their undefeated regular season. The Spartans ranked in the top-30 nationally in scoring (19.9 ppg; 15th) and total defense (346.1 ypg; 26th).
The Spartans defense, which ranked in the top 30 in all of FBS in scoring (19.9 ppg; 15th) and total defense (346.1 ypg; 26th), returns all but one starter. The star of the defense is the reigning MWC Defensive Player of the Year in DE Cade Hall, who finishing second nationally in sacks per game as one of only four players in the country with double-digit sacks (10.0 in only seven games).
Hall is joined upfront by fellow first-team All-MWC honoree DE Viliami Fehoko, who tallied a team-high 12.5 tackles-for-loss with 36 tackles a season ago.
San Jose State returns its top tackler LB Kyle Harmon, who had 78 tackles in the Spartans seven games. He will be joined by fellow seniors Tysyn Parker, Alil Matau and Hadari Darden in the linebacker group with much experience.
The Spartan secondary will have CBs Nehemiah Shelton and Kenyon Reed back along with safety Tre Jenkins, who was second-team All-MWC. Jenkins was third on the team in tackles with 42, tallying two of the team's three interceptions last season. Shelton was fourth with 38 tackles and four pass breakups.
1. Nevada Wolf Pack

Coach: Jay Norvell (Fifth Season, 25-22 @ UNR & overall)
Offensive Coordinator: Matt Mumme
Defensive Coordinator: Brian Ward
Stadium: Mackay Stadium (30,000 capacity)
Location: Reno, Nevada
2020 Record: 7-2 (6-2 MWC)
Nevada raced out with five straight victories to start the 2020 season but then fell at Hawai'i and San Jose State in the teams final three games. The Wolf Pack rebounded to finish strong with a win in the Idaho Potato Bowl against Tulane to get one of the two bowl victories for the conference.
Last year, the Wolf Pack ranked 12th in all the FBS in passing offense and 30th in total offense. It was a dynamic offense the plays the "Pack Attack" which is a spread passing offense but still has a rushing attack to go with it. Nevada also welcomes 11 starters back on this side of the ball so it very well could be one of the top offenses in the country once again this year.
The offense starts with QB Carson Strong, who was the MWC Offensive Player of the Year last season. He is an NFL prospect who threw for 2,858 yards and 27 touchdowns in nine games. More impressively, he completed 70.1 percent of his attempts and was intercepted just four times.
Strong will welcome WR Elijah Cooks back this year after the 2019 leading receiver who was lost for the season a year ago in the team's first game. Cooks in 2019 had 76 catches for 926 yards. WR Romeo Doubs emerged as Strong's favorite target in 2020, catching 58 passes for 1,002 yards and nine scores. TE Cole Turner added 49 catches for 605 yards and nine more touchdowns. Both Doubs and Turner were All-MWC performers for their efforts.
Nevada is not just a pass always team either with RB Toa Taua, who has led the Wolf Pack in rushing each of the last three seasons. He will be joined in the backfield with Devonte Lee to give the Wolf Pack a strong 1-2 punch that averaged over five yards per carry.
The defense for Nevada was better in 2020 than in prior years but last year's team still had issues at times, but it only allowed more than 30 points once and was solid against the run.
The strength of the defense should be its front four. DT Dom Peterson headlines the group and recorded 4.5 sacks last year, while DE Sam Hammond added 4.0 sacks a season ago.
The linebackers were inconsistent in 2020, but have plenty of experience led by LB Lawson Hall. He led the team with 65 tackles, while fellow LB Daiyan Henley was third won the squad with 49 stops.
The biggest issue last year for the defense was the passing game and mainly in the secondary. CB Berdale Robins was an All-MWC performer but the team ranked ninth in the MWC in passing yardage given up with nearly 240 yards per game. The team does welcome four-year transfers CB Isaiah Essissima from Wake Forest and S Bentlee Sanders from South Florida and both should play a role in helping sure-up the secondary.
CSJ 2021 Preseason MWC Players of the Year
Offense
Carson Strong, QB, Nevada, Jr.
Defense
Cade Hall, DE, San Jose State, Sr.
Special Teams
Savon Scarver, KR, Utah State, Sr.
2021 Full Mountain West Conference Preseason Team
Offense
QB Carson Strong, Jr., Nevada
WR Romeo Doubs, Sr., Nevada
WR Khalil Shakir, Sr., Boise State
RB Xazavian Valladay, Jr., Wyoming
RB Ronnie Rivers, Sr., Fresno State
OL Keegan Cryder, Jr., Wyoming
OL John Ojukwu, Sr., Boise State
OL Jack Snyder, Sr., San José State
OL Zachary Thomas, Sr., San Diego State
OL Jake Stetz, Sr., Boise State
TE Cole Turner, Sr., Nevada

Defense
DL Cade Hall, Sr., San José State
DL Cameron Thomas, Jr., San Diego State
DL Scott Patchan, Sr., Colorado State
DL Viliami Fehoko, Jr., San José State
LB Chad Muma, Jr., Wyoming
LB Caden McDonald, Sr., San Diego State
LB Darius Muasau, So., Hawai'i
DB Kekaula Kaniho Sr., Boise State
DB Jerrick Reed II, Sr., New Mexico
DB Cortez Davis, Sr., Hawai'i
DB Tre Jenkins, Jr., San José State

Specialists
P Ryan Stonehouse, Sr., Colorado State
PK Brandon Talton, Jr., Nevada
PR Calvin Turner, Sr., Hawai'i
KR Savon Scarver, Sr., Utah State
Originally from LaMoure, North Dakota, Kent is a 1996 graduate of North Dakota State University. His prior writing experience is over 15 years having previously worked with D2football.com, I-AA.org, and College Sporting News before coming to College Sports Journal in 2016. His main focus is college football is the Missouri Valley Football Conference within the Division I FCS. And in 2017, he began also to look at the FBS Group of Five conferences of the American Athletic, Conference USA, Mid-American, Mountain West, and Sun Belt.
Reach him at this email or click below: