CSJ's Predicted Order of Finish
East Division
1. Coastal Carolina
2. Appalachian State
3. Georgia Southern
4. Georgia State
5. Troy
West Division
1. Louisiana * Overall Champion
2. Arkansas State
3. Texas State
4. South Alabama
5. Louisiana-Monroe
2020 Bowl Results
Record: 4-1
The Sun Belt Conference was once thought to be the last of the 10 FBS conferences in rankings but that is changing over the past couple of seasons. Appalachian State has defeated a couple Power Five schools over the past three seasons as has last year's SBC co-champions of Coastal Carolina and Louisiana.
Last year, both Coastal Carolina and Louisiana started their seasons with road victories over Big 12 teams. The Chanticleers defeated Kansas, while Louisiana defeated Iowa State.
And the depth of the conference is there too. Arkansas State also picked up another Big 12 road victory for the league with its win at Kansas State.
The bowl results last year show four victories by SBC squads over Conference USA teams. While Coastal Carolina lost its bowl game to Independent Liberty, it did get another win over another strong FBS indepenent in BYU that propelled them to an undefeated regular season.
Louisiana had its lone loss to Coastal in a very tight game in the regular season. The rematch, which would have been the SBC Championship game, though was lost due to COVID-19 concerns within CCU's squad and why the conference considered the two division champions co-champions instead.
This year, should be no different than 2020 and the Sun Belt only can grow from here where it likely already is ahead of the C-USA and Mid-American Conference in the FBS conference ranking pecking order.
The two schools that won their divisions last year will again be the favorites to do so again this year. The East Division though is the stronger of the two so Coastal will get some competition from all of the other four schools. The West Division possibly will see Arkansas State give Louisiana some competition but the other three schools look like they are a year or more away from being in contention.
But who knows if there is a school like Coastal Carolina that might emerge. The Chants were picked last in the preseason rankings last year in the East Division and came out on top mainly due to freshman QB Grayson McCall's emergence.
Top Non-Conference Games of 2021
Here are some of the top games for Sun Belt teams in the non-conference that will help shape how the league will be considered nationally.
Sept. 2—Appalachian State vs. East Carolina (Charlotte, NC)
Sept. 4—Louisiana at Texas
Sept. 11—Appalachian State at Miami (FL)
Sept. 11—Memphis at Arkansas State
Sept. 18—Coastal Carolina at Buffalo
Sept. 18—Georgia Southern at Arkansas
Sept. 23—Marshall at Appalachian State
Sept. 25—Arkansas State at Tulsa
Nov. 20—BYU at Georgia Southern
Nov. 20—Louisiana at Liberty
Top Conference Games of 2021
Louisiana does not play Coastal Carolina in the regular season this year but there still are a number of key conference match-ups that will help shape who the two division winners will be. Here is a list of some of the key games that I feel will go a long ways towards showing the division winners in the Sun Belt:
Sept. 25—Louisiana at Georgia Southern
Oct. 2—Appalachian State at Georgia State
Oct. 7—Coastal Carolina at Arkansas State
Oct. 12—Appalachian State at Louisiana
Oct. 20—Coastal Carolina at Appalachian State
Oct. 21—Louisiana at Arkansas State
Oct. 30—Georgia State at Georgia Southern
Nov. 5—Appalachian State at Arkansas State
Nov. 27—Georgia Southern at Appalachian State
East Division
5. Troy Trojans
Head coach: Chip Lindsey (10-13, Third year)
Offensive Coordinator: Luke Meadows
Defensive Coordinator: Brandon Hall
Stadium: ​Veterans Memorial Stadium (30,000)
Location: Troy, AL
2020 Record: 5-6 (3-4)

The East Division is very jumbled and could see Troy finish as high as second here but the team has not been consistent on offense based on the 2020 performance and why I think they will be the last place team in the division this year.
QB Gunnar Watson hit 70% of his passes for over 2,000 yards with 16 touchdowns, but he threw six interceptions. He may be supplanted by Missouri transfer Taylor Powell to give the offense a little more life.
No matter who's throwing, the receiving corps is there to improve the passing game with three super-seniors in Kaylon Geiger, Reggie Todd and Tray Eafford back – they were the team's three top targets last year.
The Troy defense stars with a terrific LB combination of Carlton Martial, Jayden McDonald and KJ Robertson. They are joined by hybrid Richard Jibunor and all know how to tackle.
In fact, all 11 starters and most all that made a tackle are back on the team this fall.
The secondary got three picks from junior Terence Dunlap, but the Trojans only came up with eight interceptions on the season overall. Dell Pettus and Craig Slocum form a decent safety tandem, and NC State transfer Taiyon Palmer is a good get to help the corner situation.
4. Georgia State Panthers
Head coach: Shawn Elliott (22-25, Fifth year)
Offensive Coordinator: Brad Glenn
Defensive Coordinator: Nate Fuqua
Stadium: ​​​Center Parc Credit Union Stadium (24,333)
Location: Atlanta, GA
2020 Record: 6-4 (4-4)
After alternating losses with wins over its first seven games, Georgia State finished strong in 2020 by winning its last three which included a 39-21 victory over Western Kentucky in the LendingTree Bowl. It was just the second bowl win for the Panthers, whose program began in 2010 and joined the FBS in 2013.
Georgia State's strength last year was its pass rush as the Panthers posted 34 sacks across 10 games. They ranked eighth in the nation at bringing down the other team's quarterback although the defensive unit lost Jordan Strachan. With 9.5 sacks, Strachan led the Sun Belt last year but he has since transferred to South Carolina.
The Panther 2020 rush defense was also a strength. They finished in what was their best in school history after allowed just 3.9 yards per carry, their lowest average ever.
On offense, QB Cornelius Brown IV leads the team and is currently sixth in all-time in passing yards as a Panther and barring injury likely will be the record holder as he is just a redshirt sophomore. WRs Sam Pinckney and Cornelius McCoy, as well as TE Roger Carter crack the top six for Panther receiving touchdowns all-time.
The running game also was well at times last year and RB Destin Coates should again lead this area for GSU. He led the team with 769 yards and seven scores in 2020.
3. Georgia Southern Eagles
Head coach: Chad Lunsford (19-13, third full year)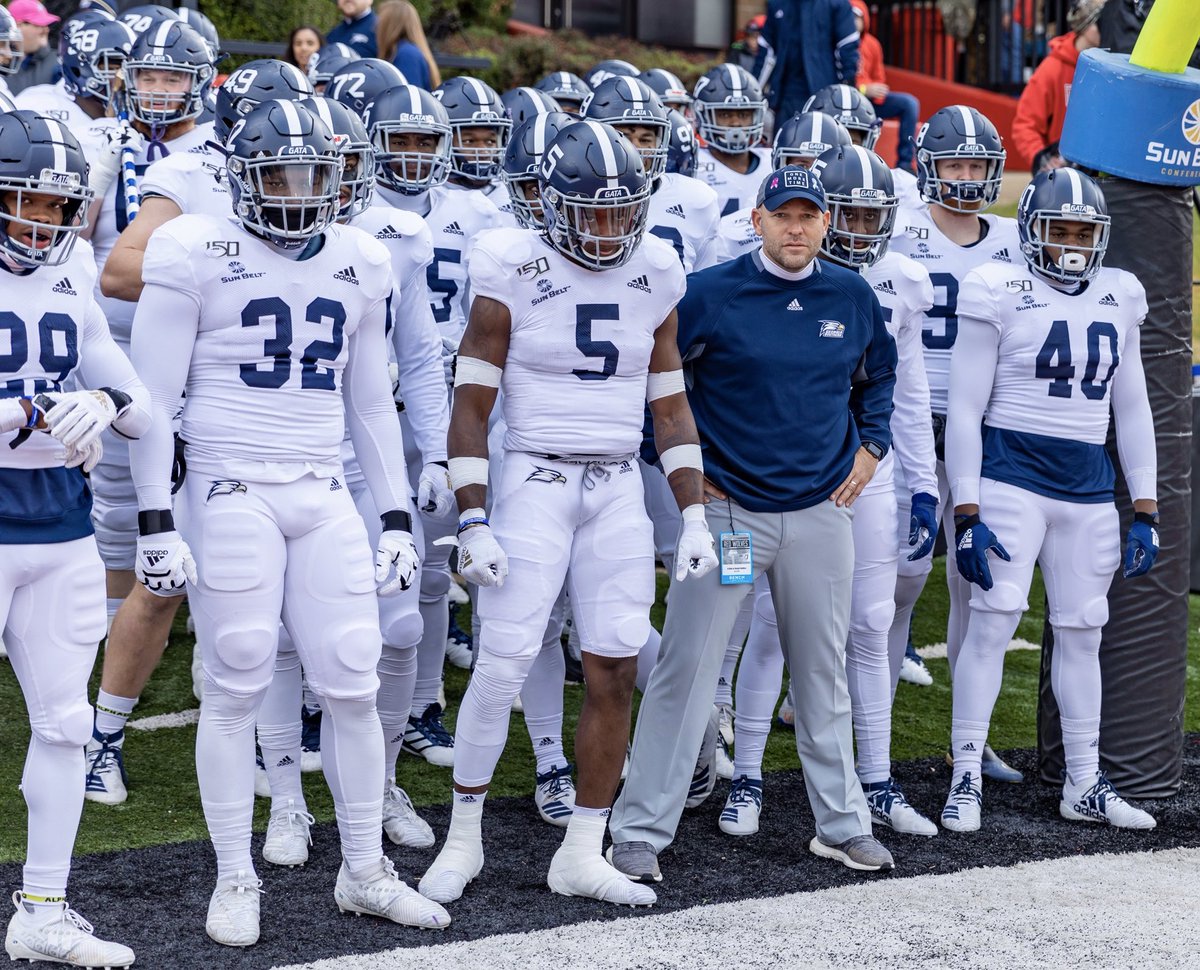 Offensive Coordinator: Doug Ruse
Defensive Coordinator: Scot Sloan
Stadium: ​​Paulson Stadium (25,000)
Location: Statesboro, GA
2020 Record: 8-5 (4-4)
As almost always been the case for Georgia Southern, they like to run the option offense. This will be no different this year but who is running will be. Former star QB Shai Werts is transferred to Louisville to play as a receiver, Georgia Tech QB transfer James Graham is a receiver, and again, Justin Tomlin is out due to academic issues for the first two games of the season. That puts the Eagle offense in the hands of Cam'Ron Ransom at least to start the season until Tomlin can return.
Last year, the Eagles ranked third in the most plays of 40-plus yards (18) in the Sun Belt last year and with quarterback being the exception, GSU should still have a strong running attack. The Eagles have a plethora of talent at running back with J.D. King, Logan Wright, Gerald Green and Tulane transfer Amare Jones. A strong foundation also returns up front with four starters on the offensive line to help create the running lanes.
Georgia Southern had one of the Sun Belt's top defenses last season. This unit held teams to 20.8 points a game, limited offenses to 5.1 yards per play and ranked first in the conference in rush defense. The Eagles allowed only eight plays of 40-plus yards and led the Sun Belt in third-down defense.
Defensive back Derrick Canteen is one of the top returning defensive players in the conference and should again head the secondary.
The Eagles do lose its most disruptive lineman (DE Raymond Johnson III) and two of its most productive linebackers. But Canteen, Baker and S Anthony Wilson and S Justin Birdsong return, as does an excellent pass stopper in in Benz Josue.
2. Appalachian State Mountaineers
Head coach: Shawn Clark (10-3, Second season)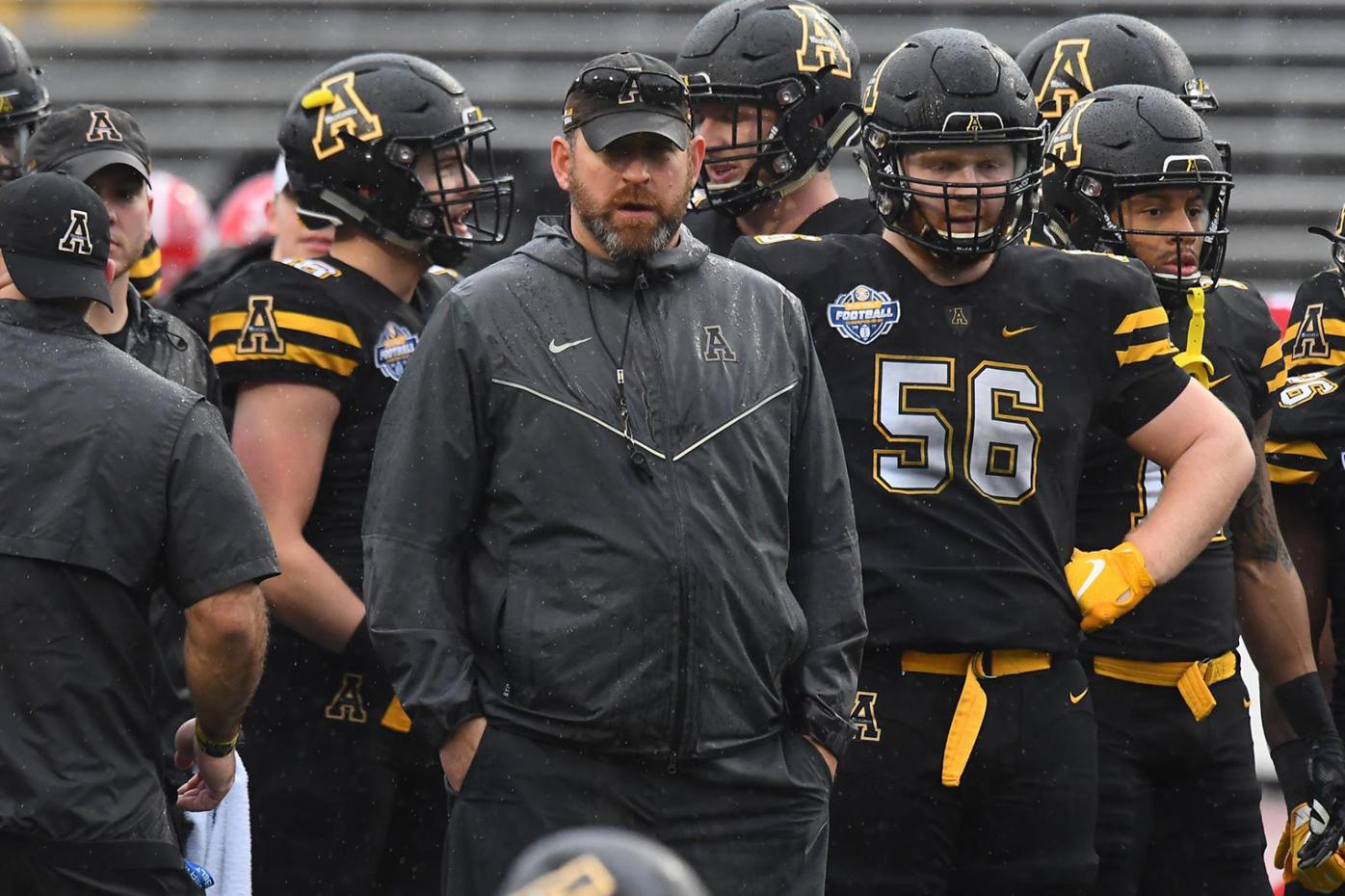 Offensive Coordinator: Frank Ponce
Defensive Coordinator: Dale Jones
Stadium: Kidd Brewer Stadium (30,000)
Location: Boone, NC
2020 Record: 9-3 (6-2)
The Mountaineers took a step back last year after winning at least a share of the Sun Belt title for the four prior seasons. Still, App State won nine contests last year including a Myrtle Beach Bowl win over North Texas. With that win, the Mountaineers have won at least nine games in every season since 2015.
This year, Coach Shawn Clark has a big void to fill at quarterback, contending for the Sun Belt title is once again in reach but most of the rest of the team is back.
Filling the QB role this year (after the graduation of Zac Thomas. The starting job will be Clemson/Duke transfer Chase Brice, who was sparatic over his prior two school stays but still has talent that might exceed Thomas'.
Overall the App State offense is returning eight starters, including arguably the top receiving corps in the Sun Belt and RB Camerun Peoples. Appalachian State's offensive line should be solid despite losing three starters. That receiver group should only be better this season with star wideout Corey Sutton back this season after opting out of playing in the 2020 season due to COVID-19 concerns.
The Mountaineer defense has been an annual strength and should be strong once again this season with nine returning starters. Since joining the Sun Belt, the Mountaineers have not finished lower than third in the conference in yards per play allowed and fifth in scoring defense. End Demetrius Taylor is back up front, while D'Marco Jackson and Trey Cobb anchor the linebackers.
Replacing CB Shemar Jean-Charles, who is now with the NFL's Green Bay Packer, will not be easy but the other three starters in the secondary are back including fellow standout CB Shaun Jolly.
1. Coastal Carolina Chanticleers
Head coach: Jamey Chadwell (19-17, fourth year)
Offensive Coordinators: Newland Issac/Willy Korn
Defensive Coordinator: Chad Staggs
Stadium: Brooks Stadium (20,000)
Location: Conway, SC
2020 Record: 11-1 (8-0 SBC)

The surprise team in all of college football last year was Coastal Carolina. The Chanticleers were predicted to finish last in the SBC East Division by most prognosticators but instead went undefeated in the regular season and were a three-overtime loss in the Cure Bowl to Liberty from a perfect season.
The Chants main reason for the successful season had to be QB Grayson McCall. In his first season as the starter, McCall accounted for 33 overall scores and tossed just three picks and he was only a freshman. His led offense in the option run/pass attack increased its productivity. Coastal Carolina averaged 5.5 yards per play and 30.3 points a game in 2019. Those totals jumped to 6.7 a snap and 37.2 a contest last season.
McCall's supporting cast is strong with all five starters back on the offensive line, as well as his top WR Jaivon Heiligh and TE Isaiah Likely.
RBs Reese White and Shermari Jones should replace the production lost by CJ Marable's departure.
The defense was not as good as the offense as it ranked 87th overall amongst FBS squads against the run but was strong against the pass.
The team should be led byLBs Jeffrey Gunter and Enock Makonzo, who combined for 16 tackles for loss and 8.5 sacks, as well as CB D'Jordan Strong, who led the team with 12 passes defensed.
Most all other starters are back on defense with the exception of DE Tarron Jackson but he was a big piece of last year's group with 8.5 sacks. But the line should be fine with DEJeffrey Gunter now leading this group after he made 6.5 sacks CJ Brewer and the combination of Jerrod Clark and Travis Geiger should lead the interior.
West Division
5. Louisiana-Monroe Warhawks
Head coach: Terry Bowden (0-0, First year)
Offensive Coordinator: Rich Rodriguez
Defensive Coordinator: Zac Alley
Stadium: ​Malone Stadium (27,617)
Location: Monroe, LA
2020 Record: 0-10 (0-7)
New coach Terry Bowden comes into Monroe with nearly 25 years of head coaching experience that included stops at Auburn and Akron and led those teams to five bowl games over his tenure. He is inheriting a ULM squad that finished 0-10 and was outscored by a combined mark of 420-163 last season.
Bowden has a history of rebuilding as he inherited a rock-bottom Akron program in 2012 and won at least five games from 2013-17 and hopes to duplicate that kind of effort for the Warhawks. He will be doing it with a number of transfers starting this season.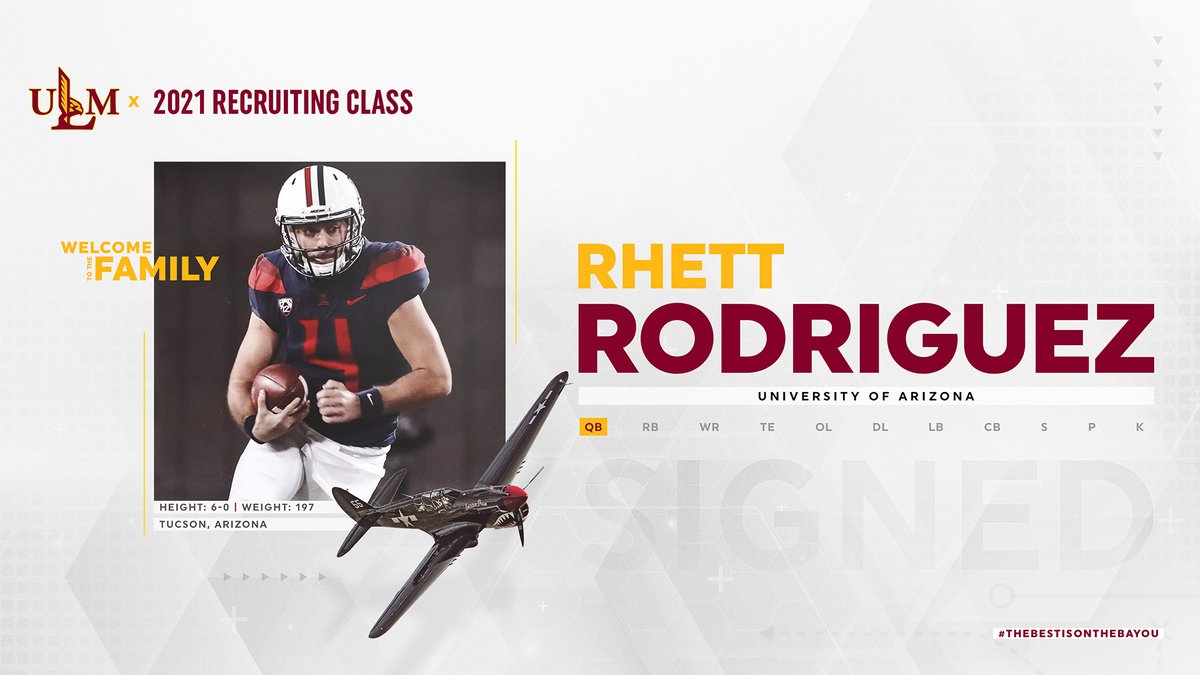 Last year, the offense managed only 4.8 yards per play and 16.3 points a game last year in route to the winless campaign. Bowden brought former Power Five head coach Rich Rodriguez as the offensive coordinator. His son Rhett also came as a transfer from Arizona and will be the starting QB. He is a career 51-percent passer with three touchdown passes and four interceptions while at Arizona.
The running game should be headed by redshirt freshman Kayden Roach and sophomore Isaiah Phillips each ran for 112 yards.
The top WR likely will be Jeremiah "Boogie" Knight is a transfer from Akron. In 2019, he caught 31 passes for 430 yards. The top returning WR, Malik Jackson caught 23 passes for 189 yards and a team-high four TDs for ULM.
The Warhawk defense last year was almost as awful as the offense. ULM gave up 42 points a game and 6.85 yards a play last season. This defense gave up nearly 250 rushing yards a contest and ranked last in the Sun Belt in pass efficiency defense.
The defense will be headed by a pair of linebackers. LB Traveion Webster (79 tackles, eight TFL, five QBH), who was the Warhawks' leading tackler in 2020. Fellow LB Ja'Cquez Williams, a graduate transfer from Wake Forest, had 207 career stops with 17.5 TFL and 7.5 sacks in four seasons with the Demon Deacons.
4. South Alabama Jaguars
Head coach: Kane Wommack (0-0, First year)
Offensive Coordinator: Major Applewhite
Defensive Coordinator: Corey Batoon
Stadium: Hancock Whitney Stadium (25,450)
Location: Mobile, AL
2019 Record: 4-7 (3-5)
South Alabama began the 2020 season fairly well at 3-2, but the Jags lost five of their last six and third-year coach Steve Campbell was out of a job. Former Indiana defensive coordinator Kane Wommack takes over this year in Mobile.
Utah transfer QB Jake Bentley should provide stability and a needed spark under center in 2021. The senior will likely supplant last year's starter in Desmond Trotter who was very inconsistent a season ago.
Whichever quarterback is used, they will have one of the best WR in league to throw to in All-America candidate Jalen Tolbert,
The running game is the quesion mark as is the offensive line. USA only had an average of 2.9 yards per carry in 2020. This group overall averaged 19.9 points a game and 5.1 yards per play last fall so this is an area that needs to improve.
The RB spot may go to Mississippi State transfer Kareem Walker, while the offensive line might be made up mostly of transfer players. Five transfer offensive linemen came in this spring and many will be in the USA starting lineup.
On defense, South Alabama surrendered 27.3 points a game and 6.4 yards per snap last season. With its new head coach coming from this side of the ball, this should improve. Nine starters though are back and just like the offensive side, USA has several transfers on this side of the ball too.
Edge rushers Chris Henderson and Shawn Jennings produced high pressure at times last year and will be asked to be more consistent.. CB Davyn Flenord and S Keith Gallmon should be the leaders in the secondary.
3. Texas State Bobcats

Head coach: Jake Spavital (5-19, Third year)
Offensive Coordinator: Jacob Peeler
Defensive Coordinator: Zac Spavital
Stadium: ​Bobcat Stadium (30,000)
Location: San Marcos, TX
2020 Record: 2-10 (2-6)
The two-win season for Coach Spavital's squad did not show the progress that the team made. Of the ten losses, five were by one score or less as the margin of loss. The team also improved its offense. This group averaged 18.4 points a game and 4.97 yards a play in 2019. but jumped to 27.7 a contest and 5.7 a snap last year.
Spavital did a unique thing in recruiting this year as he did not sign any freshman and instead only signed FBS and JUCO transfers.
At QB, Tyler Vitt and Brady McBride combined to throw for close to 2,900 yards with 26 touchdown passes and 13 interceptions a season ago with McBride getting the majortiy of action. One of the transfers signed this offseason though was North Carolina State's Ty Evans. The battle will be who gets the start throughout the season.
Junior WR Marcell Barbee, should be whichever quarterback's top target after he caught 584 yards and ten scores averaging 14.6 yards per catch in 2020. The Bobcats also have several transfers in this group too.
The offensive line gets four starters back and brings in a ton of parts from the transfer portal. The tackle combination of Russell Baker and Dalton Cooper were ones to get All-Sun Belt recognition a season ago.
Leading RB Brock Sturges is back after running for 532 yards and five scores and could be rotated with Oklahoma State transfer Jahmyl Jeter to give more of a mix in the running game that struggled last season.
A big reason for the two losses last year was not the play of the offense but rather the defense. This group was last in the Sun Belt allowing 495 yards and 38 points per game, and giving up 279 passing yards an outing.
The Bobcat defense also has a number of transfers but one back in CB Jarron Morris, a Sun Belt all-star, should head the team again after he led the team with four interceptions with 69 tackles and 11 broken up passes.
2. Arkansas State Red Wolves
Head coach: Butch Jones (0-0, First year)
Offensive Coordinator: Keith Heckendorf
Defensive Coordinator: Rob Harley
Stadium: Centennial Bank Stadium (30,406)
Location: Jonesboro, AR
2020 Record: 4-7 (2-6)
The third new coach in the SBC West Division is Butch Jones taking over for Blake Anderson, who departed for the Utah State job. Jones previously was the head coach most recently at Tennessee and before that had stints with Central Michigan and Cincinnati. The last couple seasons though, he was a special assistant at Alabama.
QB Layne Hatcher have been part of a strong quarterback rotation with Logan Bonner followed former head coach to Utah State. Florida State transfer James Blackman will likely be in the mix for a rotation again with Hatcher. However, Hatcher likely will remain the starter after throwing for 19 touchdown with just two interceptions in 2020.
The receiving corps loses leading receiver Jonathan Adams and second-leading target Brandon Bowling but Dahu Green and Corey Rucker are two promising WRs that should fit right back into those starting roles.
The rushing game also loses is top statistcal player in Jamal Jones, but there was plenty of talent behind him. Lincoln Pare and 2019 leading rusher Marcel Murray combined for over 600 yards – Pare did most of the work with 450 of the yards – and Iowa State's Johnnie Lang and former Yale all-star Alan Lamar are transfers that likely will see action.
The Red Wolf defense is where things need to pick up after allowing 314 yards per game, which was second-to-last overall in the Sun Belt. To make matters worse, two of the team's top talents in LB Justin Rice and DT Forrest Merrill departed after 2020.
But overall, there are eight starters back on this side of the ball and the secondary has a star in CB Samy Johnson. Defending the passing game will likely be the key to this team's success or failure this season.
1. Louisiana Ragin' Cajuns
Head coach: Billy Napier (28-11, Fourth year)
Offensive Coordinator: Michael Desormeaux/Tim Leger
Defensive Coordinator: Patrick Toney
Stadium: Cajun Field (41,426)
Location: Lafayette, LA
2020 Record: 10-1 (7-1)
The Ragin' Cajuns followed up the best season in school history (11 wins) in 2019 with a ten win season that also included a couple of cancaled games. Louisiana started the season with one of what would be best win's in school history over the Big 12's Iowa State, a team that wen to the Big 12 Championship game and won the Fiesta Bowl later on.
Louisiana had to settle for a co-championship with Coastal Carolina as the rematch with them was canceled due to COVID-19 concerns with them. Without that championship game, Coastal would have won the tie-breaker as it handed Louisiana its lone lose of the season in mid-October in what was likely one of the best games in all of college football last season.
This year, the goal is clear for Louisiana–win the Sun Belt Championship. If the Cajuns do that and also win its much anticipated season opener at another (well, soon not be) Big 12 team in Texas, Louisiana will be in the mix for the New Year's six bowl bid this year.
Louisiana had one of the top offenses in the Sun Belt last season and there's little reason to doubt this group in 2021. QB Levi Lewis returns as a super senior, and the Ragin' Cajuns have one of the top offensive lines in the conference. The receiving corps may not have a clear top threat, but has depth so the passing game should be just fine.
The one concern offensive area is in the Cajun running game. Their two standout backs in Elijah Mitchell and Trey Ragas have moved on and their replacements need to be found. Sophomore Chris Smith will likely carry the load on the ground and likely get some help from Lewis in the quarterback run game.
The Ragin' Cajun defense gets back almost all of the top tacklers from a group that was brilliant at taking the ball away and was among the nation's most efficient teams against the pass. This group allowed just 355 yards and 22 points per game. On the passing side, it gave up just 171 yards per game and picked off 16 throws.
This group includes All-SBC S Bralen Trahan, who intercepted four passes a year ago along with CBs Eric Garror and Mekhi Garner each came up with three picks.
Louisiana also returns its top two tacklers in LB Lorenzo McCaskill (83) and LB Ferrod Gardner (74) who should again head the linebacker group.
CSJ All-Sun Belt 2021 Preseason Players of the Year
Offense
Grayson McCall, QB, Coastal Carolina
Defense
Carlton Martial, LB, Troy
Special Teams
Chris Smith, RS, Louisiana
CSJ All-Sun Belt 2021 Preseason Team
Preseason All-Sun Belt First Team Offense
QB – Grayson McCall, Coastal Carolina (RS So. – Indian Trail, N.C.)
RB – Camerun Peoples, App State (Jr. – Lineville, Ala.)
RB – Destin Coates, Georgia State (Sr. – Tallahassee, Fla.)
OL – Baer Hunter, App State (Super Sr. – Clemmons, N.C.)
OL – Shamarious Gilmore, Georgia State (RS Sr. – Riverdale, Ga.)
OL – Cooper Hodges, App State (Jr. – Glen St. Mary, Fla.)
OL – Austin Stidham, Troy (Jr. – Russellville, Ala.)
OL – O'Cyrus Torrence, Louisiana (So. – Greensburg, La.)
TE – Isaiah Likely, Coastal Carolina (Sr. – Cambridge, Mass.)
WR – Jalen Tolbert, South Alabama (Jr. – Mobile, Ala.)
WR – Jaivon Heiligh, Coastal Carolina (Sr. – Venice, Fla.)
WR – Sam Pinckney, Georgia State (RS Jr. – Greenwood, S.C.)
Preseason All-Sun Belt First Team Defense
DL – Jeffery Gunter, Coastal Carolina (RS Sr. – Durham, N.C.)
DL – CJ Brewer, Coastal Carolina (Super Sr. – Bowdon, Ga.)
DL – Demetrius Taylor, App State (Super Sr. – Miami, Fla.)
DL – Will Choloh, Troy (Jr. – Lawrenceville, Ga.)
LB – Carlton Martial, Troy (Jr. – Mobile, Ala.)
LB – D'Marco Jackson, App State (Sr. – Spartanburg, S.C.)
LB – Silas Kelly, Coastal Carolina (Super Sr. – Mount Airy, Md.)
DB – Derrick Canteen, Georgia Southern (RS So. – Evans, Ga.)
DB – Shaun Jolly, App State (Sr. – Stone Mountain, Ga.)
DB – D'Jordan Strong, Coastal Carolina (Sr. – Batesville, Miss.)
DB – Bralen Trahan, Louisiana (RS Jr. – Lafayette, La.)

Preseason All-Sun Belt First Team Special Teams
K – Noel Ruiz, Georgia State (Sr. – Wilson, N.C.)
P – Rhys Byrns, Louisiana (Jr. – Melbourne, Australia)
RS – Chris Smith, Louisiana (RS So. – Louisville, Miss.)
Originally from LaMoure, North Dakota, Kent is a 1996 graduate of North Dakota State University. His prior writing experience is over 15 years having previously worked with D2football.com, I-AA.org, and College Sporting News before coming to College Sports Journal in 2016. His main focus is college football is the Missouri Valley Football Conference within the Division I FCS. And in 2017, he began also to look at the FBS Group of Five conferences of the American Athletic, Conference USA, Mid-American, Mountain West, and Sun Belt.
Reach him at this email or click below: