FCS FIRST ROUND PLAYOFF MATCHUP: DAVIDSON AT KENNESAW STATE
WHERE: FIFTH BANK STADIUM, KENNESAW, GA.
WHEN: SATURDAY, NOVEMBER 27TH, 2:00 PM EST
TV/STREAMING: ESPN+
If you are a fan of running the football, this playoff match-up will be for you between Davidson and Kennesaw State.
This game will feature the number one and number two rushing offenses in the FCS. Davidson leads the nation averaging 348.4 YPG, while KSU averages 275.5 YPG.
Both schools are their conference's lone participant in this year's FCS playoffs. Kennesaw State is the Big South Conference champion, while Davidson is the Pioneer Football League's champion.
Davidson is a repeat champion after the Wildcats also won the PFL crown in the spring.
KSU has claimed three Big South championships in the last five seasons. The Owls went back-to-back in 2017/2018 and won again this fall's season.
Davidson lost their only FCS playoff appearance earlier this calendar year at Jacksonville State–a 49-10 loss.
Kennesaw State has a 4-3 overall record in the FCS playoffs. The Owls most recent game came in 2019 when KSU lost at Weber State.
This is the first ever match-up between these two schools.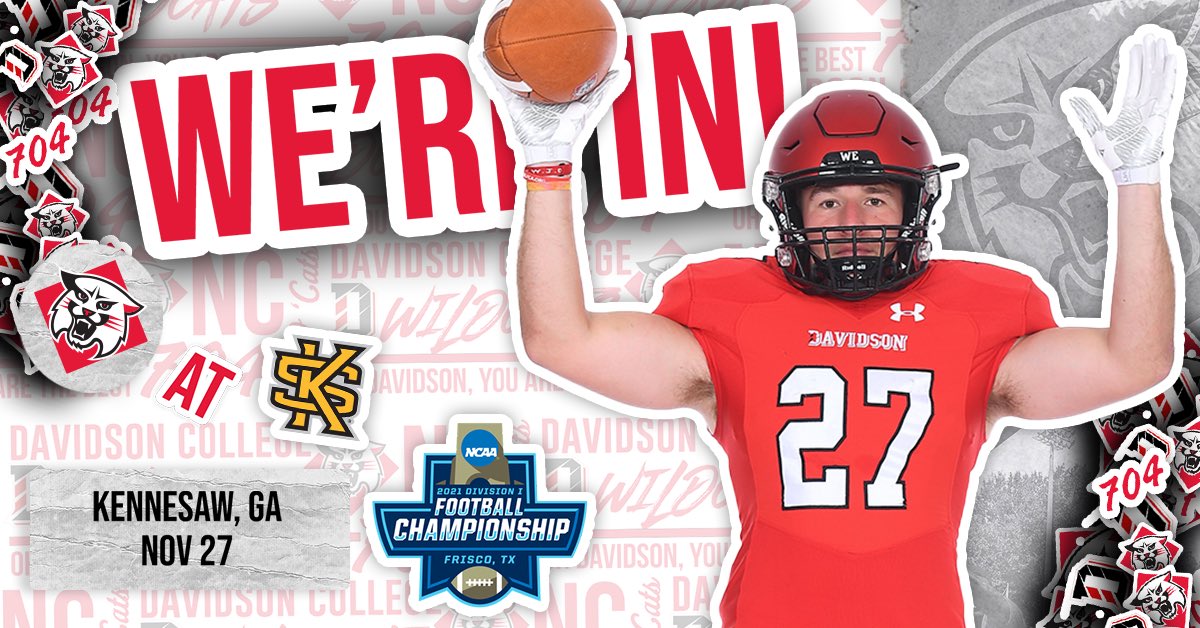 DAVIDSON WILDCATS (8-2, 7-1 PFL)
Coach: Scott Abel – 4th Year at Davidson – 9 Years Total as a Head Coach
Record at Davidson: : 26-14
Overall Record: 66-36
PFL Championships: 2
Davidson won its first six PFL contests this season before a Week 11 loss but bounced back with a regular-season ending victory against Drake.
The triple-option-based Davidson offense continued to flex its strength, leading all FCS teams in rushing offense (348.8 yards per game). They also ranked among the FCS Top 10 offensively in scoring offense (7th, 37.9 points per game) and time of possession (2nd, 34:00 per game).
The Wildcats boast a balanced running attack led by Dylan Sparks and his 79.6 yards per game (34th in the FCS) and Coy Williams' 69.5 yards per game (59th in the FCS). Aris Hilliard (59.8 ypg), Louis Colosimo (43.4 ypg), and Mark McCurdy (35.2 ypg) also were ranked among the FCS Top 200 runners.
Davidson's defense has held up its end of the bargain, ranking 26th among FCS teams in defensive yards allowed (328.3 ypg) and 31st in passing defense (201.8 ypg). Jonathan Hammond leads that defensive group with his 1.3 tackles for loss and 0.95 sacks per game, ranking 25th and 15th in those categories.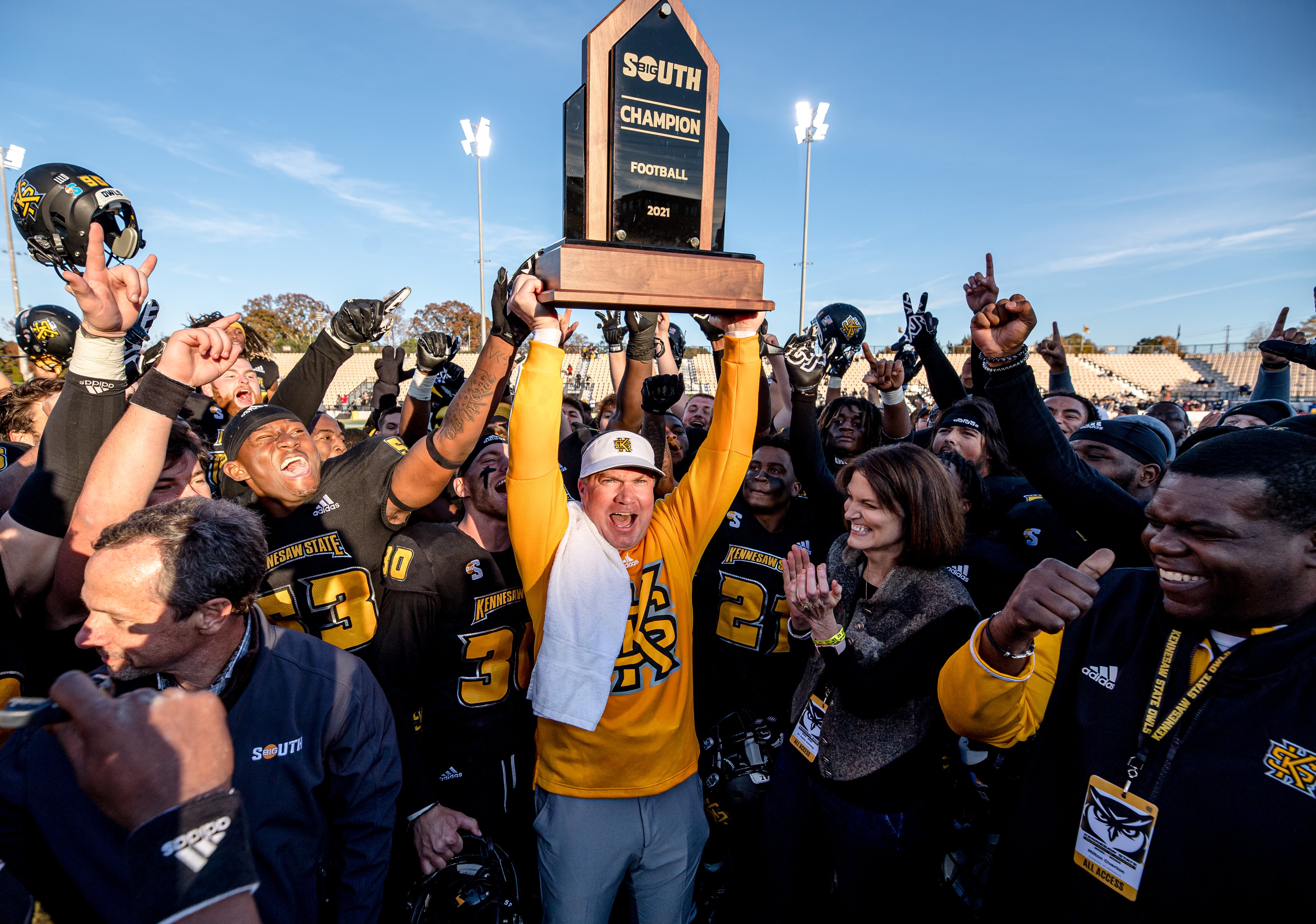 KENNESAW STATE OWLS (10-1, 7-0 Big South)
Coach: Scott Abel – 7th Year at KSU – 7 Years Total as a Head Coach
Record at Kennesaw State: : 62-17
Overall Record: 62-17
Big South Championships: 3
Kennesaw State compiled 571 yards of total offense which ranked second in program history in its de facto Big South Conference championship game at home against Monmouth. The team also rushed for a season-high 471 yards.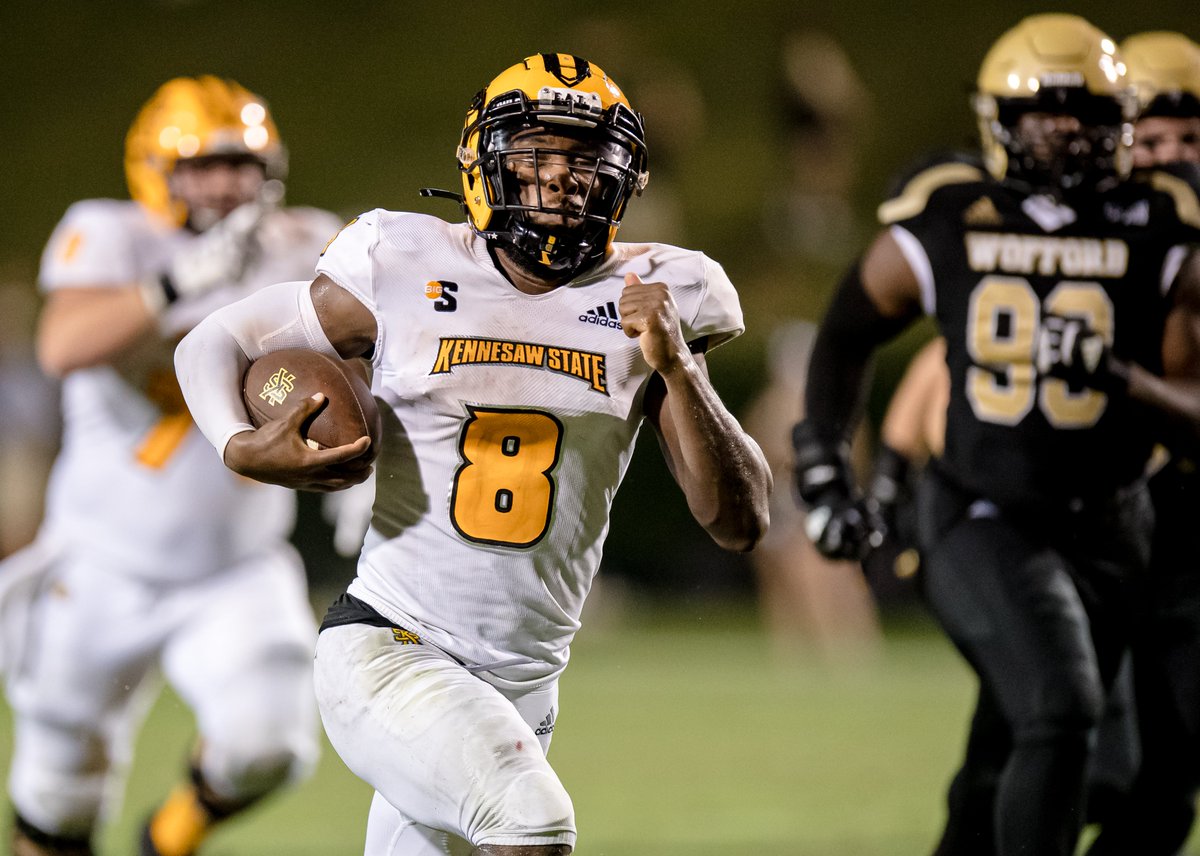 The Owls are led by sophomore QB Xavier Shepherd. Shepherd finished the regular season ranked first in the FCS in rushing touchdowns with 19. The quarterback also has 14 passing touchdowns which set a new single-season school record.
Defensively, Kennesaw State finished the regular season ranked first in the Big South in total defense as it held opponents to 315 yards per game. Evan Thompson led the team in tackles with 92 total (49 solo) and finished third in the Big South. Travis Bell also made an impact and was first on the defense in sacks with four total.
Fearless Forecast:
With two option running teams playing in this game, this game might be over in two hours. The Owls are the favorites and likely want to show the playoff committed that their 10-1 record should have been worthy of a seed. Look for the Owls to have this game by a comfortable margin early in the game and they will cruise to the easy victory. Kennesaw State 41 Davidson 14
Originally from LaMoure, North Dakota, Kent is a 1996 graduate of North Dakota State University. His prior writing experience is over 15 years having previously worked with D2football.com, I-AA.org, and College Sporting News before coming to College Sports Journal in 2016. His main focus is college football is the Missouri Valley Football Conference within the Division I FCS. And in 2017, he began also to look at the FBS Group of Five conferences of the American Athletic, Conference USA, Mid-American, Mountain West, and Sun Belt.
Reach him at this email or click below: